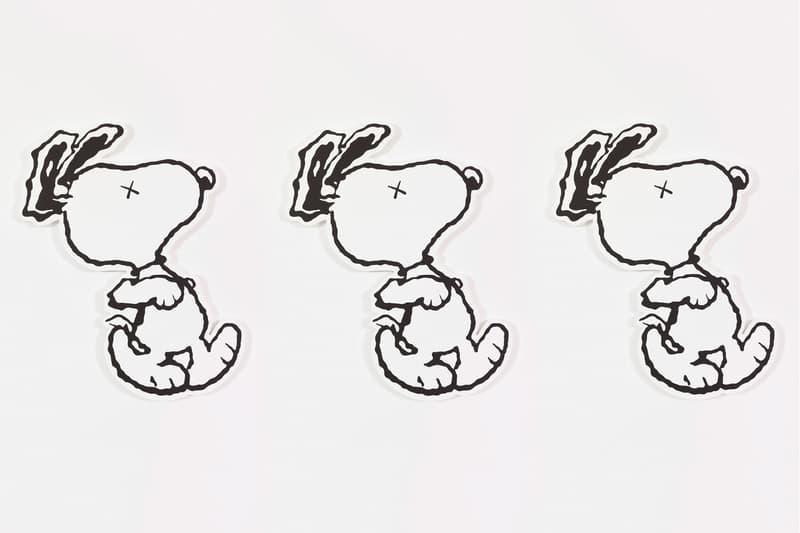 Best New Art: Snoopy-Inspired Artworks, Lucien Smith at Off-White™'s EM PTY GALLERY & More
Including a major exhibit of late American Pop artist James Rosenquist.
---
For visual artists or illustrators inspired by pop culture cartoons, it takes a bit of self-innovation and reinvention to produce an original character that will garner similar worldwide acclaim. Take for example Snoopy from the most-iconic Peanuts franchise created by Charles M. Schulz. The influential cartoonist initially sketched the beagle on all fours with a long neck, back in 1950. Seven years later, Schulz introduced the standing pup and the "comic strip just took off," as per USA Today. One of today's leading art contemporaries who was inspired by the work of Schulz is KAWS, who also experimented with his beloved Companion character to make it a superstar motif today. Collectively, reproductions of artworks are almost necessary to ensure a foot in the limelight.
View a list of contemporary art shows below that feature a selection of signature artworks, starting with an official Peanuts Global Artist Collective show to land in New York City.
The Peanuts Global Artist Collective to Launch New York City
Peanuts Worldwide LLC is set to launch the first leg of its Global Artist Collective tour in New York City. The Big Apple showcase honors the iconic American comic strip written and illustrated by Charles M. Schulz, and will feature seven public murals alongside Snoopy-inspired artworks from Mr. A, Nina Chanel Abney, AVAF, FriendsWithYou, Tomokazu Matsuyama, Rob Pruitt and Kenny Scharf. Conclusively, the event will take place at the Children's Museum of the Arts.
Children's Museum of the Arts
103 Charlton St
New York, NY 10014
Yoshitomo Nara Opens "Ceramic Works and…" Exhibit in Hong Kong
Japanese artist Yoshitomo Nara recently opened his new "Ceramic Works and…" exhibition at Pace Gallery Hong Kong. The presentation includes 12 new ceramic sculptures and paintings portraying Nara's childlike characters. For the paintings, the artist utilized a "thinner quality of acrylic paint compared to oil," said the gallery. "Nara creates each painting by adding and removing pigment until he reaches his desired effect: a canvas made up of suspended hues that allow the figure to emerge through layers of color, inviting the viewer to stand still and enter a moment of contemplation."
"Ceramic Works and…" is showing now at Pace Gallery Hong Kong until May 12.
Pace Gallery Hong Kong
12/F H Queen's
80 Queen's Road Central
Hong Kong
James Rosenquist's "Painting as Immersion" Exhibition to Open in Denmark
The ARoS Aarhus Kunstmuseum in Denmark will present a monumental exhibition of artworks by the late American Pop artist, James Rosenquist. Over fifty pieces will be on display, making the event one of the largest Rosenquist showcases in Europe. More precisely, never-before-exhibited collages alongside archival works portraying the artist's signature visual advertising techniques and images from the '60s will be available to peruse. "Painting as Immersion" will commence on April 14 up until August 19 at ARoS.
ARoS Aarhus Kunstmuseum
Aros Allé
Aarhus, Denmark 2000
Off-White™'s EM PTY GALLERY Announces New Lucien Smith Exhibition
EM PTY GALLERY is gearing up for a new exhibition centered on celebrated New York City painter Lucien Smith. Dubbed "Friends," the show will feature a selection of newly-made oil paintings inspired by diverse art genres, concepts and techniques. The wunderkind artist recently teased the event on Instagram with a quote from the artist Lucian Freud, which ties in with Smith's introspective, expressive approach to painting.
EM PTY GALLERY expressed that the exhibition will be "coming soon." Stay tuned for more information.
EM PTY GALLERY
51 Mercer St.
New York, NY 10013
The Noguchi Museum Announces Two New Exhibitions
The Noguchi Museum recently unveiled plans to host two new exhibitions dedicated to its namesake and most influential Japanese-American artist, Isamu Noguchi. Firstly, "Akari: Sculpture by Other Means" will display over 100 paper lanterns comprised of 40 separate models as well as a rare range of archival material. Secondly, "Akari Unfolded: A Collection by Ymer&Malta" will present 26 Akari-inspired lamp designs meticulously-crafted by the design studio.
The "Akari: Sculpture by Other Means" and "Akari Unfolded: A Collection by Ymer&Malta" are scheduled to run until January 27, 2019. Visit the Noguchi Museum's official website to learn more.
The Noguchi Museum
3338 10th St
Queens, NY 11106
United States