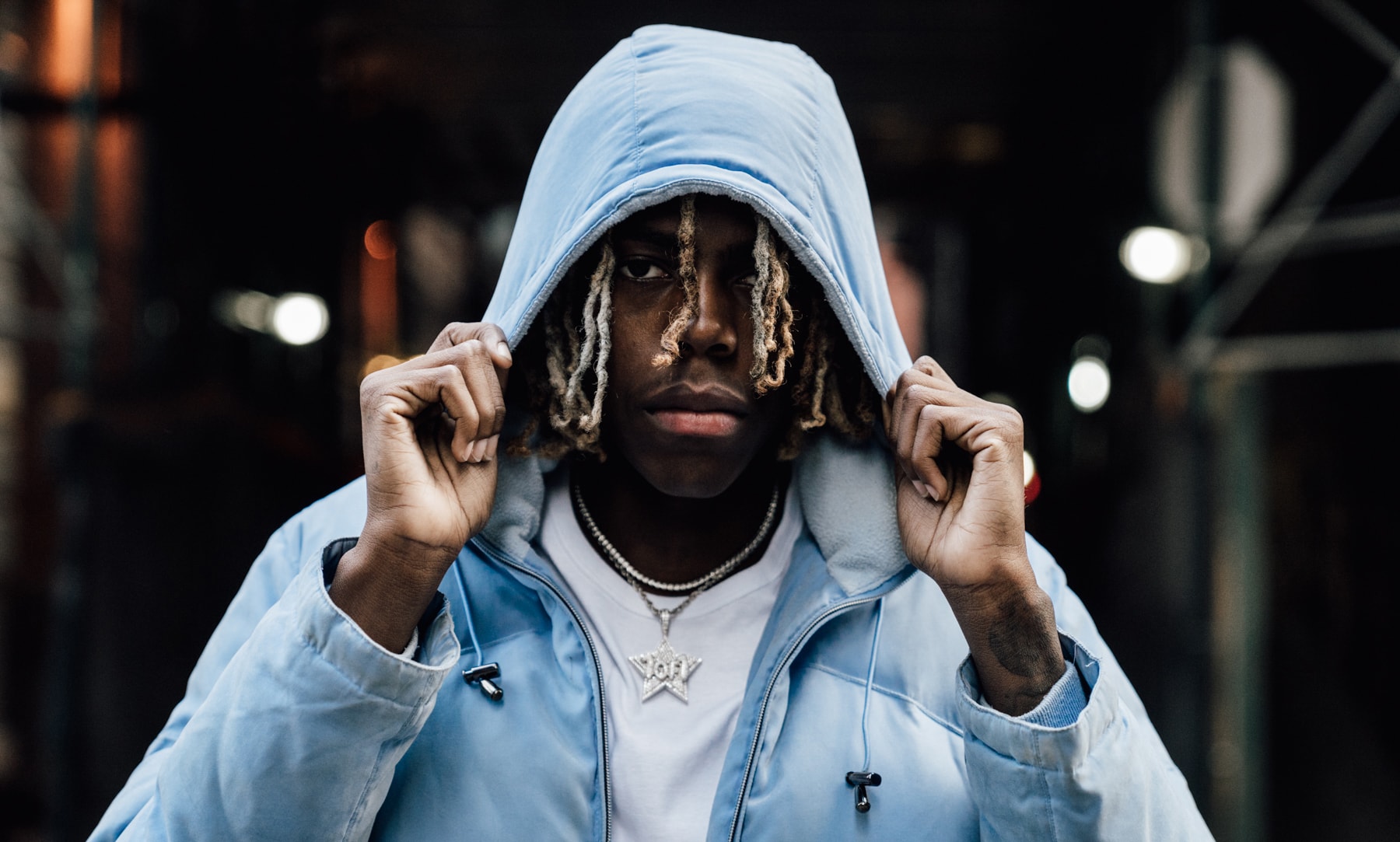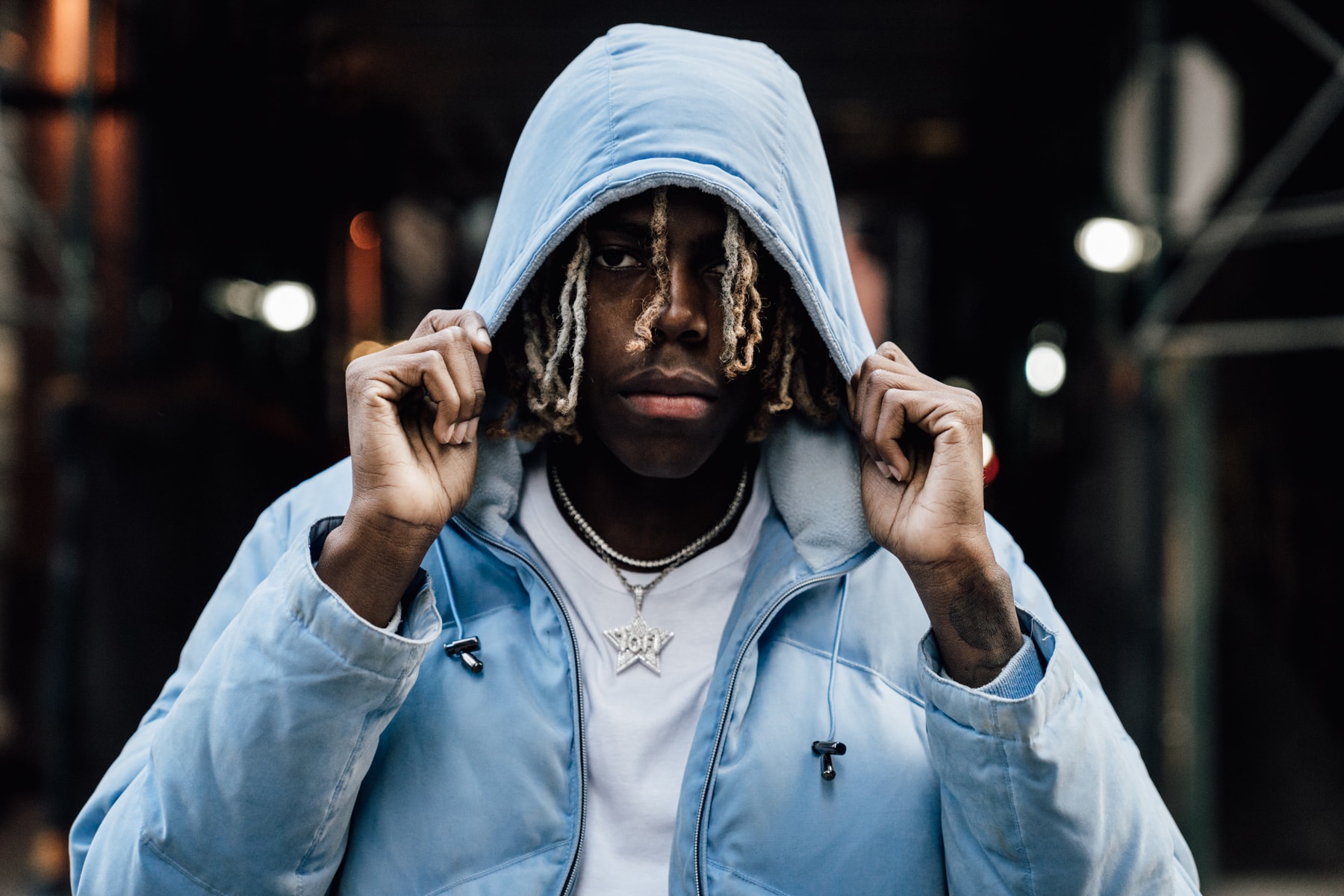 Yung Bans Can't Be Contained
Meet the 18-year-old rapper who relishes being weird.
When the slender, six-foot-plus-tall, newly-blonde Yung Bans walks around Canal Street in the SoHo district of New York City sporting a bright powder blue coat, it's hard for him not to stick out. The 18-year-old Atlanta native has always been keen on wearing whatever he thinks looks cool, no matter the trend. As a child, he would spend his free time going to local thrift stores and skate shops, carefully matching whatever sneakers or clothes he could dig up. "People call you weird when you do it first and then they run up behind you and do it," says the bubbling artist.
Standing out amongst his peers is the common denominator in each big break of his early life. Bans, born Vas Coleman, got his first opportunity to record at only 13 years old when a complete stranger offered the teenager some studio time because the upstart looked the part.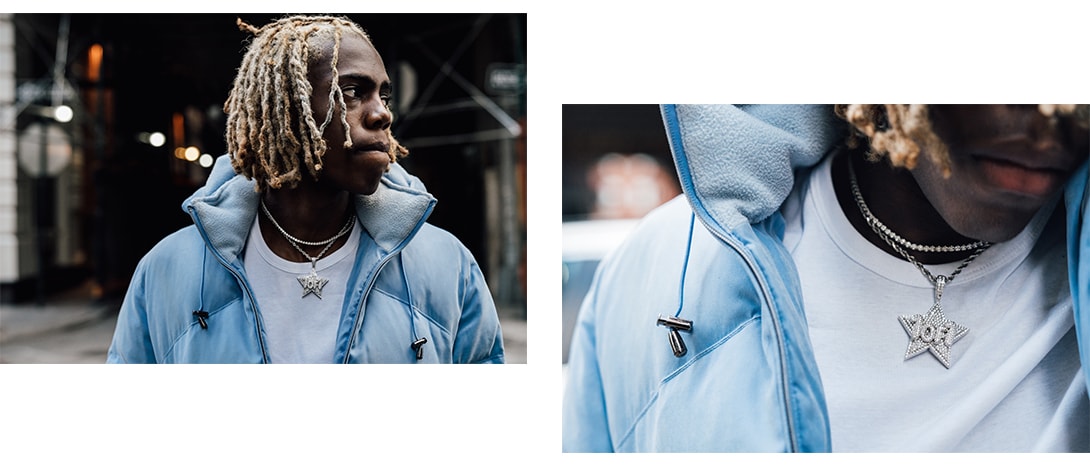 "People call you weird when you do it first and then they run up behind you and do it."
"When I made my first song I was at a skatepark," he shares. "This dude came [up to me], he had a studio up and said, 'You look like you rap.' It was so weird how God work. I didn't look like no rapper. But he said, 'I got a studio in my house and if you come back tomorrow we can record.' I went back home and wrote two songs. I rapped to the instrumental from The Underachievers and made my own version."
Born in St. Louis but raised in the south side of Atlanta, Bans grew up listening to Chief Keef, Lil Wayne and Tyler, the Creator. By the time he was in middle school, Bans put out his first record and adopted the rap moniker, Ban Boy, quickly gaining clout and building a following of fellow sixth graders. Bans is reluctant to share the name of his freshman record, preferring it stays buried in dark corners of the internet. "You can find it on the internet if you really know how to find it but I'm not going to share the name, it's trash to me," Bans says with a smile, eyes peeking from behind his dreads.
By the time Bans was a freshman at Langston Hughes High School, his schoolyard career was in full bloom and the aspiring rapper began to take the trade seriously. Thanks to a piano class, which mixed up students of all years, Bans' fashion sense caught the attention of some seniors and through a mutual love for
Jeremy Scott
sneakers, the melodic rhyme-slinger found himself in a crew of upperclassmen.
"Music isn't all about lyrics, it's the sounds. I don't know how to describe it, I'm just doing me, I'm just living it."
To support their rap aspirations, the crew sold sneakers and funded a makeshift studio. In 2014, with a mic and some soundproof padding, 14-year-old Bans recorded "4Tspoon" with Playboi Carti. At the time, due to their limited following, the song received few plays. The rap prodigy later linked with UnoTheActivist, Carti's cousin, to record "Finesse."
Yung Bans' life took a turn when he was arrested in February 2015 at age 15 and faced felony charges of murder and burglary, which he vehemently denies. He spent four months in a youth detention center and was placed under house arrest in March 2016. The arrest, though, didn't stop Coleman's come-up. Almost two years after its initial release, Bans re-released "4Tspoon" and this time, the song became a SoundCloud hit with several million plays.
Around this time, Bans also began working with MexikoDro of Beat Pluggz and released a handful of singles: "Its Snowing," "Free" and "YEA!." By the time Coleman was released from house arrest in May 2017, the rap prodigy had gained widespread recognition.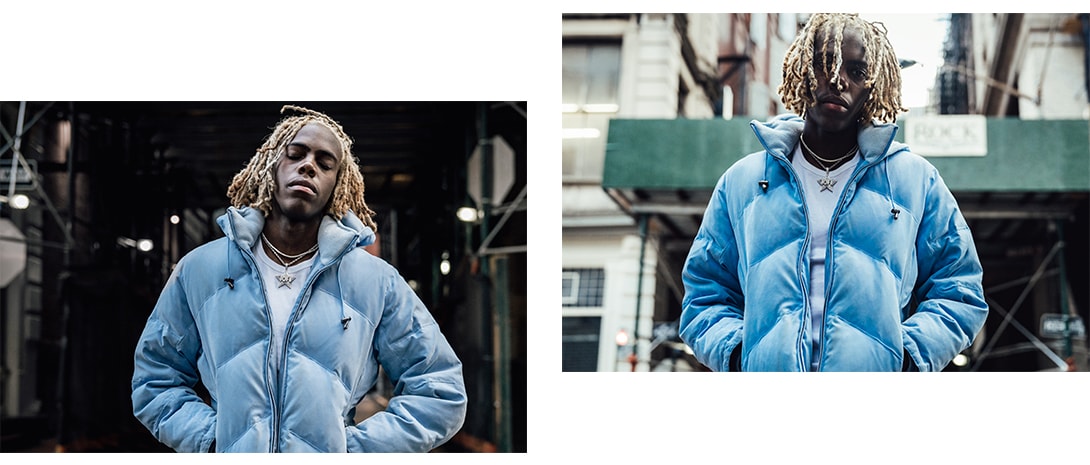 Signing on Lil Jake as his manger in 2016 — after meeting through a Twitter group chat called GLone — only heightened Bans' exposure. Thanks to Jake's relationship with music promotion company Lyrical Lemonade, Bans gained the support of founder Cole Bennett, a director who helped turn SoundCloud hits such as Ski Mask The Slump God's "Catch Me Outside" and Lil Xan's "Betrayed" into chart-landing singles.
That Lyrical Lemonade relationship would prove instrumental for Bans when the music video for "Dresser" was released on November 2017, gaining 2 million songs and planting Bans as one of ATL's rappers to watch. Yung followed that up with his biggest song to date, "Lonely" featuring Lil Skies. The two young spittas met over social media because of Skies' love for Bans music and quickly became friends. The video for Bans, which was also shot by Bennett, has over 8 million views and the song was recently featured on the first episode of the second season of Donald Glover's critically-acclaimed FX series, Atlanta.
After releasing three volumes of his self-titled EP, Yung Bans has supplanted himself on a national stage. So much so that Future — who was rumored to have signed Yung Bans to Freebandz — has become one of the young rappers biggest supporters. "PSA YUNGBANS IS SIGNED TO YUNGBANS," Future tweeted out on March 2. "YungBans 30k for a show out da gate. Richest young n***a in dis $hit."
With a full steam of momentum, Yung Bans' road to become a household name is paved. Yung Bans, Vol. 4 is in the works and records with Lil Yachty, André 3000, Yung Lean, Lil Yachty and Lil Tracy are in the archives. His focus right now is beating his case and expanding his reach. "Music isn't all about lyrics, it's the sounds," Bans said. "I don't know how to describe it, I'm just doing me, I'm just living it."
---