UK Radar: Neverland Clan
Clan Clan Clan Claaaan! Don't sleep on this trio; they have a whole bag of tricks.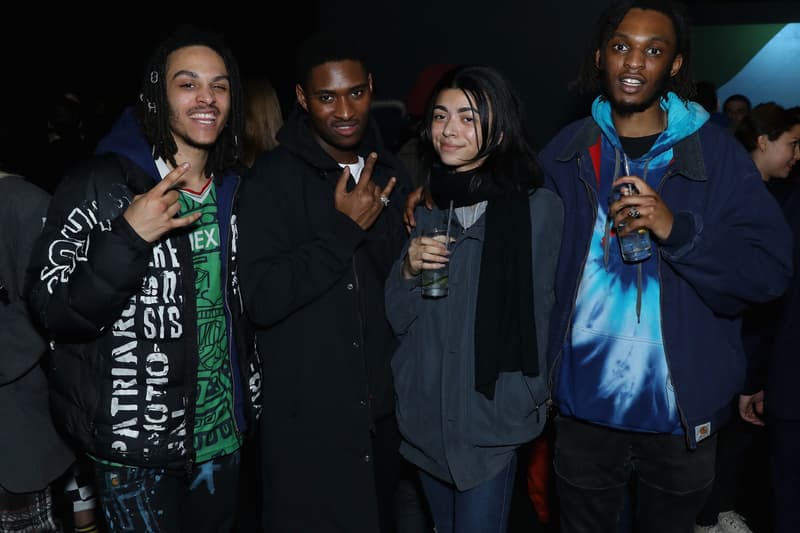 2015 was the breakout year for this collective although they've been blatantly putting the work in; over the past year people have started to pay attention on a whole other scale. The Hackney hailing Daniel OG and Catford residing Omelet and Ryan Hawaii are each talented in their own right and together they're a movement.
From music production to video directing, fashion designing to guerrilla marketing, they've struggled to get to this point but they've kept it real at every step of the journey. So far, 2016 has been all about power moves; DanielOG opened for grime protégé Stormzy across Europe, Omelet is releasing a steady stream of idiosyncratic bangers, as well as grabbing the mic alongside Ryan Hawaii, who has been busy dropping his latest fashion collection – having already collaborated with the likes of Red Bull, BAPE, ICE CREAM and Lazy Oaf. Did we mention the fact that they all make damn good music? Anyway put plainly, the Clan are truly on some takeover business – featured on the lineup for NTS Birthday celebrations, shutting down Boiler Room sets, getting lost in the sauce at Astrid Andersen parties, curating playlists for Noisey' Beats 1 show, and still finding time to blow trees out in Dam, the London lads are living. HYPETRAK met up with a pretty knackered Neverland Clan at Shoreditch spot Hoi Polloi and after shooting packets of sugar – they had just jumped the train from a long ass studio session – we get the backstory behind the crew.
On how they all first met…
Ryan: Omelet and I got introduced through another friend because we live in the same area, Catford. I met Daniel through a stylist because I have a clothing brand and he wanted to pull some stuff. I went to hand deliver the clothes and we just kicked it off.
On how being friends became Neverland Clan…
Ryan: Omelet and I were working on music when we met.
Daniel: I was in a group and they were just in it to get girls, I was the only one that was serious. I mean I wanted to get girls as well but it was a dream of mine to do music and when they gave up, I did but I wanted to get into it again. I taught myself how to produce and just took it from there.
Omelet: We spent the whole of late 2014 making music. I had just left university after my first year of doing audio engineering.
Daniel: I go to Leicester University and study management and marketing but I don't know how long for? It's only useful because I've got an apartment there and a home studio, so whenever we go there we just record, it's called Rap Camp. It actually does make a difference being away, with no distractions and being able to make as much noise and do what we want and smoke cannabis freely.
Omelet: I think when you're in London all the time; it gets a bit too much. At rap camp you haven't got to see or hear anyone or anything; it's just three of us in a room – you have to no homo that.
Daniel: Nah our three in a bed, it's working.
Ryan: It's like a rotation of watching 'Luther' and making music, like two hours of 'Luther' and 22 hours of studio, literally it was that.
Neverland Clan on Neverland Clan…
Omelet: Ryan is like low-key, no mid key the orchestrator. He'll be like, here's my idea, this is how we should do it, this is the artwork; he's the one that puts the finishing touch on stuff. If Daniel's not around, low key the mood is just not right; he's the one that just makes everyone laugh. If he's in front of a laptop it's over, he can just make beats easily. We definitely keep each other sane, as much as we do music and all that we're friends first.
Ryan: You can tell by our music; Omelet and I are quite dark people sometimes, so it's like a Ying Yang effect. Dan is like a musical genius, you could lock Dan in a cupboard with just a laptop and a bit of cannabis and he'd come out with a beard and an album. Omelet as a producer is more like a visual artist, he creates soundscapes, and his music is its own entity. It grabs your attention immediately; it's a rare thing, almost like Clams Casino.
Daniel: Omelet's music is very atmospheric, it gives you a direct feeling, and you know it's him. I learned bare from Omelet, in terms of production because when I started I didn't know lots of things in Logic. I feel like we all need each other in order to grow. We've got a good formula going on and I don't see that messing up anytime soon.
On why they think people resonate with Neverland Clan…
Omelet: People can resonate with the fact that we can do what we want.
Daniel: That's what's going on with youth culture now. Before there were certain things that you couldn't do but now I feel like people know themselves and where we epitomise that, people gravitate towards us. Everything is more accessible; the Internet has made it possible to get your art out there and for people to appreciate it and see it from the ground up.
Ryan: People don't really look upwards anymore; they just start doing their own thing. You can make your own clothing line, learn how to make beats, record them and release them whenever you want to the public. You don't necessarily need a label or studio time to do that.
On the DIY hustle…
All: The biggest struggle over the past year has been money.
Omelet: We bumped it all the way from Leicester to London for this interview today and we're probably going to bump it back there. Bumping trains whilst doing all this stuff makes it more exciting.
Ryan: People need to understand that life is hard you know. We're real people.
Daniel: But not for long though, we have hope.
On the guerrilla pop-up at high-end department store Selfridges…
Ryan: I did my first pop-up in February and the turn out was way more than I ever expected so whilst the heat was on me, I thought let's do something disruptive. All of these hierarchical systems in high-end fashion or even music mean it's quite hard with the background we're from to break into those worlds. I wanted to do another event but I wanted it to actually be a statement in itself, so I just thought what's the worst that can happen? I can get arrested or get banned; I don't care because I don't shop there.
I did it all via Twitter and email and got people to RSVP but hid the address and then 200 people turned up. I was there for like 15 minutes talking to people and giving them each pieces because I numbered each email RSVP to correspond to each piece. I got kicked out after about 20 minutes but it was sick. I ended up doing a seminar and workshop with Virgil Abloh in Selfridges; it's a full circle kind of thing. I think sometimes people think about things too much, it's just about doing it.
On what their parents think about Neverland Clan…
Daniel: I showed my mum i-D magazine and she asked me how much did you get paid. I think parents just want you to be able to stand on your own feet but what they need to realise that in order to do that you have to take risks. Recently my mum said I have her full support because when she started seeing it was getting serious and I love her for that.
Omelet: I went to university in 2013, enjoyed myself for a year and then the following January was like forget it, I called Ryan and said I might just come back home
Ryan: You had to have a discussion, it was Omelet, his dad, his uncle and me and we were having a serious talk about the future.
Omelet: Even now to this day I show my mum things and it doesn't mean anything.
Ryan: None of us are from backgrounds where we have the money to do this. Everything is scraped from the bottom of the barrel, there have been times when we've been hungry and it sounds so cliché but we've bought a £1 Mayo chicken burger and ripped it in half. There's a lot of beauty in the struggle.
Daniel: We're not industry plants either. But sometimes I just want to be up. All I need is a gaf, where I can create with no worries. I just want to be comfortable and I know it's coming but I'm impatient and I want it now. I just want to shut my mum up a bit and make her happy.
On your most accomplished release…
Ryan: Plan
Daniel: That song is so dead though. It's not that I don't like the song. That was the first song I ever made. It's weird.
Ryan: At the second pop-up store in April 2015 we basically forced Daniel to perform 'Plan'. He was a bit nervous but we were like, 'This is a banger you have to perform this please!' It went off like people had heard it before and that's when we knew it resonated with people. He hadn't even recorded it at that point. We're still learning and we're still experimenting, as much as we're releasing things and loving it, we're young.
Follow @NeverlandClan on socials @Danieltripleog @RyanHawaii @OMELET_ and head over to SoundCloud to get your download on.
You can catch Neverland Clan's extended family 808Ink in next week's UK Radar and catch up on previous acts here.