Who is Rich Chigga?
Meet the "Dat $tick" viral sensation, a homeschooled 16-year-old rapper from Indonesia who has never set foot in America.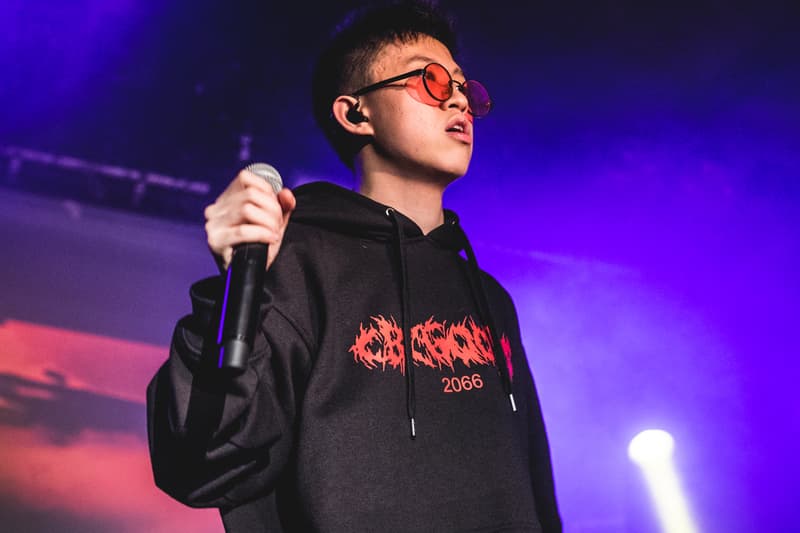 The Internet is a place where you're able to find pretty much anything. Yet, just when you thought that you've come across all there is to see and that things couldn't possibly get any more deviant, something like Rich Chigga happens. Last weekend, the folks from KollegeKid hit a weirdness jackpot when they unearthed a less-than-a-week-old song/music video titled "Dat $tick." The track itself is pretty cool, but if you were to listen to it without watching the video, it's no more than another catchy trap record. The experience is completely different, though, when paired with the visual — which Rich Chigga directed and edited by himself. The video depicts the young Asian teen donning a pink polo shirt, khaki shorts and a Reebok fanny pack. He and his friends are doing almost everything that you'd see in a stereotypical drill/trap MV – "Trap Lord" stances, Cognac pouring, pistol waving, and a whole lot of dabbing. It was phenomenal.
Every time controversy-provoking rap characters, like Lil B, Chief Keef, RiFF RAFF, Rae Sremmurd, Young Thug and Slim Jesus, blow up, they're met with loads of criticism, ridicule and questions. This too happened with Rich Chigga; some thought he was a real shooter, others felt that the whole thing was satirical. Certain people even speculated that he was a rich hipster kid from California — an assumption which couldn't be further from the truth. The 16-year old, homeschooled comedian-turned-rapper is born and raised in Jakarta, Indonesia and still, to this day, has never set foot in the U.S. Astonishingly, all the English and rap culture he's learned comes from years of browsing the internet. With the help of Rich, the "Dat $tick" instrumental is also the first trap beat that the track's producer, Anante Vinnie, has ever made; the self-proclaimed EDM-loving producer reveals that he is actually not familiar with the type of music at all. We reached out to the both of them and, unexpectedly, found out a good deal about their origins, influences, music-making processes, goals and more.
Tell us about yourselves.
Rich Chigga: I'm Brian Imanuel, 16 years old. I'm from Jakarta, Indonesia and I'm homeschooled.
Ananta Vinnie: I'm Ananta Giovanni Pranaya and I produce EDM music. I used to produce under the name DJ AMBERVIN and recently changed it to Ananta Vinnie.
Are you a rapper or a comedian?
RC: My main thing is actually Twitter and I've made a few Vines that have a good amount of likes, but it has always been a side thing. I definitely want to keep doing this rap thing, but I will never stop doing comedy on the Internet because that's what Brian Imanuel has always been about. That's what got me here, that's what people follow me for and it's not going to change.
Was "Dat $tick" a joke?
RC: It was actually half serious. In the music video, I was going to dress like a rapper, like Post Malone and A$AP Rocky. However, I had a last minute concept change and did not want it to look like some scrawny Asian kid that's trying to be hard and gangster — so I chose a less serious costume. But even then, there are still people who don't get it.
Some viewers have found your usage of racial slurs offensive.
RC: I get why people are offended, and I don't want to sound pretentious but my goal is to help put an end to the negative effects of the N-word. I want more people to know that it's a term of endearment in hip-hop rather than something racist when non-black artists use it. By putting out something that gets people to say, "I'm not sure if I'm okay with this but it's dope," as well as seeing the small percentage of dislikes compared to the likes in the video, I think it's working.
Why do you think foreign Asian rappers like yourself and Keith Ape get so much buzz?
RC: I don't really know about the whole "foreign rappers get more buzz" thing because when I posted the music video, most people thought I was from California. But as for Keith Ape, it made sense because what he did was really cool and different from what other people have done.
What was the songwriting process like?
AV: Brian (Rich Chigga) actually came up with the idea for the beat — he showed me a few songs to reference. He put down all the rhythmic and melodic ideas while I did all the technical stuff like recording, mixing and mastering. I used Logic Pro X. The synth sound is from Sylenth 1; I looped the melody and when it sounded like it had potential, I added a portamento effect to it so that there's that "slide" between the notes.
RC: The whole process, including the filming and editing of the music video, took about two weeks.
If you could pick three different artists to remix "Dat $tick," who'd they be?
RC: I'd choose Playboi Carti, A$AP Rocky and Pouya. They'd kill it.
How long have you been doing music for?
RC: I've only been doing music for a year simply because I thought it was fun to come up with lyrics and record stuff. A lot of people seemed to like my work so I kept on doing it.
You have another video titled "Living the Dream." Did you connect with DJ Smokey for it?
RC: The song I did with DJ Smokey's beat was actually from Chris Travis' "Stayin True," but DJ Smokey had the instrumental out on Youtube. At the time I was pretty sure that he was okay with other rappers hopping on it as long as they credit him.
We assume you went to an international school because your English seems pretty fluent.
RC: I've never been to an international school. I actually learned English from watching YouTube videos and talking to myself, because I use to spend a lot of my time alone — that went on for about 4 years.
You seem pretty in-tune with American culture.
RC: I learned most of the culture from Twitter. I've been on it since 2012 and I'd have to say it was crazy how the process happened, from meeting my first American friend to entering my first American social circle, and finally having most of my audience being from America.
Do you make music in your native tongue?
RC: I don't think I'd do Indonesian lyrics fully but I'm looking to sneak in a couple of Indonesian words in my upcoming songs.
Is your race part of your appeal or do you want people to see beyond that?
RC: I definitely want people to see beyond that. I don't want to be put in a box and I honestly kind of regret calling myself Rich Chigga. I couldn't change it because I already did "Living the Dream" with the name. If I could pick something else, I would choose something that has nothing to do with race.
Ananta Vinnie
Is the type of thing you do common in Indonesia or are you guys outliers? Do the other guys in the video rap?
RC: The hip-hop scene, as of now, is not that big. Everybody listens to EDM. And no, they don't rap. Out of the four friends in that video, only two of them can actually speak English. People are still pretty sensitive in Indonesia when it comes to hip-hop since there are usually curse words in the lyrics. This is why I didn't want rap in Indonesian.
AV: To be honest, I'm not too familiar with this type of music. Brian showed me most of it. I make mostly EDM music, as well as TV advertisement jingles, on my own. This type of music is very new in Indonesia. What's popular here is "dangdut" and acoustic pop covers. EDM is growing, because of guys like Angger Dimas who become internationally recognized.
What do your parents think about it?
RC: They've always been supportive of me. They don't understand a single word I rap about, though.
Who are you listening to right now?
RC: My taste in music is not really diverse. I listen to a lot of hip-hop, mostly. Lately I've been listening to a lot of $UICIDEBOY$. I love their flow and I think they're really unique. I've been checking out Playboi Carti, Kodak Black, MADEINTYO and Pouya.
AV: I'm a big fan of Avicii, Skrillex, Diplo, Zedd and Daft Punk. I'm amazed at how they can come up with amazing synth sounds and rhythms.
Who do you want to work with right now?
RC: I really want to work with Lil Uzi Vert or Father. A lot of big things are going on and that might actually happen soon.
Goals in 2016?
RC: It was originally to hit 100K followers on Twitter and to make four more songs, but now I'm pretty sure I'm going to surpass the number and also make a lot more songs.
AV: My goal is to be a well-known music producer and make originals that get millions of views across the world. And of course, have fans that love my music.
Any last words for the people out there?
RC: Always believe in yourself, never lose sight of your vision and never stop thinking about your next move.