Dolce & Gabbana's Drone Models Don Purses
It ain't safe.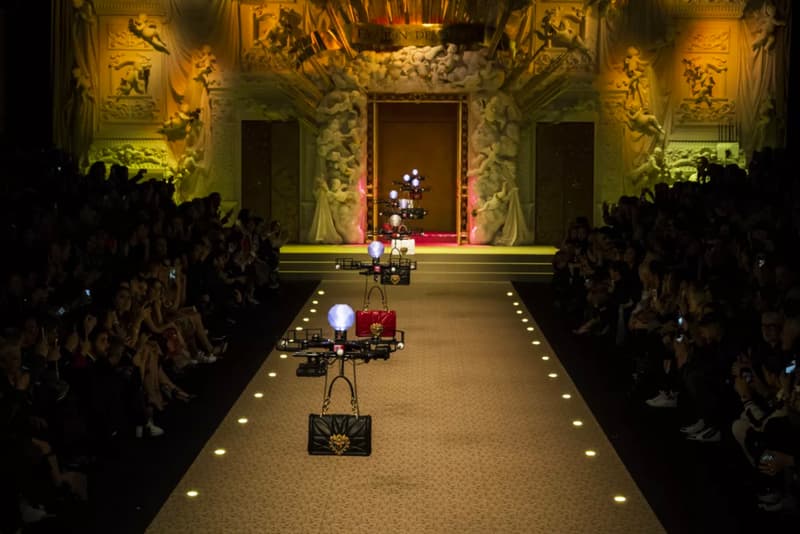 Always strutting headlines, Dolce & Gabbana has decided to course-correct its runway strategy. Instead of relying on a full cast of millennials, the luxury label opted for drones.
Last Sunday, D&G's show ran almost an hour late. Ubiquitous signs requested over 600 audience members to turn off their personal Wi-Fi hotspots leaving certain fashion personalities, including Anna Wintour impatient and displeased. Once set up, however, the luxury label shocked guests at the Fall/Winter 2018 runway show rolling out drones. In a single file manner, the machines showcased Dolce's latest accessory designs. After all the fuss, the womenswear show proceeded to catwalk norm. Odd D&G business-as-usual garments appear, notably, a zebra and horse, alongside breathtaking Venetian dresses, tailored suits and other strong offerings.
Watch the Dolce & Gabbana Fall/Winter 2018 show, and, if you're curious about other tech advancements, MIT just published its 10 Breakthrough Technologies for 2018.
Dolce & Gabbana replaced millennials on the runway with drones, proving no one is safe from being made obsolete by technology

— Tyler McCall (@eiffeltyler) February 25, 2018
Here are @dolcegabbana's Nice Boys pic.twitter.com/lrA7KLUPJP

— Tyler McCall (@eiffeltyler) February 25, 2018