Here Are 10 Highlights of Chance the Rapper's Career
Leading up to his big night at the GRAMMYs.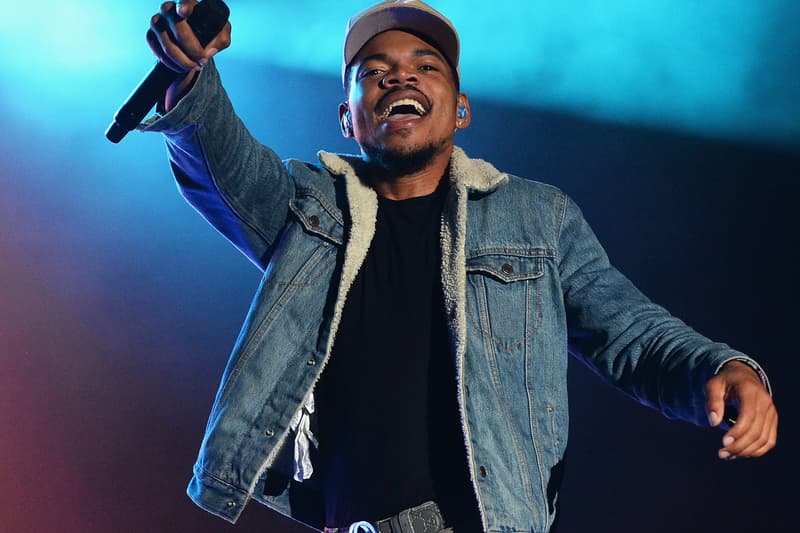 Adele may have swept all of the biggest GRAMMY Awards this year, but Chance the Rapper scored big at the award show too. On top of delivering an astounding performance of his Coloring Book cuts "How Great" & "All We Got" with Kirk Franklin & Gospel Choir, Lil Chano from the 79th won the Best Rap Album award, beating out Kanye West, Drake, De La Soul, ScHoolboy Q and DJ Khaled. He also earned GRAMMYs for Best Rap Performance and Best New Artist. These are the first GRAMMY Awards Chancellor has ever won.
While his third mixtape Coloring Book has received acclaim from both fans and critics, it was ineligible for an award due to strict rules set by the National Academy of Recording Arts and Sciences (NARAS). It declared that in order for a release to be considered for a Grammy Award, the project must be "commercially released in general distribution in the United States, [...] and available for sale from any date within the eligibility period through at least the date of the current year's voting deadline (final ballot)." In response, Chance started campaigning for the GRAMMYs to recognize free music, starting a petition for independent artists like himself. While claiming that Chance's petition did not influence their decision in any way, The GRAMMYs eventually changed its rules, making Coloring Book eligible for a nomination.
Chance told Rolling Stone in 2013 that the music industry is dead, and that there is no reason to sign to a major label. For Chance to stay indie and make such an accomplishment is proof that one can pave their own ways and still find success to a major degree. His win could serve as a justification of hope for all up-and-coming artists around the world. In celebration, we've listed ten outstanding achievements in Chance the Rapper's career before his GRAMMY wins.
Inducted into XXL Freshman Class 2014
Date: May 2014
Chance the Rapper caught everyone's attention with the release of his critically acclaimed Acid Rap mixtape. Since then, the Chicago rapper has been playing in big festivals like Coachella and Lollapalooza, and embarking on big tours with the likes of Childish Gambino, Mac Miller and others. He was inducted as a member of XXL's Freshman Class of 2014, alongside fellow Chicagoans Vic Mensa, Lil Bibby and Lil Durk.
Named Chicago's Outstanding Youth of the Year
Date: November 2014
Chicago Mayor Rahm Emanuel presented Chance with the city's "Outstanding Youth of the Year Award." It was presented for the rapper's "outstanding contributions to the youth of the state of Illinois." It also states that he has given himself "to the upward mobility of young people throughout the state of Illinois." Upon receiving the plaque, Chance says that it's "an honor to bear that weight" and that it is "the most important award" he will ever win.
Featured in Forbes' "30 Under 30" music list
Date: January 2015
In 2015 when Forbes released their annual "30 Under 30" music list, a third of it consists of rap or rap-related musicians. The youngest entrant is Chance the Rapper, who was only 21 at the time. It wasn't the first time Forbes had supported the Chicago emcee either, it was one of the first publications to support his 2012 effort #10Day. Other musicians to have made the list that year includes Big Sean, FKA Twigs, Mike WiLL Made-It, Jhene Aiko, Iggy Azalea, DJ Mustard and Azealia Banks.
Gave lecture at Harvard University's Hip-hop Archive & Research Institute
Date: April 2015
Chance The Rapper is amongst the few rap artists to be invited to speak at renowned universities. The Chicagoan was invited to give a guest lecture at Harvard University's Hip-hop Archive & Research Institute in April 2015. There, he sat down for a Q&A and addressed issues such as the Baltimore protests, working with Kanye West, the streaming services like TIDAL, misogyny in hip-hop and more. He condemned streaming services (other than TIDAL) for being "wack as f*ck" but gave a big thumbs up to SoundCloud, which he says is "ill as f*ck." Chance has also spoken about the art of activism at The University of Chicago's Institute of Politics.
Daughter Kinsley Bennett was born
Date: September 2015
Chance the Rapper's daughter Kinsley Bennett was born in September of 2015, delivered at Prentice Women's Hospital in Chicago. Chancellor and his girlfriend, Kirsten Corley, have been together since the release of Chance's 2013 mixtape Acid Rap. On his daughters birth, he shared: "I love this time in my life, and I've learned to love better because of it." In January this year, Chance uploaded an Instagram photo of Kinsley meeting former President Barack and former First Lady Michelle Obama.
Delayed the release of Kanye West's The Life of Pablo
Date: February 2016
Kanye West's The Life of Pablo had one of the most complicated rollout procedures for an album. Not only did he change the title of the LP again and again, the release date was also pushed back a few times. West revealed that the reasons behind one of the delays was because Chance wanted to finish his part on the song "Waves." In response, Chance tweeted: "I fought everyone to keep 'Waves' on the album. I spent all night finishing it. The world is better because of it."
Performed Muhammad Ali tribute at the ESPY awards show
Date: July 2016
The 2016 ESPY Awards included a tribute to the late boxing legend Muhammad Ali. Chance the Rapper performed the tribute in the form of an original song. The Chicago artist was then joined by Donnie Trumpet, Jamila Woods, Peter Cottontale and Teddy Jackson. Basketball legend Kareem Abdul-Jabbar also presented a tribute in memory of Ali. Golden State Warriors star Steph Curry also helped Chance prep for his performance with a quick dance.
Hosted the Magnificent Coloring Day Festival in South Side Chicago
Date: September 2016
Chance the Rapper held his Magnificent Coloring Day festival held at U.S. Cellular Field in Chicago. Featuring a slew of special guests like Kanye West, Young Thug, Lil Uzi Vert, Lil Wayne, John Legend, Alicia Keys and Tyler, the Creator, The campaign was launched in conjunction with rapperradio.com to get his music on the radio. Shortly afterwards, Chance embarked on the Magnificent Coloring World Tour; however, a chunk of the European leg was cancelled due to personal reasons.
Became the face of H&M x Kenzo's new campaign
Date: September 2016
H&M announced in May that its latest collaboration is with French luxury brand Kenzo and also unveiled that Chance would be one of the ambassadors for the new line, alongside highly-acclaimed supermodel Iman, and Vietnamese singer-songwriter Suboi. In September, the first look arrived in the form of an advertisement photographed by Jean-Paul Goude. In the segment, the Chicago rapper talks about his love for film and screewriting and how those passions have influenced him in his music-writing.
Starred in Kit Kat's new campaign
Date: October 2016
Kit Kat released the official commercial with the Chance singing a gospel rendition of the iconic tune. Donning a lion costume and his infamous "3″ hat, the artist stands as a superimposed "Chance The Wrapper" on the candy bar croons a soulful "Gimme a break." A month afterwards, a second TV spot dropped to accompany the original. Similarly, this new version finds the Chicago rapper strolling through the candy aisle and finding a talking version of himself on the Kit Kat wrapper spitting a rework of the candy's jingle.