Derek Jeter's Supermodel Wife Hannah Announces She's Pregnant
The Captain's first kid.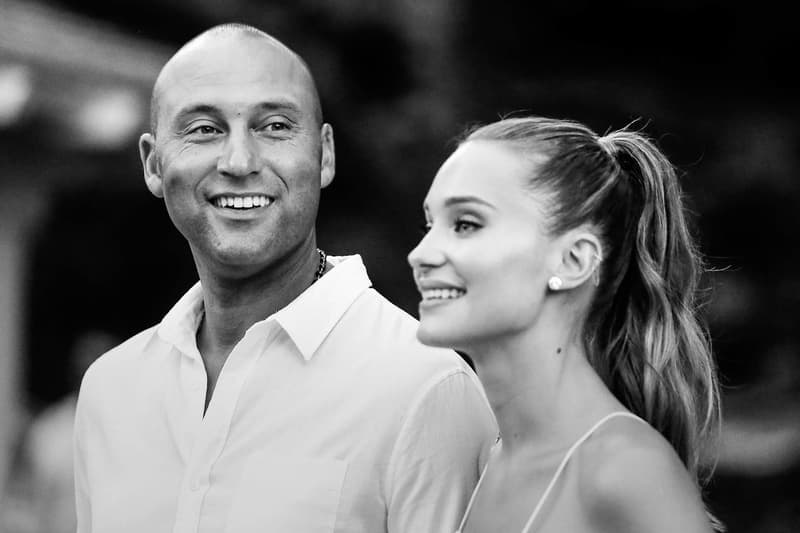 Supermodel Hannah Jeter has announced she and her husband, Yankees great Derek Jeter, are expecting their first child in a letter written to their fans on The Players' Tribune, which is owned by the former MLB shortstop.
In "the first of a new editorial series in which family members, friends and those closest to them share special insights into the athletes they love," the 26-year-old speaks on how she met Derek and her initial thoughts.
I thought he was a pitcher… Don't get me wrong: I'd been living in the city for a couple of years — and I know I saw Yankees hats and probably a Jeter jersey or two (or 100), but they didn't register. I grew up in the Virgin Islands, on St. Thomas, which is only about three miles wide. Baseball wasn't really "a thing." We didn't have professional teams to obsess over so I was never a baseball fan.
Can you imagine, a supermodel in New York not knowing who Derek Jeter is/was or what he meant/means to the city of New York, or even baseball?
Hannah continued on to talk about the blossoming of their relationship through the ball player's final two years in his career, including what it was like to see him on the field for the first and last times.
I remember watching Derek walk out to shortstop for the last time at Yankee Stadium. I remember how he seemed to be absorbing everything — every sound, every fan, all of the energy. There was something about the feeling of that night that was unforgettable. I knew how much it meant to me. But for the first time, I think I could also fully sense how much it meant to everyone else: the culmination of this 20-year career, this 20-year journey that they had all been on together. This atmosphere that I had gotten so swept up in — for a lot of people, baseball is like that every night. Yankees fans had had two whole decades worth of nights like this. They grew up with Derek Jeter, and he grew up with them. And I don't think I'd understood that before.
Although it's great to visualize Jeter's final days from a much different perspective than any other fan could offer, Hannah drops a bomb on the world towards the end of her piece by announcing the couple are expecting their first child, a girl. She goes on to discuss the life she hopes for her new baby, and what kind of parents they strive to be.
We want our kids' lives to be as "normal" as possible. They're going to be born into such an extraordinary situation. They're going to have to be some strong little people. We don't want them to be defined by their dad's name — for them, we want him to just be "Dad." That will be the piece of him they'll have that the rest of the world doesn't. It will be special, and it will be theirs.

Still, though, I want them to know Derek Jeter. I feel some sadness — and Derek must as well — thinking about how our children will never get to experience that time in his life. We can show them videos, and photos, and memorabilia — I already can't wait to show them footage of that last night at the Stadium. But I know it won't be quite the same. I'll tell them myself: You had to be there.
As a player who often spoke out against the idea of marriage during his career, it's wonderful to see he has settled down and is finally focused on his life outside of baseball. It just took a Victoria's Secret model to lock him down, no less.
Jeter will become the 22nd player in Yankees history to have his jersey number, No. 2, retired. The ceremony will take place on May 14, 2017 at Yankee Stadium.
Join Our Discussions on Discord
The HYPEBEAST Discord Server is a community where conversations on cultural topics can be taken further.