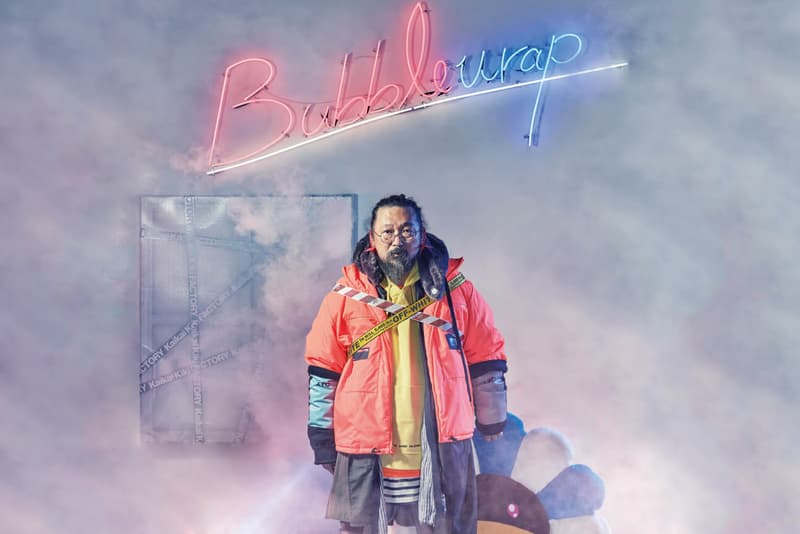 Takashi Murakami Explores Traditional Japanese Art Movements in "Bubblewrap" Show
Practices that spurred his 'Superflat' practice.
---
This past Sunday, Takashi Murakami launched a self-curated exhibition entitled "Bubblewrap" at the Contemporary Art Museum in Kumamoto, Japan. The diverse presentation explores traditional Japanese art movements and their connection to current examples including Murakami's ubiquitous Superflat practice. A majority of the expansive works on display are from the private collection of Kaikai Kiki Co., Ltd. with a few pieces loaned. One of the highlighted artists is Hajime Sorayama whose life-sized Sexy Robots are influenced by the expressive forms and industrial materials observed in the Mono-ha group.
"The primary point of this project is to revisit and name the artistic movement of the period between Mono-ha and Superflat—between the late-1980s and 1992—right when Japan's economy was in full bloom," said Takashi in an Instagram caption. "I was an art school student when the so-called Bubble Economy was at its peak, and I grew up heavily influenced by the various expressive forms of the era. So there was a wave of artistic movement before the one I would later name Superflat, and yet that movement has never been named."
"Bubblewrap" is currently on view until March 3, 2019. Visit Contemporary Art Museum, Kumamoto's website to learn more. Elsewhere, watch acclaimed camouflage artist Liu Bolin transform into "The Invisible Man."
Contemporary Art Museum, Kumamoto
2-3 Kamitoricho
Chuo Ward, Kumamoto
Kumamoto Prefecture 860-0845
Japan