Passion vs. Money: A Case for Doing What You Believe In
Tales of taking the unconventional path.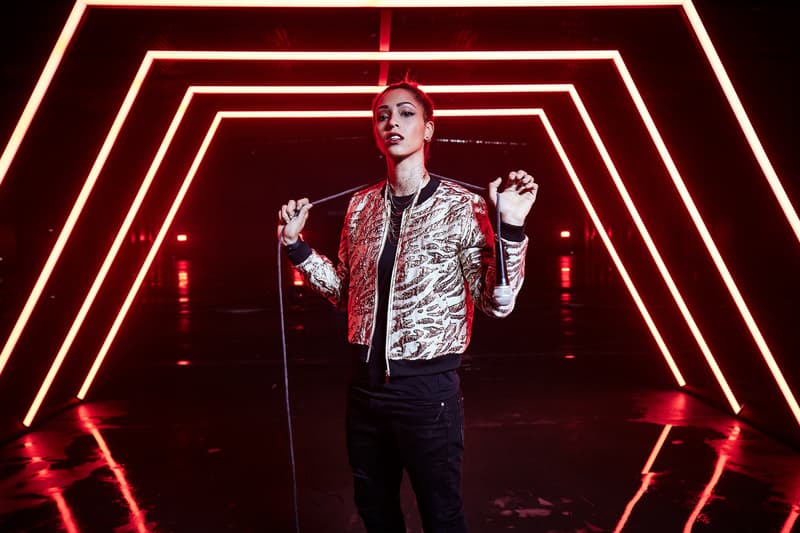 Until relatively recently, the status-quo for many young hopefuls had situated them on a normative life path. The pursuit of one's own dreams were often deferred to as practical values and stable careers were the standard of achievement. Though through generational flux, there has been a collective shift within millennials and Gen-Zers who are breaking free from the reigns of their predecessors and pursuing their passions. Optimizing happiness has become the currency for fueling lives, as many seek creative satiation and the utmost freedom for expression. Though their vitality is rooted within an unconventional means, they've found an alignment that resonates with their essence.
Giving these imaginative creators a platform, Tiger Beer–within its Uncaged Heroes initiative–has sought out these mavens. HYPEBEAST recently sat with the Singapore-brewery's cohorts to discuss their story and why they dedicated their souls to passion opposed to money.
Please introduce yourself.
Ah Tan Wings: I'm a 26-year-old "Hawker-preneur" and founder of Ah Tan Wings.
Phyo Wai Ko Ko: I'm Phyo Wai Ko Ko, born and raised in Yangon and have been chasing dreams crazily; I have a little brother who's a lot like me.
RoxXxan: Hey, my name's RoxXxan. I'm a rapper from Birmingham, England who is representing Tomboys all over the world.
Amos Ananda Yeo: I am Amos Ananda Yeo, a Singaporean, and I launched the elevated streetwear label AMOS ANANDA in 2014 and elevated sportswear label 'NEWBR.ING' recently in 2018. Apart from designing and producing all the pieces, I am also managing the overall branding and creative direction for both labels. This includes art directing presentation shows, having business meetings and so on. You can describe me as a creator, fashion designer, an entrepreneur or an artist, it doesn't matter. I just do what i believe in.
Before you delved into your respective dreams, what was your life's original path?
Ah Tan Wings: Before I decided to pursue my passion and follow my love for local food, I was a cubicle warrior handling machinery sales. Although it was a good job on paper and I lead a comfortable life, it was not as fulfilling as what I do now.
Phyo Wai Ko Ko: Since I was young, I've been passionate about dance, so honestly, I don't think there was another path for me in my heart. Although I studied hard, I always wanted to dance. I guess if I were not a dancer, I would probably have become an engineer.
RoxXxan: When I was young I was really good at athletics and sports. I thought I was going to be the next Dennis Lewis. 100-meter sprint was my fave.
Amos Ananda Yeo: There wasn't really an original life path. I knew I would choose this path to start my own label when I was 12-years-old. During my school years, there was a limited choice in the cool clothes that I liked, and they were usually super expensive, which I couldn't afford back then as a kid. I subsequently trained as a Fashion Marketer and graduated with a bachelor degree from Raffles Design Institute. Upon graduating, I launched the brand with no hesitation. Right from the beginning, my vision was to make cool clothes, but it became more than just designing and producing clothes. That education gave me a broader perspective when I started running a fashion business.
When did you decide to follow your unconventional dreams? What were the initial struggles experienced?
Ah Tan Wings: My lifelong love for Singaporean cuisine and delicious fried chicken grew from a simple hobby into a side job on the weekends. After day one, I was hooked. I realized I did not want to just eat Har Cheong Gai — shrimp-paste chicken — I wanted to perfect it. There were a few struggles at the beginning, and it was a massive change in lifestyle. I worked up to 18 hours every day, a huge jump from a 9-to-5 job.
Phyo Wai Ko Ko: Seeing Michael Jackson's moonwalk dance when I was 10 was all it took — dance was my first love! In Myanmar, that style of dancing was not very popular. There were very few dancing clubs or schools so that meant I had to learn by watching videos sent to me by father from overseas.
RoxXxan: I'm not sure how old I was, but I remember Grime becoming big in London and waiting for it to come to Birmingham or getting tapes with recorded sets from my cousins down there. I loved how different and passionate all the MCs were. I never thought a girl could be an MC until I heard Ms. Dynamite. She is one of my heroes, plus she has a deep voice so I was sold! I think I went home that night and started writing lyrics.
Amos Ananda Yeo: As a kid, I was always out on the streets playing soccer and got inspired by the football jerseys and what the players wore after the games. That inspired me to launched my eponymous label, AMOS ANANDA, fresh out of university with the vision to blur the lines between streetwear and high fashion. There was a lack of voice for Asians in the international platform that spoke to the youth. As a creative, the struggle in the beginning was always anchoring our brand in the right direction and arresting the attention of our consumers.
How did you handle people in your life who didn't encourage you?
Ah Tan Wings: I think there will always be naysayers, but since many say it out of concern, I take it positively. I am also not one to just follow what others think I should do, as I have never believed in taking the conventional route in life.
Phyo Wai Ko Ko: I'm lucky to have a supportive family who let me pursue dancing, whilst I finished school. Outside of my family, friends were also encouraging. These are the people whose opinion I care about and so it matters greatly that they support me. More importantly, there is a growing dance community in Yangon, and across Myanmar.
RoxXxan: Luckily for me, the people that didn't encourage me didn't understand it. They thought it was poetry and would leave me to it; they never tried to stop me — I just think they didn't get it.
Amos Ananda Yeo: I remind myself that no one is responsible for my success except myself.
For many creatives, the simple fact is that the monetary compensation may not be there for you in the start. How did you come to terms with this notion? What became your motivator in lieu of money?
Ah Tan Wings: I think, more importantly, it is about knowing what your goal is. It is this goal that keeps me going day-in-and-day-out, and it gives me motivation as I edge closer to achieving it. Such personal goals go beyond monetary compensation and can serve as an indication that you are still on track and progressing in the right direction.
Phyo Wai Ko Ko: When you discover your passion, living it is its own reward. I dance because it makes me happy, not because I want to be famous or rich.
RoxXxan: I've never had money, so I never expected it. It was normal for me not to have it. Growing up in Birmingham, we had no access to the music industry, no radio plays, no paid shows. People used to audition and literally beg to borrow and steal to perform anywhere. I've never been motivated by the money, my drive was always to perform in front of thousands of people — with choreography like Missy Elliot. I've only ever wanted money to look after those close to me.
Amos Ananda Yeo: I know that creating a brand from nothing has never been easy. But I also know it has never been impossible. Six months before I launched my eponymous label, AMOS ANANDA, and fresh out of university, I brought two large luggage filled with 80kg of fabrics to China. That 80kg became AMOS ANANDA's first collection and that changed my life. I managed to do it maybe with that relentless drive to pursue my objectives and the sense of fearlessness that only a naive young graduate would have. Especially at the start of my path, there was nothing to lose—so there was no reason for me to not chase after my dream more aggressively.
Why were the conventions of a standard life not what you had in mind for yourself?
Ah Tan Wings: I have experienced the standard 9-to-5 job, and I don't mind not doing that anymore. Some people can only dream of having their hobby as their jobs, and once I realized I could be a Har Cheong Gai connoisseur, there was no going back. I wanted to honor the local dish I enjoyed growing up and contribute to Singapore's culinary scene by creating a version of Har Cheong Gai that would be unforgettable.
Phyo Wai Ko Ko: I have an engineering degree and studied hard. If I were to follow the conventional path I guess I would have become an engineer, but I chose to dance because as they say, "do what you love."
RoxXxan: I can't really explain it, but I've always known I had a purpose and having that direction is a blessing. I've always known I was a star, I've just didn't have the confidence to express it.
Amos Ananda Yeo: I grew up having to think very independently and differently. How the future will be shaped has been up to us. Traditional routes in careers are no longer a true reflection of what makes a successful one. With an entrepreneurial spirit, I felt there was more to share with the world.
At what point did you realize that your diversion from a normal life was working out?
Ah Tan Wings: I was still holding my full-time office job on the weekdays the first few times I did pop-up events over the weekends. But after those first few events, I realized this was what I really wanted to do. It was like love at first sight!
Phyo Wai Ko Ko: A few years ago, around the time when I set up iNU (I Need You)my dance studio. It clicked that I can help support aspiring Myanmar dancers while pursuing my passion. I started performing more, as well, and the more I did, the more I became confident and creative with my own style. Being part of Tiger Uncaged further affirmed that my talent has been pretty cool and special.
RoxXxan: When I was 20, standing on the shop floor in boots selling the self-selection makeup, watching people come in-and-out, I would make up raps about what I imagined their life was like or what kind of day they were having.
Amos Ananda Yeo: It was going on well for us in Singapore in the beginning, but we can always do more. That was when I accepted the invitation to showcase in Paris in 2016, which gradually led to our expansion across Asia.
Can you talk to us about how you became involved with Tiger Beer and how the imprint has helped you flourished?
Ah Tan Wings: Tiger Beer has always been an active supporter of local budding talents, giving us platforms to showcase our abilities and rise to the global stage. I was fortunate enough to be awarded a $10,000 grant from the Tiger Beer Street Food Support Fund to kick-start my culinary venture, Ah Tan Wings.
Phyo Wai Ko Ko: I think it was meant to be! I happened to be at Kandawgyi Lake in May this year when Tiger Uncaged were having a pop-up event to find "talent from the streets" and I picked up the event flyer. On my way back home I couldn't stop thinking about it, so I submitted my dance video digitally. And the rest was history!
RoxXxan: Tiger Beer approached my team explaining initially what the initiative was going to be about, what they were creating and why they thought I'd be perfect! Overwhelmed and really excited, I jumped at the chance. The best part of working with Tiger Beer has been that they didn't want to change me, dim my light or hide things about me. They just helped and gave me a platform to showcase who I've been and what I've stood for!
Amos Ananda Yeo: The team from Tiger Beer was there when I was presenting my FW17/SS18 runway show at an event last year. It was during this opportunity where we met, which promptly led to a few meetings thereafter discussing how we could work together. It was an organic get together built on mutual respect, as they have been following my work and shows that I have been doing across Asia. This Tiger Roar project has been about uncovering unconventional talents around the world and bringing them together. The aim is to propel each individual to greater heights. This collaborative spirit resonates well with our brand 's philosophy and matches AMOS ANANDA's unconventional aesthetic. As a creative, we all have stories, ideas and works which we want to convey out globally. It has given us the platform to be discovered by the world.
What have you learned by being around your other Tiger Beer cohorts?
Ah Tan Wings: I have learned a lot from the other emerging talents, and Tiger Beer has given us a great platform to come together to share ideas. Although we came from different backgrounds, it has been our passion for local cuisine or respective fields that drives us forward.
Phyo Wai Ko Ko: Great intensity, collaboration and drive to pursue one's passion. I'm so thrilled to be around so much extraordinary talent, and connecting across cultures has been a very cool experience for me.
RoxXxan: That we've all played a part in the bigger picture and we're all picked for that reason. We're all so different but very skilled in our fields. Everyone has been great, we got along so amazingly!
Amos Ananda Yeo: No one is too important, and yet, no one is too insignificant in a collaborative project. The strength of each talent comes together to generate a powerful energy by merging the different creative disciplines and creating a synergy, making the impossible seem possible. It definitely pushes the boundaries, in terms of brand activation, and this is what we believe in doing at AMOS ANANDA.
What advice can you offer for an aspiring creative who is trying to follow their passion?
Ah Tan Wings, It is crucial that you give it your all. Even when things may seem hopeless, you can't give up too easily. It's worth it if you love doing it.
Phyo Wai Ko Ko: When you face challenges, keep going. Don't give up your dreams because one day the opportunity will come to you and all you need to do is to grab it until your dream comes true.
RoxXxan: Never stop dreaming! Know who you are and never sway! Work as hard as you can and learn to be self-sufficient and most of all never stop having fun and enjoying yourself.
Amos Ananda Yeo: Be a fervent believer of your own creation and never stop moving. Opportunities will only find you if you are in search of them. Meanwhile, stay patient and focus on your craft.
How do you foresee your journey panning out in the future?
Ah Tan Wings: As for my future plans, I am currently planning for a second stall, with something interesting brewing, so stay tuned!
Phyo Wai Ko Ko: I will never give up my dream. Dance is my life. My biggest dream is to support more Myanmar youths who are passionate about dance.
RoxXxan: Putting out loads of good music and hopefully touring the world, connecting and changing the perception of tomboys and gay women. Society sometimes makes us feel like we are not beautiful because we are not what society perceives to be "feminine enough." I'm here to make everyone believe in themselves and who they chose to positively be!
Amos Ananda Yeo: We will continue to work on our collections, International runway shows and other brand collaborations. What makes the future exciting is the endless possibilities of being able to work with different people from multiple disciplines to create a unity of intellectual frameworks that speaks to the future generation. The future is not a cookie cutter generation. Everyone has something to bring to the table. We are interested to see how we can work together creatively and push boundaries.
---
Be on the lookout for the Asian lager's Fall Festival by heading over to Tiger Beer's website for more information.
Must be 21-years-old or older to visit the website.