Mister Donut Suspends Sale Of "Uncute" Pikachu Donuts
A rough week for Pikachu.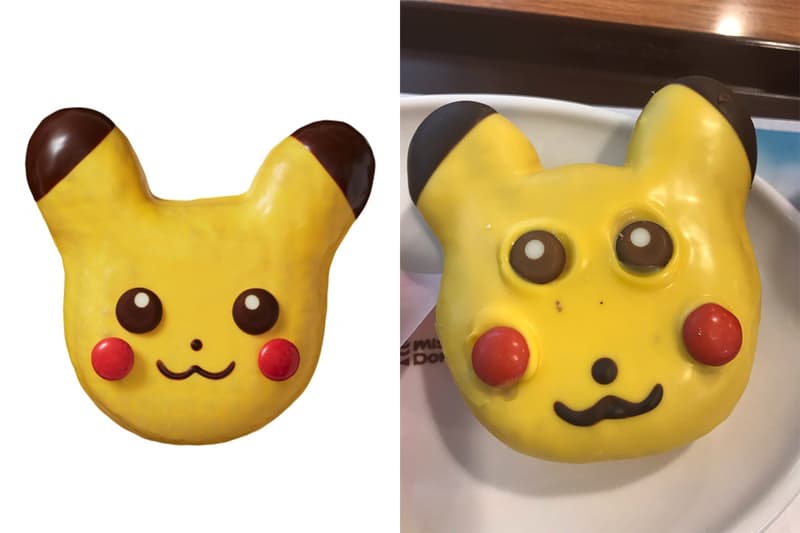 Shortly after launching advance sales, Japanese chain Mister Donut has pulled all Pikachu-themed donuts from its participating retail outlets.
The unexpected move comes after an influx of customers began posting photos of "uncute" donuts that don't really come close to the appearance of the product marketed. As the number of photos started to pile up, Twitter users pointed out that the main issue came from the placement of the white section of Pikachu's eyes. Others also commented on the thicker nose and mouth that accompany the centered eyes, which fail to resemble Pikachu's disarmingly innocent self.
Despite suddenly suspending sales, Mister Donut is still planning to go ahead with their nationwide launch of the Pokémon pastries come November 16, with a greater focus on quality control of the handmade products. Check out some of the "uncute" Pikachu donuts below and let us know what you think.
For more food news, McDonald's Japan recently launched new "America"-inspired burgers.
ミスドの限定商品のピカチュウドーナツが店によって、というか1個1個のクオリティに差があることが話題になってて、物によっては怖すぎたりするらしい。
店で作って焼くから仕方ないと思うが、多分、目が大事なんだと思う。
目の白い部分を真ん中にずらしただけで印象がすごく変わる。 pic.twitter.com/c1HXjOuOg5

— 陸マScientist (@rikumasc) November 12, 2018
明日から始まるミスドのピカチュウドーナツ、、
店によって個体値違うらしいから気をつけて、、 pic.twitter.com/OHriAtbiyz

— 与田尻 (@yumikinaon) November 13, 2018
\
ここで皆さんのピカチュウドーナツをまとめてみましょう。#ピカチュウドーナツ pic.twitter.com/hbH8C2O2SK

— つみきくん (@UFxyBVGK5GWqy6C) November 14, 2018
ミスドで買ってきました!!
お昼ご飯?ちょっと歪んでるw#ピカチュウドーナツ pic.twitter.com/Snm1Gs6rgY

— ハル (@MqJsBsQ) November 12, 2018
ミスドのピカチュウドーナツを描いたヨ pic.twitter.com/BChC0msfnl

— ぽんぽんぷぅ (@ponponpuxu) November 13, 2018
ピカチュウドーナツ発売記念に描きました pic.twitter.com/lAAhf66m38

— 超有機生命体コウ (@pochifu_kou) November 13, 2018