ICYMI: Jacquees and Birdman, Leikeli47, Kirk Knight, DonMonique and More Drop New Music
Other artists include Lil Gotit, Eyedress and FatBoy SSE.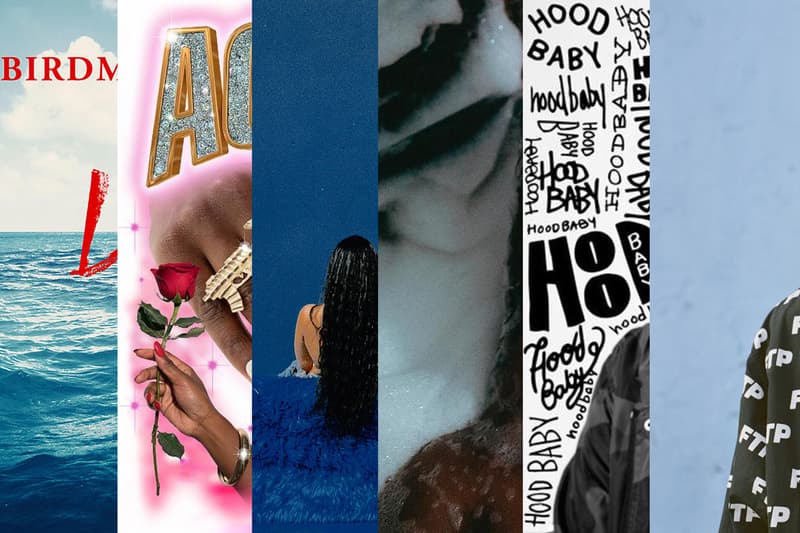 It's been a busy week of music, with a ton of artists are dropping bodies of work. To make sure our readers are all up to speed, HYPEBEAST offers ICYMI, a list of significant new projects, songs and videos that have been recently released but you may have missed. This week's selections include projects from Jacquees and Birdman, Leikeli47, Kirk Knight, DonMonique, Lil Gotit, Eyedress, FatBoy SSE.
Jacquees and Birdman – Lost at Sea 2 [Cash Money Records]
Jacquees and Birdman combine again for Lost At Sea 2, the follow-up to the duo's critically acclaimed collaborative original EP, Lost At Sea, which dropped in 2016. This time around, Birdman and Jacquees deliver a full-length with production from frequent collaborators such as DRoc, Nash B, and London On Da Trak.
About the Lost At Sea franchise, Jacquees said, "When we do 'Lost At Sea,' I get to flow different. People know me for R&B but can hear that rap in there with the R&B on this. Stunna is one of the greatest. What I love the most is I get to show everybody a different side of my artistry and what I can do."
"This young man is the future," adds Birdman. "Lost At Sea is a vibe. It's that Rich Gang lifestyle. The chemistry we had was right from the moment I met him. So, we did a full album this time, and we got three, four, and five already recorded. He's my little brother. I do believe he's going to be on the of the biggest artists in the game. When you listen to this, I want you to know that."
Leikeli47 – Acrylic [Hardcover / RCA Records]
Leikeli47 releases her sophomore LP Acrylic via Hardcover / RCA Records. Co-produced by 47 and her left-hand partners in music Mike Barney, Dave Hamelin, Harold Lilly, Gavin Maestro and Stuart White, the 18-track album was released in 3 parts chronicling the beloved ritual of getting your nails done. Of the album, 47 says "Acrylic is a hard substance and I feel this is one of my harder records to date. It speaks to how hard times don't break you, they make you. We have this saying that when you smell acrylic, you know just where you are."
Kirk Knight – IIWII [Pro Era Records/RED Music]
Kirk Knight releases his new album IIWII (It Is What It Is) today via Pro Era Records/RED Music. The 12-track album embodies Kirk's wide musical skillset as the prodigious New York producer, songwriter and rapper steps into the spotlight as a fully-realized and self-sufficient musician.
DonMonique – Black Kate Moss [DonMonique]
Brooklyn MC DonMonique officially delivers her Black Kate Moss full-length album, the follow-up to 2015's breakout Thirst Trap effort. The eight-track project features one sole guest appearance by Sha Hef but is a solid front-to-back listen that shows off Don's unapologetically demeanor.
Lil Gotit – Hood Baby [Alamo/Interscope]
Atlanta's Lil GotIt releases his Hood Baby debut, a 18-track project that features guest appearances from Lil Uzi Vert, Skooly, Gunna, Hoodrich Pablo Juan, and others. GotIt is definitly one of Atlanta's rising star right now.
Eyedress – Sensitive G [Lex Records]
Filipino-born artist Eyedress releases his new album Sensitive G via Lex Records. The LP is led by is singles "No Fun" and "Alone Time." To coincide with the new album, Eyedress shared a new video for the album's title track, "Sensitive G."
Speaking on the inspiration behind the song, Eyedress says:
Sensitive G is a song I wrote for my baby momma and it's based on the reality of our relationship without any flowery words to make it like a cheesy love song mixed with a lil west coast influence. I always wanted to make a song with a Dr Dre synth, ever since my early days playing in my old band bee eyes, because back then I didn't have any money for synths cuz they were too expensive. But yeah when I got a synth I started fucking around with that idea and eventually came up with this song.

It's been a long time coming for me you could say. I grew up in the 90's when Dre's production was playing everywhere on tv the radio all the magazines and all the hardest dudes in my class always listened to his albums and brought em to school sometimes so yeah that was around growing up.

It's the title track of the album because I feel this album represents the part of me that grew up in America and the album also confronts things that happened to me there when I used to live there but yeah sensitive g is about like being enough for someone and having your girl's back.
FatBoy SSE – Boobie From The Block [FatboyGang / EMPIRE]
Multi-faceted entertainer FatBoy SSE revisits his first love and drops his mixtape, Boobie From The Block. The eight-track project features guest appearances from Lil Yachty and YFN Lucci, and Fatboy's Big Biz affiliates Drama, Lil Tjay, Lar$$en, Crunch Calhoun, and Fuzzy Fazu.