Mick Jenkins and The Homies
Tour Diary: London, Day 3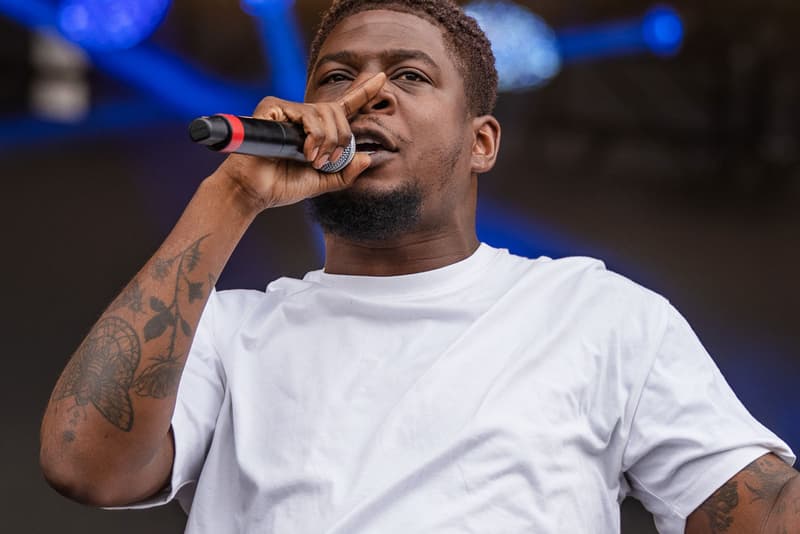 Damn it's only the third day of touring and I'm knackered, so I can't imagine how they do this week in, week out. The guys are, by chance, staying in 'proper' East London, literally five minutes down the road from me. I feel the neighbourly thing to do is bring a crazy selection of croissants and juice and wake them up. The guys always seem to be eating them or maybe they're just talking crap as I think it's probably just in my head from overhearing them practicing their British accents.
Might have took it a little far turning up to the house with my flatmate and our Labrador puppy in tow but the guys were cool about it. Sllime says he's just taken in a puppy before he left to come out here and starts to show a video on his phone. It's of his two dogs but it somehow becomes weirdly explicit and everyone literally backs away like, 'yeah, we've seen enough thanks.'
It's probably a good thing we turned up early because Max is the only one ready, on some morning hype bouncing around the house to Jay Rock. Zig has become the worst ten-minute dogsitter ever, so much so, later on the way back home the dog jumps up to grab a woman's veil off of her. Thanks Zig! Slowly Noah emerges and they all hit up the pastries and grab a drink casually although the car is gonna be there to take them to radio in like ten minutes. Max is like, they're probably gonna have to wait for an hour so we throw some pastries the driver's way. I laugh, like, an hour? But we actually do wait an hour.
Later on when we get back to the house Mick asks if any of the other guys had a problem with the shower, Noah gestures him jumping in and out of it like he was stepping on hot coals. I start thinking did we wait an hour because you guys couldn't work the shower?! They all know how to use it now don't worry although Max does offer to show them how, bless.
There's not that much on the schedule today: Boiler Room later on tonight, radio in Central London and a shoot back in Shoreditch. The guys seem to like hanging out here and constantly losing each other by just wandering off in different directions but always unintentionally find each other again. I swear it's like something out of Dragonball Z. The first radio interview down at KISS has a filmed freestyle arranged that Mick isn't aware of but does it anyway. Shortee Blitz tries a few beats, first up is Outkast' "SpottieOttieDopaliscious" but he wants something faster, prompting Blitz to try and force some grime on him before settling with Jay Z's "Made In America". It was quick but complete fire, to the point at the end, a couple of people in the studio have to try and remember the name of the track in the first place.
There's time between the next car journey and Mick's already spotted a store on the way in, then hears Billionaires Boys Club is close so heads in there too. Nothing catches his eye though and after we all find each other again, it's back to Shoreditch for a magazine shoot. The photographer has an idea of shooting Mick on the roof of this townhouse, which has a dodgy, off-centre, and rusty looking ladder. But Mick is down, telling him he's broken into abandoned schools and all sorts to get the right shots before and makes him appreciate them more.
There's this other interview that we couldn't do the other day because the guys had to soundcheck, so we're waiting outside Ace Hotel. Supposedly they're trying to get them to free up the room but there's no traction; until Max's friend spots him and hooks them up. The squad is slowly coming together as a disheartened Noah and Sllime emerge, carrying half-eaten fish and chips. The same meal they've been fiending for all week but now say it's too dry so are looking for Tabasco – which is just all-wrong. Ace hooks them up with some Siracha sauce but that confuses them even more and it just gets left on the step outside.
Killing time Noah and Sllime head into a record shop next door, hitting up the basement bin. Sllime looking to grab a load of crazy samples emerges with a reggae hits compilation, 10cc, some jazz funk stuff and others he doesn't even know what they are but the sleeve looked trippy, so he just bought it. The car isn't able to pick us up for 45 minutes so we come to the conclusion we have to all get on the tube. Plus they've all been experiencing a drought so I've explained we have to head back there to pick up. It's only two stops and it's rush hour on the central line but everyone is cool, not literally because it's hot but they're cracking jokes about trying to sell mixtapes on the train whilst Liam is trying to take photos on this packed to the brim carriage.
Five minutes later and we're off the train they're all like damn we've been sitting in cars for hours wasting our free time and we could have been doing this. We split again, Liam, Zig, Mick and Max head to the house whilst myself, Sllime and Noah go to pick up. It's a pretty long walk and we're discussing gangs and the criminal system in the US and comparing it to the UK, which they both laugh at the looseness of. Sllime breaks down the history of these two gangs in Chicago, and recalls how seriously they took it. Being taught from a book what you had to say if you were asked a certain command, or else. Sllime even opens up about his brief involvement as a kid in gangs before seeing it wasn't the way very early on and getting out. Now on reflection comprehending just how easy it is to corrupt a young mind.
They're elated walking up to the flats, just by the lingering smell; Leeds didn't exactly hook them up. We jump in an Uber on the way back to their house because they can't wait. Everyone's jamming back in the house and finally wrapping something decent, Sllime going for the perfect elongated cone whilst Mick is just happy with his standard blunt. Mick holds them both up, quizzically pointing out the difference between certain types of weed smokers. Max is playing a load of instrumentals he's been sent and Zig is cracking jokes, re-enacting a clip of a club shooting with Chris Brown over and over, which is funny enough alone but he pulls up the video footage so it really hits home.
Max tells us lowkey that Mick is heading to Red Bull Studios after Boiler Room with a UK artist Little Simz (she's pretty much every artists' favourite artist on both sides of the pond right now). They want a closed session because it's the first time they've worked together which is understandable, no doubt they'll create some magic.
But Boiler Room is on the agenda first and we get there it's a whole different type of boiling, like instant sweat patch, intense heat but the crowd go nuts. Sllime wanders into the room before everyone to set up but this other act is gassed and won't finish his set, so he retreats before they all get led in together properly. Tonight, each time Mick drops his drink more water mantra he laughs ironically, "y'all probably do want water right now." When he comes off, he's sure it was terrible although I notice the room completely empty after his set like people only came to see him. Zig even jokes that some girl in the show was trying to say he couldn't stand where he was because he was in the way of Mick. No one is hearing it backstage anyway and praises him regardless, he doesn't dwell on it in any way but he's obviously very self-critical.
After a super fast cool down and a double back from Sllime – who accidentally leaves his laptop in the green room full of unreleased material – they head over to the session with Simz.
Make sure you check back in tomorrow where we're chopping it up finally with Mick Jenkins and read the first and second part of our tour log.
Words by Nardene Scott
Photography by Liam Ricketts