HYPEFEST Art Drops: AKIRA ART PROJECT TYO/NYC, Futura x André Saraiva Prints & More
Including a special raffle by LA-based artist Steven Harrington.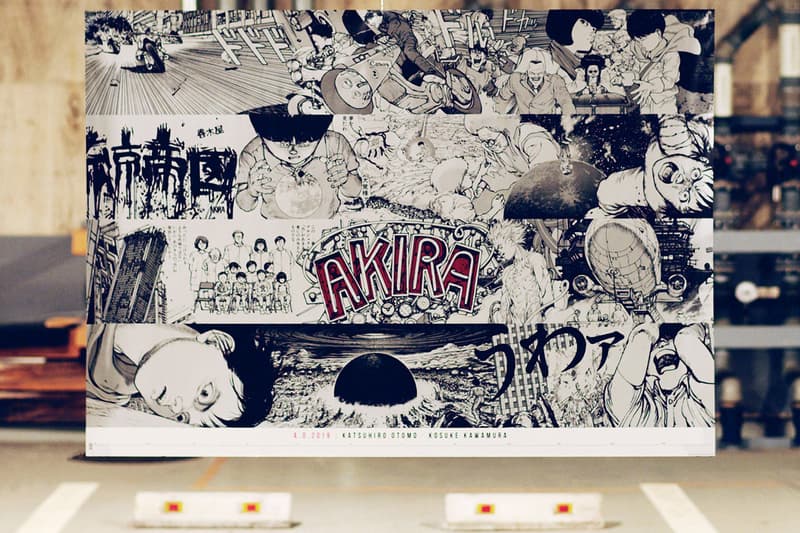 Every week we spotlight the best art drops from world-renowned artists as well as contemporary art platforms spanning original artworks, prints, collectible figures, collaborative merchandise and more. For this week's installment, we call attention to limited edition releases from participating artists during HYPEFEST this coming weekend.
In partnership with SANS TITRE with support by Montana Cans, a HYPEFEST Art Gallery booth will feature legendary artists such as Futura, André Saraiva, Stash, and Haze engaging in live-painting sessions, signings, special item launches and more. LA-based artist Steven Harrington will also unveil a large-scale sculpture with related artworks for sale. Not to mention, seminal Japanese artist Katsuhiro Otomo and collage artist Kosuke Kawamura teamed up on a momentous activation entitled AKIRA ART PROJECT TYO/NYC for the impending event, along with an impressive AKIRA ART WALL installation.
HYPEFEST will provide a virtual shopping experience accessible only to those within the geo-fenced location of the festival. All products purchased at HYPEFEST through the HYPEFST app and on-site point of sale will be shipped to the buyer shortly after the festival. Check out the goods above and stay tuned for the drop during HYPEEST.
Read on to learn more about the best art drops during the festival which takes place this weekend from October 6-7.
AKIRA Art Wall and Calendars
AKIRA ART PROJECT TYO/NYC by Japanese artist Katsuhiro Otomo and collage artist Kosuke Kawamura will release a limited edition AKIRA calendar for the 2019 calendar year. Each "A.D.2019 AKIRA ART WALL CALENDAR" comes with an exclusive serial number, special packaging, and a bonus AKIRA sticker. The installment was made in collaboration with GR8 and Gallery X by Parco.
Steven Harrington's Personal Art Archive, Sculpture, Raffle & More
Los Angeles based artist Steven Harrington will be displaying prints, sculptures and other goods from his personal art-archive. All items will be raffled off and made available for free to the lucky winners. Raffle tickets available both days at the Harrington Gallery. Winners announced each day at 4 pm EST at the gallery. Winners take physical items home on the day of. It's important to note that all Harrington prints, artwork, sculptures, and product will only be available through the raffle. All of the prints are from the personal collection of the artist and will be available exclusively at HYPEFEST.
Futura x André Saraiva Prints
Futura and André Saraiva are teaming up on a live painting session at the HYPEFEST Art Gallery. In addition, the duo will release limited edition collaborative prints featuring signature motifs such as Futura's Pointman and Saraiva's Mr. A character. Stay tuned for more details on additional product releases by the artists.
Stash Resin Spray Cans & More
Stash will join Futura, André Saraiva, and Haze in presenting never-before-seen works at the HYPEFEST Art Gallery. A live painting session coupled with limited collectibles such as the iconic artist's recently-unveiled resin spray cans will be up for grabs at HYPEFEST. Apparel highlights include a long-sleeve T-shirt offering by the artist's official Limited imprint and Sk8thing's Cav Empt label as well as three exclusive jackets with Alpha Industries.
AMKK Floral-Printed Apparel & Accessories
Artist-duo AMKK has designed a rare capsule range exclusively for HYPEFEST. The release is comprised of two sweaters, a selection of T-shirts and a set of shoulder bags. All of the monochrome items adorn prints invoking the company's signature flower creations. Premium graphics are observed across the bags while imagery culled from old textbooks appear on the wide-cropped tees with stencil-like branding and AMKK patches.