AzBenzz Enlists Big Swift for New "I Feel It" Single
The AzCult continues to guide the West's new sound.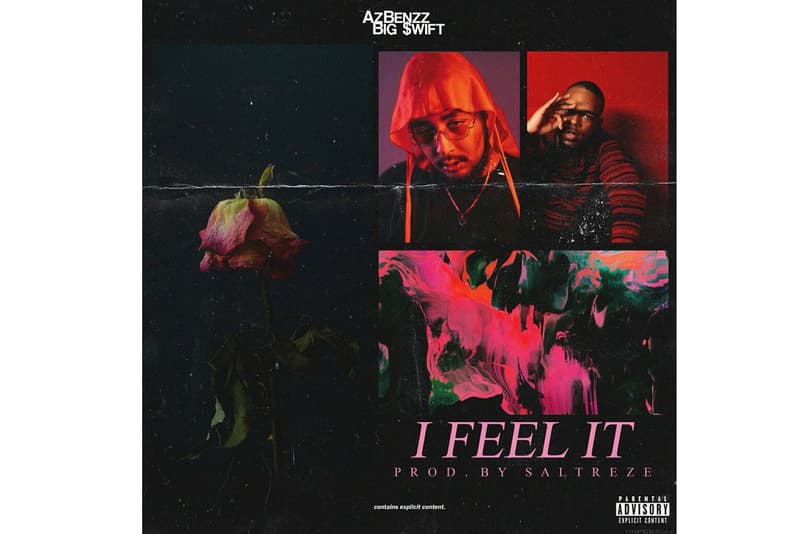 In recent years, California's AzCult crew have been leading the way for their side's new wave of talent. Continuing to carve out his own lane in his scene's constantly-evolving sonic landscape, AzCult's AzBenzz follows up a string of impressive singles and projects with a new, Big Swift-assisted single titled "I Feel It."
"How I mix the street shit and heartfelt shit … I really talk about and sing about what I go through," AzBenzz tells us, breaking down his sound and the themes of "I Feel It." "The shit that I'm talking about on these songs, I really went through those things. It all comes from real life experiences for me. I like to give people what I'm feeling at the time. That's how I get this energy out of me: I write these songs, and I learn right from wrong."
AzBenzz's story begins in Compton, where he grew up and discovered the sounds that moved him. "I grew up in Compton: Eastside, right there on Rosecrans," he says. "I loved growing up in the city; that's my home." Benzz would later move to Downey when he was "around 12 to 14 years old," but continued to stay close to his Compton roots. "I went to school in the Compton district since I was a baby. My mom moved to Downey around 12 to 14 and I've been living there ever since."
"I knew I wanted to do music when I was little," Benzz continues, revealing his back-story. "My family's all from Compton, and my grandpa used to ride around listening to James Brown and a bunch of old shit. Isley Brothers, Marvin Gaye and shit like that. When I was a kid I used to just bob my head to it. When I was around 10, my mom was going through a lot of bullshit with relationships and other things, and she used to play a lot of R&B — Dru Hill, Jill Scott, Beyonce. My mom also loved rap music, so she would play Ice Cube, Snoop Dogg. My own favorite artist is Michael Jackson. I grew up on everything."
However, it was during a single-year stint at Downey High where he discovered his talents as a singer. "I went there for a year, and I met the homie Joseph, and he used to dance, play basketball, sing and do everything right," Benzz explains. "One day, he was outside kicking it and he heard me singing Lloyd, 'Feel So Right,' and he was like, 'you sound hard, you should keep doing that!' I kept singing that whole song for three months straight. Then, I was in the bathroom singing and my mom heard it and she was like, "you should keep singing!" I was thinking to myself, "it's just the bathroom, everyone sounds good in the bathroom." Finally, I went to the studio around the corner from my house and recorded a song, and that was when I found out I could sing." Benzz later applied to a highly-selective jazz choir program, and once he solidified his own spot in that class, he knew what direction he had to take.
Post-high school gigs at a grocery store warehouse and an adidas company store followed AzBenzz's exit from schooling, but he knew the traditional 9-to-5 existence wasn't for him. "When I started doing music again, I got in contact with Chike, and he brought me back from the dead — literally," he shares. "He brought me to the Bay and showed me how he did shit, and it was on from there … I saw what my homies were doing, and saw how Swaye and Chike grew, and that just really put me in another position. All these n*ggas really came from nothing, and that really pushed me. It's just amazing to me."
Next up, AzBenzz plans to release a straightforward R&B project before the end of this year. You can stream AzBenzz and Big Swift's "I Feel It" record below.
"I really want to just build myself, learn myself and create more music," Benzz shares, elaborating on his next moves. "I feel like when people really listen to my music, they really feel it, understand it and some can relate to where they want to start doing the same shit. If I'm inspiring others to do the same thing and I get others to express themselves and get out things in the same way, that's what matters."