An Homage to Rave: Bianca Chandôn's Co-Founder on His New Brand Rent Party
"We'll never be a skate brand" – Steven Kay & Rockaton.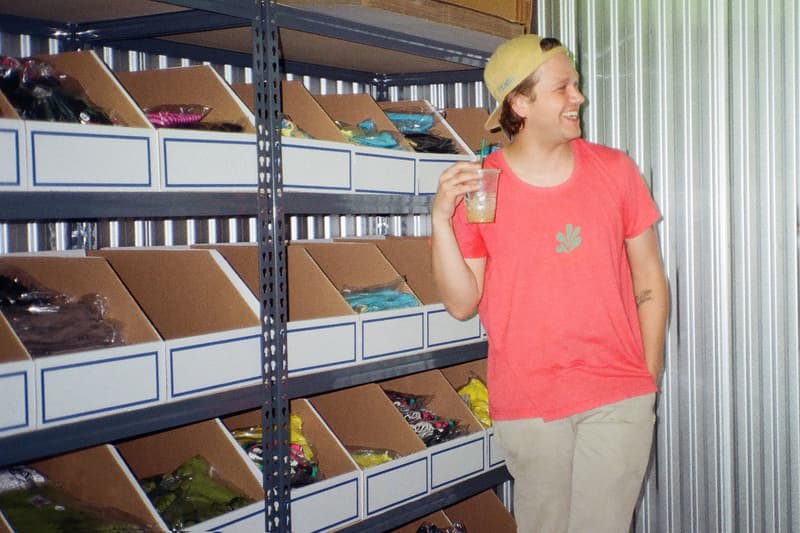 1 of 9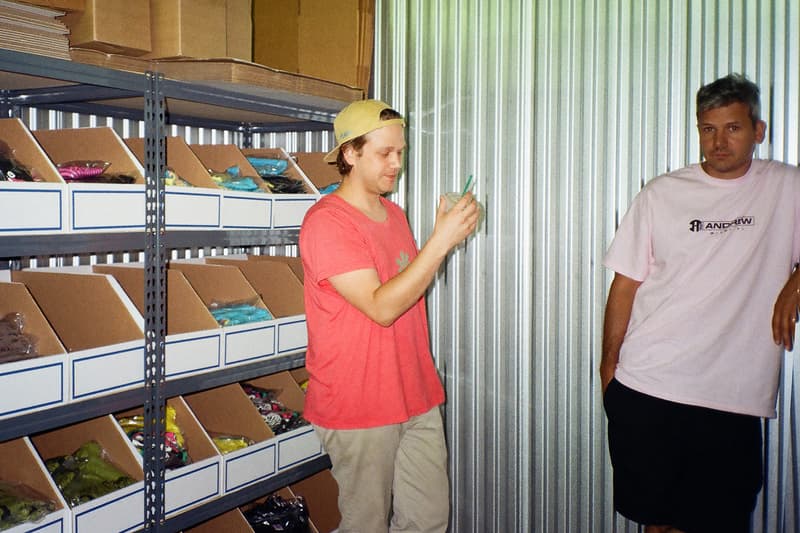 2 of 9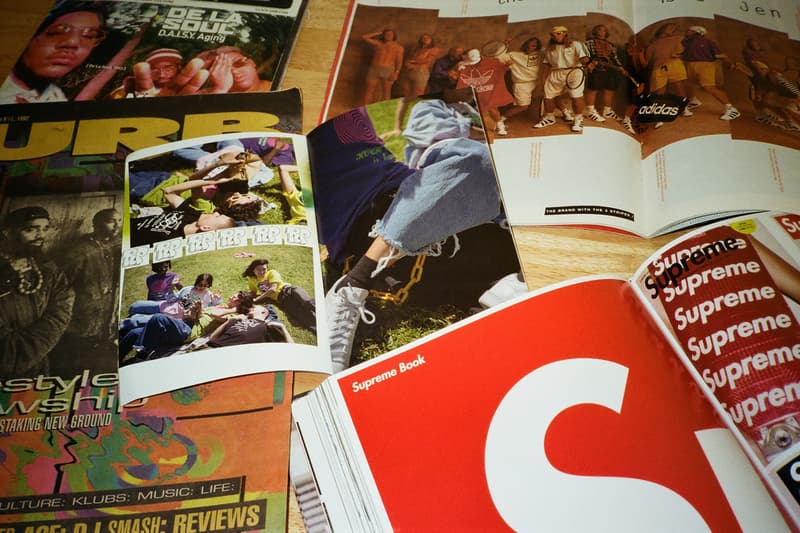 3 of 9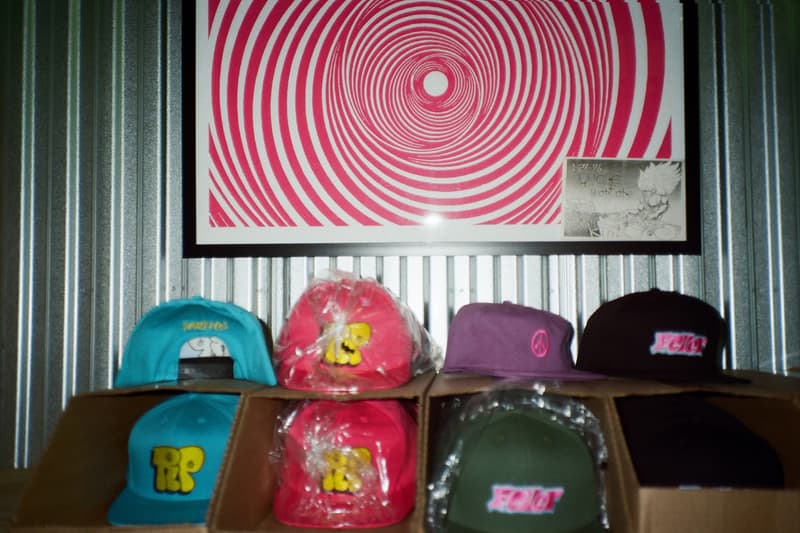 4 of 9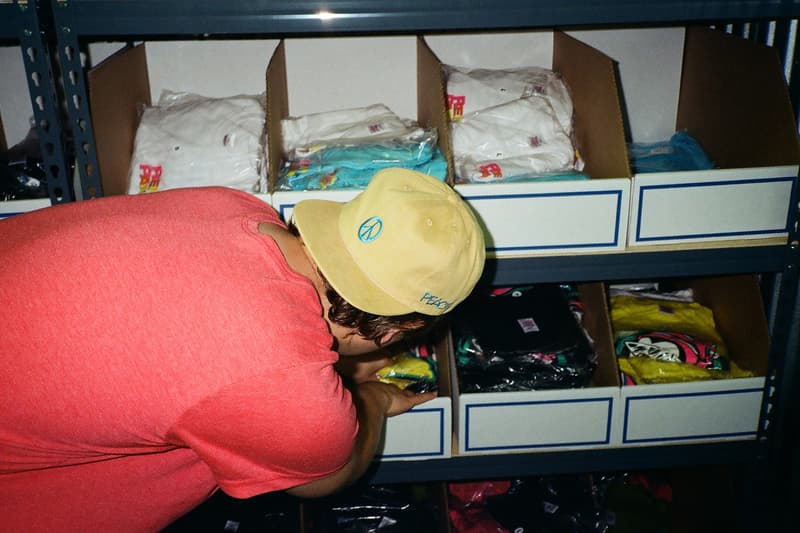 5 of 9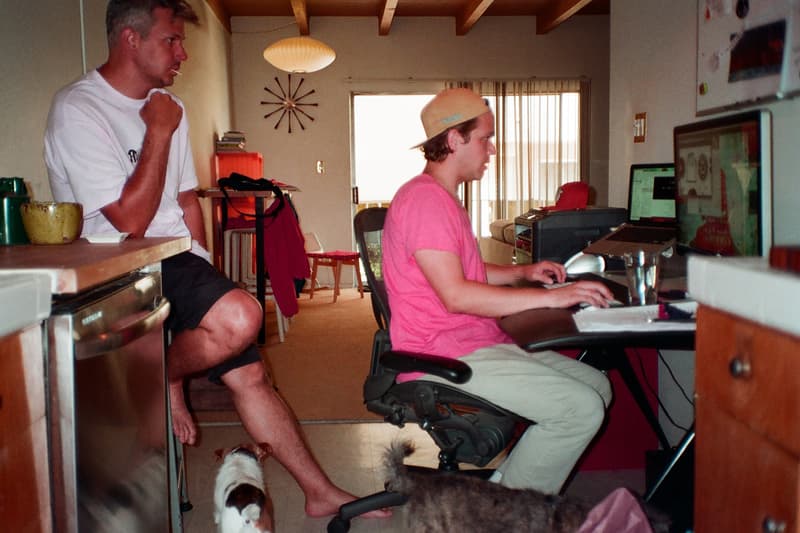 6 of 9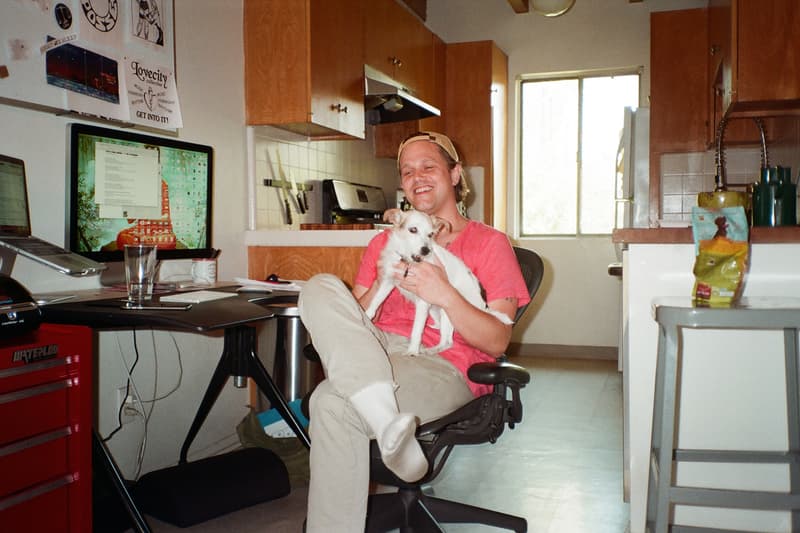 7 of 9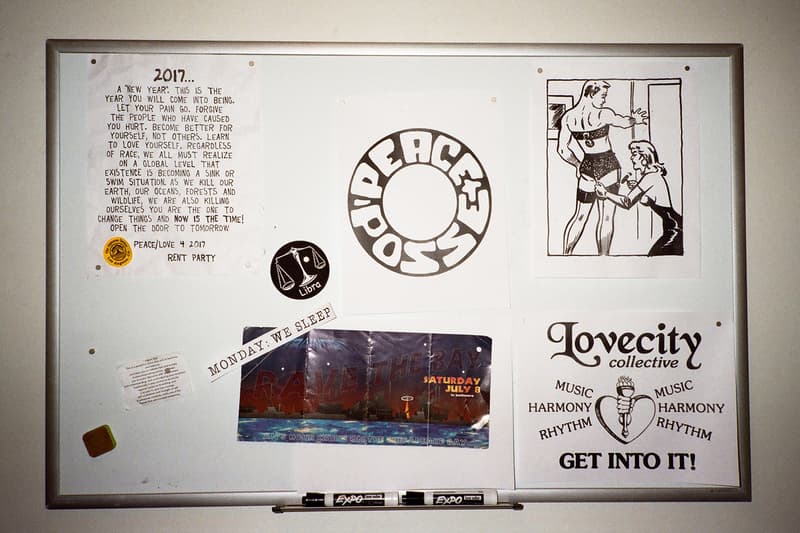 8 of 9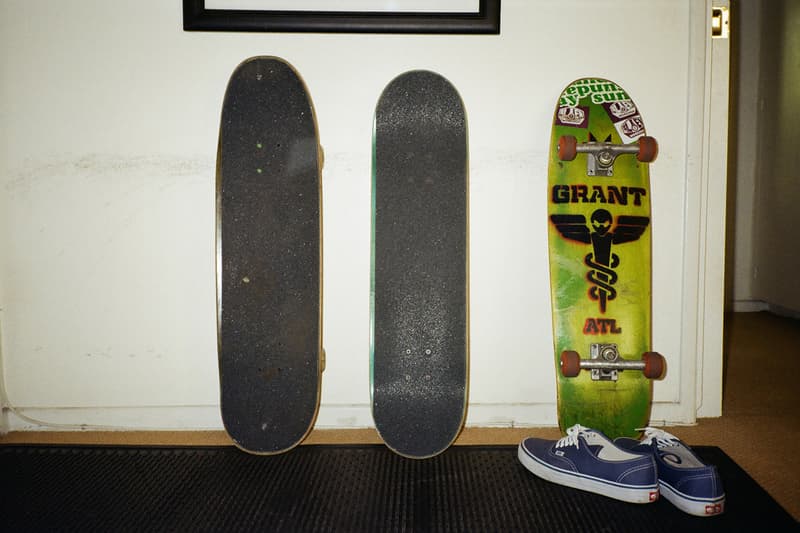 9 of 9
"I mean, it isn't an album, it's a mixtape," said Andy "Rockaton" Brown while scrolling through a colorful linesheet of T-shirts and hoodies. Without lifting his gaze, he continued, "in my opinion that stuff was piss. Man, give me a plastic bag, I hated it."
Andy's forthrightness is familiar to those who frequent his webpage's "Ask Me Anything" sessions. The DJ-cum-writer's entertainingly pessimistic critique on skate videos sits alongside dating advice and answers to questions comparing Supreme and Palace's riders. However, in this particular conversation the subject is award-winning producer Danger Mouse.
"What he ended up doing, I mean, you got to admit, he had a good career," Steve Kay retorted as he lowered the volume to a Moodyman mix. Both launched Rent Party just under a year ago, and it won't be the last time they'll butt heads in a musical debate. After all, the two met on the now-defunct web forum Hollerboard — named after Diplo's Hollertronix club night — and then still managed by the fairly unknown DJ.
Andy continues adamantly, "What did he do apart from that Cee Lo collaboration? I didn't listen to any of those tracks more than once." Succumbing defeat to another pointless discourse, Steven exits through the sliding door to be greeted by the scorching Los Angeles heat. He knows that Andy will always have the last word when it comes to music. After all, the brand's backbone is built on his experience as a DJ and raver in the '90s, and it's Steven's job to tandem that euphoria with art direction. Having founded unisex label Bianca Chandôn with pro skater quasi celebrity Alex Olson, Steven's role as Creative Director channeled Olson's romanticism of '70s NYC disco and the '80s LGBT club scene into a visual imprint that stretched the confines of skate wear.
Recontextualizing club culture's esoteric odes for the skater, the fashion world was immediately compelled by its off-kilter stance in the sport. This also birthed a new breed of skate rats shredding to the sounds of Arthur Russell in flared jeans. Bianca Chandôn filled a void at a time when homogeneous board brands all riffed off lo-fi, grunge artwork. Yet the overhaul of popularity amongst fashion stalwarts like Dover Street Market and Chloe Sevigny would also birth the brand's subsidiary, Call Me 917, created purely for skaters.
Despite both brands' triumph, Steven was limited as a designer. "Bianca's identity was well established early on. Once the path was laid out it was difficult to veer off," he said. "Any good brand has its set of principles and that can be a guiding light or a limitation; but you have to respect that for what it is, or the whole thing can fall apart." In between DJing and writing for skate bible Quartersnacks, Andy consulted for Bianca. That's when ideas started brewing on creating another imprint which also paid homage to dance scene's creative history, but in a more devoted manner.
1 of 3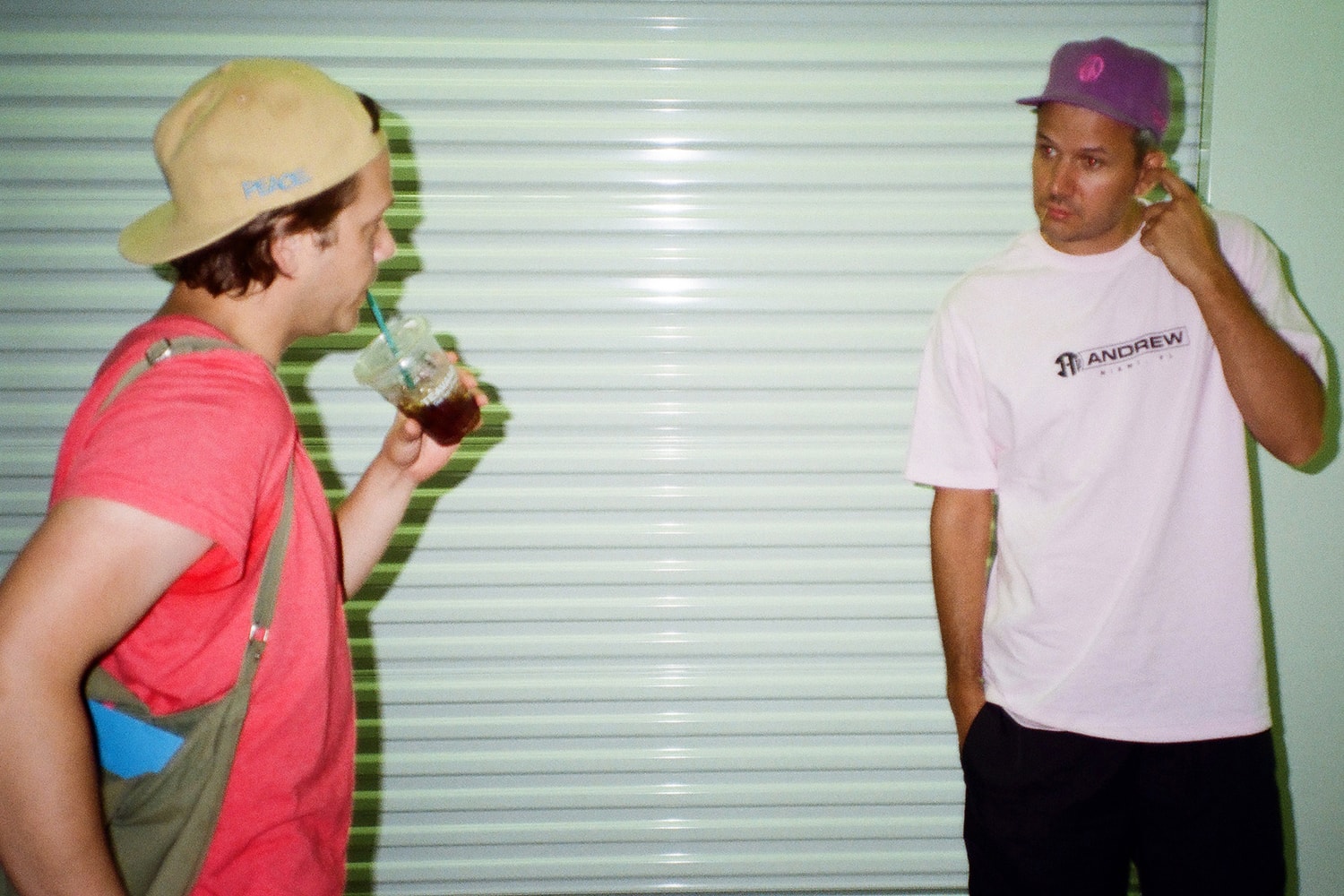 2 of 3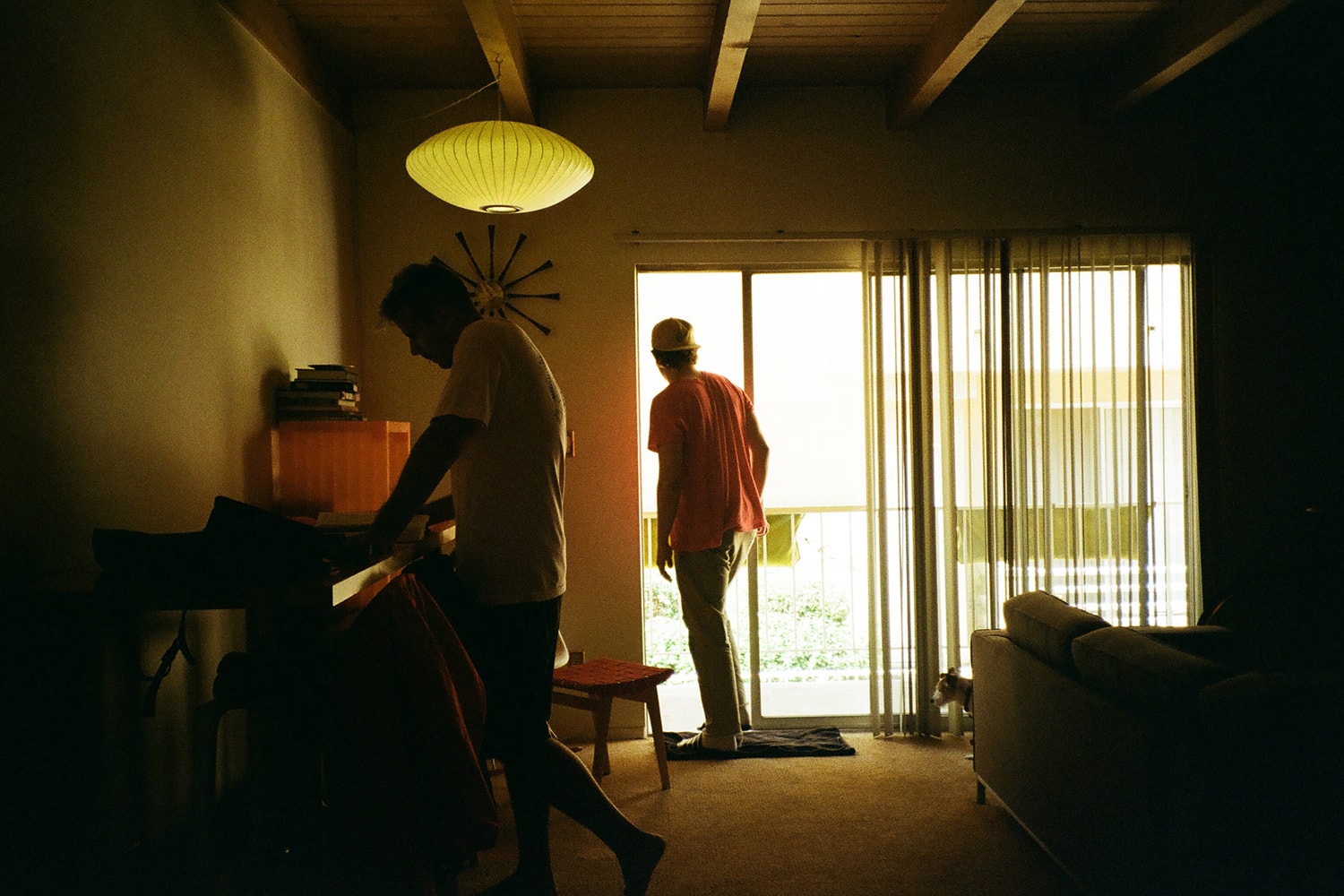 3 of 3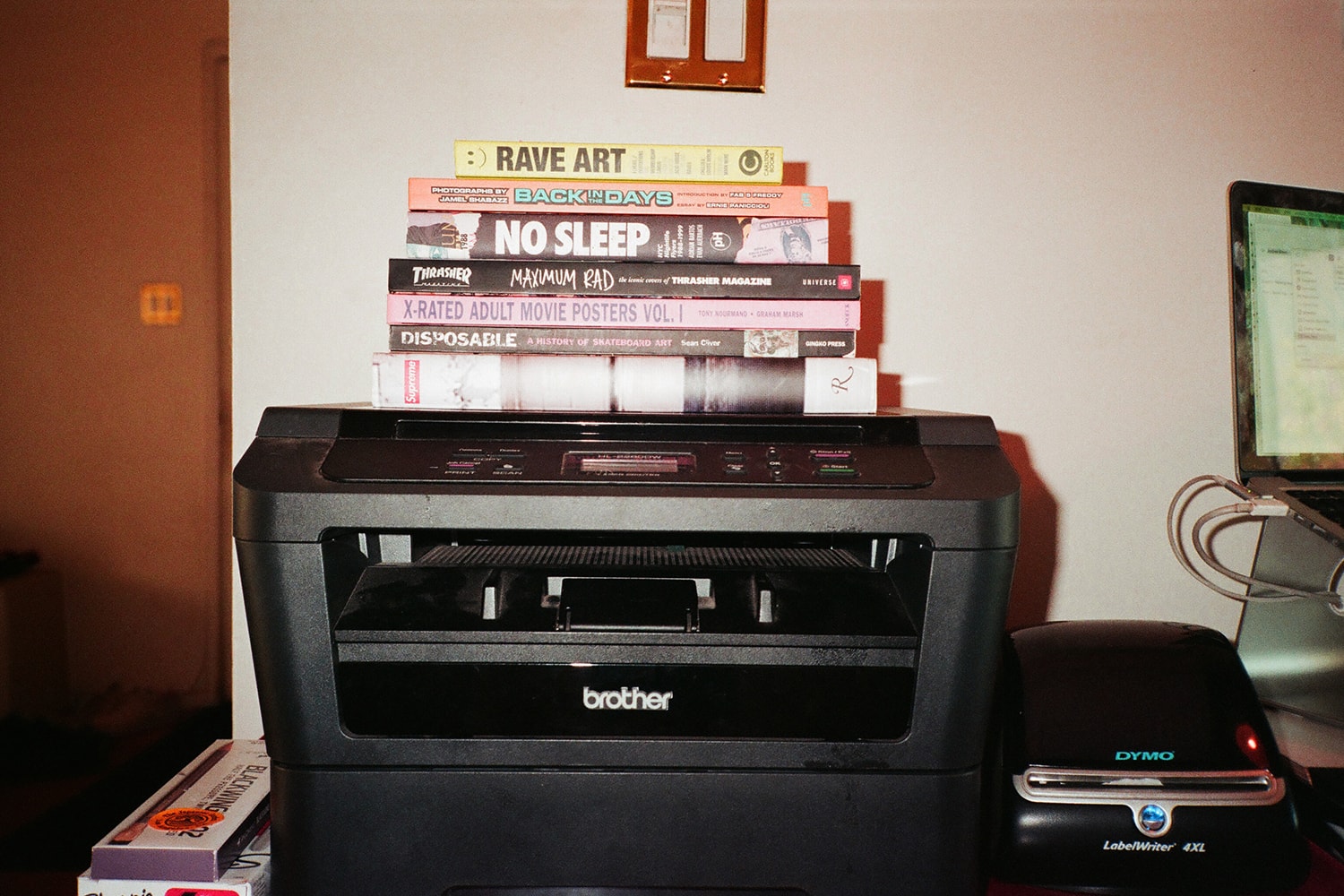 In conversation with Steven and Andy, erotic skate tales of Le Bain NYC circa '09 are in adjacent to details on the inner workings of Supreme and its buying habits. The foundation of Rent Party is indebted to both creatives' experiences trotting between the line that divides retail, skateboarding and music. Just as how Steven's involvement in Bianca Chandôn meant the brand would never settle as just another skate brand, Rent Party isn't designed exclusively for that audience. They will never release a skate deck or have a skate team. "At this point 'the skate community' is anyone from like twelve to forty years old," said Steven."We grew up in the early 90's when skate videos were a crash course in all kinds of music you wouldn't necessarily hear otherwise." We caught up with the duo to talk brand direction and how De La Soul informed the rave movement.
Do you remember how you guys met?
Andrew Brown: We originally connected way back in the day online. We had a lot of mutual DJ/internet friends and talked shit to each other on message boards for a few years.
Steven Kay: I think it was '07, I went to a party that Andy was DJing with Diplo and a bunch of other people in New York. Wes actually introduced us. That's when we first met in real life. Andy and Lloyd had a full on air raid siren behind the DJ booth in the basement of this club. The next day the two of us got lunch and went shopping in the Lower East Side. We've been tight ever since.
Following from past projects with Quartersnacks, Bianca and 917, what training or discernment could you apply to Rent Party?
SK: The nature of working with those brands was pretty organic. It was a lot of us with our friends just doing what we thought was cool. The work really is to just take shared ideas and turn them into physical products. Seeing your conversations become a commodity is a wild process.
AB: Most of my work with Quartersnacks has been a little writing and music curation. Kosta, who runs the whole show, has a super-specific vision and it's cool to see him work and put it together. Being around him taught me so much about brand integrity: saying no to stuff even when it means turning down money, making the right choices, and really understanding what the QS brand is and keeping it exactly that.
Why are you infatuated by the '90s and rave culture?
SK: While not exactly rave, visually I think the early De La Soul stuff was the best. I saw that carry through to skate graphics and then looking back it really informed the rave scene as well. If I had to pick one, that's it.
AB: For me, Rave was the door that led me to a lot of the culture that I love. It's like the beginning of a maze. That story of modern club culture winds over to England and comes back to America. It weaves through the birth of Chicago house, back to NY and Disco and the Loft.
As a new brand we thought why not start our journey where I started, at the '90s raves. If had to pick one crew, it would be Masters At Work. They have such a crazy influential discography that pointed me towards so much music and art I love. From cutting to their own labels, they always had great logos and design.
How do you guys split up the job roles within the brand?
SK: We've both done a little bit of everything. We have similar tastes but maybe different creative processes. Generally, Andy comes up with the concepts and then we flesh them out together. Then I focus on technical design and physical production. We then have to approve everything together before it goes out into the world.  He lived the rave era which is the heart and soul of the brand. I'm the apparel design guy that was only adjacent to that scene. A lot of the time we'll agree on a direction early on but the few times we've really butted heads and the end result wound up being better than what either of us originally fought for.
1 of 3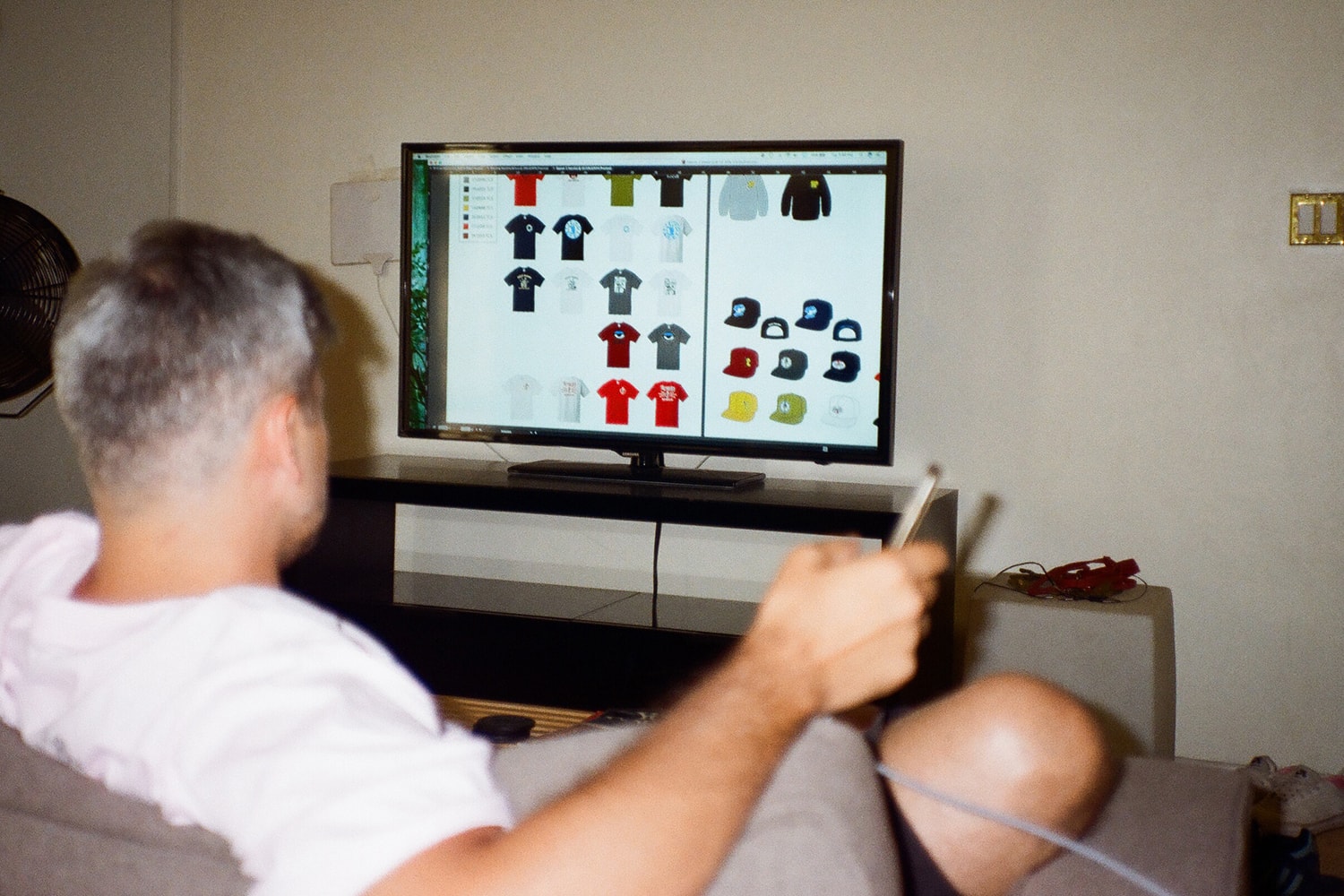 2 of 3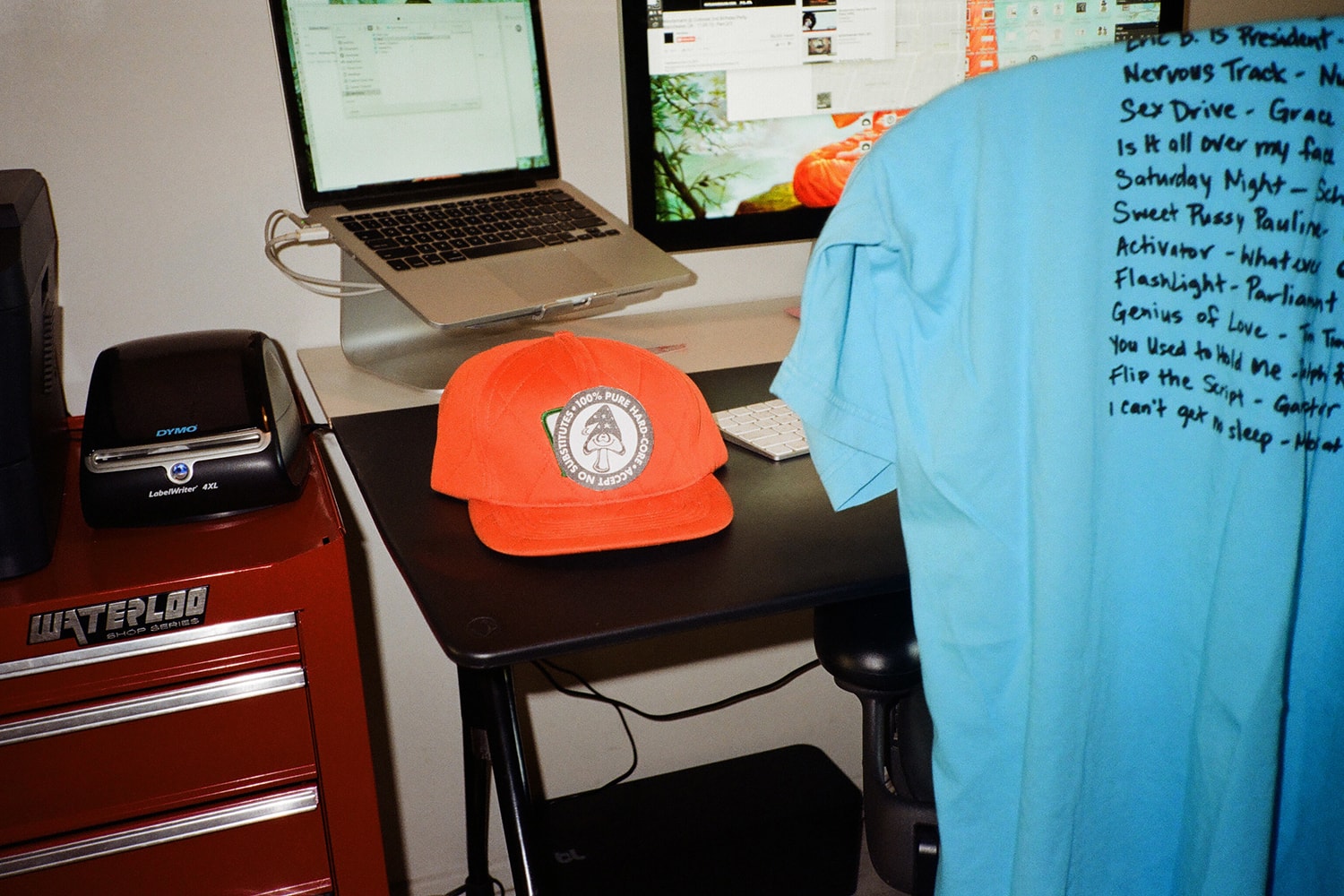 3 of 3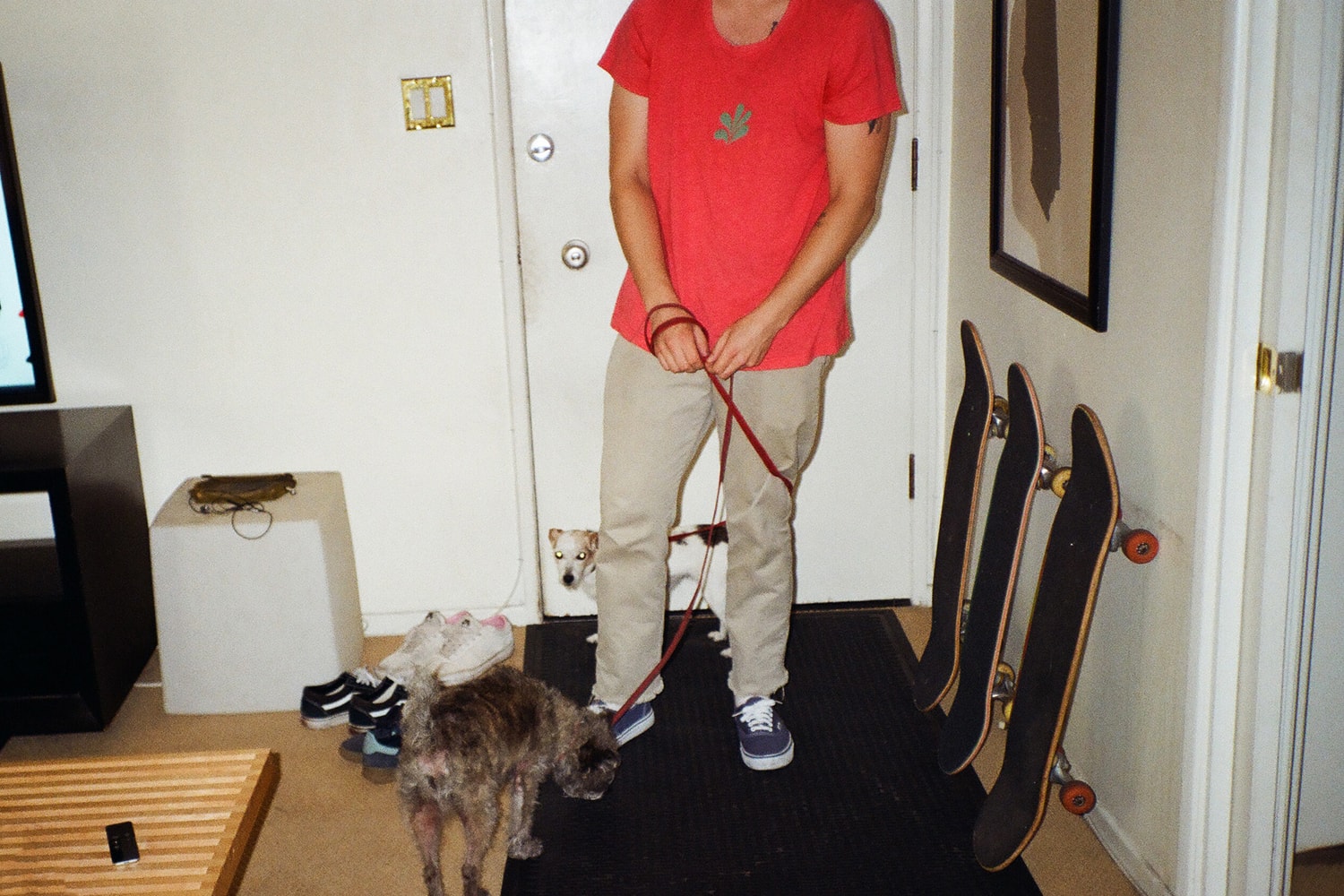 Where do you source inspiration when designing a collection?
AB: Setting parameters on where to take influence from, then delving deep into what's inside those parameters. For season one we used a lot of American rave and club flyers and ephemera. It's more than "does this look cool" it has to be part of a larger story.
There're some amazing things we wanted to use but didn't because the culture around them wasn't quite us or they were too scarce to mess with. Season two is going to be a little less flashy, less rave. As I grew up I got more into garage and soulful house so my coming of age will be reflected in the next collection.
Why was it important to release a zine and mixtape with the first collection? Will you revisit these components with each drop?
AB: Back in the day, physical stuff: catalogs, zines, DJ mixtapes were super important to us. They altered our lives. I get that people can look at the pictures online or just stream a million mixes. We don't want to force anyone to go buy a tape deck. We'll send you the link to the SoundCloud, but we still want to do it to show that these things matter to us.
SK: There are no real "rules," but we would like to follow a similar pattern if we can and provide those pieces. Doing those helps us in the beginning to focus on the direction of the collection and in the end to flesh it all out for the public.
You also collaborated with Nervous Records. Can you tell us about how the collection came to fruition?
AB: The Nervous "Sorted" head was on our inspiration sheet from the beginning. Eventually we were just like "why don't we just try and get permission to officially re-do it?" Eli Escobar, who I've known for a long time, knows Mike Nervous and he made the introduction. We told Mike about the brand and he got it and was down to work with us. It's surreal, growing up, a brand like Nervous is so far away, something that filtered down to you from on-high in NYC. To end up talking to the original owner, connecting with such a big influence was very cool.
You guys recently did a party with Jason Jinx, the original NASA resident to launch to brand. Can you tell us a bit about who was on that lineup and the overall curation of the event?
AB: Some friends connected me with the Rinsed guys because they've been doing cool stuff and have an amazing party space in Bushwick. I've known Blu Jemz for a long time: he was actually a promoter at NASA for a while back in the day. He connected Jason to us. Jason was perfect because not only was he was one of the first guys playing the British rave records in America, he was never limited by genre. He played everything from deep house to hardcore and drum and bass. He was really young too, it's kinda incredible. His style perfectly fit the RP vision.
What's your most memorable music rave moment?
AB: Probably when "Higher State of Consciousness" came out. I first heard it at The paradox. That was a really good system and it was just pure heavy metal on the dance floor, like an acid house "Raining Blood."
SK: I was in sixth grade in '91-'92. I'd gotten a paper route and finally had money to buy music. Everything came out around then: Tribe, Cypress Hill, Del, Pete Rock & CL Smooth, Black Sheep.. but I was also into like Gorilla Biscuits and Youth of Today. That was also the summer I got heavy into skating so I was either slinging papers, cutting lawns or pushing across town on 42mm wheels and listening to all that.