Barcelona Is Suing Neymar Jr. for $10 Million USD Over Breach of Contract
"I spent four beautiful years there and parted happy."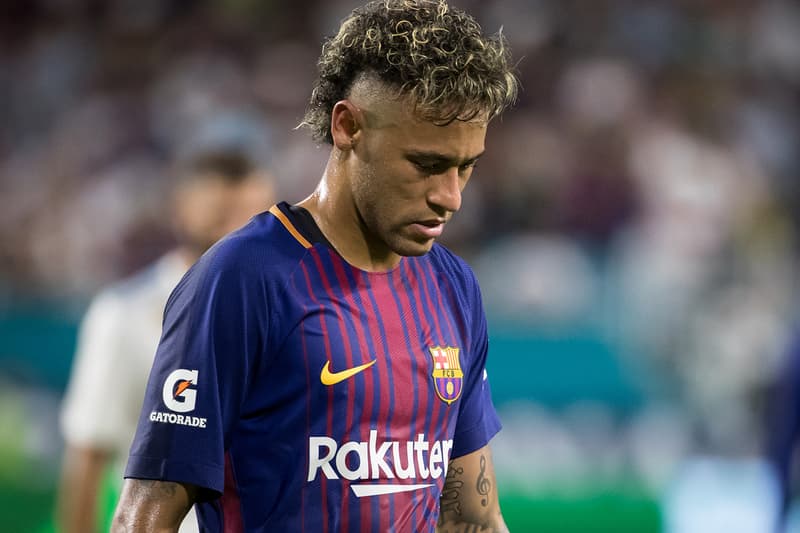 With the start of every football season comes the wave of big headlines along with it, this time centering around famed Brazilian striker Neymar Jr.. Neymar Jr.'s move from Barcelona to Paris Saint-Germain for a staggering €222 million EUR (approximately $263.5 million USD) has marked the 25-year-old as the most expensive player of all time, even smashing the previous record held by Manchester United's Paul Pogba, who arrived at Old Trafford last summer from Juventus for €105 million EUR (approximately $123 million USD). But as the saying goes: what goes up must come down.
Neymar's former club of Barcelona are now set on suing the forward due to his breach of contract for €8.5 million EUR (approximately $10 million USD) plus an additional 10% because of delayed payment. The Spanish club also wants Neymar to return a renewal bonus he was paid when he signed a new five-year deal just nine months before forcing through the move. On top of that, Barça refuse to pay him €26 million EUR (approximately $31 million USD) in bonus payments he was due to receive this summer.
In a statement released on Tuesday, Barca stated:
"FC Barcelona has sent the Spanish Football Federation the labour lawsuit against Neymar Jr. they submitted on 11 August at the Labour Tribunal in Barcelona so that they can pass it on to the appropriate authorities in the French Football Federation and FIFA.

In the lawsuit, the Club demands the player return the already paid sum for his contract renewal as he has not completed his contract; €8.5 million euros in damages; and an additional 10% because of delayed payment. The Club also requests Paris Saint-Germain take on responsibility for the payment of these fees if the player cannot do so himself.

FC Barcelona has started these proceedings to protect its interests following Neymar's decision to buy out his contract just months after he signed an extension until 2021."
PSG also defended Neymar, adding in a statement:
"Paris Saint-Germain was surprised to learn of FC Barcelona's statement today announcing the start of legal proceedings in Spain against its former player Neymar Jr. and indicating that should Neymar Jr. fail to pay the monies claimed by his former club, Paris Saint-Germain will be held responsible to pay the outstanding sum."
Neymar took aim at Barça's directors on Sunday after helping his new side thrash Toulouse 6-2 at the Parc des Princes in Paris:
"I don't have anything to say to the Barcelona board. For me. … Well, actually I have something to say: That I am disappointed with them.

I spent four years there and was very happy. I began happy, spent four years happy and left happy. But not with them. For me, they shouldn't be in charge of Barça. Barça deserve much better, and everyone knows this."
Leave your thoughts in the comment section below.