Post Malone's Guide to Making Friends, Trolling the Trolls, and Loving Yourself
The Texas musician speaks on his forthcoming LP, Stone Cold, Versace loafers and chugging beers with Bieber.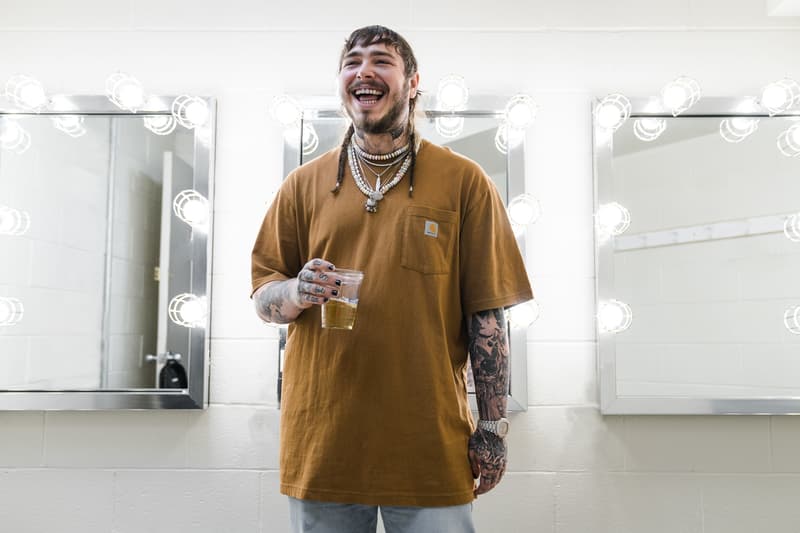 Backstage, inside the Theater at Madison Square Garden, Austin Post "Malone" is chugging beers. He's on his fourth or fifth by the time of this interview, but he's showing no signs of belligerent drunkenness. He's lighthearted, happy, joking and flashing his diamond-embezzled grin often, while his handlers prep him to open the "One Night Only" show for the X-Ambassadors at eight o'clock sharp. It's his second performance at the famed Garden, so he isn't as nervous as the first time. He drinks beer to get the jitters out before his shows, he says, and it helps him talk more while he's on stage. But he'll admit later that beer is his water and that he drinks Bud Light "every goddamn day."
Post, 21, has plenty of reasons for revelry nowadays. His debut album Stoney is certified platinum by the RIAA and its lead single, Malone's first to chart in the top 10 on Billboard, is quadruple-platinum. It's aptly named "Congratulations."
Days before Post Malone sat with HYPEBEAST, he showed up at the BET Awards show in Los Angeles wearing a Stone Cold Steve Austin signed vest, tuxedo pants and dress shoes. His hairdo, outfit, and mannerisms became a hot topic on social media during and following the show, but Malone says "no one really has said anything that really," he pauses to gasp, "made me angry."
"I get it, the internet is full of opinions and full of people who don't know shit," he says with a shrug. "I like to troll back, if you troll me, I troll back. It's a lot of fun."
HYPEBEAST caught up with Post Malone to talk about his casual yet calculated style, his upcoming album Beerbongs and Bentleys, working with Frank Dukes and James Hetfield, as well as his friendships with Justin Bieber and Riff Raff.
Talk to me about the Stone Cold vest that you got from Mike Stud. Why'd you decide to wear it to the BET Awards? 
Yeah, my fucking guy. Mike Stud sold me that vest, signed by the man himself. I figured what's the best time to wear it? Where everybody will see this fucking awesome vest because it's the most hardcore clothing that I own.
You said in an interview that you want to do a song with Stone Cold Steve Austin. Have you reached out yet?
I would love to do a song/video with Stone Cold, and what's awesome is I woke up this morning and he followed me. I'm trying to see if he will do a music video with me, and we're just smashing beers. He said the vest was epic (thumbs up, skull).
At your concerts, you also come out to his intro music…
He's my hero. He's just fuckin' awesome. I got the Stone Cold skull with the Texas flag here [points to arm]. What a guy! A man of my heart.
I have so many childhood memories hearing that glass shatter…
And you knew it was lit, every time he came through. (laughs)
You drink before you go onstage too, right?
This shit is my water. I drink Bud Light every goddamn day… Yeah, I'm very shy, so I need to get hammered. I still somehow… I put the fun in functioning alcoholic.
Do you have to get drunk to perform?
I don't have to be. I'm way looser. I talk way more, y'know? It just takes the edge off.
I want to talk about Beer Bongs and Bentleys….
The best album of all time…
You said it was coming out in June…
I feel like that was a soundbite. Maybe I said it. It's just too much of this shit [points to Bud Light].
Can you tell us a little bit more about the album?
Yeah, it's definitely going to be out before the end of the year. I'm running around doing shows right now, then the next month I have off, I'm going to knock it out right then. A lot of production from me, Louis Bell, some Cashio, some Metro, just some good shit.
Does the album contain any collaborations that fans wouldn't expect to hear?
Some very secretive ones. Frank Dukes, shout out to Frank Dukes. I don't want to speak too soon, but this is something that I'm working on. I really want to sit down with James Hetfield [Metallica lead singer] and do another "Nothing Else Matters" and just go crazy.
What's your relationship with Riff Raff?
Yeah, that's my guy. He has all the finishing moves on lock. If I ever go on WWE ever, he's going to give me my finishing move and it's going to be so fire.
How did you guys get cool?
We just started talking on Twitter, then we met up and we just kicked it. He's such a good guy. Such a good, pure person and you know, we just became friends.
Do you guys talk music mostly, or life?
We don't really talk music. You know, we're working on some shit. Just fucking around getting weird… You never know. He's a cool ass dude.
I really want to sit down with James Hetfield [Metallica lead singer] and do another "Nothing Else Matters" and just go crazy.
What's your relationship with Bieber?
Love him, great guy. It's tough, you know? You can imagine being one of the most famous people in the world and how people can misconceive you in a certain light when you're having a bad day and you just can't go anywhere and be by yourself. But he's such a sweet dude, such a genuine person and I really love him.
The first time we met, we had a beer chug off. I beat him then he beat me and ever since then, it's been an ongoing competition. He said "let's do it how we do in Canada, where you take a knee." You can't get up until you finish.
A lot has been said about you on the Internet, does the criticism ever get to you?
I don't think so, man. No one really has said anything that really [gasps] made me angry. I get it, the internet is full of opinions and full of people who don't know shit. I like to troll back. If you troll me, I troll back. It's a lot of fun.
Talk to me about your hairstyle. You have bangs in the front, braids in the back?
I wanted to be a Beatle but I realized that I never will be a Beatle, and I just wanted some bangs, so I just said "fuck me up, fam" and this is what I got, and I fuck with it. This is my boy Eugis in LA [Manhattan Beach]. He's from Lithuania.
I know you're into a lot of high fashion brands — Saint Laurent, Margiela, Acne Studios, Balmain — how did you get introduced to those brands and what is it about some of those high fashion designers that you like wearing?
In high school, I spent $800 on some Versace loafers and my parents hated me. I've always wanted to just be myself, and be an individual and rock shit that not a lot of people rock.
What grade were you in?
I think I was 17.
Were they upset?
They said "why the fuck?" Every time I went on eBay [looking for Versace earrings] I would just say "if you just hold these for me, I'll have the $100 bucks to pay you." I didn't have enough money and I was like "bro, please just hold these and I'll send you $20 on top of the $100" and I just spent everything. It still goes the same way: I have no money now, because I spend it all.
Were the shoes off eBay too?
No, I went to the store and bought them. Northpark Mall in Dallas.
I wanted to ask you about the finger tats…
Johnny's [Lennon] here, Bankroll [Fresh], Dimebag [Darrell], George [Harrison], Hank Williams Sr, Elvis, Bob [Marley], Kurt [Cobain] again. Kurt is the only dude, if he was still alive, I would marry.
Are those dedications to the idols?
Yeah, these are all people that their music really speaks to me on a different level, and Bankroll was the homie. Real inspirations to people that got me into the music. Rest in peace to the legends.
Post Malone at 30… How do you see your career panning out?
Hopefully, I still have a career. Stoney went platinum, 'bout to be double platinum. "Congratulations" is quadruple platinum. (laughs)
How do you continue that success?
I just want to keep putting out good music, music that I love, music that people who really love music can appreciate. You know, feel something different, because everything is so hack, everything is just rinse and repeat, cookie cutter. I just want to make something that's really different and unique to me.
Do you think by then, you'll have a country album and/or a rock album?
Shit, I don't know. I don't know why you can't make both. Fuck it! I'll put out a couple shits. I'll put out a whole trance tacid polka album pretty soon. It's going to be weird.