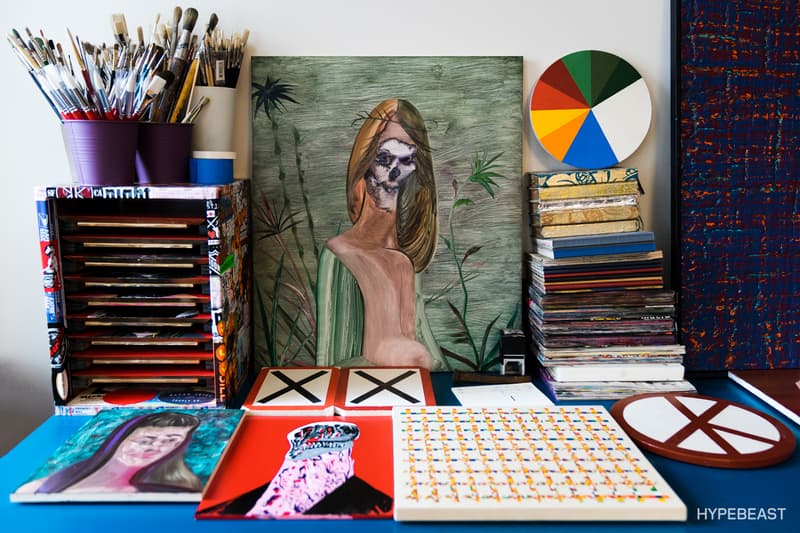 1 of 14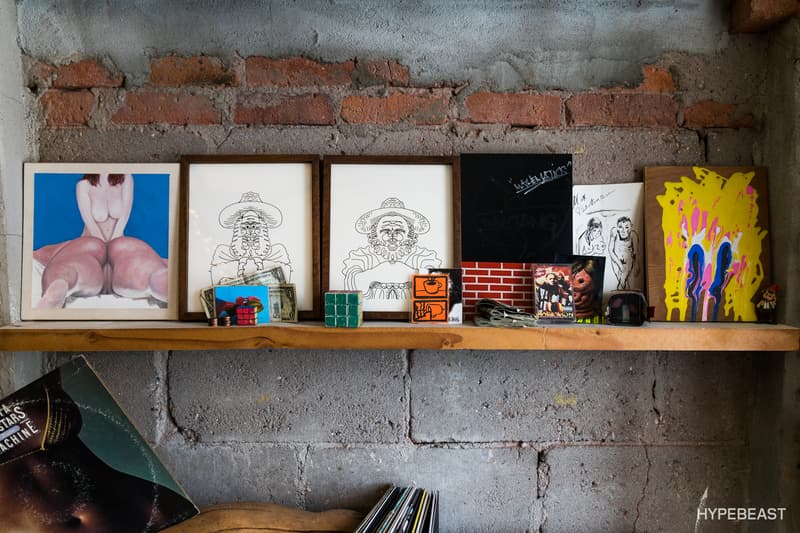 2 of 14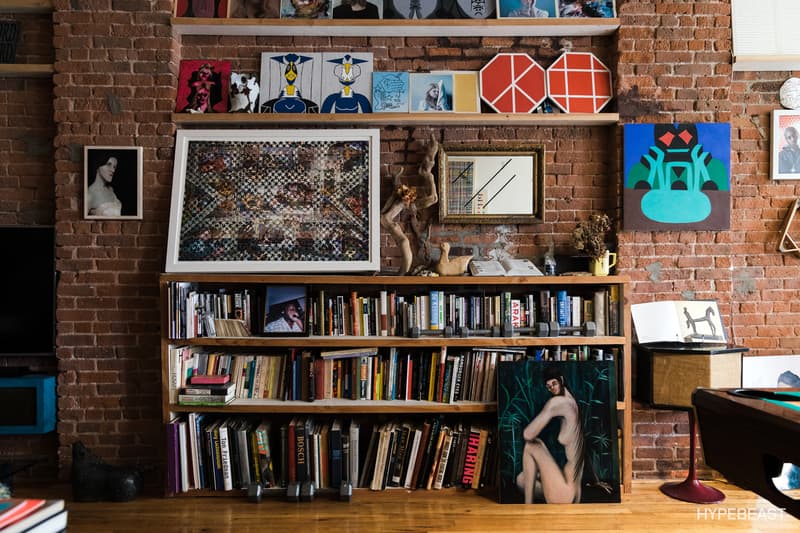 3 of 14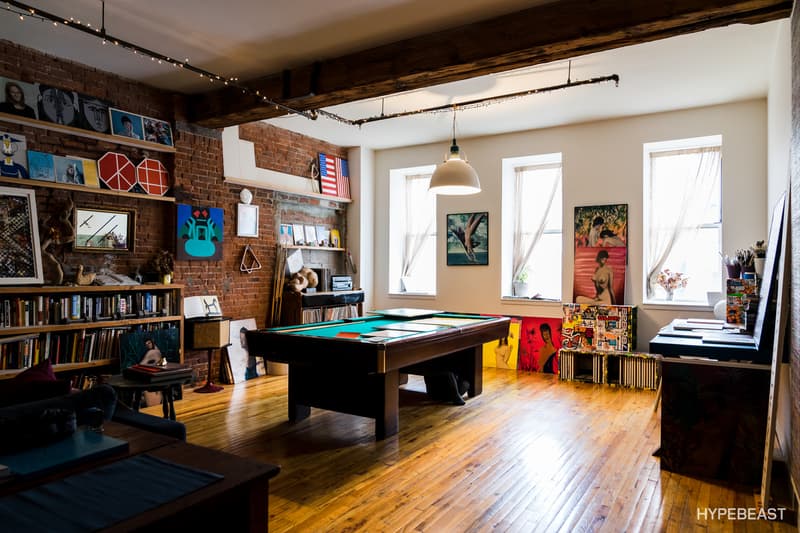 4 of 14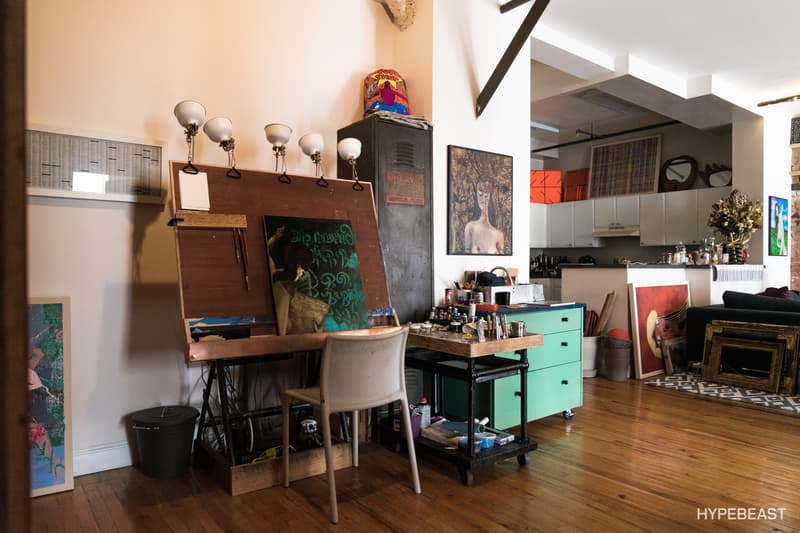 5 of 14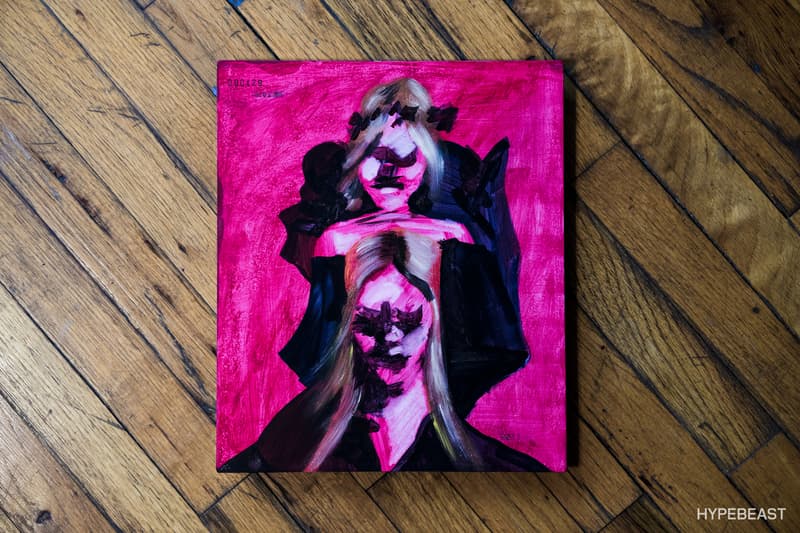 6 of 14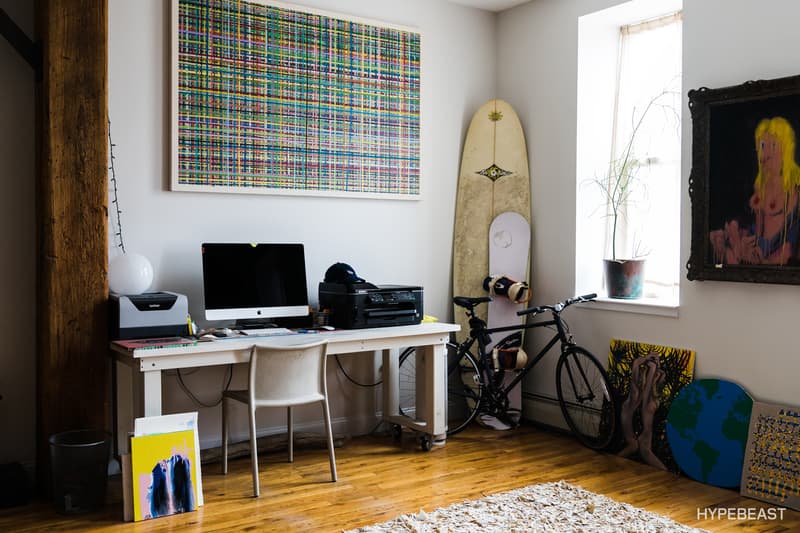 7 of 14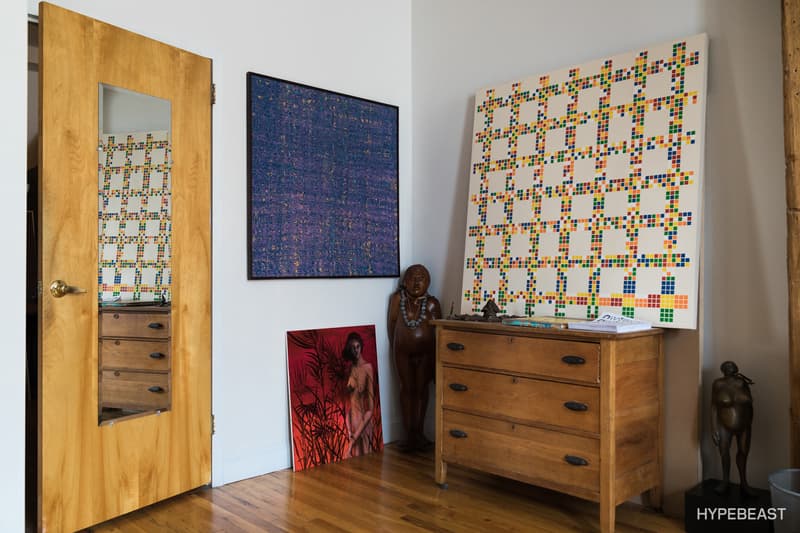 8 of 14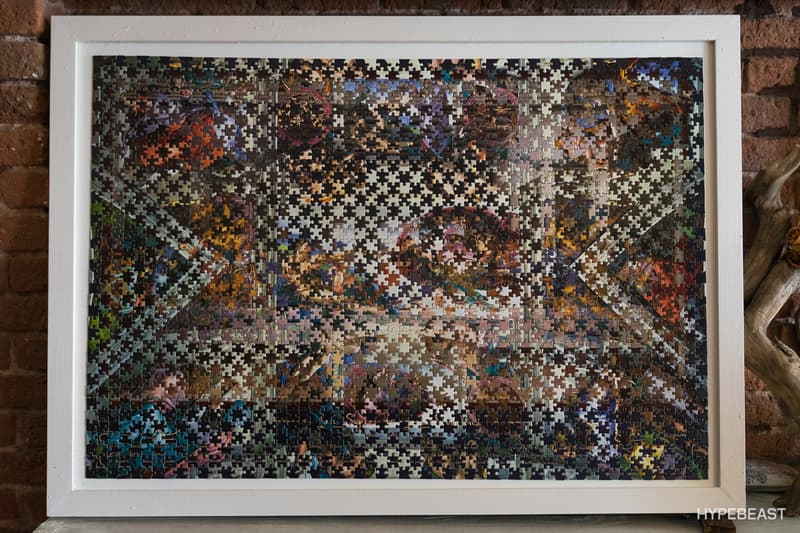 9 of 14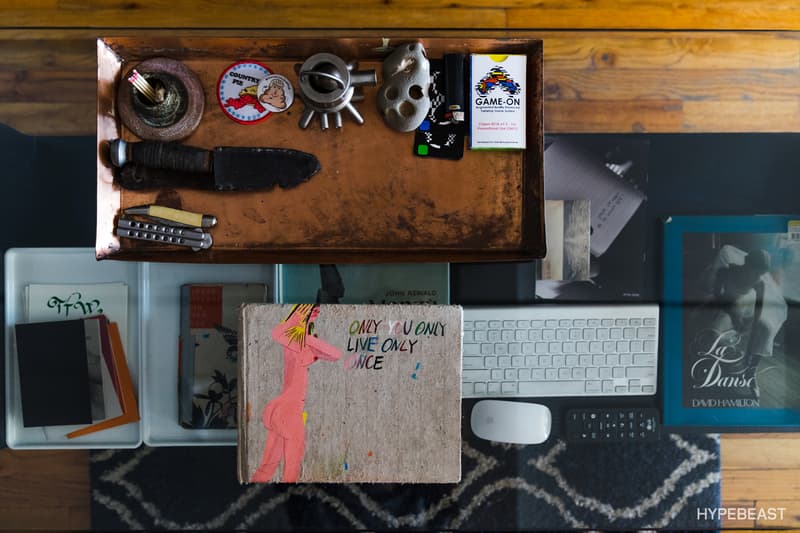 10 of 14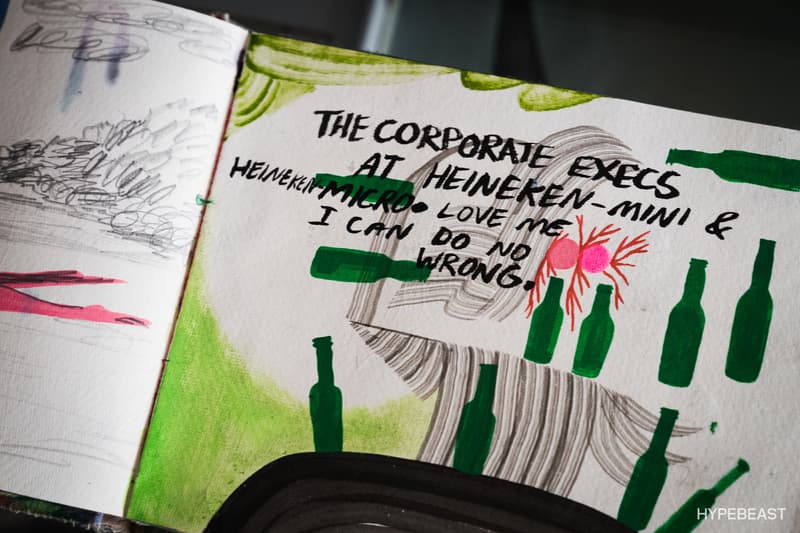 11 of 14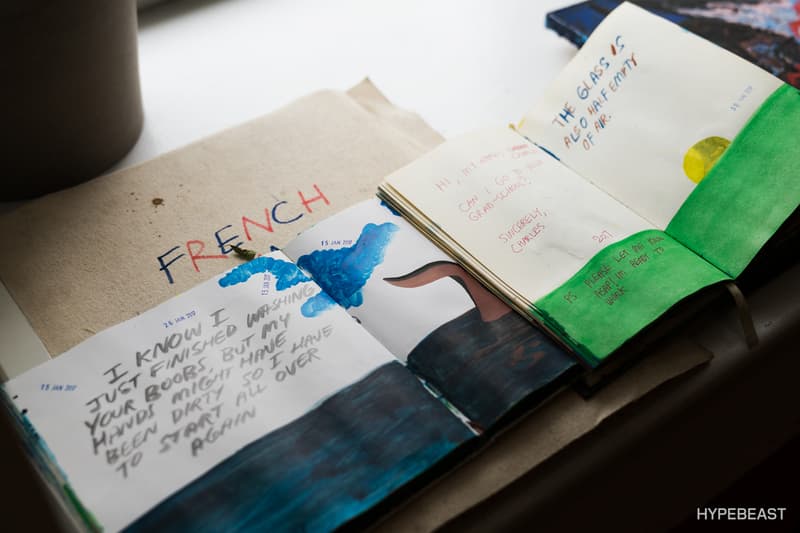 12 of 14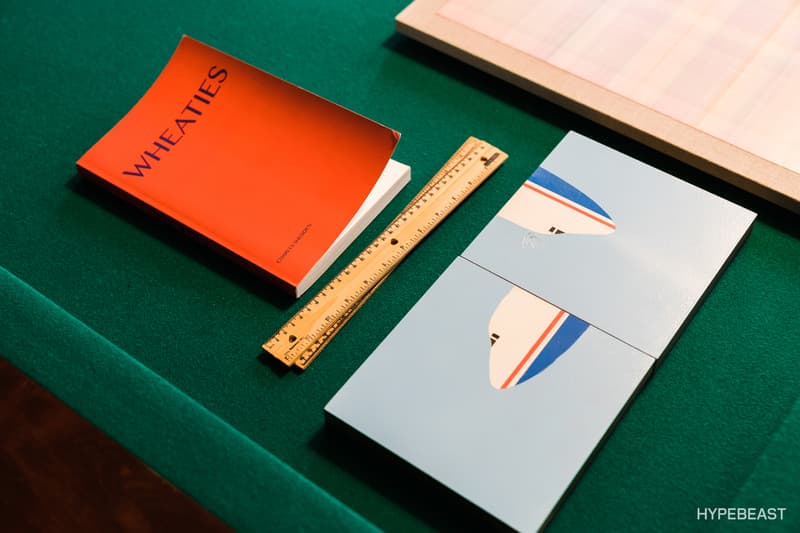 13 of 14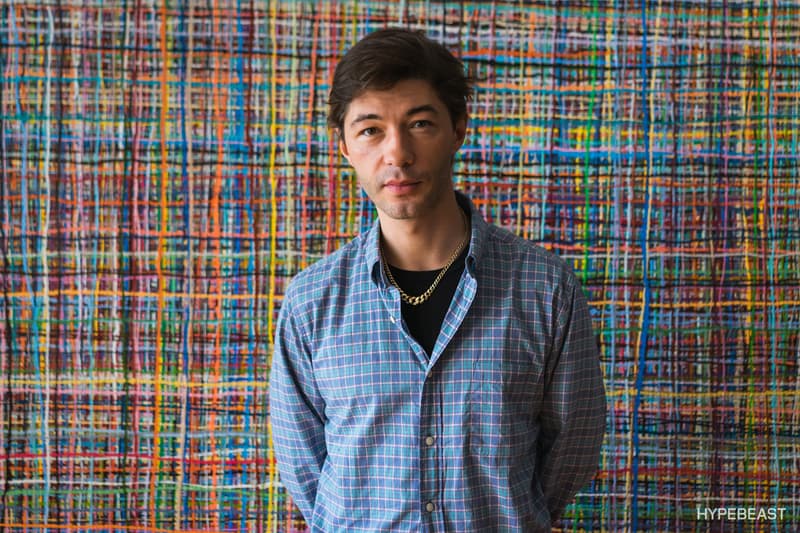 14 of 14
OWVBICS Doesn't Want You to Pronounce His Name
A conversation with Keith Ape & G-Dragon's album artist.
---
OWVBICS is somewhat of an enigma. Not only because his name is verbally unpronounceable, but because he's an artist who doesn't confine himself as merely an artist. Better known to his business partners as Charles Shedden, OWVBICS is a painter-woodworker-realtor-writer and hip-hop-otaku, in no particular order. Before he was discovered by G-Dragon, his work had already earned the respect of then-newbie Keith Ape who approached him for album art. "He was completely undiscovered, honest and humble," OWVBICS says of Keith Ape with equal humility. In a not-so-humble Brooklyn studio, HYPEBEAST caught up with the multi-talent on why he used to draw naked women all day, his thoughts on Prodigy's last performance, and the reason he chose a seemingly random set of letters as his name.
You have an interesting background in computer science and real estate. Please tell us about that.
After my final year in Cooper Union, I got into real estate and rented out two buildings in New Jersey. I was working at a computer company managing what was then the biggest digital archive of music, with very progressive people in tech, and didn't see myself integrating with artists. I knew art was an extremely social thing, and I knew I wasn't going to set up a portfolio and go to galleries, so I wanted to sustain myself [another way]. Real estate is the reason I was painting in anonymity for a long time. I didn't want anybody that I was doing business with to Google my name and find that I was drawing naked women all day or writing anything perverse. I didn't want anybody to know anything about me in the business world. So I picked a random string of characters.
You were ill for a year. How did that change your life?
I spent a year in treatment for Lyme disease. I threw out a year regaining my health, but I got my entire future as a reward. My work changed in the sense that I became much more inclined to collaborate with others. Painting can be an extremely solitary art form. I've been addicted to painting my entire life and I still paint almost every day, but I don't let it consume my time as I once did.
Why is the female form your main subject?
I would copy women from my sister's Vogue magazine from beginning to end because I wanted to get better at drawing. But I realized artwork will never be as pretty as woman, so I went on an intellectual direction. Depicting the female for art is adding to the continuum. It's been a commonality since the beginning of art, so I feel I'm communing with the past and keeping it going.
How did your love of hip hop begin?
It's an art form I've been paying attention to since Run DMC. Listening to rap is my far my favorite addiction and indulgence. I don't have to participate, so it's pure pleasure. I was fortunate enough to see Prodigy perform with Westside Gunn and Conway the Machine in their very first headlining show in New York two weeks before Prodigy passed. Prodigy, Meyhem Lauren, Roc Marciano and Raekwon all came out and did songs with West and Conway, which they did out of love and respect for their talent. There were no signs whatsoever that Prodigy was sick. It was a historic show.
Right now I'm into Shabazz Palaces, which will be my soundtrack for the summer, and a bunch of young friends from Arkansas called Fresco Grey. Fresco Grey in particular has some of my favorite music made by anyone to date.

How did your relationship with Keith Ape begin?
He found me on Instagram. He had no idea I did anything with G-Dragon and he was completely undiscovered. He humbly approached me with really broken English, and he also said that he had no money. He was honest, humble and ready to work. He asked me to do artwork for his first single and I agreed to do it for free prior to even hearing the song. I was literally belting out hundreds of the type of painting he wanted a week so I didn't care. Having nothing to do with me, he's huge now. Go Keith!
He sent me a song and it was very difficult for me to identify with because of the language barrier. It really forced me to listen to music again, and that opened the door for me to really see what was happening in rap again. Prior to that I was only listening to what happened in the early '90s and I thought everything beyond that wasn't good enough. That was totally wrong and I started finding things that were amazing. Everyone says hip hop is dead but that's totally false. There are tons of things happening right now. Like when Prodigy came on stage with Raekwon and Roc Marciano, [they were] basically saying, "Listen people, there is super good music out here."
Tell us about your relationship with G-Dragon.
His manager at the time set up a meeting in New York. They initially were looking for me to produce a trading card, then an access pass or concert ticket to G-Dragon's show. Eventually it turned into doing album art for Coup D'etat. I met them in SoHo with a pile of paintings in the back of my truck. I gave them all of the paintings because I was doing anything I could to disperse them. It really confused and perplexed them but now they trust me. They have come back and bought more paintings. If you look at other people that he is collecting, they are all the biggest, most expensive artists in the world. People that I really respect — George Condo, Rudolf Stingel — I love that. It's funny 'cause I don't think his brand's name was Peaceminusone until he saw my work. I have a series that combines the peace sign and the stop sign. It's like 'Peaceplusone.' 
Out of all your paintings how do you decide if a painting "turned out well"?
I don't think about the color at all. I start by using colors left on the palette from my previous painting. Color is not a consideration of mine. It's not really considered in life. Things haphazardly wind up next to each other and that's how I do it. For instance, if I were to paint your portrait sitting on my blue couch, you wouldn't have dressed to match my couch. For me, paintings turn out well when they are easy and finished in a single setting. I don't really care what they look like. Fussing over paintings is an immediate sign of failure or displeasure for me.
Are you inspired by any one artist or a period of time?
I don't necessarily like and respond to everyone's work, but I love the fact that they are making it. I am a fan of every single person that is doing anything they enjoy. I am now starting to interact with artists that I respect, which is getting me interested in learning more from them and changing my techniques, my habits. You don't want to be too influenced by anybody, but I am not shy about that. None of this stuff comes out of thin air. Portraits have been painted since the dawn of time, since people could make representation. You are climbing on people's backs. Of course portraits are going to look like other portraits. I know I'm making an amalgam, and if I'm lucky or successful enough, I'll add something to the mix and someone will do the same with my work. I borrow, and hopefully somebody else is going to do that from me.
I'm attracted to idea-based artwork. I don't care for perfect technique, I don't care for large work, I don't care for work that looks like it required fancy tools or facilities. I like simplicity. I'm inspired by Tom Friedman (pictured above, left) for his varied approach and ideas. He's a favorite and probably opened up more doors for me in one fell swoop than anyone else. Also H.C. Westermann (pictured above, right), because his objects look like they were so much fun to make; they're crafty, curious and absurd. [And lastly, Charles] Bukowski, the writer — his commitment to his craft and belief in himself is unmatched in any art form that I'm aware of.
What other types of media do you work with?
Anything that crosses my path. I write books, I make furniture, I like to keep it diverse. I was just asked to do a mural with a bunch of graffiti artists. This is my first mural and I'm the only person [in the group] with no experience with this type of thing.
Recently I wrote a piece centered around the Declaration of Independence. I rewrote the entire thing word for word using antonyms, so my document reads the exact opposite. For instance, anytime the Declaration used the word "Man" I replaced it with the word "Woman." The original Declaration of Independence declared America's freedom from the rule of Great Britain. However, the freedoms of women, people of color, homosexuals or any other minority were not included in the Declaration. The rights of these groups have been hard fought over the last 200 plus years. Inequality is absurd, so I made an equally absurd piece to point out this out.
First I rewrote the calligraphy onto parchment, [then] made a video monologue. I wanted the reader of the monologue to be as diametrically opposed to the founding fathers who wrote the Declaration — rich, white, males — which is why I sought out Veedzo, young woman of color with a British accent, to participate in the piece.
What is something you have yet to accomplish?
I am going to build a studio in the middle of nowhere off the grid with no power. It's going to be a portrait studio in the middle of the woods. I want to paint [my subject's] life. You wind up having a therapy session with your sitter. My goal is to slow the pace, remove and distractions and paint while talking. Getting out of the city is absolutely essential for me to stay happy and productive.