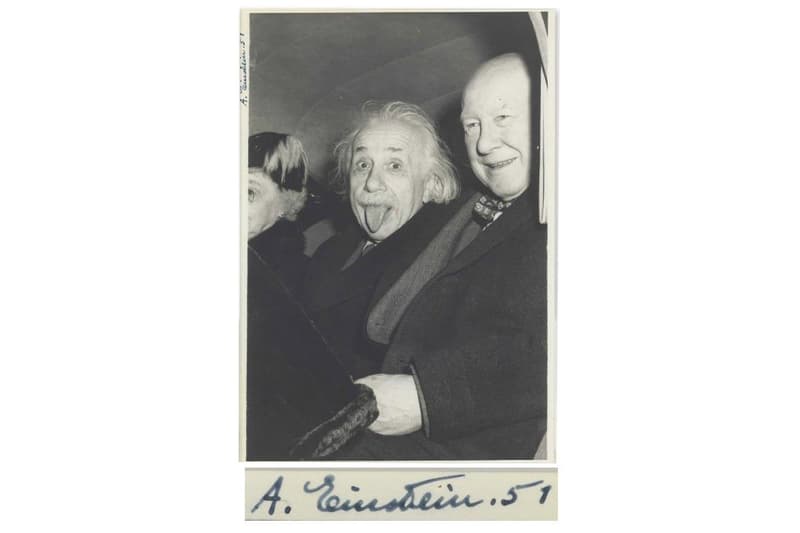 Iconic Photo of Einstein Sticking His Tongue out Sold for $125,000 USD
It's signed by the scientist himself.
---
Auctions are one way to get your hands on some of pop culture/history's most iconic items, such as the original movie-worn Nike MAGs that went up for sale at Comic-Con.
Another piece of history is the iconic photograph of Albert Einstein sticking his tongue out, which has just sold for $125,000 USD. The picture was taken on March 14, 1951 by photographer Arthur Sasse after Einstein's 72nd birthday at The Princeton Club. The image is signed by Einstein himself and was so favored by the scientist that he ordered 9 copies to share with friends.
The auction description reveals more behind the image.
"Photo was snapped on 14 March 1951 by Arthur Sasse, a UPI photographer whose employers were at first hesitant about publishing the iconoclastic image of Einstein; when they did, Einstein was so amused by it that he ordered several prints to give out to close friends. This image is unlike most which crop the photo to show only Einstein. Here, the photo is shown in its full context with Einstein seated between Dr. Frank Aydelotte, head of the Institute of Advanced Study in Princeton, and Aydelotte's wife, after celebrating his birthday at the Princeton Club. Photo is signed along the left margin "A. Einstein .51", indicating he signed the image shortly after it was taken. Photo measures 7" x 10". Very good to near fine condition. Extraordinarily rare photo signed by Einstein, the most famous and beloved image of him."