Virgil Abloh Worked with Jenny Holzer to Give His Pitti Uomo Show a "Female Voice"
Off-White's 2018 Spring/Summer Collection has a powerful story behind it.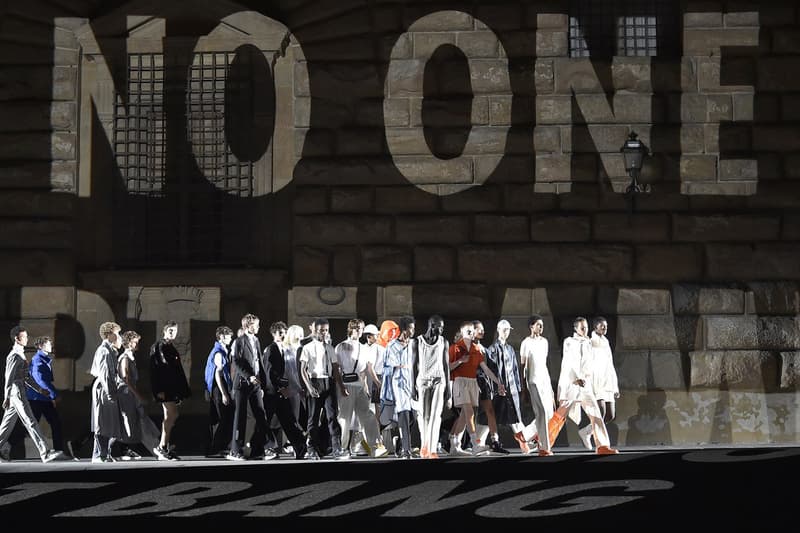 The Off-White designer Virgil Abloh and artist Jenny Holzer collaborated on Off-White's first presentation for Pitti Uomo in Florence, but the road of getting there was highly detailed. In an interview with WMagazine, the two explained their history together and the turnaround of their joint project.
Abloh, very much looking forward being featured as a guest artist at Pitti Uomo wanted to do something bigger than his smaller scaled presentations, so he contacted Holzer after he realized he needed the respected vision of a female peer. His circle, although talented, is very heavily male dominated. Holzer, 66-years of age, has a reputation for her text-based, multi-platform projections, which he needed for the theme of his installation: the international refugee crisis and immigration. The topic resonated with Abloh being the son of an immigrant, as well as his interests in text, typography, and statements, which would lend itself working with Holzer to create a fashion statement that would convey his theme.
Holzer was intrigued by Abloh's open-minded approach, which came out of the blue to her, as well by his wide range of concerns and curiosities. Her intrigue didn't keep her from testing the young professional, she began suggesting the idea of creating light projections for an iconic building in the middle of Florence before they decided on a location. She'd send poems by Anna Swirzczynska, a volunteer nurse during the Warsaw uprising in 1944, as they were relevant to the events in Syria. Abloh didn't shy away from the material, despite receiving one that was a particularly rough piece and not flinching. It was here Abloh gained Holzer's trust.
The two began communicating via email, text and their assistants. They choose the Pitti Palace, where during the show the chosen poems would scroll up either side of the entrance before Bloody Osiris-styled models would walk across the piazza, with Holzer's text washing them over in lights and letters. Several of Abloh's pieces bore red diode signs with pieces of text by refugee poet Omid Shams. It was his way of paying tribute to Holzer's use of refugee poems in her light projections.
Guests arrived in their invitation pieces, glowing orange t-shirts with visual life vest instructions meant to illustrate oceans and borders and life rafts, according to Abloh. "…and how many people die trying just to get from one place to another" he continued, all tying into his overall theme of the immigration crisis.
For Abloh, Off-White has never been just a clothing brand. For him, it's a platform to make art and to express himself. "To me, it's a platform to make art and to represent something else. If the show triggers even two kids to go dig deeper, then it was worth it. I'm using my platform to nudge things along in a direction that's, I guess, a little more utopian."