Floyd Mayweather's Attempt at a Viral Challenge Gets Roasted by Twitter
The former World Champion can handle it.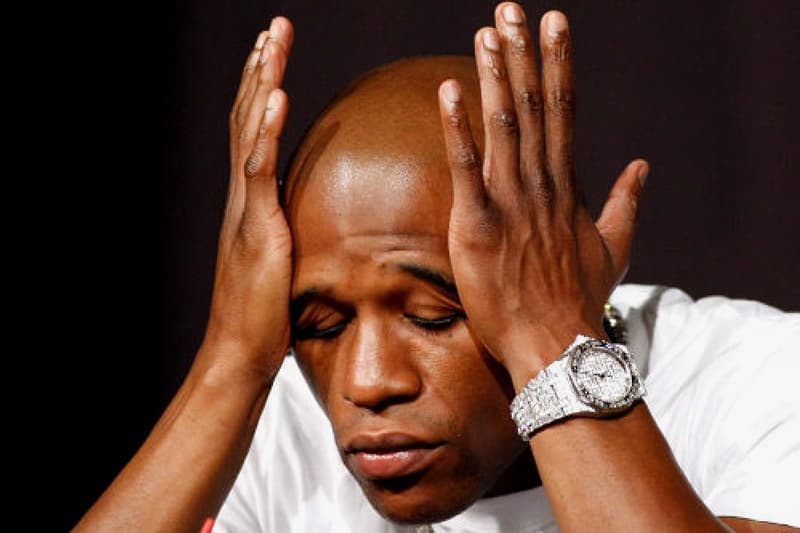 Floyd Mayweather may be on top of the world having finally confirmed a fight date with Conor McGregor. However, Mayweather recently tried to start a viral challenge on the Internet which backfired. The former boxing World Champion issued the challenge for people to "show the lifestyle you're living" in an Instagram video on Wednesday. Mayweather went on to state, "It's called the Mayweather challenge. The Mayweather challenge is when you're really living it, when you ain't frightened and you ain't lying to the people."
But of course, not many can live up to Mayweather's lifestyle and soon the Internet came a roasting. Check out the hilarious reactions below.
#MAYWEATHERCHALLENGE #TMT #TBE #Mayweather pic.twitter.com/4LuvW0soHk

— Floyd Mayweather (@FloydMayweather) June 14, 2017
Nigga I'm broke wanna see that challenge ?!

— Troy (@BRiM_LADiN) June 14, 2017
#MayweatherChallenge 62 plate qubo no messing pic.twitter.com/vbrFwMNAzO

— karl braisdell (@KBraisdell) June 14, 2017
Here's my 2012 Honda Civic, that has 103,000 miles and needs to be washed, in front of my parents house where I live. #MayweatherChallenge. pic.twitter.com/fBDvQJHUZN

— Kyle Madson (@KyleAMadson) June 14, 2017
Bank Account: $0.19
College Tuition: $25k#mayweatherchallenge

— Sam the Saint?? (@htxsamking) June 14, 2017
#MayweatherChallenge pic.twitter.com/q8IfizP8Os

— jacob (@jakermeisterr) June 14, 2017
Yeah boi #MAYWEATHERCHALLENGE #TNT #THENOODLETEAM #HOMEANDBARGAIN #SKINT pic.twitter.com/PeTSj2sGG4

— garry (@gwinefc) June 14, 2017
When you wanna partake in this challenge but you're Drowning in college debt help a sister out ????#MAYWEATHERCHALLENGE pic.twitter.com/I9tw1y6RzT

— MOEEEEE❤️ (@Ohmoe__) June 14, 2017