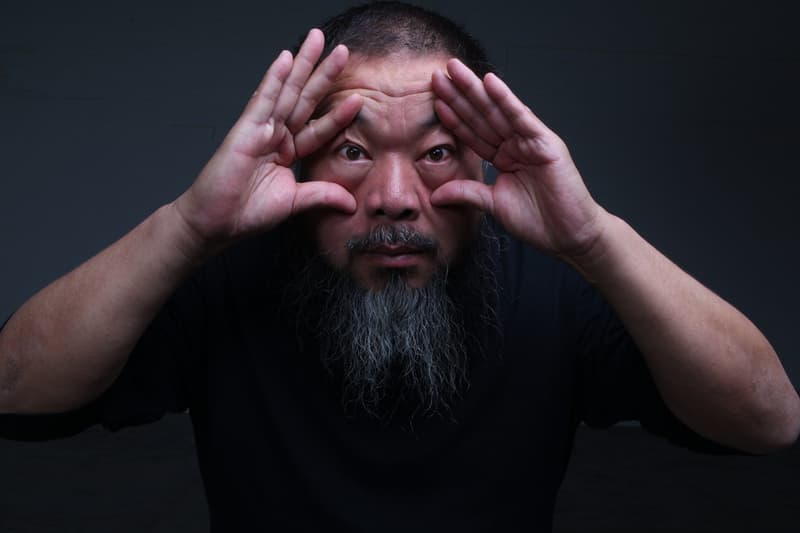 Ai Weiwei, Invader and More Art World Heavy Hitters Whose Shows You Need to See
From a highly-surveilled warehouse in NYC to an 8-bit playground in France.
---
As we approach the beginning of the summer season, one of the exciting things that is making us look away from our smartphones is the gamut of striking exhibits that have recently launched. There are plenty of shows to check out right now, especially with thousands of artists relentlessly putting in work to sell their creations at art festivals or lure passersby to check out their respective showcases. As part of our weekly round-up, we narrowed down five shows from across the world that is an absolute must-see on your art bucket list.
From Ai Weiwei's highly-surveilled warehouse in NYC to Invader's 8-bit playground in France, scroll through the presentations below and let us know if you'll be paying a visit.
Ai Weiwei's Hansel & Gretel Installation in New York City
Ai Weiwei has recently launched a new interactive installation at the Park Avenue Armory in New York City called Hansel & Gretel. The showcase explores the state of intensified surveillance in today's society. The space is packed with cameras, drones, and more high-tech devices that track and monitor your every single move and was made in collaboration with the acclaimed architecture firm, Herzog & de Meuron. More precisely, numerous infrared cameras capture footage of gallery-goers which is then projected onto the floor. Additionally, two surveillance drones occasionally fly throughout the installation, creating eerie hums that complement the disorienting atmosphere.
Visit the armory's official website to learn more. Hansel & Gretel will be open to the public until August 6.
Park Avenue Armory

643 Park Ave,
New York, NY 10065
U.S.A.
Invader's Hello My Game Is… Exhibit in Paris, France
Acclaimed visual artist Invader has taken over Musée en Herbe in Paris, France. Titled Hello My Game Is…, the striking exhibition features over 100 original pieces spanning mosaics, arcade games, interactive maps, and even wall magnets that are rendered in the French artist's signature 8-bit aesthetic. All in all, the presentation aims to bring a sense of nostalgia to mature gallery-goers and just all-around fun for young art enthusiasts as they delve into the world of the artist's colorful atmosphere.
Invader's new exhibition, Hello My Game Is… is on view at Musée en Herbe in Paris through September 3, 2017.
Musée en Herbe
23 Rue de l'Arbre,
Sec 75001, Paris,
France
The Ninth Edition of the Momentum Biennial (M9) in Norway
Momentum 9, the Nordic Biennial for Contemporary Art recently opened this past weekend in Moss, Norway. The installment features a slew of artwork and installations that center upon "alienation," extraterrestrial creatures and future technology. For example, the late Swiss luminary H.R. Giger has series of chairs culled from the Giger Bar in Tokyo. The otherworldly thrones are equipped with skulls, sharp spines, and are draped in silver. Giger's piece alongside works by the Mediated Matter collective and Norway-based Trollkem are currently on display at Galleri F15.
Momentum 9 will be open to the public up until October 11. Head over to Momentum's official website to learn more.
Galleri F15
Alby Gård, Biørn Biørnstadsveg,
Moss 1519,
Norway
Piet Mondrian's Early Works Are On View In The Netherlands
The legendary Dutch painter Piet Mondrian is the subject of a new exhibit at Gemeentemuseum in the Hague, Netherlands called The Discovery of Mondrian. Gallery-goers will be able to peruse never-before-seen creations from the modern artist spanning early still life paintings and sculptures that breath life into his more recognizable works. From his 1908 Mill in the Sunlight painting that culled references to the realism movement to full-scale installations, The Discovery of Mondrian will make you rethink the iconic artist's legacy.
Head over to Gemeentemuseum's official website to learn more. The exhibition is currently open to the public until September 24.
Gemeentemuseum Den Haag

Stadhouderslaan 41,
2517 HV Den Haag,
Netherlands
Fuco Ueda's "Yumei" Exhibit in Rome, Italy
Japanese pop surrealist Fuco Ueda has a new show at Dorothy Circus Gallery in Rome, Italy entitled "Yumei" which translates into "This world and the other world." The showcase is comprised of 13 hauntingly beautiful paintings that depict Ueda's signature female characters enveloped in nature's bounty. More precisely, there will be a series of "huge canvases overflown with oriental wisdom and delicate emotions narrated by mysterious characters laying at the bottom of sea landscapes," as per the gallery. Conclusively, the presentation marks Ueda's first European solo show and will be open to the public until July 15th, 2017.
Dorothy Circus Gallery
Via dei Pettinari, 76,
Roma, 00186,
Italy