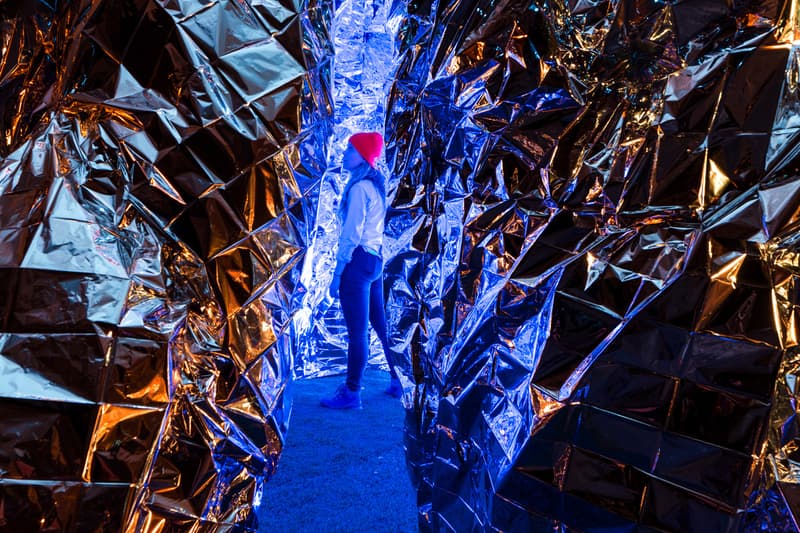 These Stunning Immersive Art Installations Will Shift Your Worldview
From a glowing Brooklyn warehouse to a dreamlike landscape in Italy.
---
Technological advancements especially 3D simulation software have paved the way for mind-blowing art installations. Artists today are creating immersive worlds in ways you've never thought were possible. Interactive showcases vary from one creator to another, but a majority consist of sculptures, paintings, video, sound art, and other fauna that unforgivingly engage the viewer's senses. From emerging artists to seasoned exhibitors, we've rounded up five must-see installations that will perhaps change your worldview.
"BKLYN IMMERSIVE" by SPRING/BREAK in Brooklyn, NY
Art collective SPRING/BREAK has debuted its ongoing installation called "BKLYN IMMERSIVE" in New York City. The massive showcase was comprised of a series of immersive artwork and installations that were displayed inside downtown Brooklyn's new City Point retail slash event warehouse space. Viewers traversed a handful of experiential zones that are divided by large walls. From Takashi Horisaki's Social Dress New Orleans that boasted latex casts of houses destroyed by Hurricane Katrina to Grace Villamil's Sanctuary City which featured a cavernous atmosphere made up of mylar, these multimedia experiences were sure to be memorable for any visitor. Learn more about the ongoing showcase here.
City Point
445 Albee Square W
Brooklyn, NY 11201
"Lo
Specchio

Della

Nostra

Natura" by NONE Collective in Cannes, France

NONE Collective has been producing over-the-top installations. The group's latest showcase called "Lo Specchio Della Nostra Natura" (which translates to "the brilliant side of us") pays tribute to the Italian film industry for the 70th Cannes Film Festival and is backed by acclaimed Rome-based studios, Cinecittà. The multimedia installation features Italian movie stars on various LCD displays such as Totò, Alberto Sordi, Anna Magnani, Claudia Cardinale, Vittorio Gassman, and Roberto Benigni alongside depictions of "gesturing and expressivity" that are deeply rooted in Italian cinema as a whole.

Watch the clip above and find more information at NONE's official website.
"Faust" by Anne
Imhof

at German Pavilion for the Venice Biennale 2017

Last week, the 57th edition of the Venice Art Biennale launched to the public. Scores of people from around the world ventured to the floating city to see a wide-array of public art as well as exhibitions. One of the more fascinating installations that folks will come across is artist Anne Imhof's "Faust" pseudo-opera showcase at the German Pavilion. Gallery-goers at the space will immediately encounter a squad of adidas-clad teens who randomly strut, smoke and dance for hours on end. All in all, the presentation blends fashion and art with a slew of anti-corporate-isms sprinkled throughout. The installation is open to the public up until November 26.

German Pavilion
Giardini della Biennale, 30010 Castello
Venezia VE, Italy
"Until" by Nick Cave at MASS
MoCA

in North Adams, Massachusetts

Performance artist Nick Cave has taken over the largest exhibition space at the Massachusetts Museum of Contemporary Art (MASS MoCA). Cave is widely-recognized for creating fabric sculptures that are vibrant, quirky and surreal. The 58-year-old creative has turned the renowned institution into a dreamlike landscape festooned with metallic lawn ornaments, crystal clouds as well as a huge cliff that was constructed out of hand-woven shoelaces and pony beads. Not to mention, folks entering the space will encounter an abstract garden that is filled with a multitude of flowers and ceramic birds. All in all, MASS MoCA assisted Cave in wrangling up materials from thrift stores and eBay for the installation that spans 16,000 wind spinners, 24 chandeliers, a crocodile and 13 gold-plated pigs to name a few. Find more information about the exhibit on Mass MoCA's official website.

MASS MoCA
1040 Mass MoCA Way
North Adams, MA 01247
"The Wig Museum" by Jim Shaw at the Marciano Art Foundation in Los Angeles, California
Guess Jeans founders Maurice and Paul Marciano have transformed an old Scottish Rite Masonic Temple into a contemporary art center in Los Angeles, California. The Millard Sheets-designed space is set to host its inaugural show with acclaimed artist Jim Shaw. The Wig Museum is Shaw's first solo exhibit in LA that features an extensive array of sculptures, drawings as well as paintings. A plethora of discovered objects from the temple have been used in the showcase such as furniture, stage sets, robes, costumers and other regalia. Of course, recycled wigs are the stars of the show with more of a handful on display that reference occultism and the arcane (themes that are occasionally explored by the artist). "The inaugural exhibition and according to the artist can be understood as a metaphor for the wig wearing masonic and judiciary Anglo-Saxon power that is coming to an end," the foundation professed. The "Wig Museum" is on view up until September 17.
Marciano Art Foundation
4357 Wilshire Blvd
Los Angeles, CA 90010