A Round-Up of the Best April Fools Pranks From 2017 So Far
Pornhub's social sharing, David Attenborough's Grime Documentary, Snapchat's Instagram filter – which were your favorites?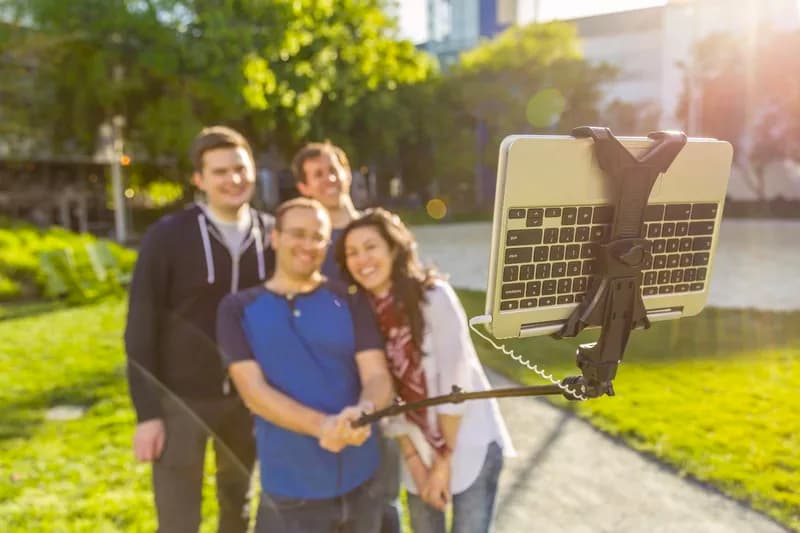 At the height of the fake news era we currently live in, April Fools offers us a much needed break from all the seriousness. Luckily April 1st landed on a weekend this year, meaning a lot of the gags we anticipated surfaced online early. Media pranks ranged from anywhere between convincing to salty to downright absurd. We've put together a list of some of the best from 2017 below.
Google's Must-Have Chromebook Accessories
1 of 3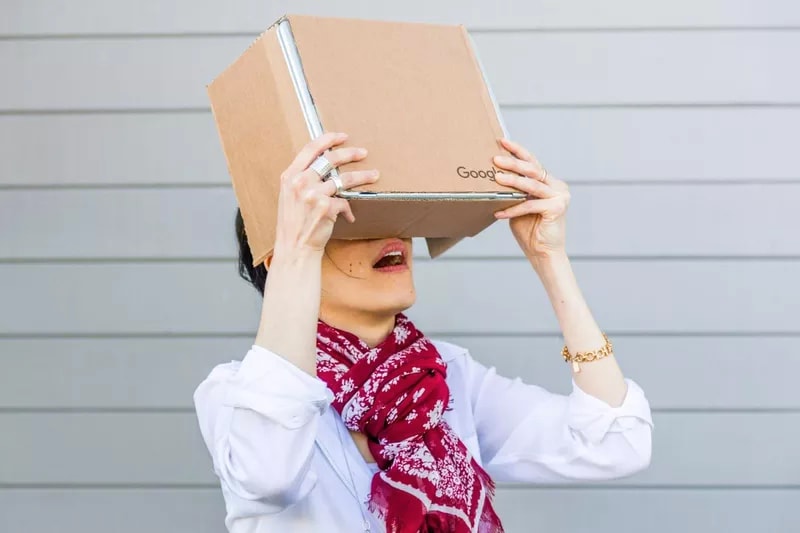 2 of 3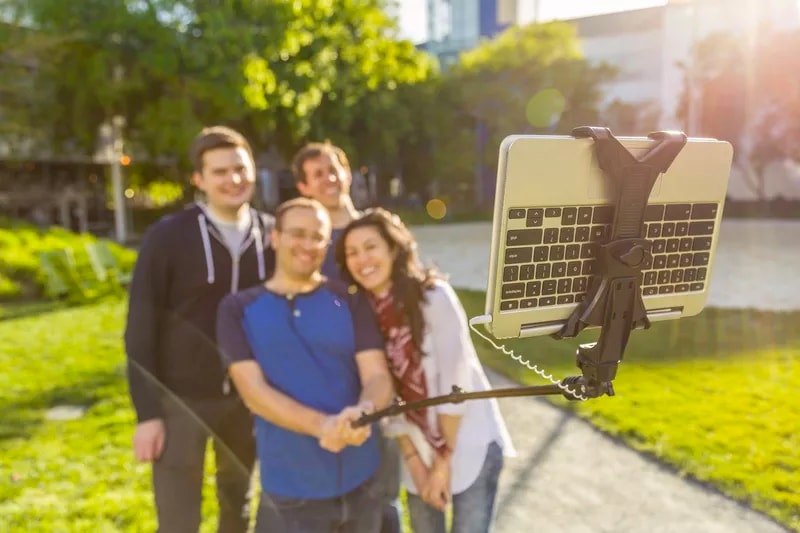 3 of 3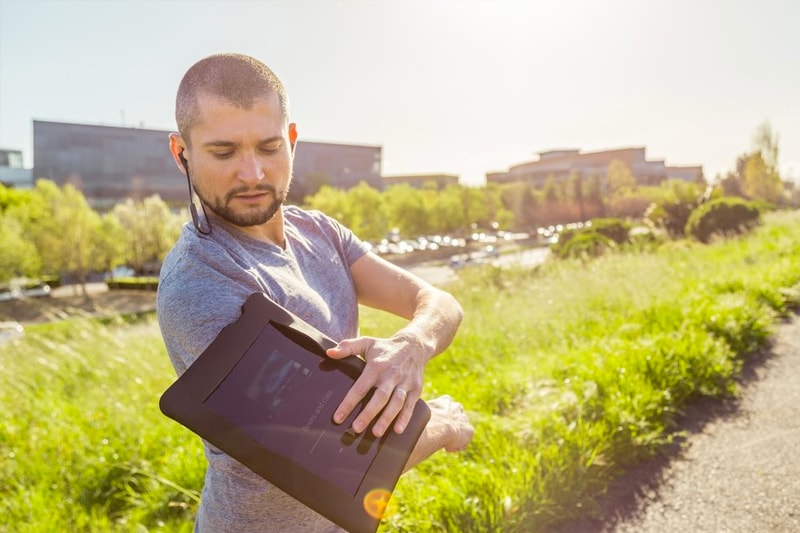 Angled as a way to fully experience the potential of Android Apps, Google has launched a line of Chromebook accessories including the Chromebook Groupie Stick, Chromebook Cardboard, and Chromebook Workout Armband. As ridiculous as they are, they're only a step away from people taking selfies on their giant tablets which is nothing new.
Pornhub's Thanks For Sharing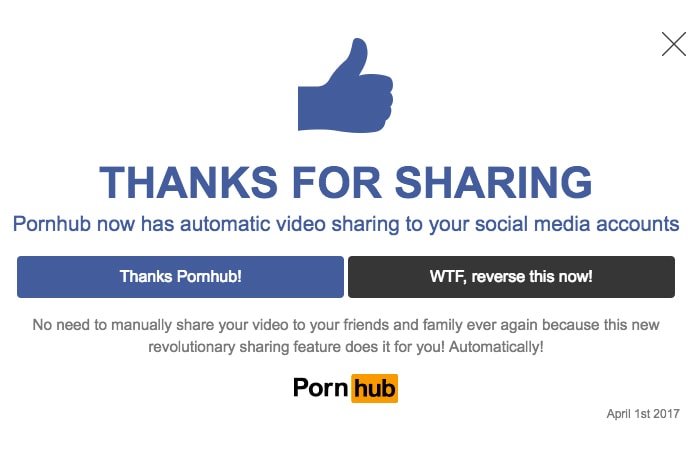 Perhaps the most convincing prank this year, Pornhub had users shook when they were notified after watching a video that the site had activated a new, automatic video sharing feature. Considering how most treat their browsing history, this is obviously the complete opposite of what anyone would want to have happen.
Our Time Dating
Think it's silly to wrap that willy? You're never too old for #safesex! Introducing OurTime #condoms! Buy now https://t.co/3XkWwfrr1B pic.twitter.com/sqBd1sOKSs

— OurTime Dating (@OurTimeDating) March 31, 2017
Another naughty prank comes from singles site, Our Time Dating, which launched a series of flavored condoms directed at senior citizens. Some of the flavors included were chamomile tea and prune. So regular bowel movements and chill?
Seamless Delivery X
First food was delivered by cars, then bikes. But to get ahead of traffic both transports would inevitably endure, Seamless has pitched "Delivery X," delivery by parkour. An obvious progression in the service, they've aptly described it as "food delivery without limits."
Snapchat's Instagram Filter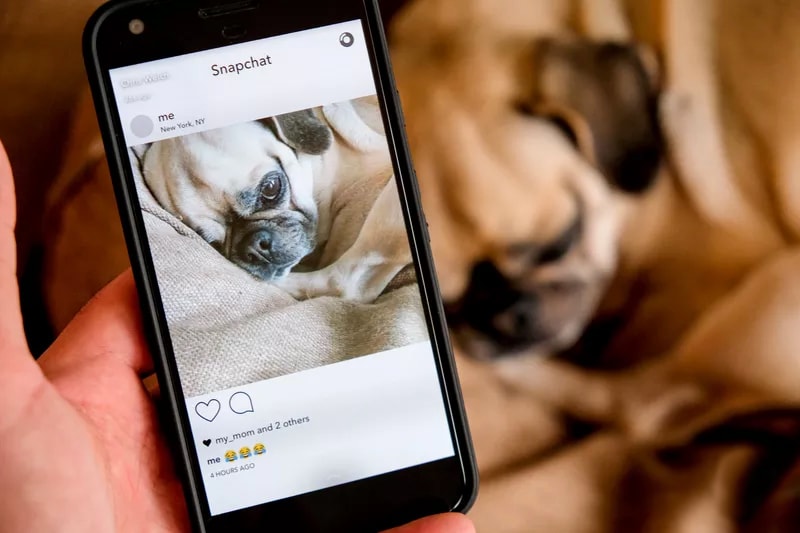 It's no secret Facebook and Instagram's new Stories features have borrowed from the major photo sharing app, Snapchat. To return the favor, Snapchat launched a day-only Instagram filter, placing people's snaps into an automated Instagram template. A bit salty, but well done, Snapchat.
BBC Three: David Attenborough Fronts Life of Grime Documentary
Brand new and exclusive to BBC Three. pic.twitter.com/7nBdbn0g7b

— BBC Three (@bbcthree) April 1, 2017
@PresidentNexus @bbcthree Fam I'm coming off the internet

— #GSAP (@Stormzy1) April 1, 2017
Offered as a BBC Three exclusive, the station joked about bringing the beloved David Attenborough to the roots of the UK Grime scene for its latest documentary. The prank wasn't clear to everyone though, as Stormzy responded on Twitter saying he sent BBC some long DM's, slewing them for it.
Tom Anderson Buys MySpace Back
Formally announcing–I finally did it. Bought MySpace back on the cheap. Let's make the Internet great again!! pic.twitter.com/9hfEOGnjgr

— Tom Anderson (@myspacetom) April 1, 2017
Most of us still have a soft spot for our first MySpace friend, Tom Anderson, who got our hopes up this week that the platform would return to its original founder. Unfortunately that's not the case, but even if it were, it wouldn't be the same anyway.
T-Mobile's ONEsie
Claiming to be the next big innovation in wearable tech, T-Mobile's ONEsie re-envisions the future of fashion and mobility, turning its wearer into a walking hotspot and more. The ONEsie is offered in three styles — comfortable, active and professional. Take a look above.
Netflix Live With Will Arnett
As a play on current video trends — Facebook Live, ASMR channels, Youtube Storytelling etc. — Netflix launched Netflix Live, which featured 48 one-minute videos of Arrested Development star Will Arnett narrating mundane office objects. The prank is less funny than it is a social commentary that also happens to be quite mesmerizing once you get into it. No actual footage has surfaced since the project went live, however there is a promotional video clip above.
Reddit's Social Experiment
1 of 2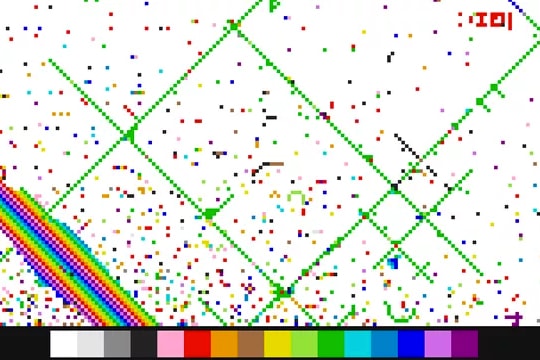 2 of 2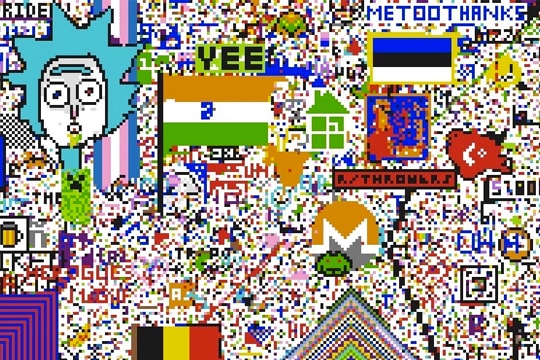 Revealed as a project titled "Place" Reddit invited its users to create communal images, where each user was limited to placing a single colored pixel on a canvas every five minutes. Reddit being Reddit however, groups formed to co-ordinate mostly crudely drawn penises.
Honorable Mentions: Burger King's Whopper tooth paste and Google Map's Ms Pac-Man.
If we missed anything hilarious, feel free to share your April Fools picks in the comments.
Join Our Discussions on Discord
The HYPEBEAST Discord Server is a community where conversations on cultural topics can be taken further.