Beyond Supreme x Louis Vuitton: How Kim Jones Became the Messiah of Menswear
With Umbro, Pastelle, and fragment design, he's introduced streetwear to high fashion in more ways than one.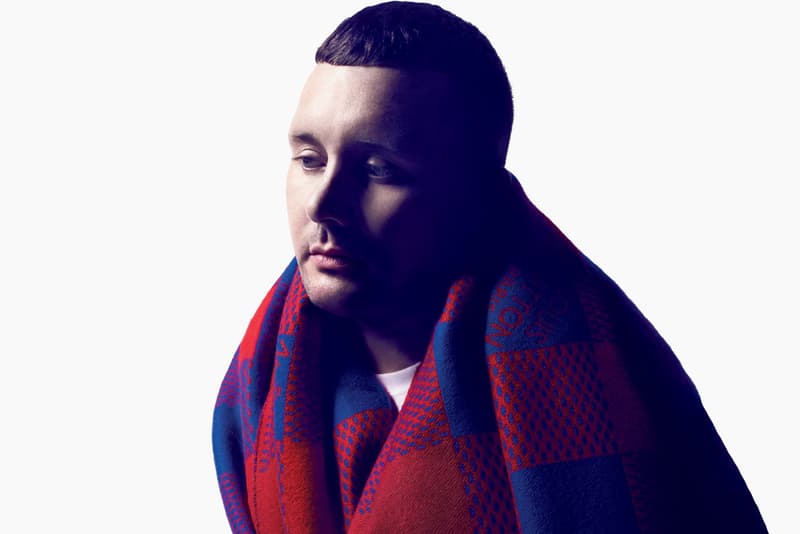 It's been a few months now since Louis Vuitton's 2017 fall/winter menswear collection hit the runway, where we first fully saw the house's collaboration with skatewear giant Supreme. In the time between then and now, you can say that both brands had some eventful moments. For one, Supreme has already rolled out 2017 spring/summer deliveries that included the much-anticipated Sade tees and Lacoste collab products. Also, brand director Angelo Baque left the company in early February to concentrate on his label Awake, although he is still consulting for the NY imprint under a new management agency he founded. For LV, it debuted its Jake & Dinos Chapman 2017 spring/summer collection through a series of pop-ups, teased an upcoming project with the Stranger Things kids courtesy of creative director Nicolas Ghesquière, and started early deliveries of LV x Sup items for VIP customers. Let's not also forget the highly-anticipated new collaboration with Hiroshi Fujiwara's fragment design.
At the center of it all, however, is artistic director for menswear at Louis Vuitton, Kim Jones — he recently reached his sixth-year tenure with the Parisian house and celebrated by revealing a photo he took of his friend, iconic model Kate Moss wearing an LV x 'Preme box logo T-shirt on social media. It was an exclamation point presented to the masses, and one must wonder if this colossal collaboration is indeed the designer's crowning achievement. It also begs to be revealed how Kim Jones arrived at this point in his career in the first place and more importantly, where he will go from here since Supreme x Louis Vuitton will undoubtedly be one of the hardest acts to follow in fashion.
It would be wise to take a look at Jones's past moves and accomplishments to make sense of all his recent achievements. The man in more ways than one defined what it meant to bring streetwear culture to high fashion fans, even way before Supreme x Louis Vuitton. Kim Jones is for lack of a better description a HYPEBEAST in an artistic director's clothing. He's more acutely aware of "our (streetwear) culture" than the other names helming creative positions in other luxury houses. This puts him in an advantageous position of bringing in new customers to LV, especially the young social media-hungry, disposable income-having, hype-hunting consumers all the other brands are after.
Kim Jones, The Namesake Label
In September of 2003, Kim Jones debuted his eponymous label to the world at London Fashion Week. He showed both women's and men's ready-to-wear looks, and it was clear right away, for menswear at least, that the Central Saint Martins MA graduate can bring a fresh and upbeat charm to the industry. Jones also revealed then that the '90s rave parties he used to attend were his reference points for the collection. If that sounds familiar, you don't need to look further than what designer Gosha Rubchinskiy is currently doing, continually being inspired by Russian youth culture that includes skateboarding and the underground parties of the same era.
Kim Jones's label showed a total of eight collections in its existence – he presented five seasons in a row at Paris and showcased his last runway collection in New York in 2007. During that span, Jones also won the Menswear Designer of the Year Award by the British Fashion Council in 2006. It was his first and definitely wouldn't be his last. In retrospect, the designs Kim Jones's brand produced were ahead of its time and would be a barometer for what a lot of young designers are trying to accomplish now — mixing tech fabrics with tailoring, oversized tees, loose dress trousers, luxe sneakers with suiting, puffer coats and especially athletic tracksuits. You can see the street-meets-athletic-meets-luxe vibe brewing here for all of menswear to borrow from later on. Fashion critic Tim Blanks once described Jones's 2005 fall/winter collection by saying, "He has a knack for making athletic wear look unusual and interesting. There was a kickboxing flair to full trousers. Knit leggings in lilac or gray were paired with formal partners—a gray jacket, a petrol-blue trench—in Jones's own take on this season's sporty dressiness (or is that dressy sportiness?)."
Umbro by Kim Jones
While helming his eponymous line, Kim Jones was tapped by English sportswear brand Umbro in 2004 to add a bit of modern flair to its offerings. Some say this is when Jones really pioneered the "athleisure" trend by making sports-centric garments more fashionable and more accessible globally. "Athleisure" is a big part of the streetwear ethos — sneakers, hoodies and joggers form the basis of the direction's "cozy' aspect, and Jones added his vision to Umbro with playful prints, refined tailoring and fashion-forward kicks. The sneaker offerings of the range would be some of his most coveted works for the label. Umbro by Kim Jones lasted for eight years and solidified Jones's reputation as one of menswear's most talented creators, having the ability to add street flair to both sports and high fashion.
Kanye West's Pastelle
In 2008, anticipations were high for Kanye West to release his clothing line Pastelle. As more details started to surface about 'Ye's ambitious brand, it turned out that Kim Jones, who is also a friend of the star rapper, would head the project. The partnership made sense as the British designer's experience in street-centric clothes, sportswear, sneakers and luxury garments would work well with Mr. West's vision at that time. The trends of that period relied heavily on bright colors and the mixing of tailoring and off-duty styles. If you remember, 2008 for K-West was all about next-level flair — the 'Glow in the Dark' tour meant elaborate sets and outfits, while 808s and Heartbreak revealed a grey-suited 'Ye with a kaleidoscopic KAWS art background in the insert. With Jones's previous works as proof, Kanye's label under the award-winning designer's guidance would've spelled success.
Pastelle pieces were seen on West in numerous social outings and appearances. There was even a pictorial styled by Kim Jones on VMAN magazine, but as it turns out, the label itself would come to a halt and wouldn't be heard from again until 2016 with headlines pointing to Ian Conner as the person to revive Pastelle. Until now, there is still no concrete word that the brand would surely make a comeback, although the infamous varsity jacket from the line has been making its rounds on the net as of late.
Covering All the Bases: From Fast Fashion to High Fashion
Kim Jones has one of the most well-rounded resumes in the industry. He's had his own line, sportswear collab, and even graduated with a masters degree at one of the most prestigious fashion schools, the Central St. Martins College of Art and Design. To call the British designer versatile is an understatement — he's been tapped by the likes of Uniqlo and Topman to create clothing for the fast fashion side of the industry. For the higher end labels, he's cut his teeth at Hugo Boss, Mulberry, McQ by Alexander McQueen and Iceberg. He was named creative director at Dunhill in 2008 and became menswear style director at Louis Vuitton in 2011. With these design houses under his belt, it's clear as day that Jones has earned a top spot in the pantheon of menswear greats.
Redefining Louis Vuitton
Right from the start, Kim Jones knew he would infuse the notion of travel into the spirit of his collections with Louis Vuitton. LV after all, with its classic signature trunks, is rooted in the jet-setting lifestyle. Jones, on the other hand, is well-traveled, having spent his childhood in Africa (Ethiopia, Kenya, Tanzania and Botswana) — the country would be the focus of his first collection for the Paris fashion house.
Jones would then work with Japanese label Kapital's Kiro Hirata to help create boro pieces for the line with the LV's 2013 spring/summer. Kapital is more on the exclusive side of streetwear and has been masters at the Japanese art of piecing and patching denim — the boro technique has been a popular mainstay in men's fashion made from the country.
Building upon the Japanese influence, Kim Jones has also tapped streetwear icon, Hiroshi Fujiwara for one of Louis Vuitton's most fruitful collaborations. In June of 2016, The pop-up shop-based partnership brought out about 4,000 people to Japanese retailer Isetan where fashion fans were able to purchase bags and other accessories from the release. April 2017 will also see a new collaborative effort come to fruition and from the looks of it, the range will now span clothing as well as other LV x fragment design-branded wares. The team-up would follow the recent Supreme collab fanfare, and it's almost shaping up to be just as extremely coveted as Louis Vuitton's products with the NYC streetwear label.
What The Future Holds
"I wanted to inject fun into the brand," Kim Jones stated in an interview when he was initially chosen to be creative menswear lead at Louis Vuitton. "It has an optimism." Compared to womenswear, menswear, as seen from those outside the industry, is ultimately uninteresting. Womenswear designers have a lot more to play with regarding construction and the grandiosity of presentations. These are the reasons why there is so much more focus on women's shows during any fashion week.
For menswear, it's usually the co-branding aspect that gets fans riled up. Critics often refer to a lot of menswear brands today existing between the grey lines of high fashion and streetwear. Kim Jones, however, served it loud and clear alongside Supreme and fragment design that streetwear can exist on the same plane as the luxury brands, depending on how it's packaged of course. This is that aspect of "fun" Jones is aiming for. Streetwear is based on youth and rebellion, but it's also about tapping emerging subcultures from around the globe. The latter coincides with the "travel" direction Jones continues to preach with Louis Vuitton.
As for the near future, it feels like anything is possible with the British-born creative. It wouldn't be surprising to see a part two to the Supreme collab, a part three with fragment design, and a new project to follow up his NikeLab projects. Furthermore, Jones' streetwear cred is still on the ups as we've seen him staying in touch with VLONE's A$AP Bari. He's even teased receiving the new KAWS x Jordan IV sneakers on his Instagram Live too. With fragment design already having worked with VLONE, an A$AP Bari x Kim Jones project wouldn't be so far-fetched. As for KAWS, I wouldn't count out a possible collaboration happening with the renowned artist as well.