Facebook Launches Social VR Platform Called Spaces
Socializing goes from IRL to URL to VR.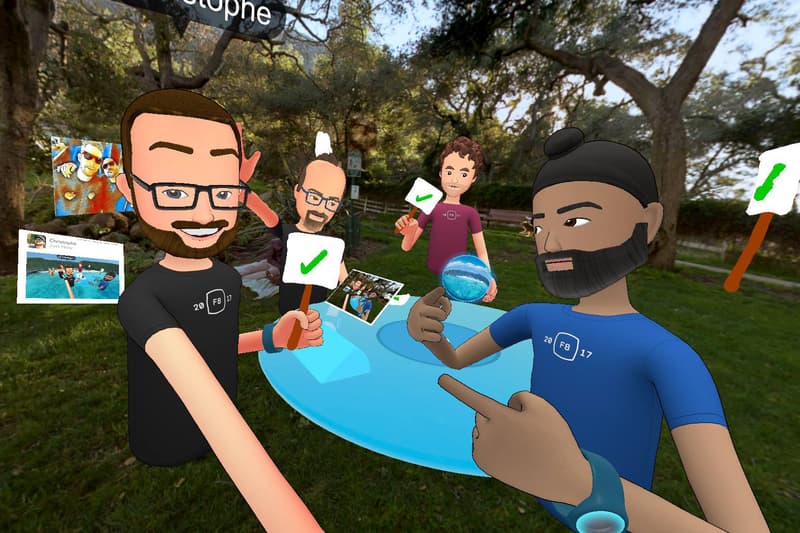 Confirming last month's rumors, Facebook has officially debuted its social VR platform Spaces at this year's F8 developer conference. The new social media project, which features hardware from Oculus (the VR tech company Facebook bought for $2 billion USD in 2014), will transport users to a virtual environment via an Oculus Rift headset and Touch controllers.
According to one tester's experience, users will be assisted by a virtual helper named Justin and a dashboard of applications from which they can access and share content on different kinds of media, including the ability to chat via Messenger with fellow VR users.
The main feature of the platform is the VR avatar. Upon entering the VR world, you will be able to customize your own animated cartoon avatar by adjusting facial features yourself or allowing Spaces to automatically generate an avatar based on your existing Facebook profile photos. Your avatar will also mimic you in body language, thanks to the motion capturing features on the Rift and Touch hardware, and do other communicative things such as laugh and express shock much like VR versions of emojis.
"The core of Spaces, the reason it exists, is so you can feel like you're with your friends in person," says Spaces product manager Mike Booth. "And then it's having interesting things you can do with your friends. It's not a chatroom where you're just talking."
"There are people that are looking at VR, thinking it's not for [them], because they think it's all about gaming," Booth said regarding skeptics. "But what we're trying to build is for everyone."
"We want to bring you and your friends to VR," said Booth. "I hope it'll make more people look at VR as someone that people will actually want."