The Civic Type R: A Full History of Honda's Greatest Street-Legal, Track-Ready Monster
Learn about the JDM Type R lineage before the new model arrives in the U.S.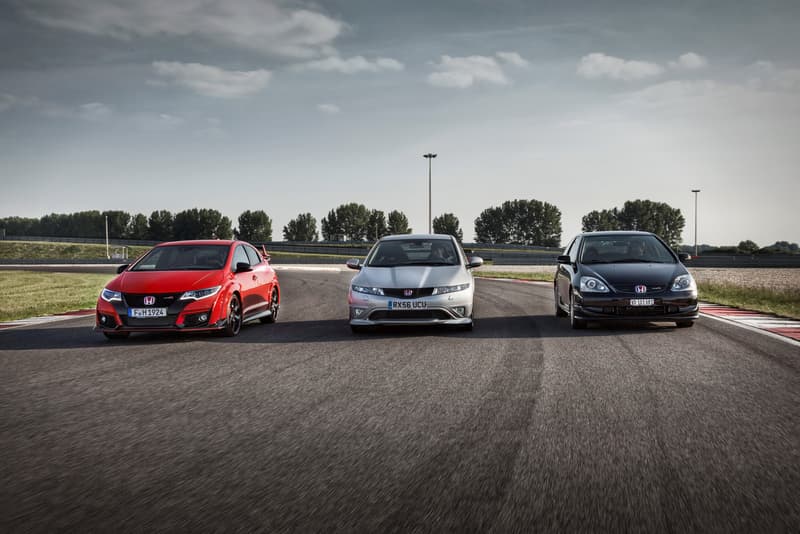 A unicorn for automotive enthusiasts and tuners in the United States for two decades, the Honda Civic Type R is finally making its way stateside this year. Set to debut at the New York International Auto Show in mid-April to what will most definitely be an event for the ages, the previously purely Japanese Domestic Market (JDM) and European Domestic Market (EDM) models have built a cult-like which have in turn sparked the demand in the West. The diehard fanbase around the world have thus put the front-wheel drive Civic Type R on such a high pedestal considering the car dons the legendary performance "Type R" badge from Honda; given to only a select group of race bred machines that utilize Honda's coveted performance technologies.
Emphasizing minimal weight, maximum tunability, and racing potential in terms of engine output, suspension and braking, the Type R has seen its share of professional circuit and street duty. Our friend Kazuo Miki over at J's RACING in Japan has taken the time to break down the brief yet essential history behind the various Civic Type R chassis. Take a look below at the models which have led up to the anticipation for the newest addition to the Type R family.
EK9 (1997-2000)
Engine: 1.6-liter B16B inline 4-cylinder
Horsepower: 182 hp
Torque: 118 lb-ft
Retail: ¥1,998,000 JPY (~$18,000 USD)
Current price: ¥500,000-¥3,300,000 JPY (~$4,500-$29,800 USD)
Tune-ability rating: 5 (out of 5)
Overall score: 4 (out of 5)
Pros: Strong chassis (compared to the previous EG6 version). Double wishbone suspension gives the car very good cornering ability. B16B engine delivers a high rev range.
Cons: 20kg (~44lbs) heavier than the EG6. Suspension setup finicky due to the long wheelbase. Low torque figure.
Comments: The EK9 is 20 years old now, but it still provides a good tuning base for sheer performance. With a slew of engine tuning options available like a B18C swap, K swap, etc., the ways to enhance the EK9 help overcome its slight deficiencies. Once you get into the driver's seat, it is evident why Honda decided to make a Civic with the Type R emblem. Still one of the most popular track cars, the EK9 is worth the investment to have your own fun in.
EP3 (2001-2005)
Engine: 2.0-liter K20A inline 4-cylinder
Horsepower: 212 hp
Torque: 149 lb-ft
Retail: ¥2,200,000 JPY (~$19,800 USD)
Current price: ¥500,000-¥2,000,000 JPY (~$4,500-$18,000 USD)
Tune-ability rating: 4
Overall score: 3 
Pros:
Strong chassis. One of the most powerful naturally-aspirated (NA) engines from Honda. Suspension easier to tune than predecessor. 6-speed gearbox made for good gear ratios.
Cons:
Incredibly rare in Japan with only about 4,700 units registered. New front suspension MacPherson strut made suspension setups more complicated. Unique dashboard-mounted gear knob not for everyone. Cramped hatchback takes away some space.
Comments: While the EP3 is rare and hard to track down, there's an unexplainable pleasure that comes with owning a rare vehicle, especially a rare Type R like the EP. Despite its rarity the styling is still not that popular, which means any buyer interested in purchasing the car can usually find a really good price for it. Nevertheless it's my belief that the EP3 will become the next EK9 in the future in terms of appeal.
FD2 (2007-2010)
Engine: 2.0-liter K20A inline 4-cylinder
Horsepower: 222 hp
Torque: 159 lb-ft
Retail: ¥2,835,000 JPY (~$25,600 USD)
Current price: ¥1,300,000-¥3,700,000 JPY (~$11,700-$33,300 USD)
Tune-ability rating: 4
Overall score: 4
Pros:
Actually quite lightweight at 1,260 kg (~2,778 lb). Strong power and torque figures from the EP3 while keeping the K20A engine. Suspension is really good for the track. Rear suspension has a large weight capacity.
Cons:
Four-door sedan styling was a hit or miss. Rear suspension compromised almost immediately once over the limit. Not much can be done to the car that would result in significant tuned improvement.
Comments: The FD2 is a rare breed because it's a cost performance car which offers a fun driving experience as well as speed, straight from the factory. But because of this, a lot of people are on the hunt for the FD2 and thus prices are still high. If you can get your hands on one though, the payout and joy from driving this treasure will be undeniable considering it's the final pure NA Type R.
Euro FN2 (2007-2012)
Engine: 2.0-liter K20Z inline 4-cylinder
Horsepower: 198 hp
Torque: 143 lb-ft
Retail: ¥3,000,000 JPY (~$27,000 USD)
Current price: ¥1,000,000-¥3,000,000 JPY (~$9,000-$27,000 USD)
Tune-ability rating: 2.5
Overall score: 4
Pros:
A return to the hatchback style. Comfortable. Reasonably-priced.
Cons:
Feels too gentle in comparison to the other models. The low-powered K20A-derived engine was easy to control but not fast. Heavy at 1,320 kilograms (2,920 pounds); very difficult to shed and too much for the brakes. Cornering is slow due to Honda Fit/Jazz-sourced torsion beam rear suspension.
Comments: Out of the bunch, this Type R is arguably the best daily driver. Due to its propensity for being a difficult car to tune, it's good for highway driving as it isn't too loud and has a smooth ride. With a cheaper price tag than the others, the FN2 is a great choice for those looking to buy their first Type R, but not the best choice by far.
Euro FK2 (2015-2016)
Engine: 2.0-liter K20C1 turbo inline 4-cylinder
Horsepower: 306 hp
Torque: 295 lb-ft
Retail: ¥4,280,000 JPY (~$38,600 USD)
Current price: ¥4,300,000-¥5,300,000 JPY (~$38,800-$47,800 USD)
Tune-ability rating: 4
Overall score: 3
Pros:
The most powerful Civic in Honda history due to Turbo VTEC engine. Chassis is strengthened, interior quality improved. The car is made for winding roads in its stock state.
Cons:
Extra power means heavy at 1,380kg (about 3,043 lb). Suspension and tire capacity can't handle the full engine performance. Despite Brembo brakes, braking can't match performance and weight; hard to take to the tracks. Limited and expensive, only a small customer base was allowed to purchase it.
Comments: Due to the relative young age of this car, there are still new and exciting ways to tune it. The car does have a pretty pricey tag but it has the power and premium feel to go along with that money spent. For those who have the opportunity to drive this version, it is definitely a pleasure to do so.