David Haye on Motivation, Motown and Making a Comeback
Fighting talk ahead of Saturday's showdown with Tony Bellew.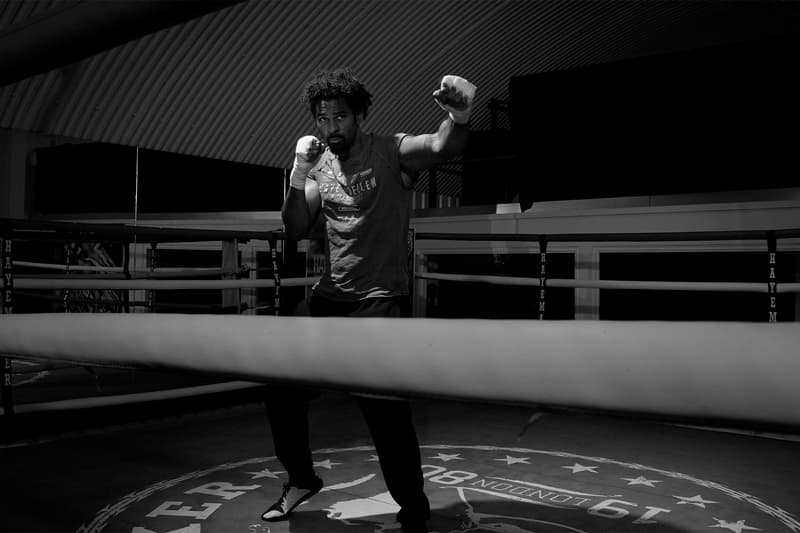 With a buildup packed full of animosity, aggression and swirling rumors of a comeback-wrecking damaged Achilles, this weekend sees Londoner David Haye take to the ring for a highly anticipated bout against WBC cruiserweight champion Tony Bellew. It marks Haye's third fight following a three-and-a-half-year absence from the sport and an assured victory at the O2 Arena on Saturday would show that the 36-year-old is ready for another shot at a world title. Yet in Bellew he faces a tough, highly motivated opponent, who — in his first heavyweight fight — will be eager to make Sunday's headlines his own.
Fast, athletic and with a powerful technique that earned his punch its "Hayemaker" moniker, Haye's decorated career has seen him secure world titles in two weight classes, graduating from cruiserweight world champion in 2008 to become world heavyweight champion a year later. A high-profile defeat to Wladimir Klitschko back in 2011, declarations of retirement, and a persistent shoulder injury have seen his appearances limited before an extended absence from the ring. Having rejigged his lifestyle — famously adopting a vegan diet and taking up meditation — he's now two winning fights into his latest return and the so-called "Hayemaker 2.0" is eager to regain his world-beating form.
Ahead of Saturday's showdown, we spoke to Haye at his south London gym about life inside and outside of the ring, and what to expect from him this weekend.
How have you prepared for Saturday's fight?
I had become sick of training through winter so I chose to head out to Miami this time. I based myself at the world-famous Fifth Street boxing gym, where Muhammad Ali trained at in his heyday. I'd wake up with the sunrise on the beach, go for a swim, and connect with nature. I think people will see the difference — the new and improved version of myself.
Have you altered your approach over the years?
In the past I've focused too much on training and it consumed me. This time we trained super hard but when we finished we'd go jetskiing instead. Once we went to a women's volleyball tournament, which was fun — it's these random things each day that took my mind off boxing. Some fighters feel the need to live and breathe it all day every day watching Rocky movies but I've been a professional boxer for 14 years, so there's nothing I'm going to learn now that I don't already know.
"I don't need to whip myself up into any type of mindframe to fight — I could do it right now"
How important are pre-fight mind games?
People take so much notice of what someone says or what they do before a fight and they forget some of the fundamentals of a fight. No matter what someone's story is, it all comes down to who lands first and who punches harder in the ring. I get a lot more comments on pictures of me training on a yacht than by doing sit-ups in the gym. Tony Bellew is doing the traditional Rocky-style training running in freezing-cold temperature along the River Mersey while I'm doing it on a multi-million pound yacht and having a lot of fun.
Amid the pre-fight animosity how do you maintain your mental focus?
In terms of mentality I've been competing since I was 10 and you're either a boxer or you're not; you're comfortable in the combat zone or you're not. I don't need to whip myself up into any type of mindframe to fight — I could do it right now. I could focus on what Tony Bellew's going to do but as long as I prepare for someone who's bigger, faster and stronger than he is, I'll find a way to win… and spectacularly.
Describe your music taste.
It hasn't really developed at all — I'm stuck in the 1970s and 1980s. My favorite musicians are Marvin Gaye, Stevie Wonder, Al Green and Luther Vandross; I love soul and Motown. My parents were big soul fans and always had 12-inch records like Michael Jackson's Thriller and Off The Wall. They're timeless records and I can listen to stuff like that all day long.
"I've always seen a parallel between the greatest musicians and greatest boxers – maybe it was the struggle they had to come through back then"
What do you listen to when training?
I always try to keep it funky — things like James Brown give me a great energy. A lot of fighters I know listen to gangster rap or hard rock but that doesn't do it for me and doesn't get my rhythm going. One of my favorite fights of all time was The Rumble in the Jungle and they put on a lot of artists in a big concert before it. Muhammad Ali is my all-time favorite fighter and looking at all his old footage he always had great musicians around him.
The 1970s and 1980s had so many great human beings. I've always seen a parallel between the greatest musicians and greatest boxers – maybe it was the struggle they had to come through back then that gave them the extra edge, which manifested itself in their performances.
How important is style to you?
As I've got older I try to smarten up a bit — when I was younger it was whatever was clean but now I try to look a bit sharper. There's always a camera not too far from me and these pictures that are taken now might well be seen a few years down the line and I don't want to look like a scruff! Timothy Everest makes my suits but depending on where I'm at in my training regimen.
And in terms of style icons, is there anyone out there you admire?
Tinie Tempah always looks like he's one step ahead. He's made a style that's all of his own which I really like and he hasn't really followed fashion. It's always good to see a young guy in the prime of his career unafraid of pushing boundaries.
And how do you relax?
I try to live every day to the fullest. I definitely find watching sunrise sets the day up perfectly. And plenty of laughing — trying to enjoy the moment and not focus too much on the past or the future but on the here and now.

---
David Haye takes on Tony Bellew at the O2 Arena on Saturday, March 4 at approximately 10.30 p.m. GMT.