UPDATE: NYC MTA Has Confirmed the Supreme MetroCards Being Sold at Stations, Locations Revealed
If you see something, say something.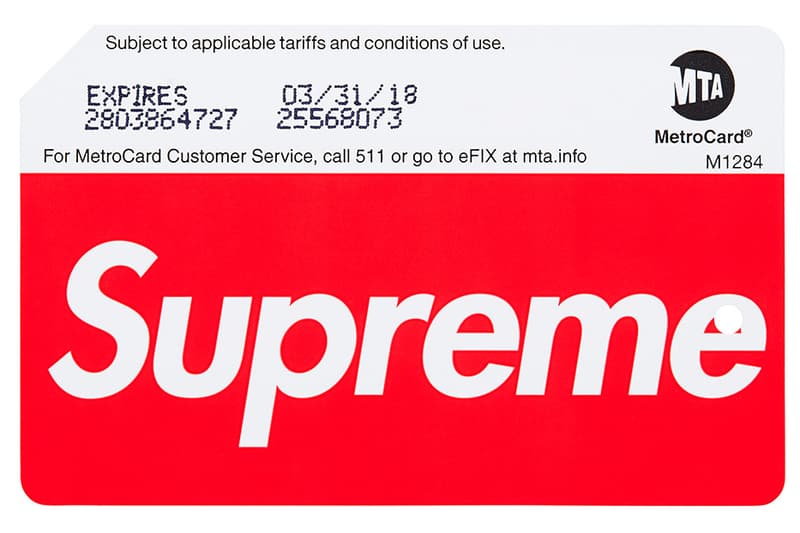 UPDATE: See the locations, as revealed by the MTA, below in an updated tweet.
In an unexpected move, the New York City MTA has tweeted on its official Twitter page that the Supreme collaborative MetroCards are available at select stations. The prepaid card, which includes two fares, utilizes the cult brand's appeal to decorate the decades-old payment method to bring straphangers to their workplaces and homes every day. The card released during Supreme's 2017 spring/summer collection that dropped on February 15 but has already seen resell values that peaked at 30x its original price.
While the tweet doesn't disclose any solid information as to where the cards are stocked, larger stops like Times Square station and Broadway Lafayette (closest major transfer point to Supreme) may be good starting locations due to their influx of commuters. Have you found any? Sound off in the comments below and help your fellow Supremehead out.
Now vending in select stations: Supreme branded MetroCards pic.twitter.com/ah2kmT0laA

— NYCT Subway (@NYCTSubway) February 20, 2017
@NYCTSubway cards avail. in select machines @ Bway Lafayette/ 125 St 2,3/ Qns Plz/ Marcy Av/ Atlantic Av/ Prince St/ Spring St/ Union Sq.

— NYCT Subway (@NYCTSubway) February 20, 2017