The Influence of Chicano Culture in Fashion as Told by Leading Latino Pioneers in the Industry
Spanto of Born x Raised, Mister Cartoon and Willy Chavarria relay personal insights.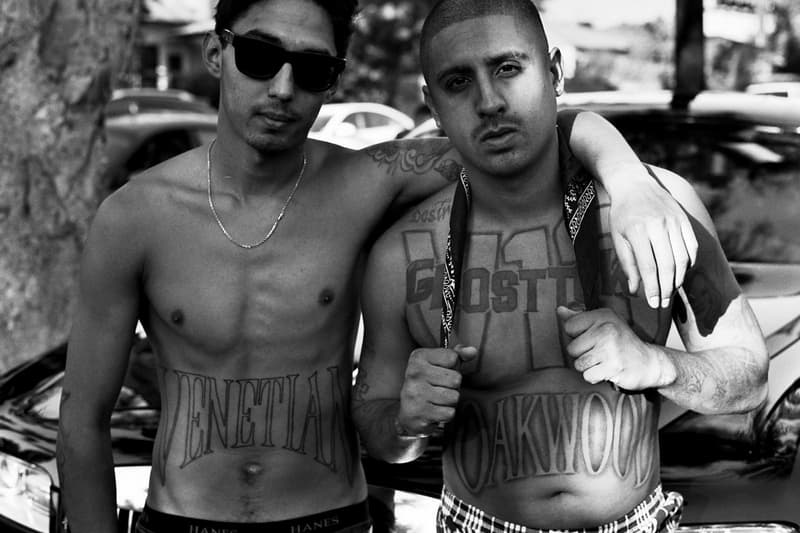 "Oversized" is a widely-used adjective to describe the clothing purveyed by some of the hottest brands today. As we presumably continue to get bombarded with elongated fits, it's important to note that this baggy aesthetic was first made popular by the Mexican American youth who belonged to a street gang in Southern California. Whether it's the high-waisted zoot suits worn by Pachucos in the '30s-'40s or the buttoned-down flannels sported by Cholos in the '60s-'70s, Chicano motifs have long been implemented on the racks and catwalks over the years. From budding labels to high fashion houses, many industry players have more or less leeched off the subculture that was initially spawned from social oppression experienced by Latino locales since the Mexican Repatriation of 1929—an unfortunate circumstance when the U.S. government deported approximately 2 million people of Mexican descent.
The list of brands who have added new threads to this intricate web of Chicano appropriation keeps on growing. One stylistic example is the blackletter typeface or Gothic lettering. Although it has European origins, it's most renowned for being adorned on memorial garbs created by Chicano communities in LA. These commemorative pieces of clothing were made to honor friends or family members who passed away. Nowadays, however, the typeface is observed on concert merch or one-off capsule collections, more notably on Kanye West's TLOP wares designed by Vancouver-born artist Cali Thornhill DeWitt, as well as war. Aside from the font, other designers have riffed off other prevailing Chicano references including slang. Japanese mainstay, WTAPS, once created a shirt dubbed "Vatos" and Retrosuperfuture used to sell a pair of shades back in 2008 which was simply entitled "Chicano." Let's also not forget how several pop celebs blatantly seized the Chola aesthetic including Selena Gomez (Congradulations to Me), Rihanna (circa 2013 Halloween) as well as Lana Del Rey (Tropico). Conclusively, there's just too many to count.
To help rid the wool off your eyes, we reached out to three leading Latino pioneers in the fashion/creative industry: Chicano streetwear specialist Spanto of Born x Raised, legendary tattoo artist Mister Cartoon and NYC-based designer Willy Chavarria. Read on for several key takeaways and then let us know your thoughts.
In your own words, define "Chicano."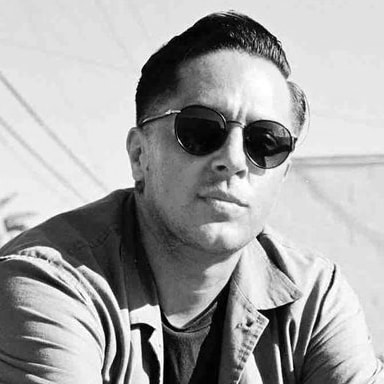 Spanto of Born x Raised
It directly translates to Mexican American.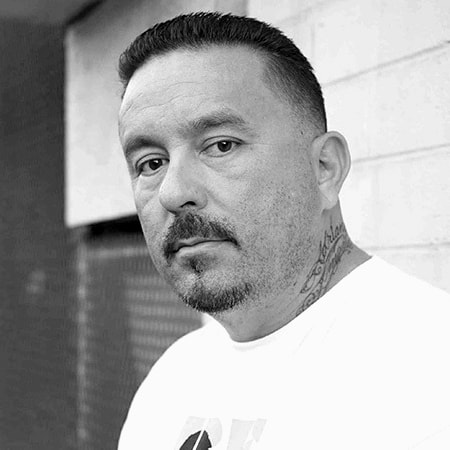 Mister Cartoon
Chicano to me is a Mexican American whose household still has Mexican traditions and values, like food, music, grandmother, family, etc. We are American but we never forget our Aztec-Mexican heritage. We keep those values.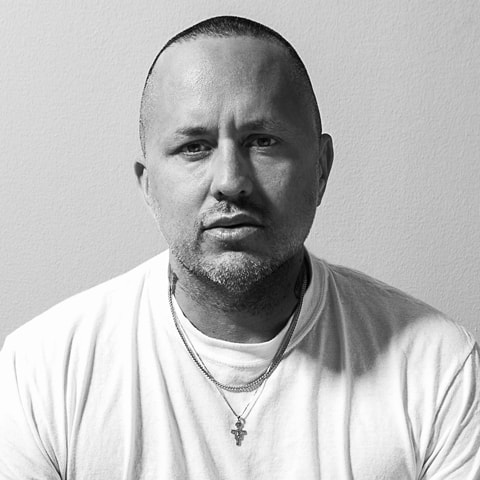 Willy Chavarria
Chicano is a word to describe an American subculture formed by Mexican Americans. It summarizes a cultural style and identity of the people who are dependent of the regions originally belonging to Mexico which are now Texas, Arizona, New Mexico, Colorado, Utah and California.
One of my favorite things about the word is that it was once a derogatory term. The word was reapproppriated during the civil rights movement to have positive identification by the very people oppressed by the term.
What was your life like growing up?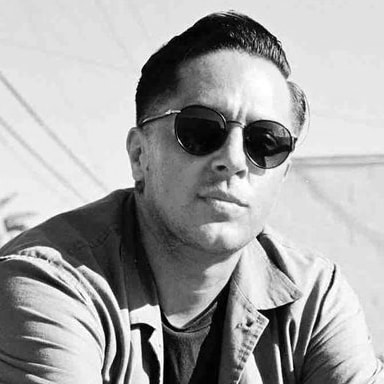 Spanto of Born x Raised
Growing up in Los Angeles in the '90s racial tensions were very high, which eventually led to the LA riots. I was in 5th grade when it all happened.
POST Riots – when the riots ended it birthed a whole new wave of culture, we now had freedom, the city belonged to us again, it was thriving and smoldering at the same time. Gang culture was at its pinnacle and everyone here was affected by it. I grew up in Venice, which at the time was a melting pot for all cultures. Not like the wealthy, gentrified, generic version of today. Los Angeles was in a state of transformation but it belonged to us and it was paradise. We are a direct product of all of that.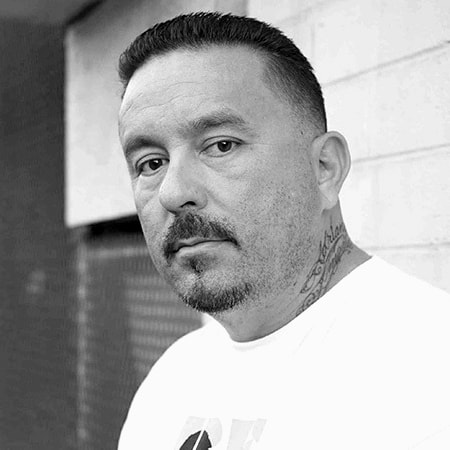 Mister Cartoon
I had a good childhood. Both of my parents are artistic, they ran a mom and pop's print shop in the heart of LA and they bought me up in the harbor area of Los Angeles. As a kid I was into martial arts and art. I was always drawing from a young age. The master of my dojo was also the candy man of Hawthworne. He introduced me into the world of car customization murals and gold leaf lettering that opened my eyes to a whole other world.
When I was in high school I dove into graffiti and experimented with different lettering style and experimented to find my own style. In order to be different and develop my own signature style my idea was to combine vintage sign painting, East Coast graffiti, and West Coast cholo collages.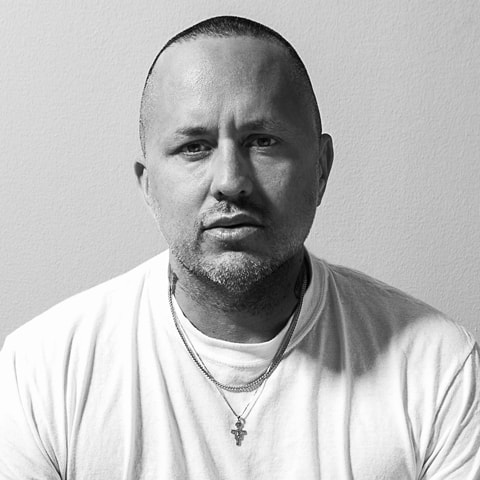 Willy Chavarria
I grew up in the agricultural heart of California: the San Joaquin Valley. I am from a family of immigrants. Migrant workers; "lettuce pickers" so to speak. You could pretty much open the screen door in the summer and a head of lettuce would roll in. I was born in Fresno. We had pictures of Jesus Christ, John F. Kennedy, and the pope on the wall. Role models you know. I think those same pictures were hanging in most Chicano households around that time. We moved from the very small 95% Mexican immigrant town of Huron to the big city of Fresno. We lived in the projects there surrounded by the Sureño Mongols, car jackings and I watched my father struggle to emerge from this line of work to provide me a strong future. For this I am forever grateful.
The uniform of the Chicano male was a clean, crisp style which mastered the reinterpretation of basic workwear into an elegant symbol of racial identity. This is why the Cholos (Chicano gang members) exemplified the look as a symbol of cultural identity. The Mexican gangs were originally less of what we see today in gang culture. They were simply forming a string identity after having an innate loss of identify with the colonization of the Western states.
I always thought the best styles came from the hood. There is a sense of appreciation there that makes the clothing more valuable. And there is more originality in working with what you got.
Describe your personal experience with Chicano culture. What does it mean to you?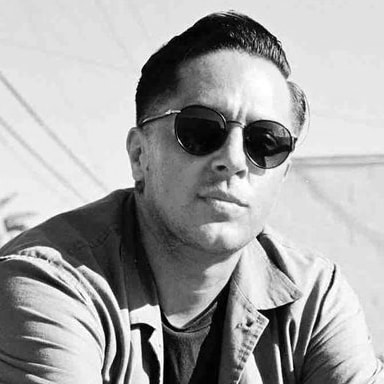 Spanto of Born x Raised
Everybody in Los Angeles was inspired or affected by Chicano culture. LA is not a European-based city, the Mexican culture is very dominant here, the first street in Los Angeles was Olvera Street (1781). From the jump, the Mexican presence was eminent. My neighborhood, my friends mostly grew up in Spanish-speaking homes, a lot of them were first generation, so their Mexican traditions were still very prominent.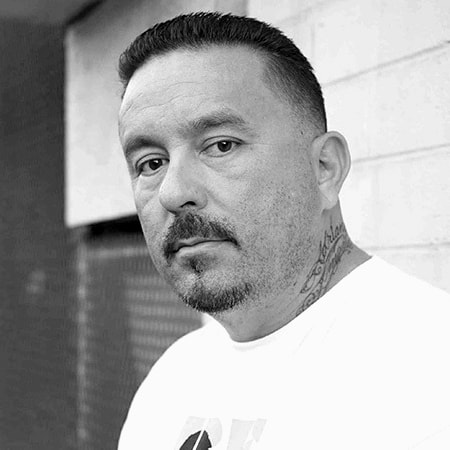 Mister Cartoon
My personal experience with Chicano culture is the cars I drive, the oldies I listen to, the way I dress, the black and grey images that I produce in my tattoos that makes the art timeless and reminds us of the old school. Chicano culture is proud and artistic and at the same time takes no shit from no one.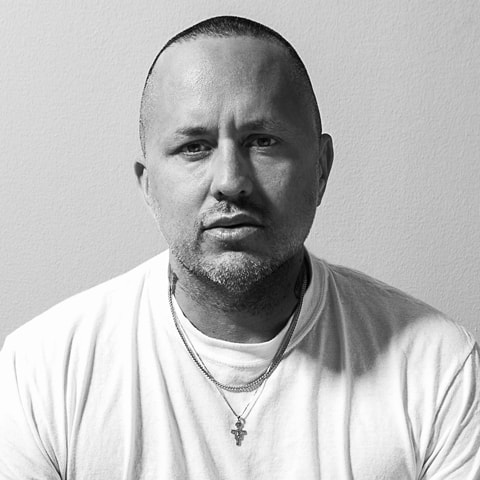 Willy Chavarria
Chicano culture to me is the mixing of Mexican and American values, style and artistic expression. It is a recognized identity born through the Civil Rights Movement. As a child I was raised to be very conscious of the segregation between brown and white people. There weren't too many black people in the rural areas of the central valley so the distinction was made very clear between brown and white people through class, neighborhoods, schools and social spaces. I am actually a half-breed! My mother is white and my father is Mexican, which was a forbidden relationship back in those days. That's why today when I see the degradation of brown people in our American leadership it breaks my heart. It seems to hold no regard for the progress we have made as a nation.
The brown people were generally the poor people. We shopped for clothes at Kmart once a year and made that shit last as long as we could. We treated our $12.00 Dickies chinos like Givenchy and pressed them and tailored them and hung them with routine precision. A pressed white T-shirt, oversized khaki chinos, a black belt, and shiny black shoes… I mean it doesn't get any more chic than that.
The blackletter typeface has been synonymous with LA's gang culture, but now it's been embellished on high-end labels such as Gucci and Vetements. What's your take on clothing lines appropriating Chicano culture into their collections?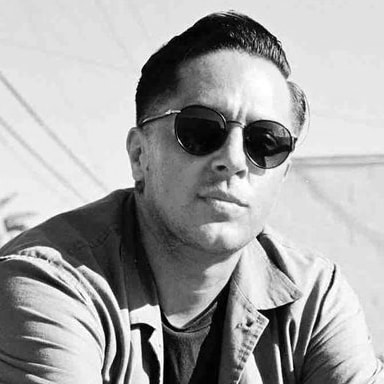 Spanto of Born x Raised
The blackletter typeface is synonymous with LA gang culture. This is a part of my life growing up and they use it as reference or inspiration. I'm not referencing anyone else's culture but my own. This isn't fashion or streetwear this is my life. I've been wearing this since the mid '90s. These letters meant something, not just anyone could wear them.
It pissed me off in the beginning, none of these people were wearing this when it meant something and were most likely afraid of it back then. When I wore this I wore it with pride because it meant something to me, now it means nothing. They are referencing us as a whole. We did it long before people thought it was cool and we did it before it was safe. But at the end of the day a font is a font.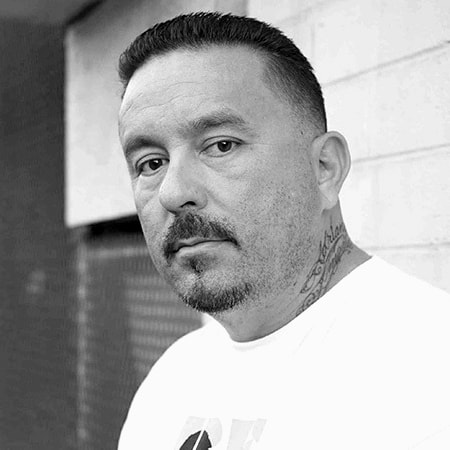 Mister Cartoon
Clothing lines appropriating Chicano culture to me seems weird to see companies that you emulated emulate you and your style. Originally these fonts we used in the streets where used on government buildings churches and death certificates, the traditional Old English font in many styles and looks always screams the West Coast and Chicano.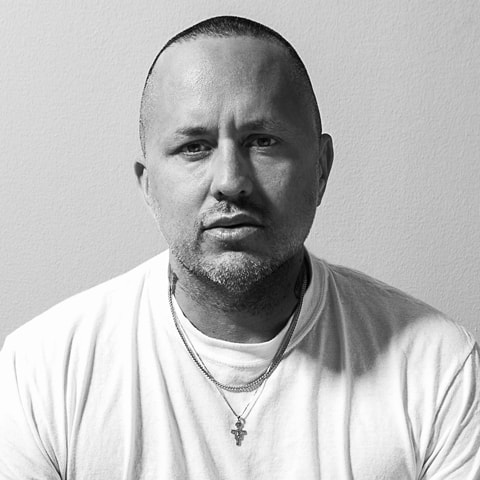 Willy Chavarria
Well, I personally have always been a strong believer in the sharing of art. I think it's funny to see Vetements and whoever designs for Kanye knocking off Cholo style graphics. We live in an age of reinterpretation. We have become accustomed to seeing old ideas reintroduced rather than groundbreaking new ideas. I think as long as we give credit to the source in some way, it's all good.
I mean Cholo culture has been massively influential in men's fashion. Cholos created the baggy pant. The look was never quite appreciated in the fashion industry until it was adopted by the skate culture. Then, skate brands began to imitate Cholo and Chicano styling to sell to white kids.
I have always seen a genius crossover between Japanese and American Cholo styling. I think that is why my label performs so well in Japan. The silhouettes and clean lines are very Japanese in a way. Yohji Yamamoto was very aware of this. I see his work as a clear understanding of the two cultures merging into clothing.
Long before the Gothic font trend, "Cholo/Chola" style has had a major impact in creating international subcultures and mainstream fashion trends. Would you call this an appreciation or appropriation of the subculture?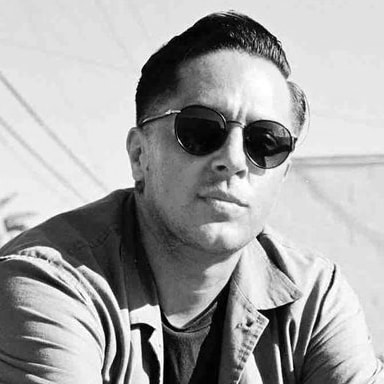 Spanto of Born x Raised
In regards to Cali, he's our friend, and he is referencing my (our) culture. We made sweaters to show affiliation or in commemoration of someone who passed away. A lot of kids who are uneducated on this topic come at us saying we bit the TLOP merch. I've been wearing this since a teenager and have been using this font for Born x Raised since 2012 long before TLOP.
As whole, it should be treated with respect. This is a culture with values and traditions, not a style or fashion trend. We actually lived this shit. This is a part of our lives.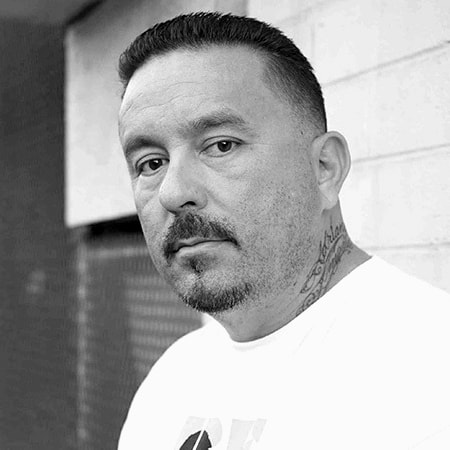 Mister Cartoon
I think Rihanna is an artist and has respect for other cultures and looked good doing it. I don't have a problem with that, I think the Japanese have been lowriding and simulating West Coast culture since the late '80s and I am not talking a few hundred people, I am talking thousands of lowriders and people inspired by LA gangs, Cholo, Chicano culture.
With Thailand, I mean Thailand appreciates and pays homage to our culture and we have many similarities with the Thai people, like family and craftsmanship. We have been to Thailand many times every year for the last 10 years and I have seen California style lowriders cruising the streets of Bangkok and Thai teenagers rocking West Coast fashion styles.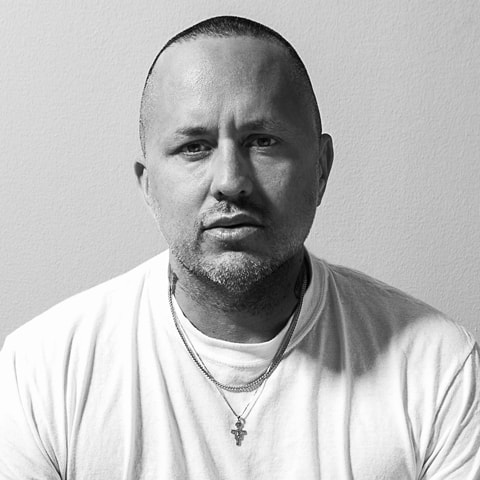 Willy Chavarria
I always get a kick out of seeing Rihanna dressed up like a Chola and I love those Thai Cholos! I am all for the sharing and mixing of style. I spend a lot of time in Copenhagen where you see white people everywhere, blasting hardcore hip-hop and acting hard like they can relate to the lyrics. It's hilarious, but at the same time it's beautiful to see the crazy crossover of cultural identity.
I think that the reappropriation of Chicano influence is simply a compliment to great style. I love it. I mean it will never be as good as the original.
[Chicano culture] should be treated with respect. This is a culture with values and traditions not a style or fashion trend.
How would you summarize Chicano influence in today's fashion industries?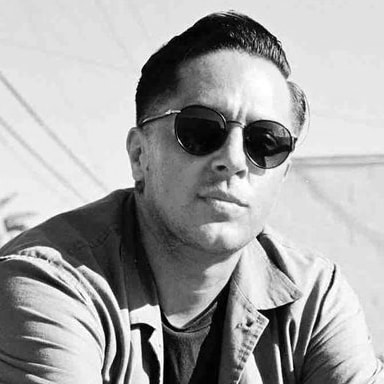 Spanto of Born x Raised
It's always gonna be there, its not going anywhere. If you're gonna do it, do it right and in a respectful manner. You can always tell when someone is trying too hard.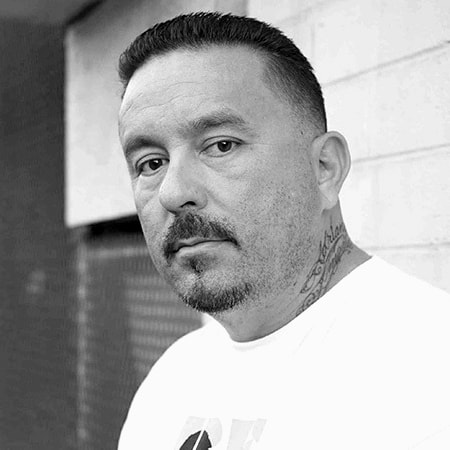 Mister Cartoon
It's dope that the fashion industry recognizes the Chicano style. They figured out that white tees, khakis, Chuck Taylors and Pendleton shirts look dope. However, it's not cool when they don't use Chicanos in their advertisements or seek out Chicano designers to help within the industry.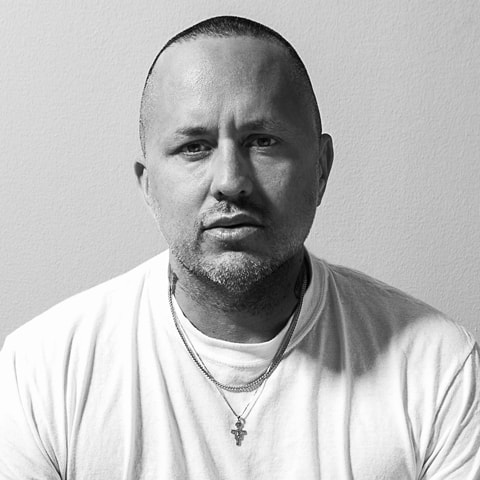 Willy Chavarria
Today's fashion industry is graced with the influences of so many cultures and subcultures. I think that's what keeps fashion so goddamn exciting. Chicano and Cholo fashion have always had direct influence on other "street" cultures with the crossover of music and style. For example, skate culture with white socks pulled up to the knee, punk culture with plaid flannel shirts buttoned to the neck, hip-hop culture with baggy Dickies and oversized shirts.
All in all, I'm quite happy to put my Chicano style influence on the runway and give it full credit to its source.