Lil B Just Gave His BasedGod Blessing to These NBA Teams
Also passes out some BasedGod curses.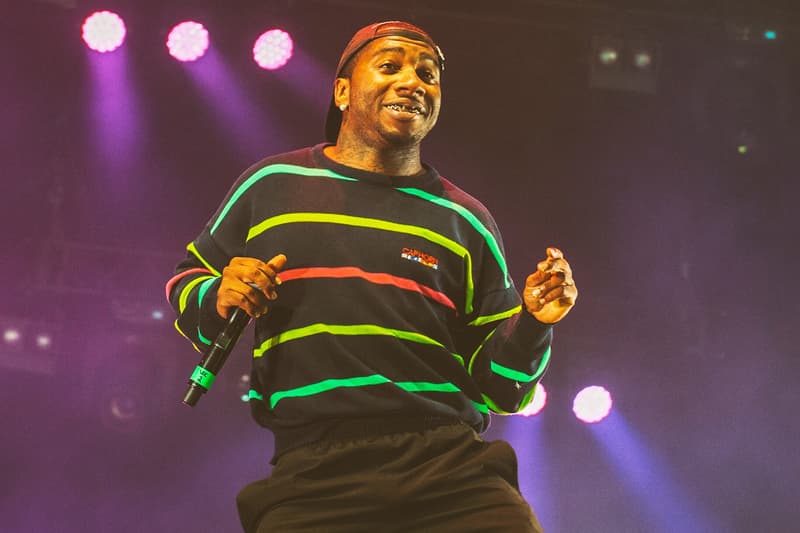 To end 2017 right, rapper, producer and songwriter Lil B has decided to spread his goodwill by blessing a few chosen NBA teams as the BasedGod. Taking to his Twitter account, Lil B announced his list of blessed teams for the 2018 season. The teams that received Lil B's "THE BASEDGODS" blessing include: The Golden State Warriors, Portland Trail Blazers, Boston Celtics, Minnesota Timberwolves, Sacramento Kings, Philadelphia 76ers, and the New York Knicks.
Following his blessed announcement, Lil B sent out a "THE BASEDGODS" CURSE WARNING LIST" to the Denver Nuggets and Lakers' player Kyle Kuzma. Check out Lil B's tweets below along with some fan reactions.
Lil B also famously gave James Harden the "BasedGod" curse a couple of seasons ago.
NBA TEAMS THAT HAVE "THE BASEDGODS" BLESSING….
1.GOLDEN STATE WARRIORS
2.PORTLAND TRAIL BLAZERShttps://t.co/ml82xmADYL CELTICS
4.MIN TIMBERWOLVS
5.SACRAMENTO KINGS
6.PHILLYDELPHIA 76ers https://t.co/Ajy6lznVtB YORK KNICKS

THIS THE UPDATED SPORTS NBA BLESSINGS – Lil B

— Lil B THE BASEDGOD (@LILBTHEBASEDGOD) December 31, 2017
JUST BECAUSE LIL B DID NOT PUT YOU ON THE SPORTS BLESSING LIST DOES NOT MEAN YOU ARE NOT BLESSED BY "THE BASEDGOD" EVERYONE STARTS WITH BLESSINGS FROM THE BASEDGOD…. BUT THINGS CAN BE TAKEN AND A CURSE BE BE INVOKED IN NEEDED – Lil B

— Lil B THE BASEDGOD (@LILBTHEBASEDGOD) December 31, 2017
wait, who's Lil B? https://t.co/QaAVxPl9Ey

— Denver Nuggets (@nuggets) December 31, 2017
NBA SPORTS LIL B UPDATE "THE BASEDGODS" CURSE WARNING LIST

1. DENVER NUGGETS
2.KYLE KUZMA
- Lil B

— Lil B THE BASEDGOD (@LILBTHEBASEDGOD) December 31, 2017
GORDAN HAYWARD HAS "THE BASEDGODS" BLESSINGS FOR HIS HEALTH HE WILL BE BACK SOON STRONGER AND MORE POSITIVE THEN EVER GO BOSTON! ALSO WHO IS WATCHING THE SIXERS PLAY RIGHT NOW AGINST NUGGETS? ALSO WARRIORS ARE PLAYING LIVE RIGHT NOW TO!!! GO WARRIORS AND SIXERS – Lil B

— Lil B THE BASEDGOD (@LILBTHEBASEDGOD) December 31, 2017
No Raptors???

We have OG Anunoby. That's enough of a blessing, I guess. https://t.co/BlYb2dswgo

— Chris Walder (@WalderSports) December 31, 2017
No lakers? Cmon now Lil B https://t.co/zjyJ5R8hs4

— CrockTIME (@eric_crocker) December 31, 2017
poor rockets https://t.co/6560NMm8ZR

— Russ Bengtson (@russbengtson) December 31, 2017