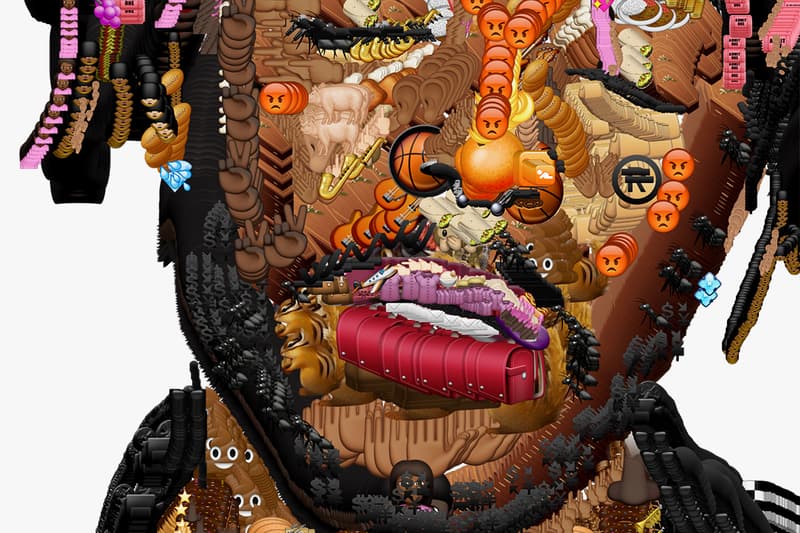 Cindy Sherman for Supreme, Off-White™ Installation & More Major Art Events
Including "Emoji Portraits" by LA-based artist, Yung Jake.
---
Artists collaborating with fashion brands is nothing new, but there has been a surge as of late. Take, for example, Dan Witz's hyperrealistic mosh paintings for Dior Homme's Fall/Winter 2017 collection, or more recently, iconic photographer Cindy Sherman designing limited edition skate decks for Supreme. These partnerships aim to promote both the artwork and product, which often results in the release of a unique print, sculpture or other art objects that you probably will never see again in the future.
Check out this week's art roundup below that spotlights a handful of art-fashion collabs alongside must-see shows
Cindy Sherman x Supreme Skate Decks Fall/Winter 2017
Supreme has teamed up with iconic photographer Cindy Sherman on limited edition skate decks as part of its ongoing Artist Series. Sherman is acclaimed for her socially critical photography, superimposing her face on Hollywood darlings and countless pop culture imagery to rebuke mass advertising. Sherman's "Untitled #181" and "Untitled #175" pieces from her Grotesque Series of photo stills are featured on the collaborative skate decks. Expect an official release online and in-store in NY, Brooklyn, LA, London and Paris on November 9. Japan will see its release subsequently on November 11.
Shepard Fairey x N.E.R.D. 'Cracked But Unbroken' Print
Shepard Fairey and N.E.R.D. have connected on a limited edition print titled Cracked But Unbroken to help raise funds for the Southern Poverty Law Center (SPLC). Sized at 18 x 24-inches, the piece spotlights Fairey's signature style and palette of red, beige and blue. Furthermore, the rap/rock outfit's ubiquitous brain logo—designed by Fairey himself back in 2000—is embellished at the center of the print alongside a portrait placed on top with a cracked motif.
Cracked But Unbroken will launch on Obey Giant's official website. Only 200 units will be available at an approximate price of $65 USD each.
"Emoji Portraits" by Yung Jake at Dream Downtown in NYC
Yung Jake is widely-known for his intricate "Emoji Portraits" that feature celebrities and pop culture figures. The LA-based artist was recently commissioned by the Dream Downtown hotel in New York City to create original pieces. The collaborative series spotlights portraits of Willow Smith, Leonardo DiCaprio, Gigi Hadid, Lil Uzi Vert and Lil Yachty. Check out the portraits for yourself by stopping by Dream Downtown.
Dream Downtown
355 W 16th St.
New York, NY 10011
Ian Strange x Off-White™ Installation at Melbourne Flagship
Australian multi-disciplinary artist Ian Strange has erected a sculptural installation entitled Nothing is Finished at Off-White™'s new Melbourne flagship store. Strange's work analyzes concepts of home, space, architecture and the built environment as a whole. The partnered installation "meticulously re-assembles sections of a demolished house," said Off-White™. "Incorporating large, painted markings; burnt-out framework with built-in, incandescent LED lighting; and sections of both doors and windows cut directly from the original house."
Visit Ian Strange's official website to learn more. Virgil Abloh and Ian Strange will continuously work on future projects at the space.
"Some Grow up, Others Grow Down" Exhibit by Adam Lucas in NYC
Adam Lucas, the artist formerly known as Hanksy, is set to launch his first exhibit using his real name titled "Some Grow Up, Others Grow Down." The showcase will take place at New York City's Chinatown district, boasting large-scale paintings that feature vibrant colors coupled with politically-charged messages. "This show is a culmination of two years of self-imposed studio imprisonment," said Lucas. "Everything I did before for five years was for a client, for a show, for a vehicle to deliver a topical joke or one-liner. It was never art to make art. I had never done that before."
"Some Grow Up, Others Grow Down" will be open to the public starting November 8. Head over to Adam Lucas' official Instagram page to learn more and find the address below.
"Some Grow Up, Others Grow Down"
151 Canal St.
New York, NY 10002