Just How Did CEO Herbert Hainer Close the Gap Between adidas and Nike in the Last 15 Years?
A discussion of his hard work, dedication, and his respect for Kanye West.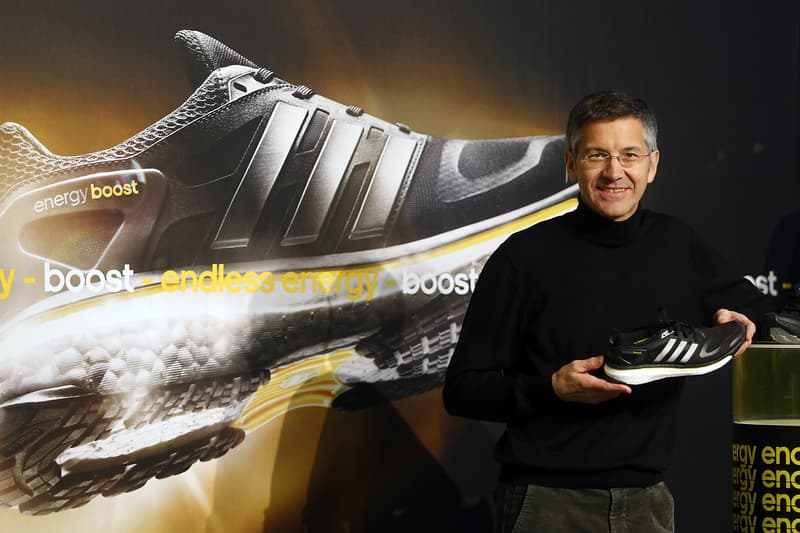 For the last 15 years, CEO Herbert Hainer has had the daunting task of reviving the adidas brand, attempting to resuscitate its profits from tough times that spawned since the 1970s. Hainer's retirement this fall brings upon a slew of questions, of which The Wall Street Journal has delved deeply into answering. For starters, the sales figures–some of which see market capitalization values from approximately $3.5 billion USD to nearly $30 billion USD–seem to speak for themselves when it comes to his strategy and plan of attack, after multiple hurdles in the form of investors lowering the adidas share price almost 40% and a claim to have Hainer quit his position as CEO. But after his return of sales in the U.S. market and his partnership acquisition of one Kanye West, Herbert Hainer's upcoming retirement will leave adidas in a financially strong position come 2017.
Read an excerpt from The Wall Street Journal's interview, and also watch a short quick-fire Q&A session where Hainer reveals his hobbies, aspirations when growing up, and how he feels about people mispronouncing ah-Dee-dahs.
WSJ: How do you last 15 years as CEO?

Mr. Hainer: The key task is to find the right people. I don't design or develop products anymore—I wouldn't be a good designer anyhow. But I have to find the best people for the individual jobs. It's like a soccer team, you can't have strikers only. You would shoot 10 goals, but you would also get 11 in the back. You need certain skill sets and then bring the individuals together as a team. When you look at the people who have key roles at the company, you see that we have worked together for a very long time.

WSJ: Right after you sponsored the 2014 World Cup, Adidas issued a big profit warning that shocked investors. When did you first understand that you would miss your targets?

Mr. Hainer: It all began with the Russian economy worsening, and then the war in east Ukraine happened. Russia was our third-biggest market behind the U.S. and China, and one of our most profitable. The overall golf business did not perform as well as thought either, and this was another factor. But Russia we could not foresee.

WSJ: Why didn't you alert investors earlier?

Mr. Hainer: I had to understand the full impact first, and I was trying to take all the measures to compensate for it. Then, when I saw that these measures were not good enough, of course I had to go out and tell the public.

WSJ: How did it make you feel when investors said they wanted you to leave?

Mr. Hainer: I was surprised and I was angry. I thought it was unfair.

WSJ: Did you ever think you should have left earlier?

Mr. Hainer: Not really. There was a day when I thought, 'I still have two more years—why is Ukraine and Russia happening now?' But that was just a blip. And then I came back and said, 'OK, good, it is what it is. Now we have to show the world that we can do better.'

WSJ: What did you change?

Mr. Hainer: We gave much more power and responsibility to our brand managers. We made them responsible, from design and development to end products. And we made them responsible for the whole supply chain. In the past, we used to be a little more, say, feudalistic, in our organization.

WSJ: How did you rekindle the U.S. business?

Mr. Hainer: After a time, I think we figured out what we had to do in America. Over the past 18 months, we've changed the complete management. We work a lot closer with the key retailers now. When you go to Dick's [Sporting Goods], to Foot Locker, you now see our displays, not only individual products on the wall. I shouldn't forget Kanye West either.

WSJ: How important has Kanye West been to Adidas?

Mr. Hainer: Kanye has definitely helped us, no doubt. But he is not only a celebrity who is wearing our products. He was here day and night and worked with the design team. Sometimes he drove the designers crazy, but this also gave our people inspiration. You know how he is.