Beyond 82: Our Favorite Courts for Summer Basketball Runs
Some of the world's greatest players may not have made the league, but they've surely graced some of these legendary courts.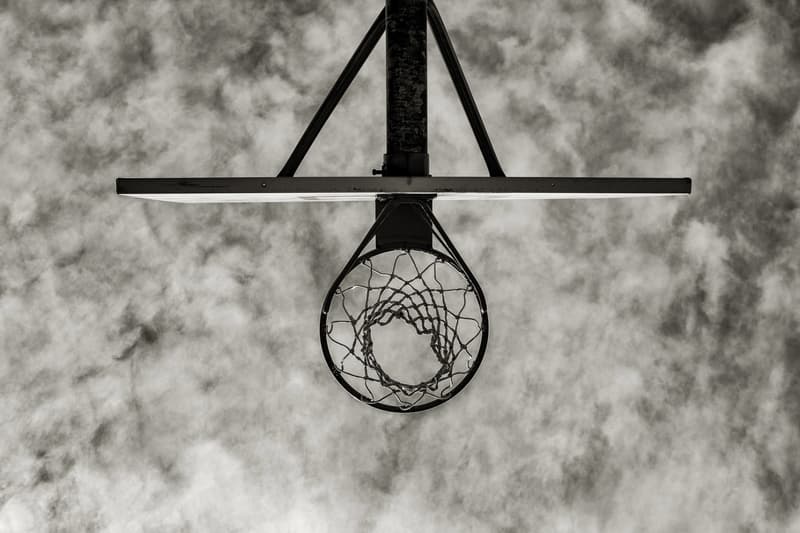 It's never easy saying goodbye to a basketball season. Ending with the NCAA's thrilling March Madness tournament then followed by the crowning of the NBA Champion, the game quickly makes its transition to asphalt, beaches and rec centers around the globe. From the Pee Wee Kirkland era to the AND 1 mixtape days, which included streetball legends Skip to MyLou, Alimoe (R.I.P.) and AO to name a few, the atmosphere around summer streetball has managed to grab and also maintain basketball fans' admiration through the off-season. It's become more than a game which reels people into the packed bleachers; it's the aura, the neighborhood camaraderie, the emcees, and the occasional appearance from your favorite athlete or entertainment figure that makes these courts so special.
In this roundup, we highlight some of streetball's most notable courts. Although getting a good run may result in long waits, living the spectator life isn't too bad if you're looking for some entertainment, unless you have the juice in the neighborhood to get a run upon your entrance. One disclaimer, make sure you bring your A-game to all of these locations if you plan on making a name for yourself — the competition is elite and won't hold any punches for the new guys, which creates a highly competitive environment for any sports enthusiast.
Holocombe Rucker Park – New York, NY
In the heart of basketball's mecca, New York City, you should be familiar with Rucker Park being the venue where many play to make a statement. Legends such as Julius "Dr. J" Erving, Kareem Abdul-Jabbar, Wilt Chamberlain and many more have all graced Holcombe Rucker Park's floor, paving the way for the culture that surrounds it today. Nowadays, we applaud names of the past, present and future as we reminisce about Rafer "Skip to My Lou" Alston, Allen Iverson, Stephon Marbury, Sebastian Telfair and of course, Kevin Durant – who casually dropped 66 points during the NBA's Lockout in 2011 during the annual Entertainer's Basketball Classic.
Monsignor Kett Playground (Dyckman Park) – New York, NY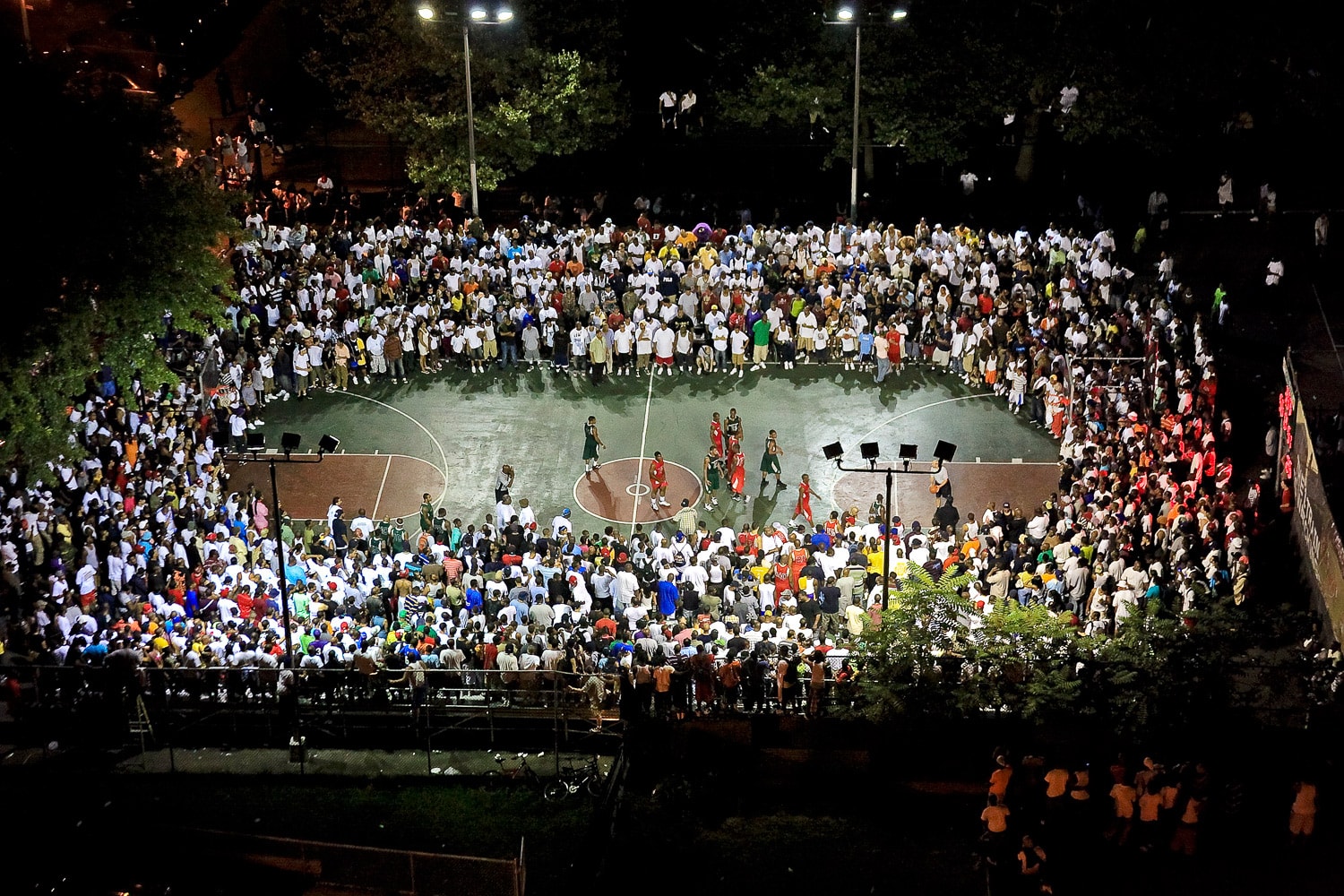 Following behind Rucker Park in competition, the Monsignor Kett Playground is no stranger to the bright lights and big crowds. The court is known by many as Dyckman Park and plays as the venue to countless tournaments and showcases. Dyckman Park is your center stage for talent of the future while it has also hosted guest from the likes of Juelz Santana, Fat Joe to elite athletes such as Kemba Walker, Brandon Jennings, DeMar DeRozan, Michael Beasley and many more. A traditional Dyckman scene is a reflection of New York's true love for the game of basketball as you'll see spectators lining up just for a glimpse of the show. Don't be surprised if you see kids hanging from its gates for a better view or even locals looking out of their windows for their own version of VIP seating.
Venice Beach Courts – Los Angeles, CA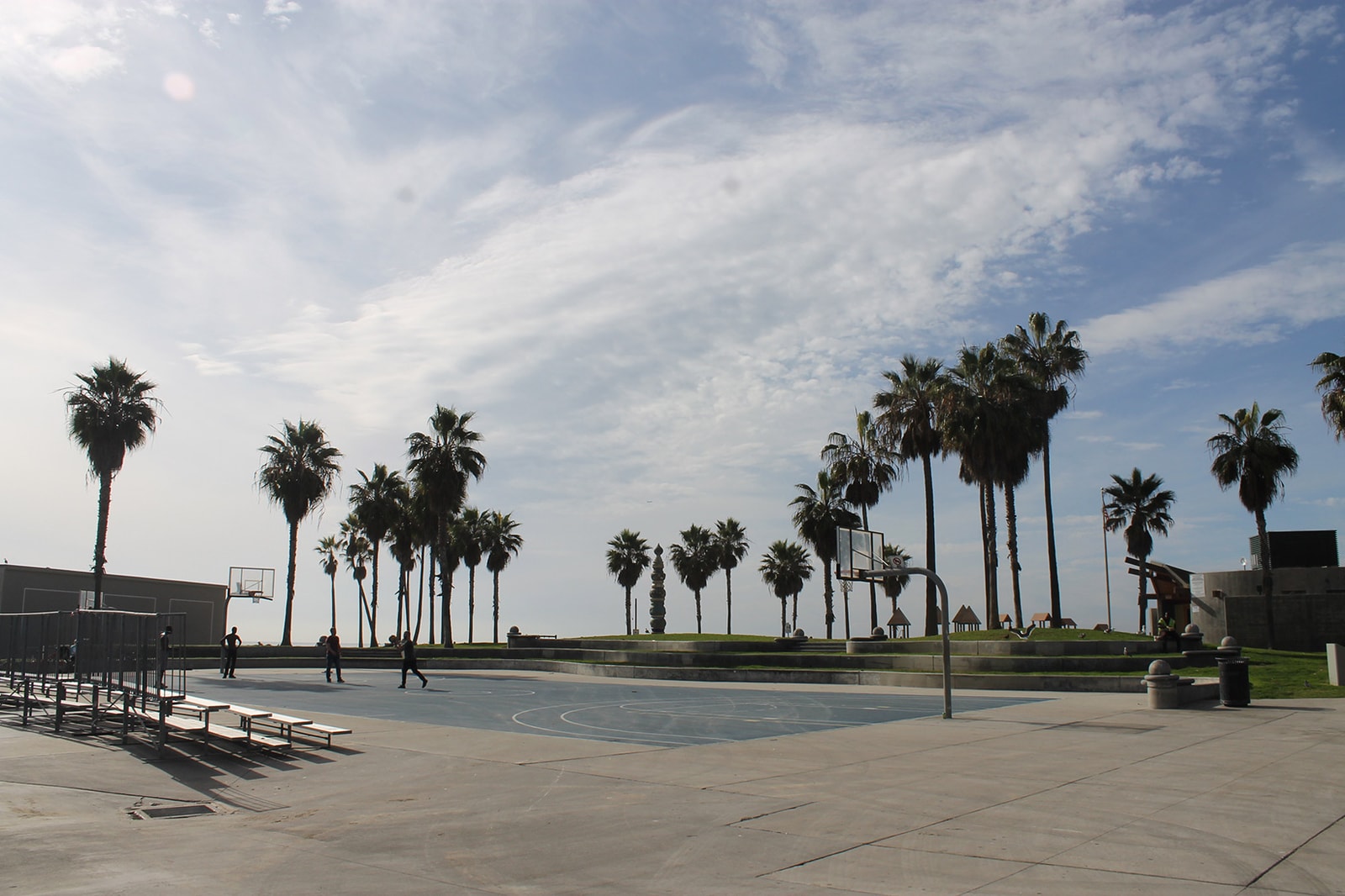 Why not take in a beautiful view while cutting to the lane or splashing threes? The Venice Beach Courts are a prime location for those looking for a good competitive run in California. There may not be the clutter of a fast-paced city like New York, but you can rest assure that the competition is still fierce with organizations such as the Venice Basketball League. In addition, the scenery serves perfect for the big screen as the court has been seen in the '90s film White Men Can't Jump, starring Wesley Snipes and Woody Harrelson.
King Drew Magnet School – Compton, CA
King Drew Magnet School has been the scene for the ever-growing Drew League. Located in Compton, California, it has been the home of a summer basketball league that gained much popularity during the NBA's lockout in 2011. With hometown heroes such as Brandon Jennings, DeMar Derozan, Nick "Swaggy P" Young, The Game, and many more rolling out the welcome mat for other NBA stars and your favorite entertainers, the Drew League is arguably at its highest peak of popularity. It's the only indoor court on this list, but you can guarantee that the showdown between local amateurs and NBA Elite draws the same level of excitement as these other historical streetball venues.
West 4th Street Courts (The Cage) – New York, NY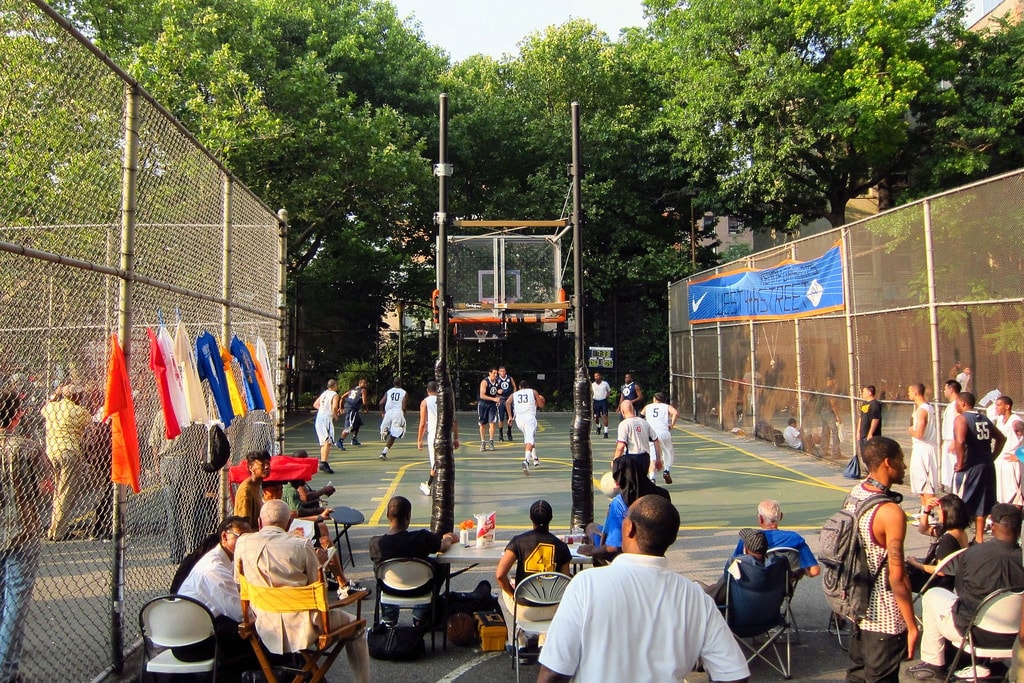 With a nickname like "The Cage," it's safe to say that this court breeds some of the toughest competitors that New York City has ever seen. West 4th Street keeps things simple as its lines are surrounded by high gates on each side. With little to no sideline room, it places the entire emphasis on the game at hand giving the crowd the option to have sideline view or simply stand outside of the cage to peek in its many gritty gate openings. The Cage has also seen familiar faces either pass by or play such as Chris Brown, NYC native Bobbito Garcia, Carmelo Anthony and countless others.
---
This is not a definitive list of the best streetball courts in the States, but merely some of our favorites and best-known. So hit the comments section below and tell us about your local court.