Waka Flocka Flame Just Dropped His New Mixtape, 'LeBron Flocka James 4′
It's been a landmark month for Flocka fans.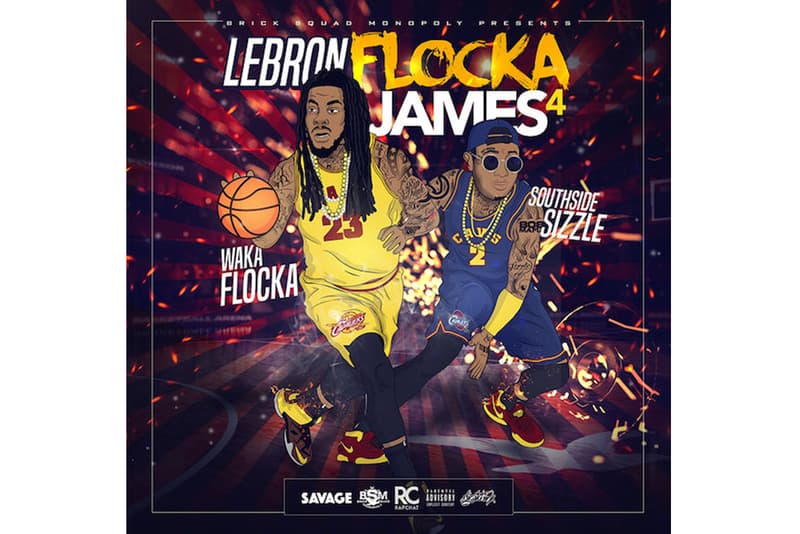 Two weeks ago, Waka Flocka Flame had fans hyped with news that he would drop not one, but two mixtapes before the end of the month: a project titled Flock Curry (DuFlockaRant Edition), and a fourth instalment for his Lebron Flocka James series. Today, the lively Atlanta rapper has officially released the latter through the Savage App, which is available to download from Google Play or the iTunes App Store. Lebron Flocka James 4 features production by Louney G, 808 Mafia, Metro Boomin and more. Check out the tracklist and stream a trio of cuts from the mixtape – "Workin Wit A Check," "Ball Hard," and "Flocka Sizzle Freestyle" – below.
Waka Flocka -LeBron Flocka James 4 (tracklist)

1. "Real Nigga No Flex" (prod. by Louney G)
2. "Ball Hard" Feat. Sizzle (prod. by Southside)
3. "How You Say" Feat. Sizzle (prod. by 808 Mafia)
4. "One Eyed Shooter" Feat. Sizzle (prod. by 808 Mafia)
5. "Flocka Sizzle Freestyle" Feat. Sizzle (prod. by 808 Mafia)
6. "Get Whacked" Feat. Sizzle (prod. by Metro Boomin)
7. "All I Know"
8. "Workin Wit a Check" Feat. Sizzle and Chaz Gotti
9. "What's a Party" Feat. Sizzle (prod. by 808 Fuse)
10. "Ain't Shit Sweet" Feat. Sizzle (prod. by 808 Mafia)
11. "New Year" Feat. Sizzle (prod. by 808 Mafia)
12. "TimeLine" Feat. Sizzle (prod. by 808 Mafia)
13. "Chill Baby" Feat Sizzle. (prod. by 808 Mafia)
14. "Hype"
15. "Real Friends (Freestyle)"
16. "Outro"