Juxtapoz's Robert Williams Talks '60s Underground Comics' Influence on His Artwork and Vans Collaboration
From the art world's underbelly to publishing kingpin.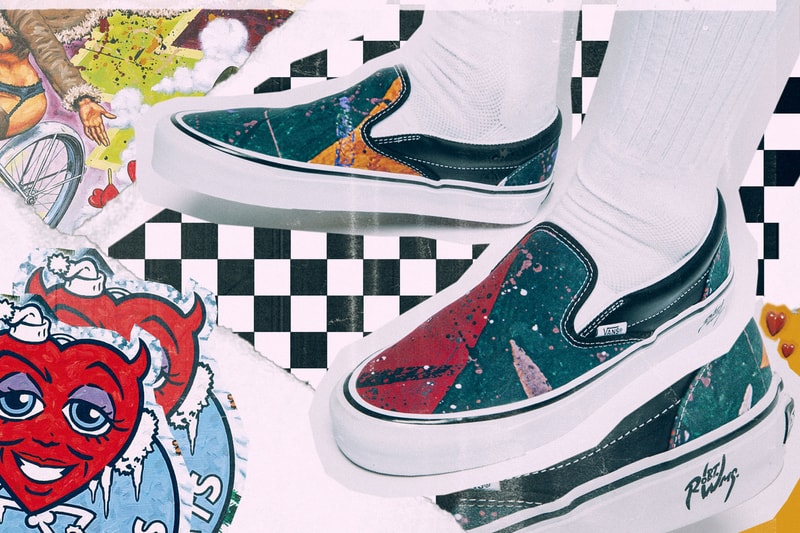 1 of 2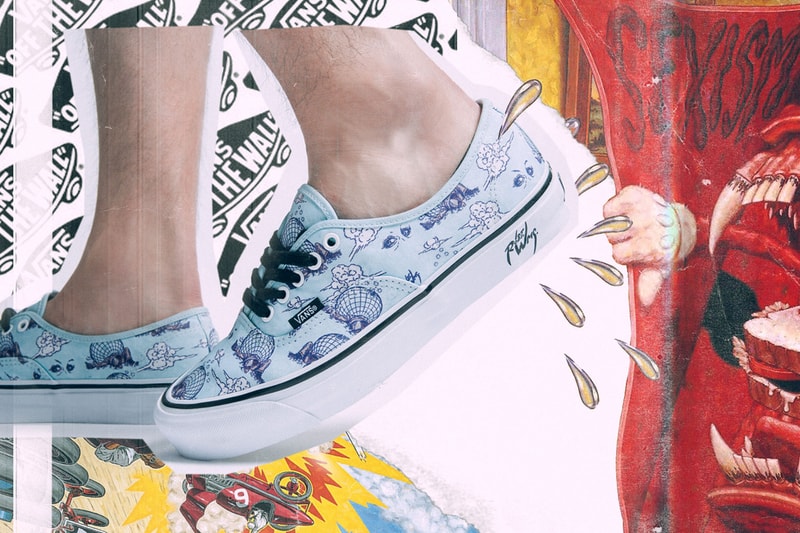 2 of 2
Robert Williams is a prolific painter and cartoonist, known for his work with Ed Roth in the '60s and '70s and for his psychedelic style. Williams is also the founder of famed Juxtapoz Art & Culture Magazine, a role that has solidified his spot in the art world. The seasoned art veteran has teamed up with Vault by Vans once again on his second full collection with the brand. Their first partnership blossomed in 2009, in a limited collection of two or three styles boasting Williams' poignant illustrations. Afterwards, Vans tapped Williams to create a thirteen-pair collection of shoes that were hand-painted for collectors. This time around, the artist has translated some of his most coveted paintings into a trio of Vans styles, in addition to a limited edition Fender Stratocaster guitar. Included in the range are the Slip-On 98 Reissue, Authentic 44 Reissue and Sk8-Hi 38 Decon LX, all decked out with intricate reinterpretations of Williams' work. Most impressively, the shoes boast transparent outsoles through which you can see Williams' art. The shoes are finished off with crisp white midsoles and the artist's signature. The line will be available at Vans Vault retailers July 23.
We spoke with the longtime Vans wearer about the collection, his art and his legacy. Read the entire interview below.
---
You worked with Vans back in 2009. What prompted a second collaboration?

RW: Well, I had artwork on the cover of Thrasher magazine in the '80s and I had had a number of my paintings on album covers for punk rock and garage bands in the '80s. Some of the older people remember me from Zap Comix in the '60s, '70s and '80s. I think that resonated with the team at Vans and on top of that, I've worn Vans since its inception in the '60s.
The last collaboration only saw thirteen pairs put into production. What motivated a pack of three models?

Well, I had a collection of shoes in 2009 with two or three different patterns. After that, Vans got a hold of me and I did some hand painted shoes that were an exclusive production for collectors. We kept in touch after that and I don't know what the elements of good fortune were that drew me to the 50th anniversary but I'm very grateful for that. I'm a little older than the contemporary heroes at Vans but on the other hand, I had one hand in the youth world in the 60's. Some would say that it's "keeping the old man aboard."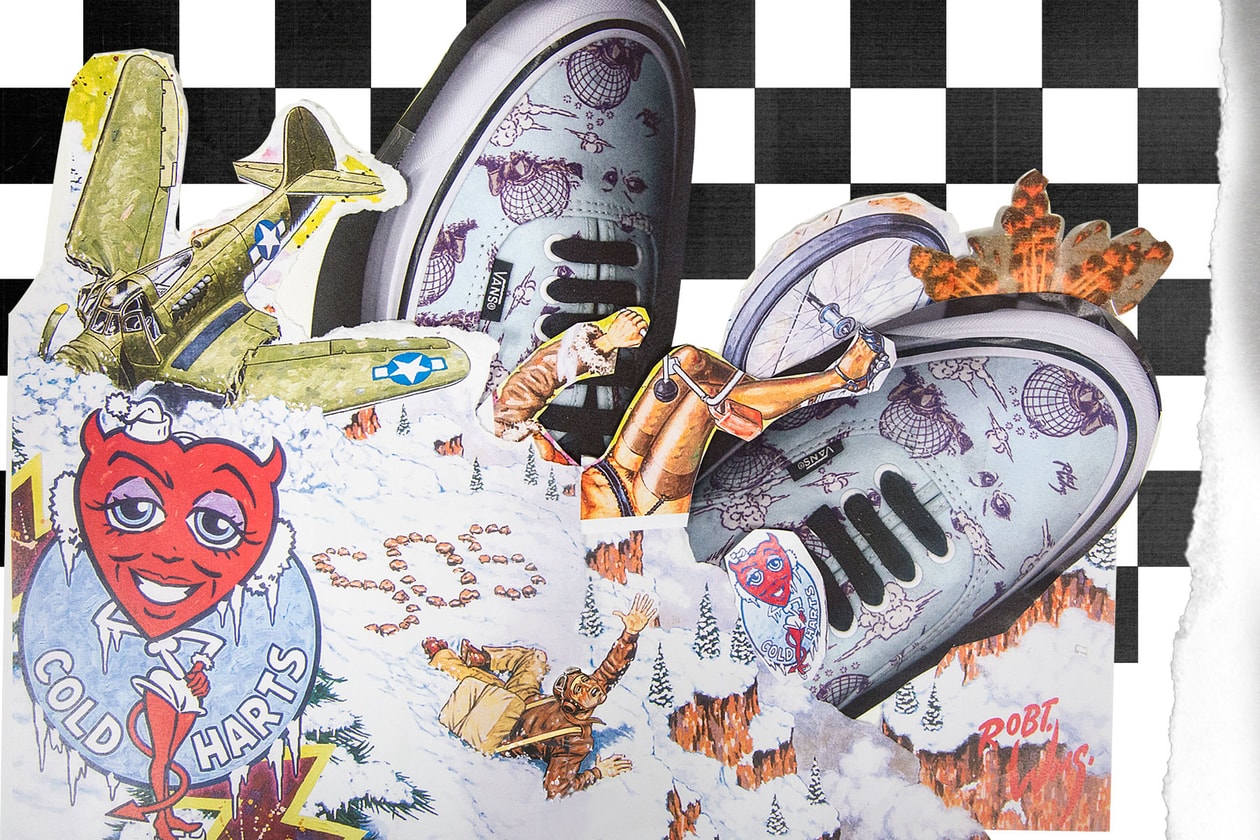 How did you go about choosing the artwork to match the shoes? Was there a specific criteria?
We all got together and discussed my artwork because a number of my pieces are beyond the scope of good morality. Certain judgements had to be made. Having been involved in underground comics in the '60s, I was involved in many tumultuous situations. We sat down and went through the artwork that would best lend itself to the Vans product line. Most of the artwork for this collection came from a show I just had a year ago in Barnsdall Park, and the Vans team was excited about that. Throughout the process, I cautioned them from overstepping the boundaries of propriety. However, they are young and daring and that's why I love Vans.

Biblical imagery re-appears in the Sk8-Hi 38 Decon LX shoe. What makes religious symbolism such a great target for you?
This is not a religious picture. This picture is of an old evil sage that has evoked a dangerous apparition on a young girl. This wasn't in sarcasm; it was simply a poetic note. To the right of the picture, there is a projection directing an apparition to a bag of flaming cobras. Her only defence is holding her fingers up in the sign of a cross. This conveys more about the use of the innocent girl in a dangerous situation to stimulate someone's libido. There is the abstract application, because as she facing danger, this image never fulfills her downfall. The picture is stopped in time. So, you can work out the outcome in your imagination anyway you want. I can understand why young people like this. It evokes action and anxiety, yet doesn't cross any social lines.

What's the correlation between Vans' work and the work of underground comics that first featured your work in the '60s? 

In the '60s, for the first time in the history of the human race, there were more young people than there were old people. The structure of society radically changed and the amount of young people dramatically increased. Until then, young people had not been taken seriously and now the power of young people started becoming noticeable and effective. During this period of time, underground art started being distributed and then psychedelic posters were initiated, then eventually, the rise of underground comics. Vans has always dealt with an energetic market and that's the market I have always functioned in. The people at Vans have always had an eye on the rock 'n' roll world, what's happening in Los Angeles and New York City and they have been partial in the that. It was a natural marriage.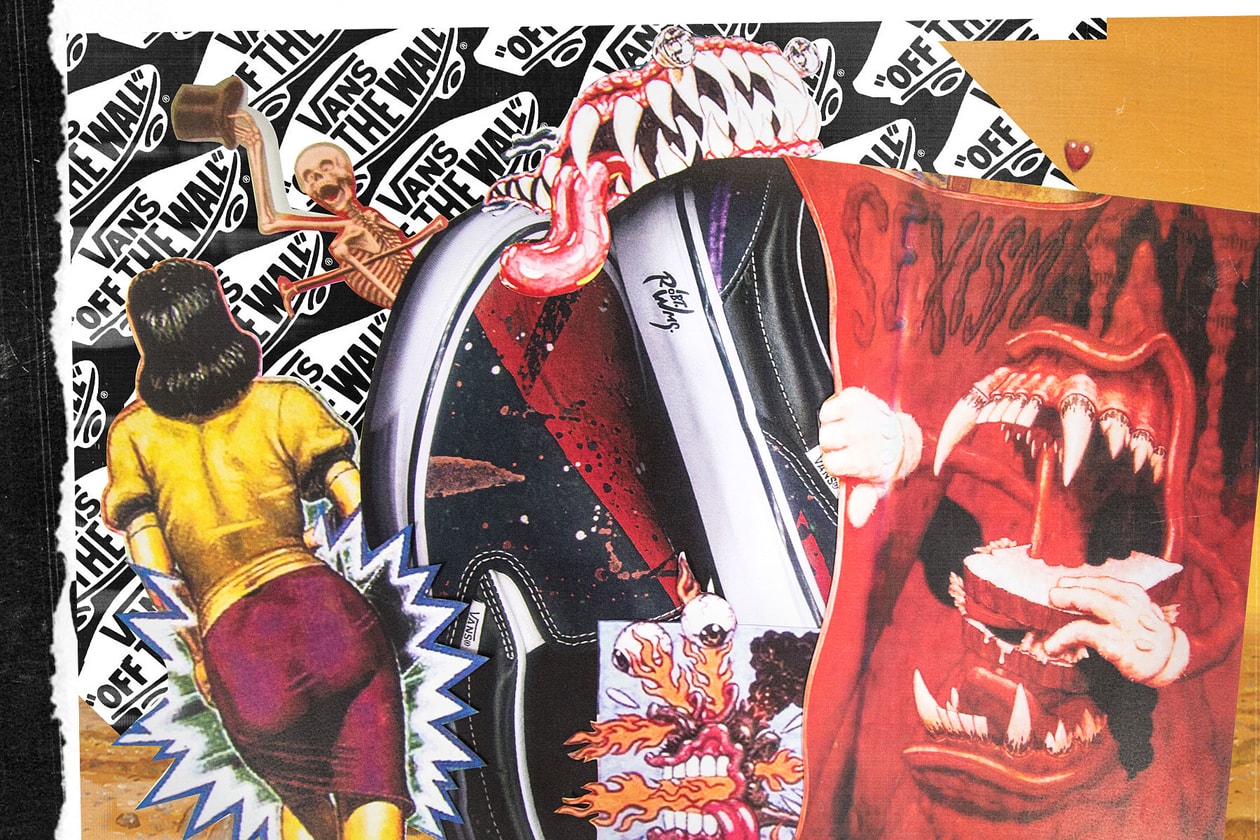 You came up as an artist in the underbelly of the art world, operating in anti-high art circles and surrounded by punk music. How do you feel about the art scene today compared to yesteryears? Is the thrill gone?
After the second world war, abstract expressionism took over the arts. Part of that, eliminated the technical skill in drawing. It was a democratization of the arts and it rejected people with certain skills. The amount of artists tripled and then quadrupled. It was a form of art that you could learn quickly. Craftsmanship was shoved out of the fine art world and moved to the form of illustration. The talented people could no longer be in the traditional art world and had to change their focus to tattoos, movie posters, illustration, etc. Underground comics brought back skill and in the punk rock movements, it disregarded the art world. It leaned a bit closer to sex and violence and it worked well with the punk rock movement. In New York City, they came up with conceptual art. Anyone could be an artist. With conceptualism, anything could be art. This brought us another step away for a regard to craftsmanship. A large amount of artists had to "wing it in the woods." Biker art, hot rod art, tattoos, all these other forms of art. The former art world wouldn't tolerate.

Could you offer us some insight into the colorways of the three different shoes?

The colors are taken off the artwork that they used. There are full tone paintings, which are full color, as well as calligraphy paintings, which is when the drawing outline is far more important than the color accents. While I was working with the Vans team, we discussed the color and how it jived with the original artwork. For example, for the girl on the taco, there is a yellow, red and green Mexican pattern incorporated to suggest psychedelia.
In the last Vault by Vans collection, you painted the canvas yourself. Was the process the same with the new collection?

No, not at all. The Vans team brought over a large piece of canvas and I painted the whole thing and went in and added stylized accents and colors. My images were all silk screened and put on the bottom of the shoes. Some of the shoes were brought back and I touched them up – I would sit down with a small brush and do it by hand. And now, I have my shoes and they are very special to me. The latest ones are all silk screened and have images on the bottom of the shoes. I think that this collection was designed to be hoarded.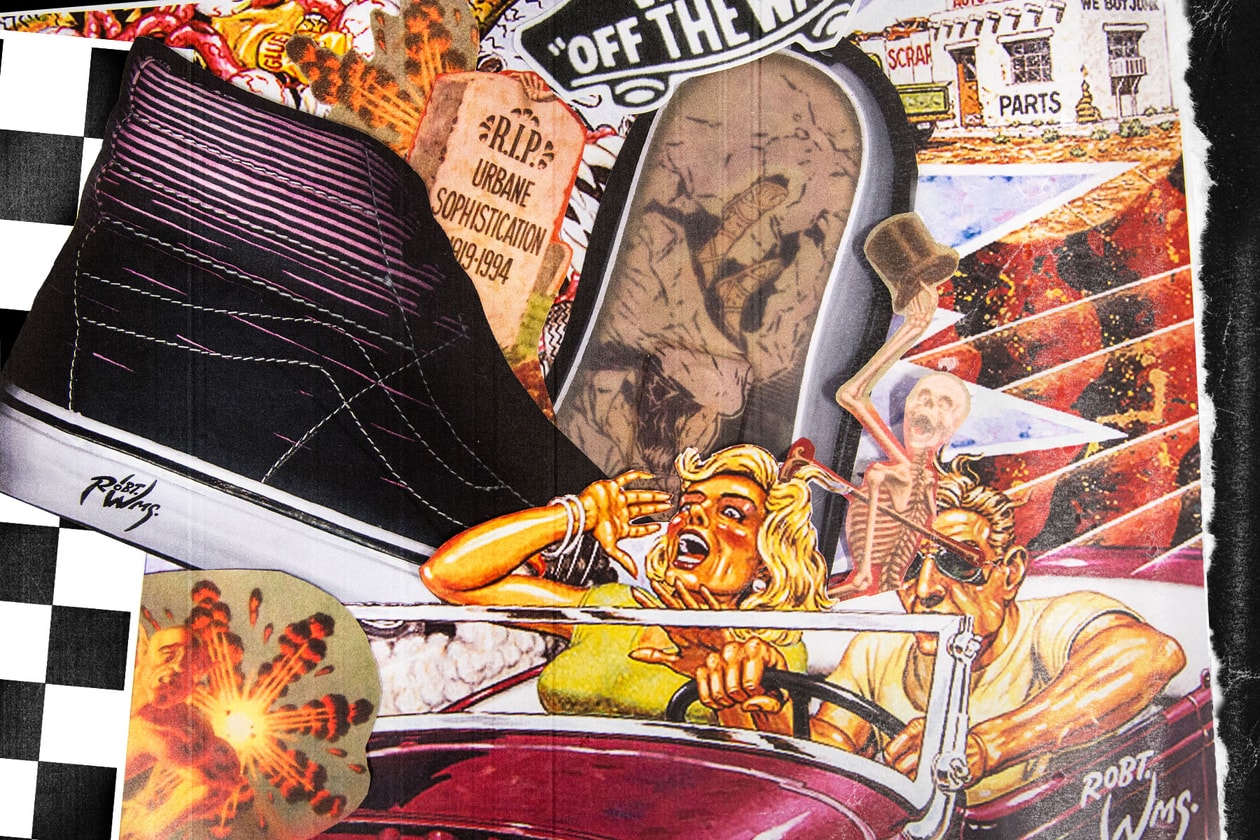 Naturally, you come across a lot of different artistic styles as the founder of Juxtapoz Art & Culture Magazine — how does this role inform your own artwork?
All artists are pleasurizers. In theory, there is no such thing as an original idea. There are just ideas we vulture off of. I see what the artists do in Juxtapoz and I will get an idea of something I want to add to my intuition but I do not appropriate. The ethics were questionable in underground comics. I would be a very bad pop artist. One of my friends who is, would go to the most despicable art shows and say that there is at least one thing you can steal from these guys. Well, maybe I should have done that, but I didn't. Maybe I'm too strict on myself.

What would you say is the biggest challenge today for a publisher? 
In the 1930's there was a surrealist magazine called Minotaure. It was a great success because it used the work of all the famous European surrealist artists, however, eventually it became very famous and trendy and died out. Juxtapoz has that problem too. It started very underground and as it became bigger and bigger (it's the #1 art magazine in the world) it faces the fact that it has to tone itself down to sell advertisements. The larger the audience, the more you want them to feel comfortable and you must be more serious and less controversial. Personally, I do as I always have. I could put cute stuff in there and my audience would become gigantic. When I'm dealing with a publications and others people's money and concerns, I have to take on the responsibility and weigh all of the options. Some people say that I am too underground or spoiled, that I am an artists' artist and it takes an artist to understand what I do.