Reintroducing Ian Eastwood: the Artist of Tomorrow
Ian Eastwood continues to rise with collaborations with top-tier artists to create his own lane of branded creative work.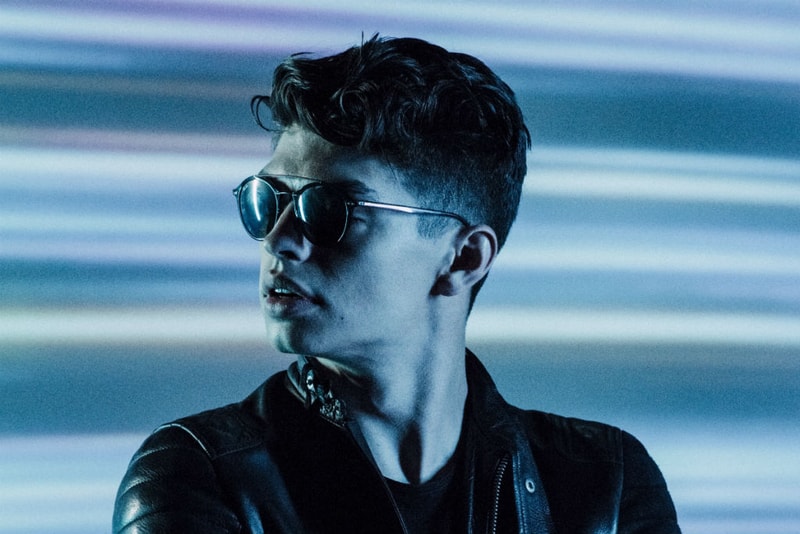 In conjunction with his first brand deal, courtesy of Ray-Ban, we catch up with the young visionary who has taken up his calling to not only reinterpret dance but also film and photography. Ian is effectively transcending the boundaries set within the dance realm and becoming universally recognized as a gifted talent amidst the next wave of young creatives. The Chicago native will be the first to boldly correct anyone who mistakenly labels him as simply a "dancer." Ian is not a dancer; in his words, he is a blossoming "artist." This self fueling mindset was validated only a few weeks ago with the "ultimate co-sign" from Kanye West, who expressed his admiration for Vic Mensa's latest music video, "There's Alot Going On," by tweeting, "I love this video. Very creative." Ian served as the Creative Director on the project. We touch on subjects ranging from additional recent credits, such as choreographing for Justin Bieber's tour and directing The Carmichael Show's opening sequence, coupled with his mapped blueprint for future success; not solely for himself, but for the wellbeing of the hip-hop landscape and relating performance subcultures:
Waiting for the right brand deal
I've always considered the prospect of aligning with a brand on a deal, but it had to be the right move for both sides. I am not about the selling out business and letting my fans down. Now that day has come and it's because I laid the foundation of being myself. I never got caught up in the pressure to venture into a second endeavor alongside dance in order to substantiate my existence and have others let me in. I've held firm in just dancing and truly believing in my ability. Ray-ban initially identified me as someone who is pushing boundaries and challenging myself, and wanted to share my story. The fact that a dope brand, who I've exclusively worn throughout the years was reaching out to me for a dope reason…I was all in. It was an awesome experience being a part of such a unique project in which I had the opportunity to collaborate with director Tim Nackashi (Grammy and VMA nominated). The music also worked out quite nicely as it is a new track dubbed "Good Girls Love Badman" by Donnie Trumpet, Peter Cottonale and Jesse Boykins III.
#ITTAKESCOURAGE
I've always championed the sentiment of caring about things on your own, without any outside influence. I especially want to encourage this mindset within the dance realm. Dancers get so caught up and freak out about getting validation from above. I believe this is the case because the majority mistakenly assume that people don't care about dance. Rather than focusing on their craft, they drift off in search of an additional layer they can attach to the art. I'm out here saying, "No you don't have to do all of that." You can just do your thing and if it's raw, these people will mess with you because they're artists – they understand art. Vic, Chance, all those guys, they don't bring me in and look at me like that's my job (to choreograph/dance). They respect me as a fellow artist. We collaborate as artists, not as if dancing is the only void I can only fill. That's the message I am sharing: there should be a renaissance. Instead of quivering and needing the approval of these people, what you should do is show that you have the talent and capability to work with them.
Rising above the haters
I am not around dancers and the dance community that often. Rather I've naturally surrounded myself with so many different types of incredibly opened minded artists. When I'm with the Sox boys, their mentality behind everything they do is "why not?" We feed off each other's creative energy. They've inspired me to change the way that I choreograph and create. In the dance world, most dancers create these barriers and structures that really don't mean anything. Jerrod Carmichael is a great buddy of mine, and I directed the title sequence for his NBC show The Carmichael Show. He's such an open thinker and being around like-minded personas and picking up on how they create…none of these people have barriers constricting the way they conceive their art. It makes me wonder why the dance world is a certain way. Dancers isolate and view each other as competition, going out of their way to outdo the next. To avoid that influence, I've purposely chosen to not be around it so much in favor of people who can appreciate freethinkers.
Creating "There's Alot Going On"
When I was first brought in, I could tell from the reference video that it was almost there – it was a really cool concept and idea, but needed a choreographer. It was just Vic and the camera — no changes. Vic knew that viewers would lose interest quickly if it were to remain five minutes of straight rapping. I tossed around ideas and provided Vic with stage direction. For example, suggesting from the top he walks on versus already being centered in the silhouette; for the entire intro he should be singing up towards the sky and belting his lyrics, throwing his hands in a particular direction, Vic never faces the camera until a key moment in the song, reacting to the banners as they pass by as if they are living figures. I believe everyone's favorite moment on set was my idea of having Vic stop rapping and act as if he has forgotten what he's talking about when he raps about having writer's block. It meant a lot to me to be able to come in, choreograph and assist in directing what others would not consider to be a traditional dance video. It's even cooler to have Vic and his team let me know how much it meant to them.
Relationship between choreography and directing:
Being a choreographer played a huge role. Every visual detail is choreography. It's noting, "You left this side too soon before you got to this side," "you dropped your arms too early," "you didn't turn sharp enough" etc. If you're not inclined to understand dance, movement and music as a unit, and if you are not detail oriented, you won't be able to communicate with your artist. It's been a very important skill that has been invaluable when working with artists like Vic, Donald (Childish Gambino) and Chance (the Rapper) who are very engaged and pay attention to the notes I give.
Choreographing for Justin Bieber
Parris (Goebel) had hit me up when she curated Bieber's wave of dance videos. She informed me that there was one piece that she wanted to be a solo. I was humbled by her reaching out and letting me know that the only dancer she could think of who would be able to carry an entire piece in relation to the song's story was me. I received the track early, choreographed to it, before we linked up and shot it in a day. I was very honored because as she mentioned, out of the fourteen PURPOSE: The Movement videos, I was the only solo. Fast-forward to top of 2016, I receive a call from Nick Demoura, who was in charge of choreographing Justin's tour, asking if I would be down to choreograph a number to be performed during Justin's tour run. I cannot believe I was able to come in and set one number on the tour, ("Get Used to It") which will be performed for the next two years all around the world, and essentially live beyond the hours I put into creating it.
Fulfilment
Oddly enough, my own work isn't as fulfilling. I really don't get a chance to enjoy it as much because I am so heavily invested, from start to finish. I feel most fulfilled when I am brought into a project; challenged to brainstorm ideas, and end up enhancing the work. Whether it is directing, choreographing, shooting, or editing, to play a role in pushing the project from pretty good to amazing is the best feeling in the world.
Shifting culture
I've recently been motivated to saturate the internet with culture I appreciate and feel is also absent at the moment. I am developing my photography skills and uploading my portfolio; curating a public music playlist, which has garnered a solid following, organizing dance parties reminiscent of the old school, hip hop days where people came to dance and have a really good time, compared to our generation where people stand around, judge and feel as if they are "too cool." I am fully committed to bringing back the original concept of hip-hop, which was embracing one another because we are all broke, and don't have anything but our art to express and connect over. That mindset has faded overtime, however the artists I work with all share that same vision.
Finding inspiration
What sets me apart is the fact that I work so hard on ensuring every moment of dance is relatable. I analyze the actions and movements of "normal people," keying in on what they care about or think is cool. I specifically go out and study strangers and relating scenarios, viewing them as references, which I later try to recreate. I draw upon such instances just because it makes the work so much more realistic. My intent is that through dancing, I am effectively connecting with the audience and not simply producing a visually cool looking piece. I see myself as a musician, and my instrument happens to be visual. My goal is to make the music come to life, and make it understood. When approaching a number, I ask myself the question, "What do I think is important in this piece?" Is it the lyrics; the bass line, snare, and/or the guitar? Once I've pinpointed these elements, I proceed to center my choreography around these details. What inspires me is telling the story of music.
Elevating dance
An aspiration of mine is to universally have dancers recognized for our craft. This would mean being casted in movies for concrete acting roles and not as the token dancer; performing on late night television shows etc. What has really helped thus far is the gradual shift in reaction when my fans learn that I am collaborating with another artist. The response is no longer, "Oh my gosh he's working with so and so?!" Today it's "Oh my gosh these are my two favorite artists!" I first became aware of this transition a few years ago when I was working with Zendaya and Tori Kelly, and remember thinking to myself, "Ok, we're getting the ball rolling here." A game changer for me has been the positive reception to my mixtape, ADULTLESSONS. It has since received a lot of co-signs from respected artists in the urban hip hop community. The game plan is to continue to put out premium content that shows people you should care about my work. I will not be rushing the follow-up project to ADULTLESSONS, but I have settled on where I plan on taking it. In the meantime, I am implementing the strategy of consistently being out there and putting out work versus boxing myself in, and only releasing "YouTube ready," polished productions. I choreograph all the time and have so much content in the vault. I've since started to drop quick bangers: clean, simplistic visuals that are also visually stimulating. For example, the one minute, "I Love Kanye" piece was solely uploaded to my socials, and didn't even go up on my YouTube page. That was a conscious decision.
Favorite brands/onstage "costumes"
My favorite brands to wear while performing are: Ray Bans, Converse, Levis, Nike, Zanerobe, Casio, Topman, New Era, Calvin Klein and Hannes. Lately I've also been hitting up a lot of thrift stores and copping military jackets and throwing on pins and patches for a one-of-a-kind look.
Laurieann Gibson passing the torch
I've had awesome conversations with Laurieann Gibson about passing the torch. Our mindset is identical for different generations in that she was working with Bad Boy since day one, before they eventually blew up. I have nurtured my relationships within urban hip hop and today find myself in a similar situation as a choreographer who is growing alongside emerging, new school hip hop artists. It's cool because in my head I used to have a list of artists who I wanted to work with. Overtime, I have been crossing names off, primarily because most choreographers were simply not in that head space as recently as last year. It's interesting to see how that has since changed…