The McDonald's All-You-Can-Eat Fries Deal Isn't Even That Crazy
A look at some of the most bizarre dishes to ever hit your favorite fast food joints.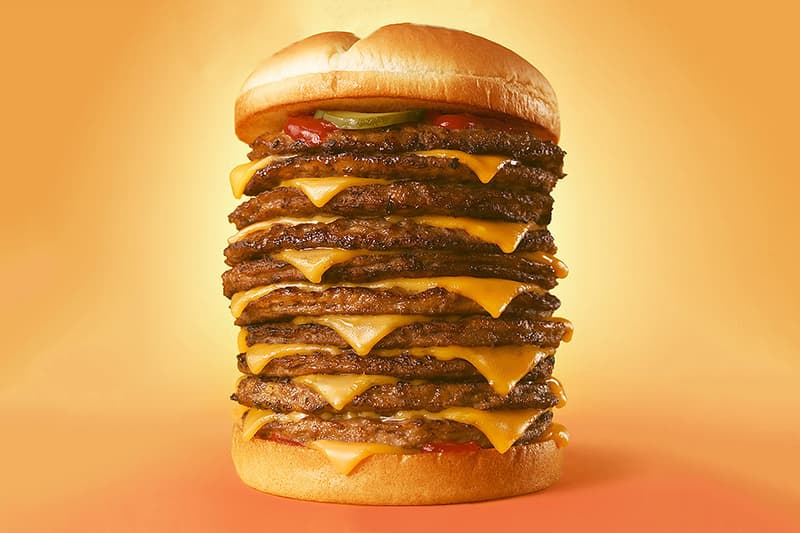 Though neither one has roots in the country, few things are more culinarily American — outside of an apple pie, maybe — than an all-you-can-eat-buffet (which originates with the Swedish brännvinsbord and smörgåsbord) and French fries (which are probably Belgian, though the French would argue otherwise). So it was only a matter of time before a fast food chain offered up all-you-can-eat-fries. And that's exactly what we (well, Missourans) are getting from the most American fast food chain of all: McDonald's.
St. Joseph residents in The Show-Me State are understandably pumped at the prospect of gorging themselves on the beloved fried potatoes of Mickey D's. And while the rest of us will miss out (the all-you-can-eat-deal is only being offered up at that one single location as it reopens this July following a lengthy renovation), we can at least take some solace in the fact that the offering is by no means one of the best or craziest options to make its way to a fast food menu — just ask In-N-Out connoisseurs about their favorite creations from the burger chain's notorious "secret" menu.
Thus, here are some of the most insane dishes the likes of Mickey D's, Pizza Hut and KFC have ever cooked up. The big standout? Japanese Burger Kings.
Waffle Breakfast Taco (Taco Bell, United States)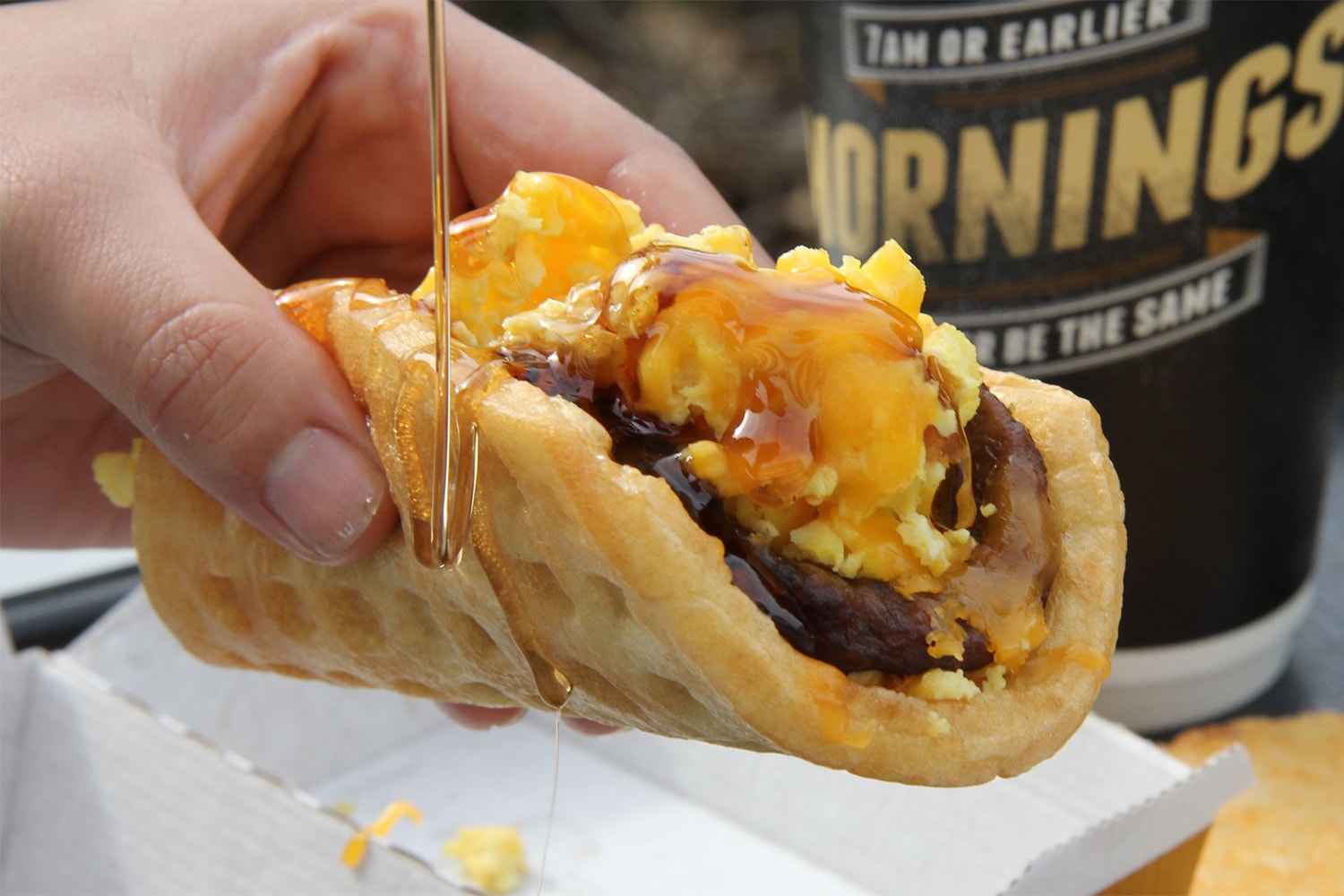 Taco Bell's beloved breakfast concoction may be no more, but the combination of waffle-wrapped scrambled eggs, sausage, bacon and syrup was the perfect hangover cure when it dropped in 2014.
Double Loaded Omelet Biscuit (Carl's Jr./Hardee's, United States)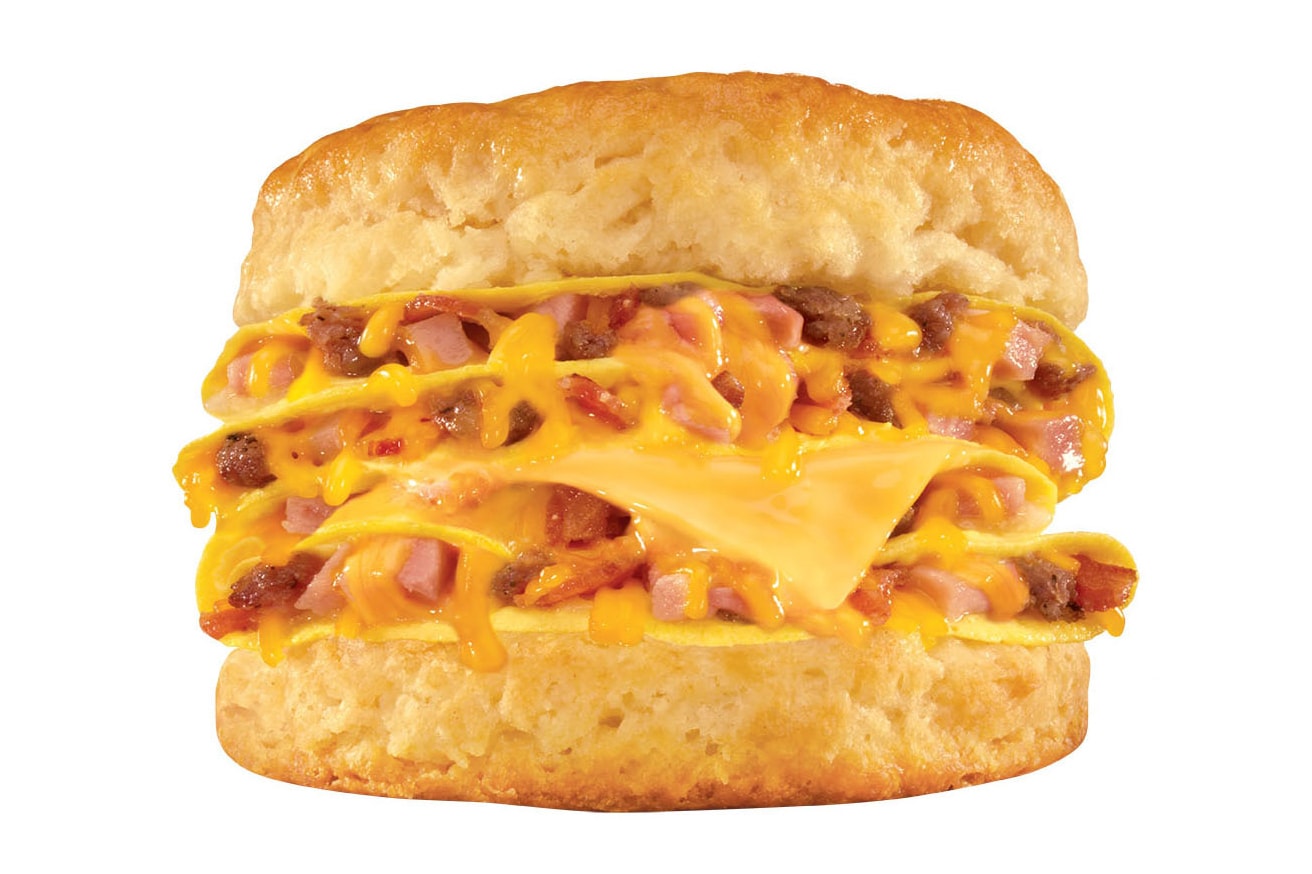 This mashup of a biscuit and two omelets (packed full of sausage, ham, and bacon with American, cheddar and jack cheeses) has been a food coma-inducing breakfast menu staple since it debuted a couple of years back.
Zinger Double Down (KFC, Korea)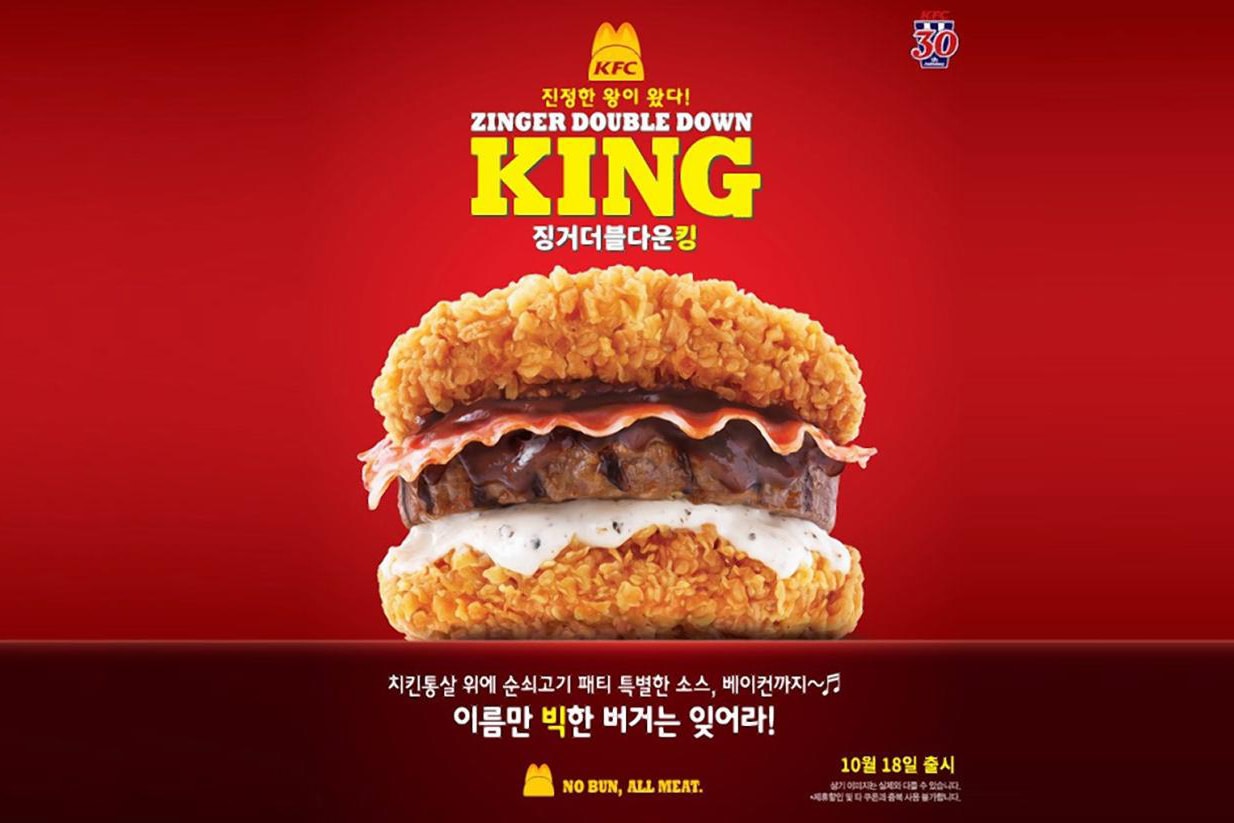 KFC's infamous Double Down doesn't even make the list. Why, you ask? Because Korean outposts of the chain one-upped 2010's OG last year with something even more heart-clogging: a burger sandwiched between two fried chicken fillets with bacon, barbecue sauce and some white pepper sauce for good measure.
Double Down Dog (KFC, Philippines)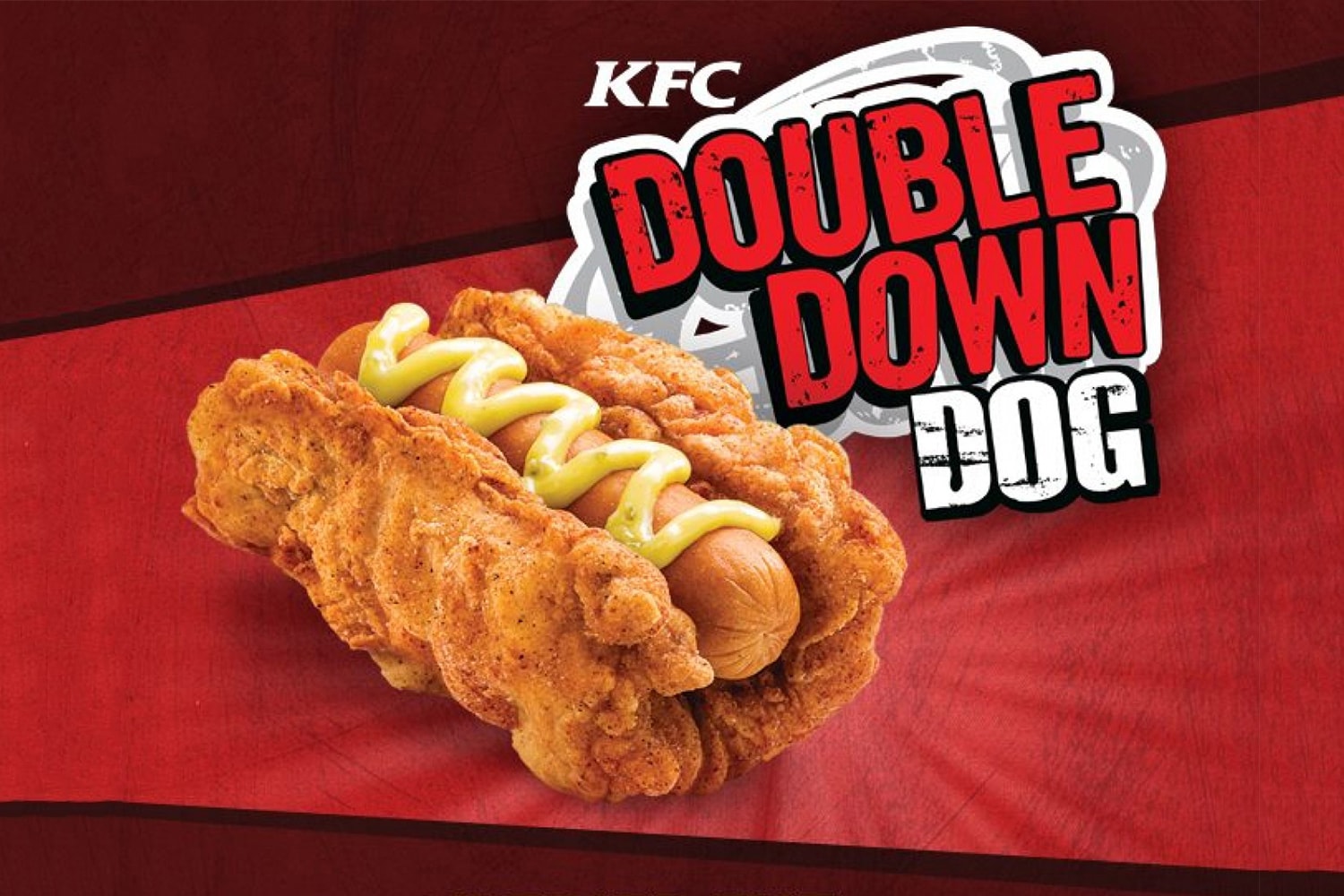 Instead of the Zinger Double Down, Filipino KFCs got this guy in 2015 — a hot dog wrapped in fried chicken.
Windows 7 Whopper (Burger King, Japan)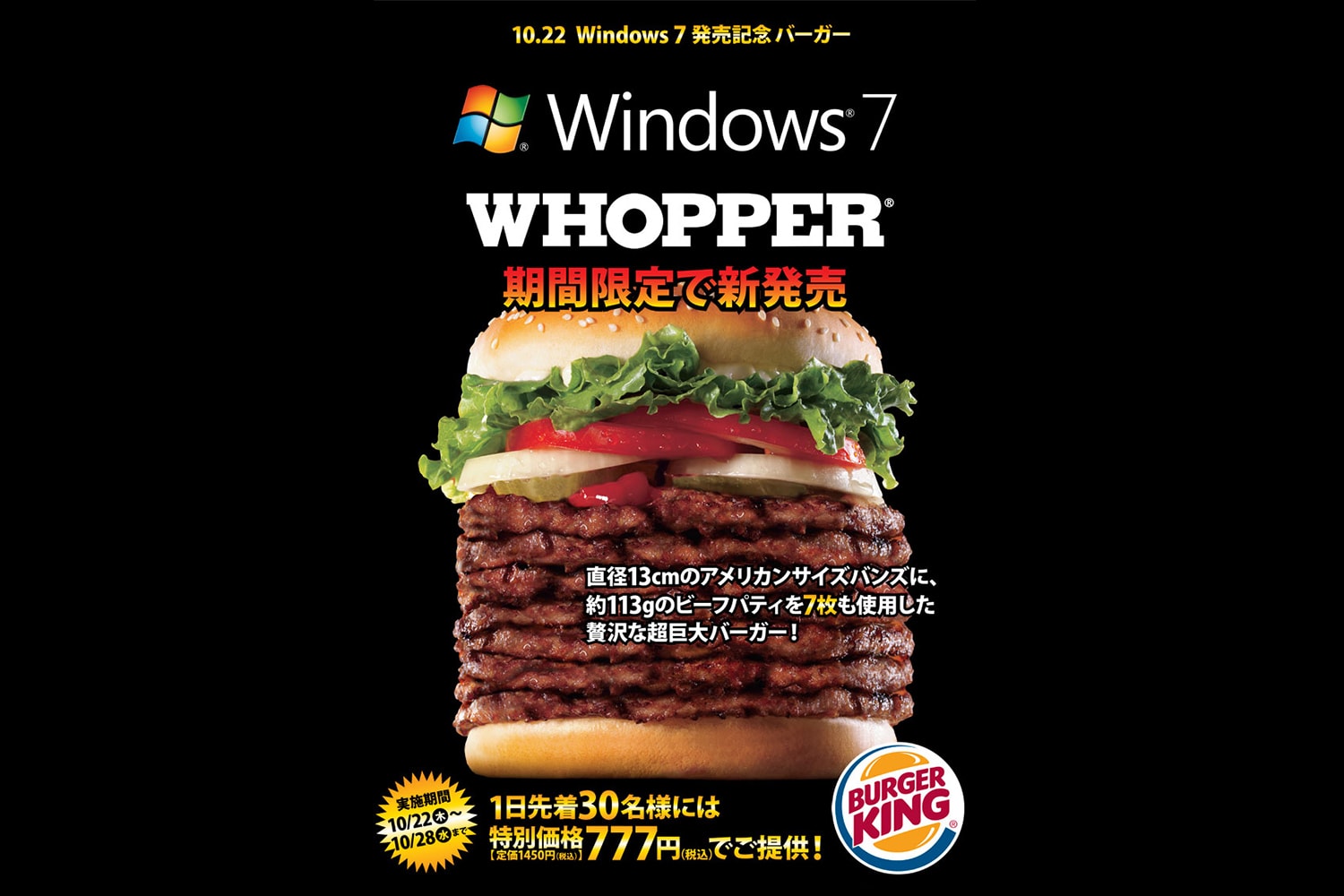 Back in 2009, Japanese Burger Kings celebrated the launch of Windows 7 with a special edition Whopper — which came with seven patties, naturally.
Shrimp Tree (Lotteria, East Asia)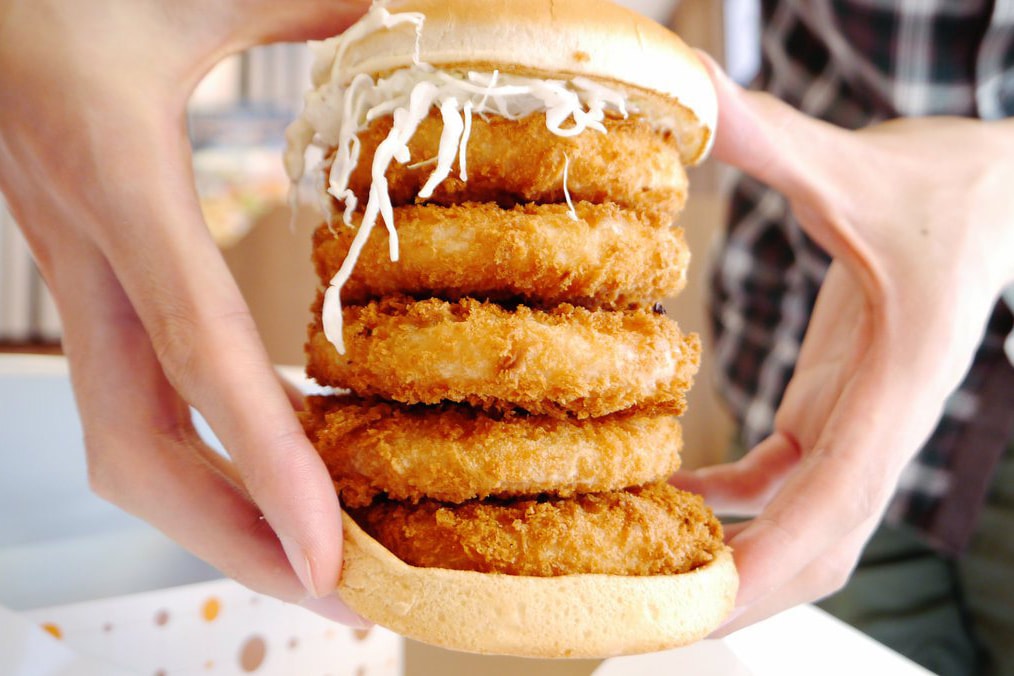 Beef not your thing? Lotteria also offers this stack of fried shrimp patties — complete with shredded lettuce and tartar sauce.
Kuro Pearl Burger (Burger King, Japan)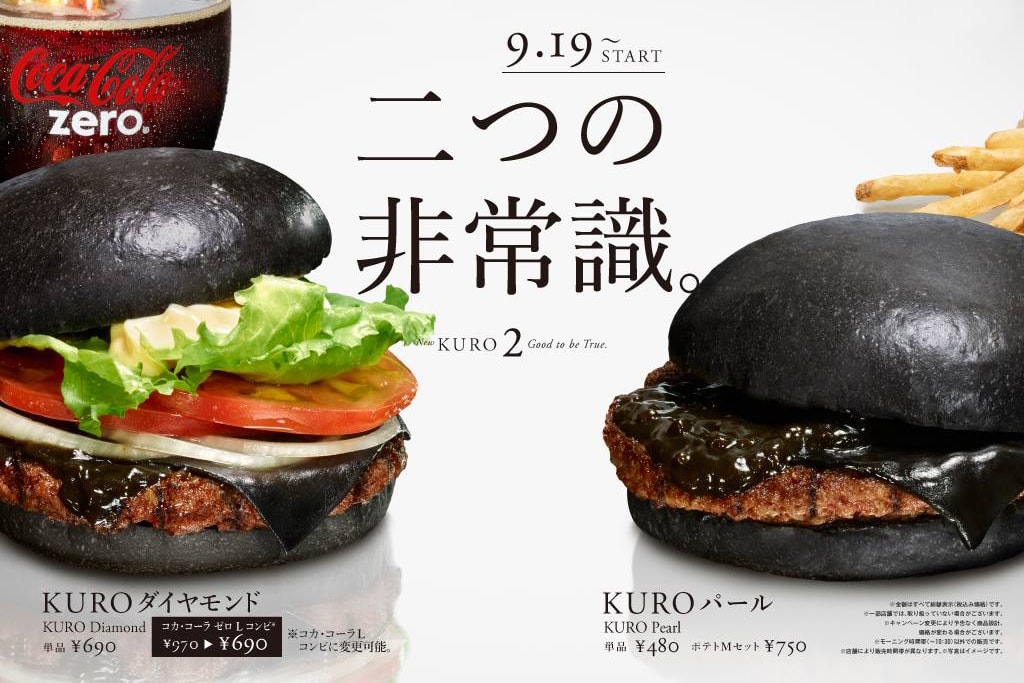 Japan's been home to a ton of different black-dyed burgers over the past few years, including this Burger King offering with bamboo charcoal-dyed cheese and squid ink onion-garlic sauce.
Black Ninja Burger (Burger King, Japan)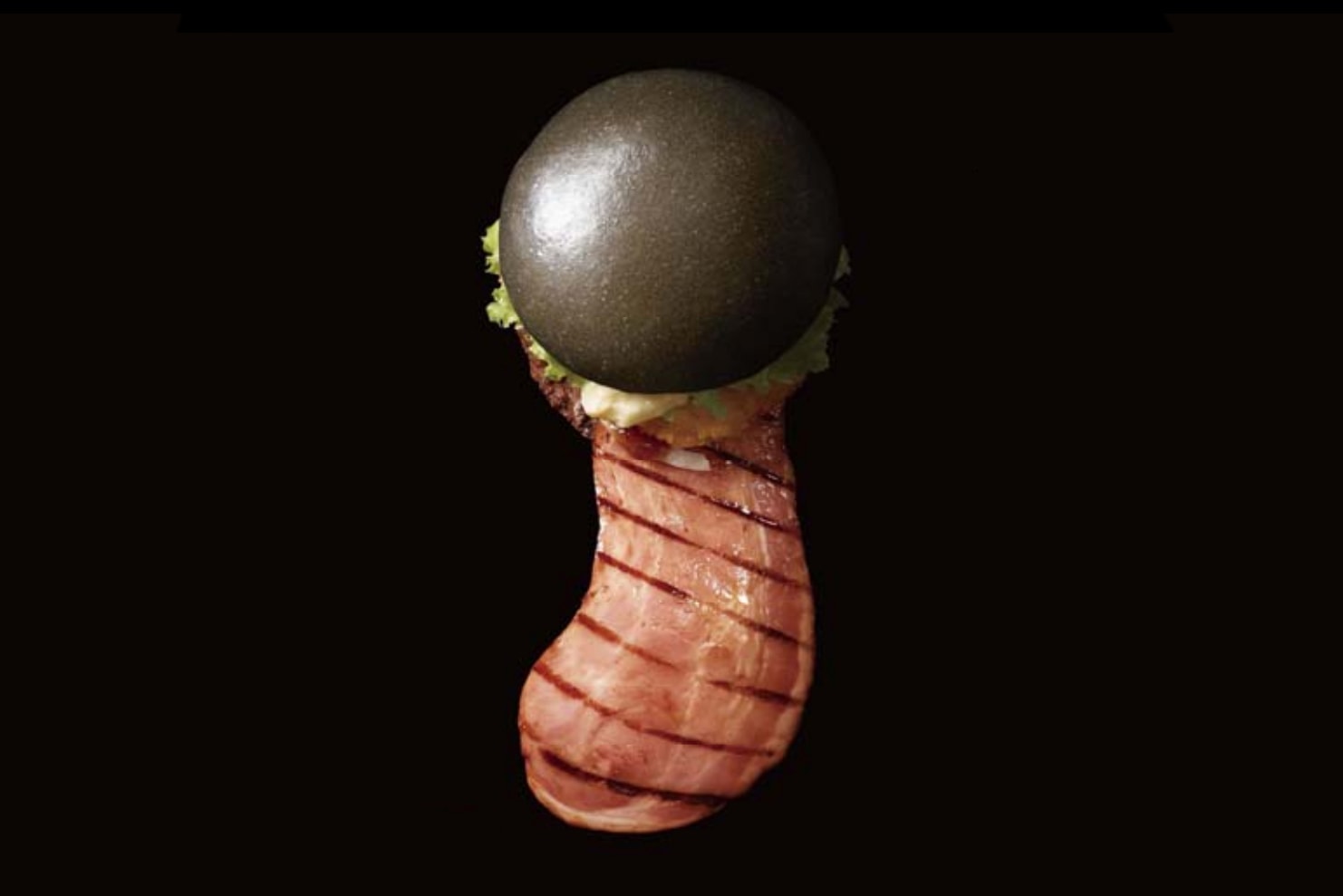 Even more notorious than the Kuro Pearl Burger, Burger King's Black Ninja added the likes of a hash brown and a garlic-onion soy sauce to a standard Whopper. The 2013 offering will always be remembered, however, for its massive slice of flame-grilled "King's Bacon" — which was meant to resemble the stuck-out tongue of the hooded ninja mascot that was introduced along with it.
Guracoro Burger (McDonald's, Japan)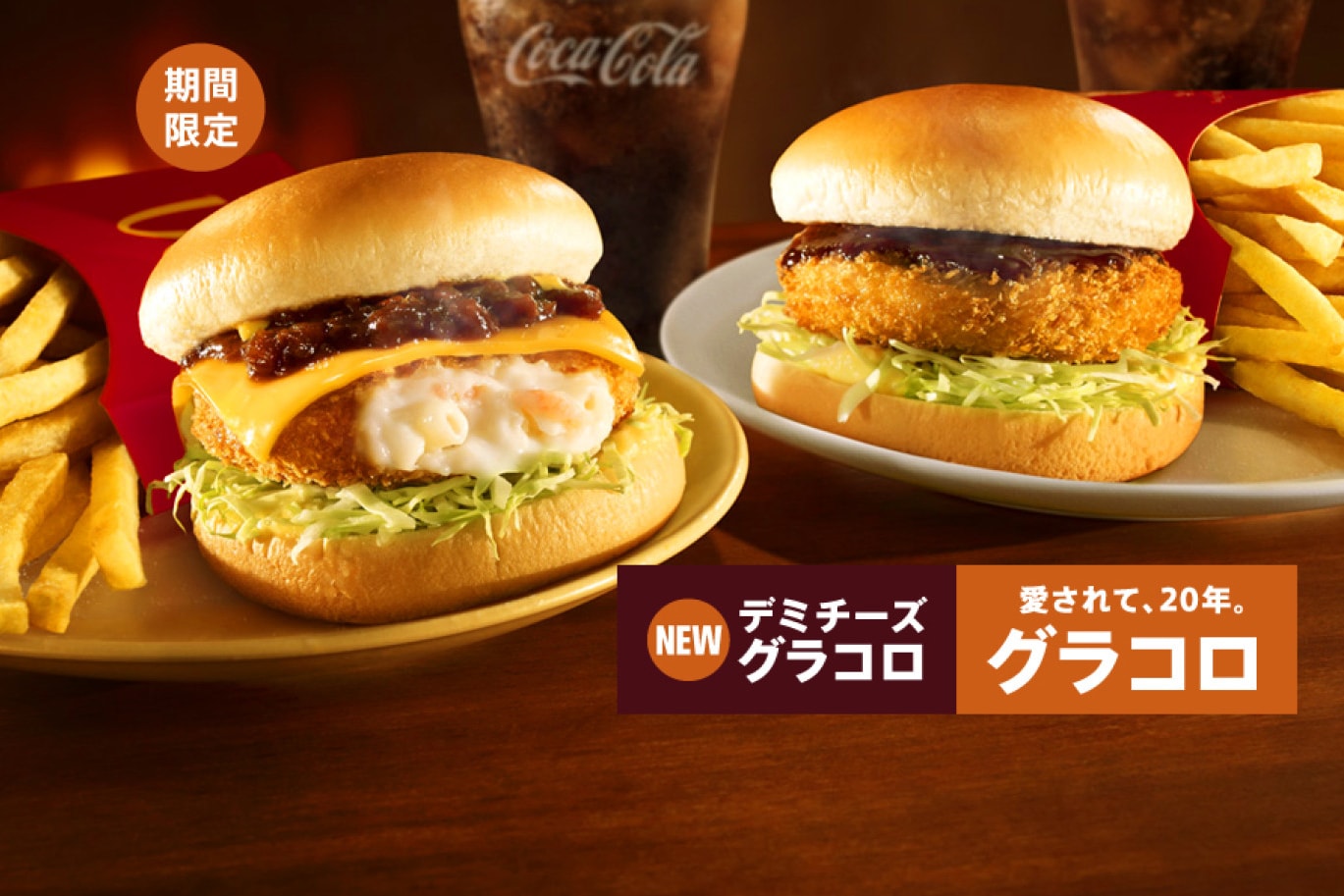 Japanese McDonald's locations took on the gratin-croquette ("GuRa" and "KoRo" for short) in 2012, creating fried patties of shrimp, macaroni and white sauce. The concoction actually became quite popular, thus making it onto their menu seasonally throughout the year.
Meat Monster (Burger King, Japan)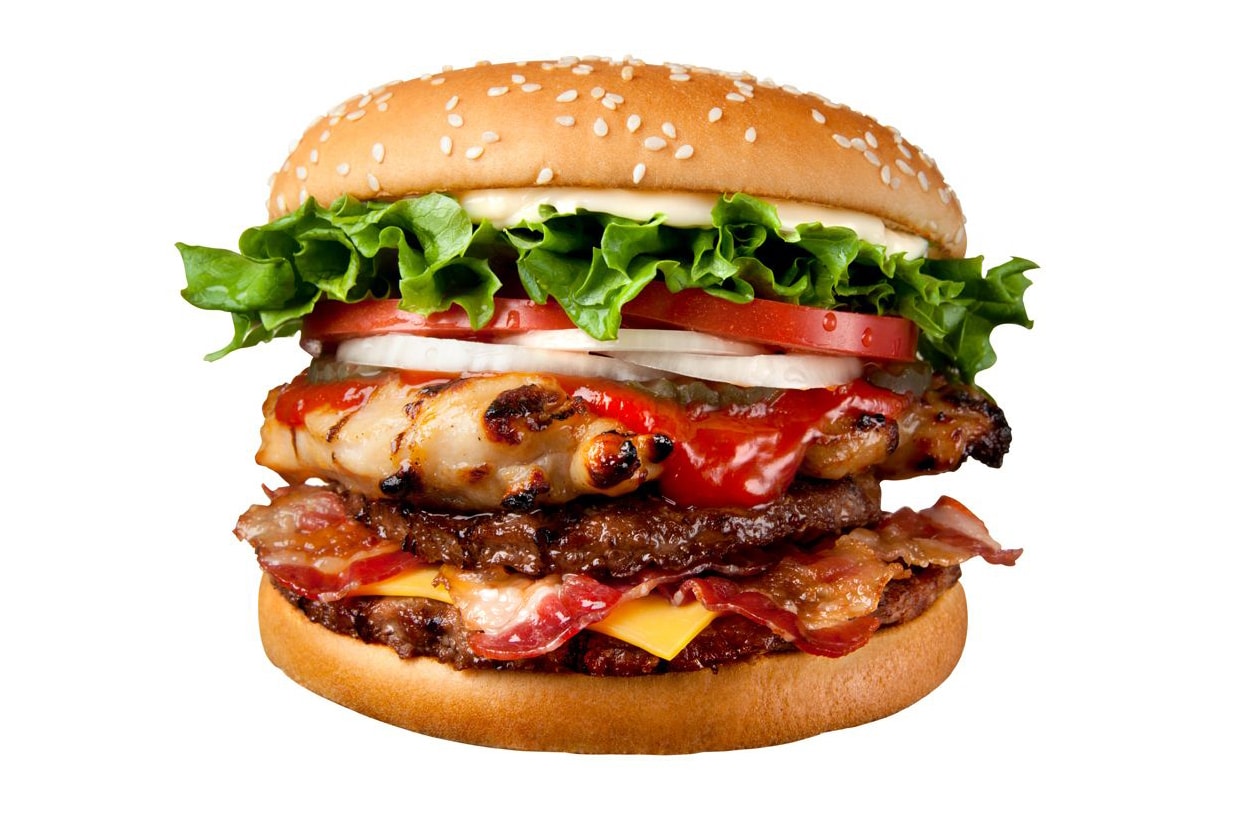 Ever craved beef, poultry and pork all at the same time? This one (with two beef patties, a chicken breast and three slices of bacon) is for you. It is fairly balanced if you think about it.
Pumpkin Bomb (Burger King, Japan)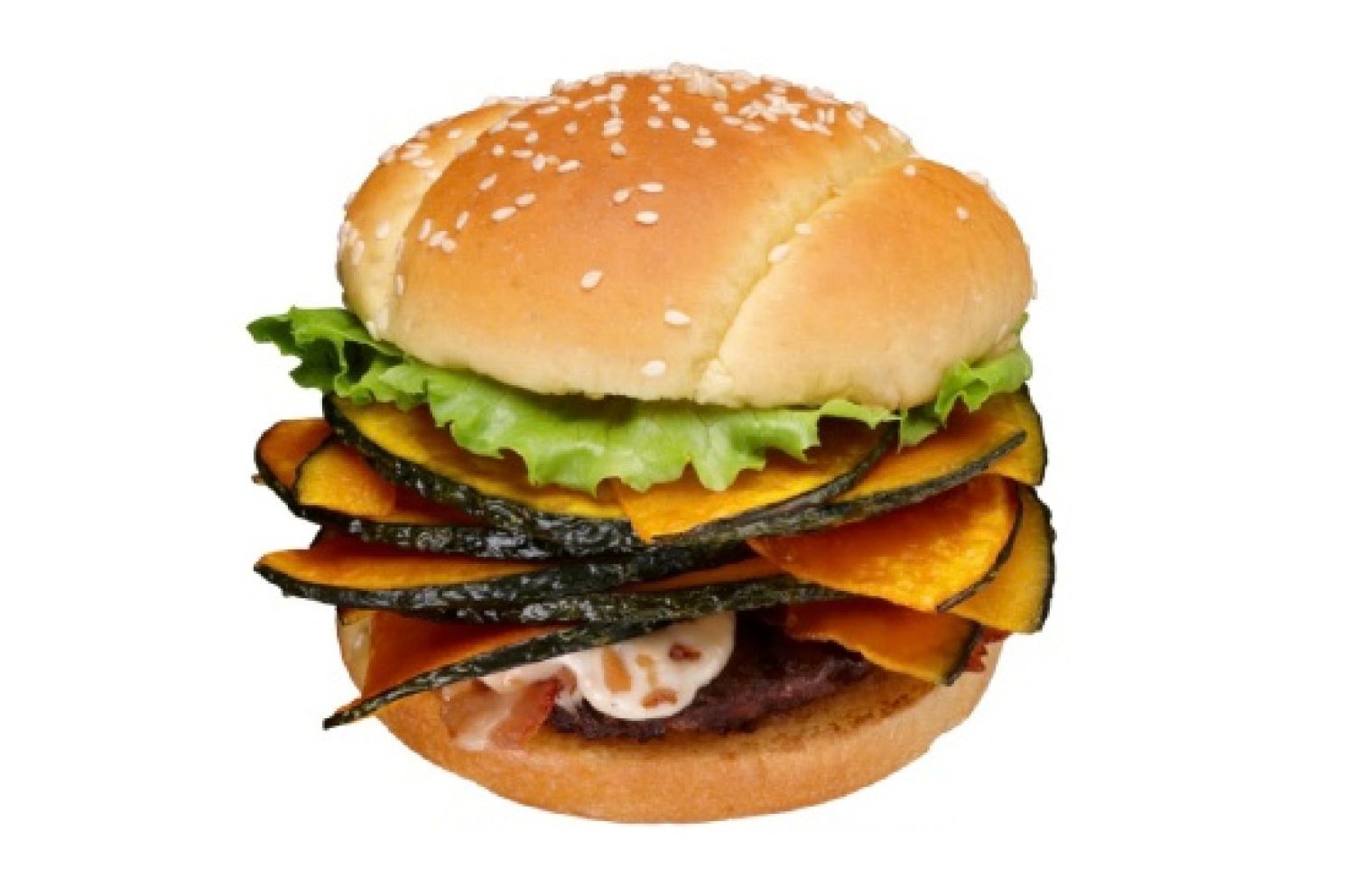 Perfect for your Pumpkin Spice Latte-loving significant other, the Pumpkin Bomb comes with slices of fried kabocha pumpkin and bacon to boot.
Foie Gras Burger (Wendy's, Japan)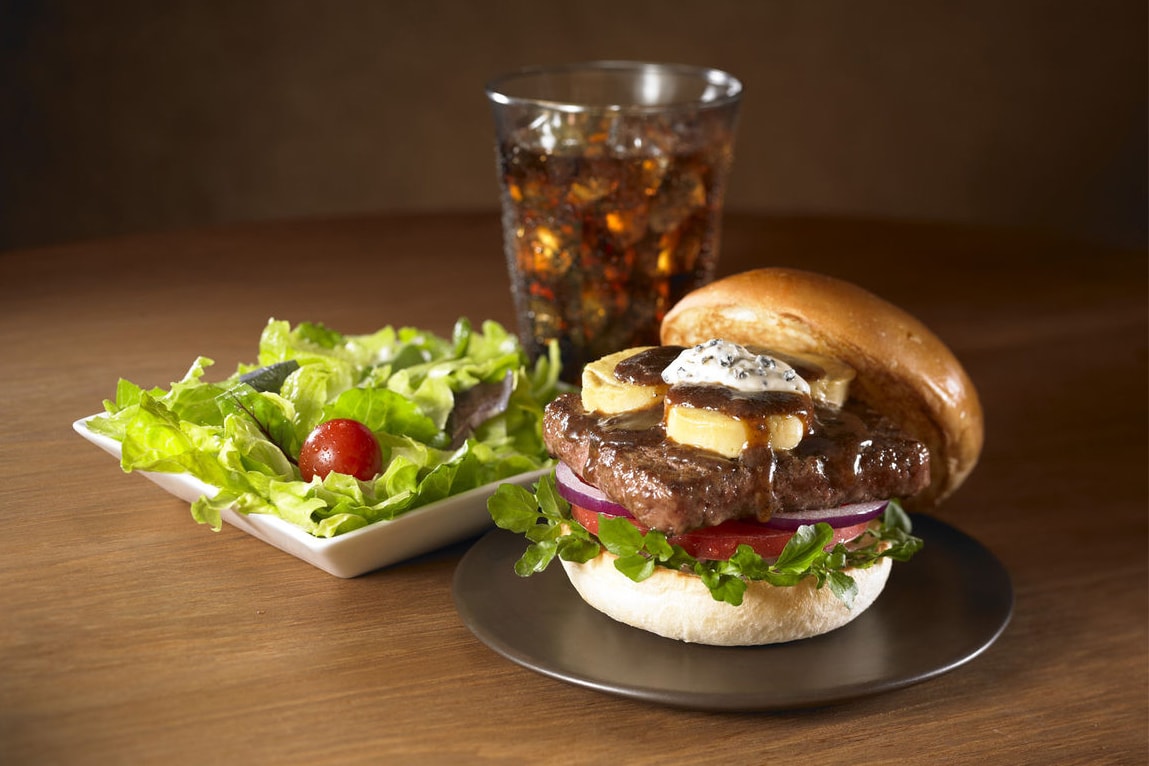 If you wanted something a bit more decadent back in 2011, Japanese Wendy's locations had you covered with the addition of goose liver and truffles.
Lobster Surf & Turf (Wendy's Japan)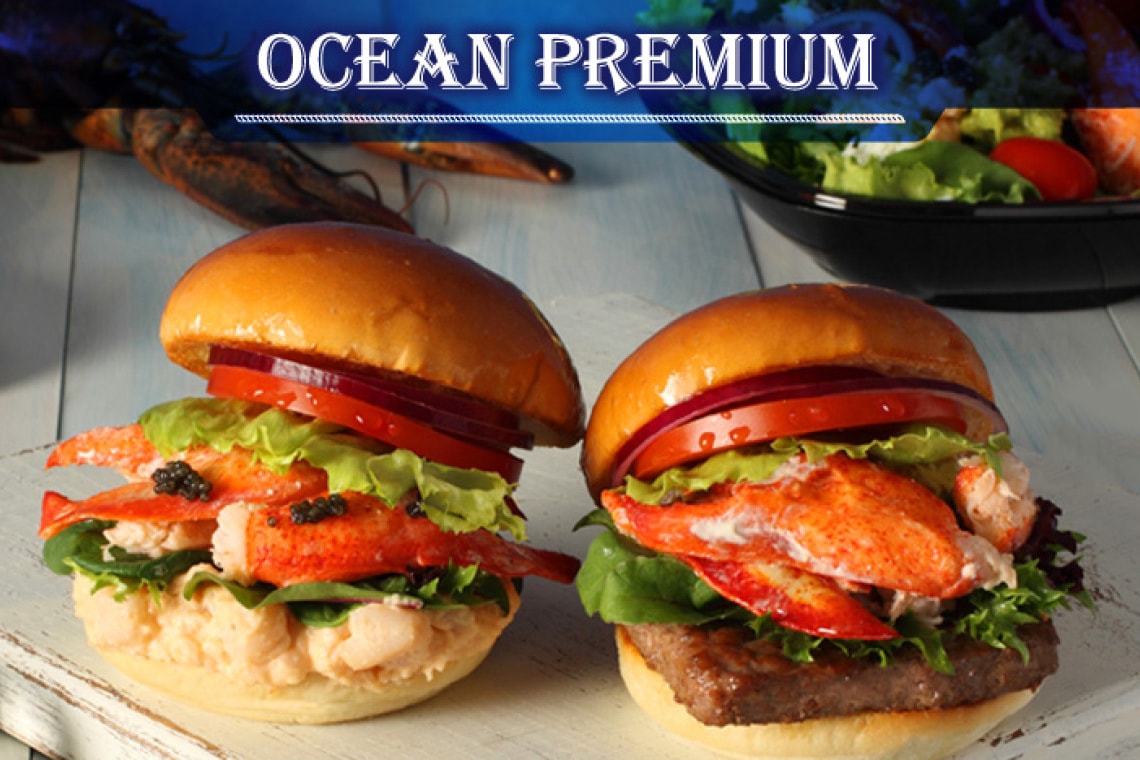 As if liver and truffles weren't luxurious enough, Wendy's swapped them out for a lobster claw and a dash of caviar the following year and also offered a surf and turf option of lobster with the chain's signature square beef patty.
NY Pizza Burger (Burger King, United States)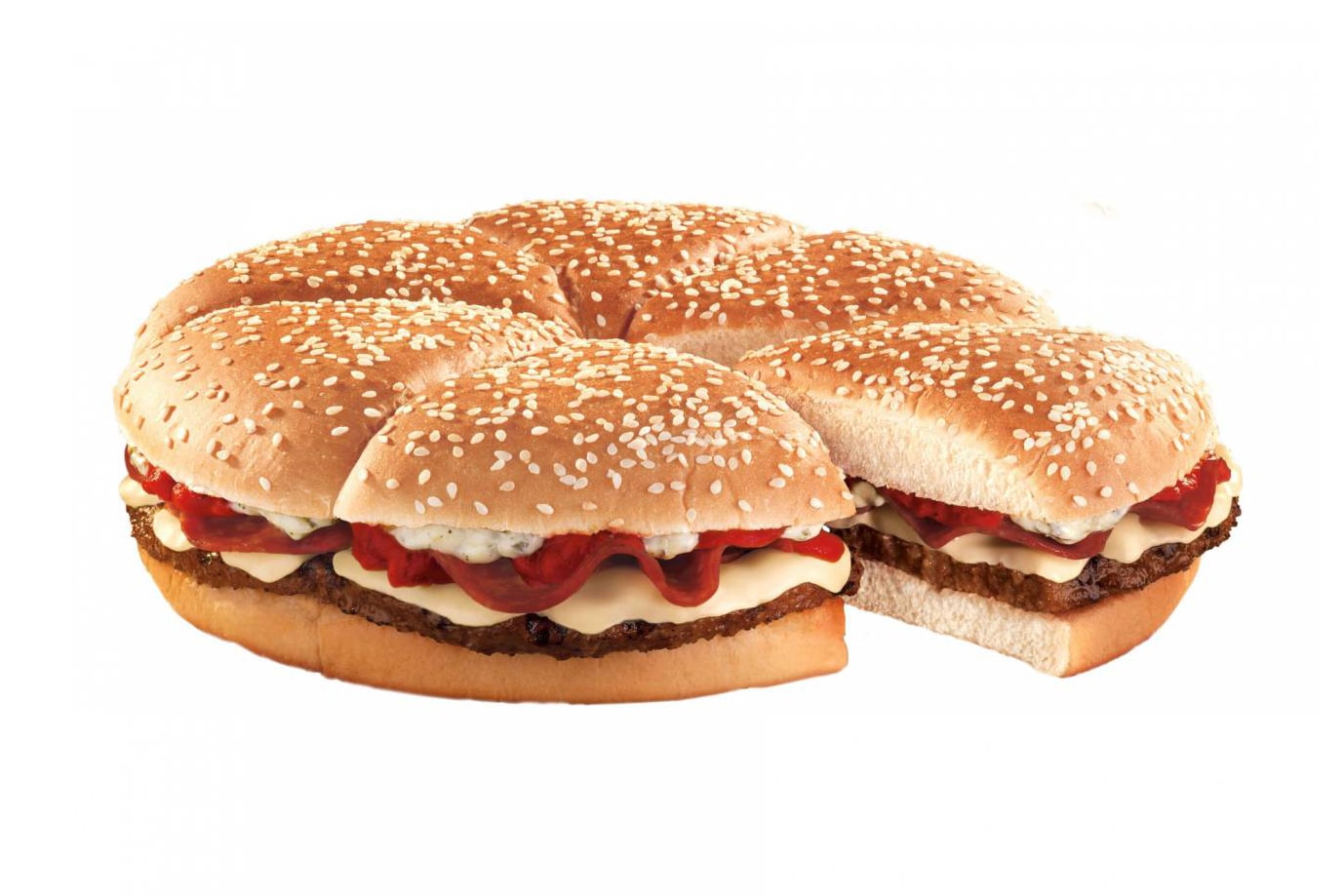 Maybe BK's biggest burger ever, the NY Pizza Burger hit New York's Whopper Bar in 2010 and crammed a massive beef patty, pepperoni, mozzarella and marinara sauce on a 9-1/2-inch sesame seed bun for a nod to the Big Apple's beloved pie.
Star Edge Pizza (Pizza Hut, Korea)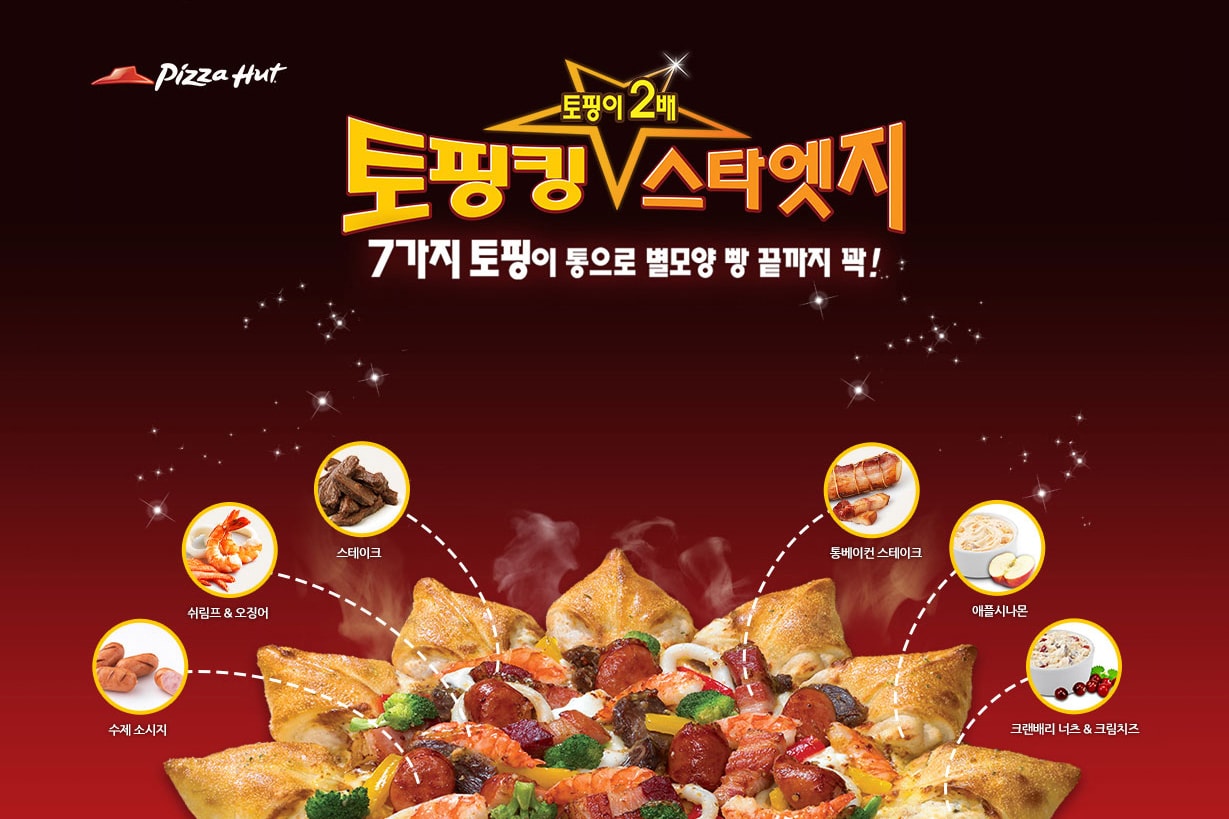 Korean Pizza Hut goers could get their dinner and desert with a single $32 USD pie back in 2014 — one covered in shrimp, calamari, bacon, steak, and sausage and surrounded by a crust packed with cranberry, cinnamon apple nut and cream cheese fillings.
Titan Burger (Lotteria, East Asia)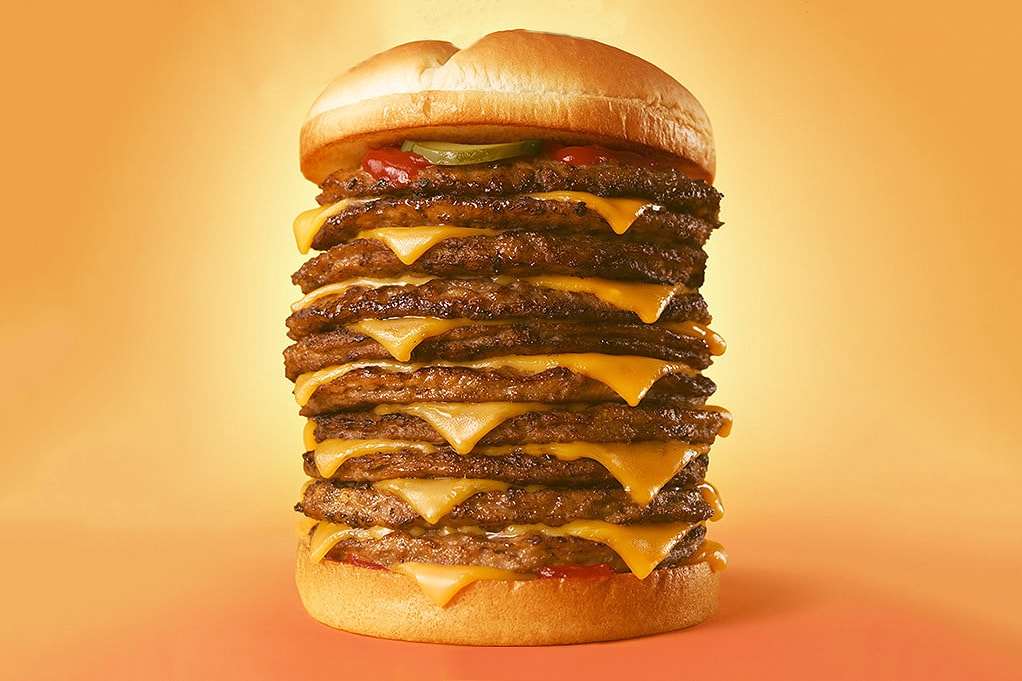 Not to be outdone by Burger King, Tokyo-born burger joint Lotteria has offered up a 10-patty creation on a number of occasions — most notably with 2014's nod to Attack on Titan. Challengers came and went, but in the end with 10 patties, everyone's a winner with this one.