Artist James Earley Dissects His Limited Edition Jameson Whiskey Label
We caught up with Earley on the eve of St. Patrick's Day for a tour through Dublin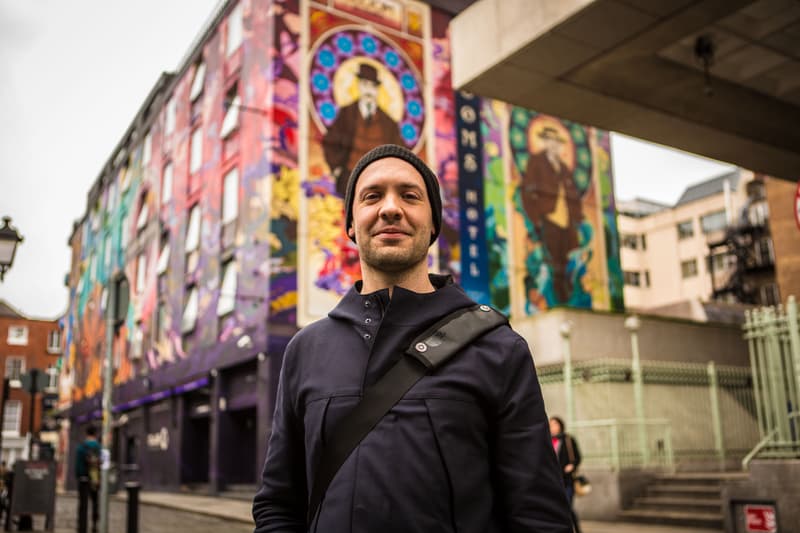 1 of 6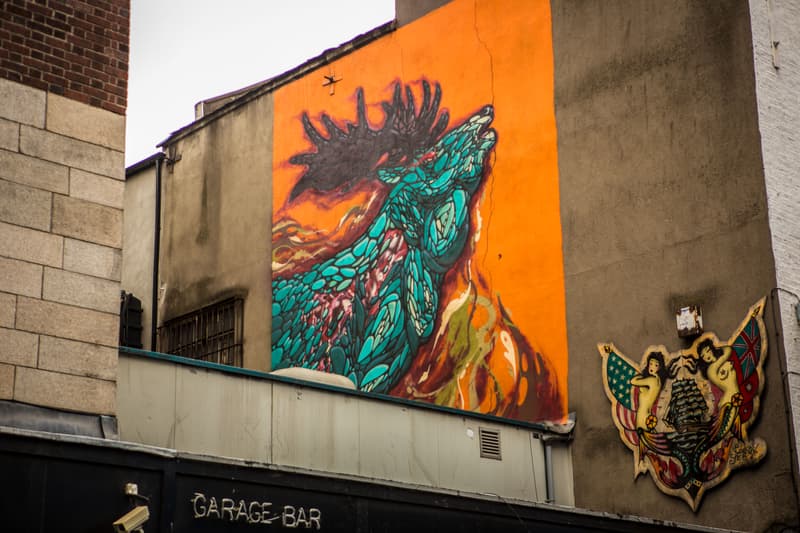 2 of 6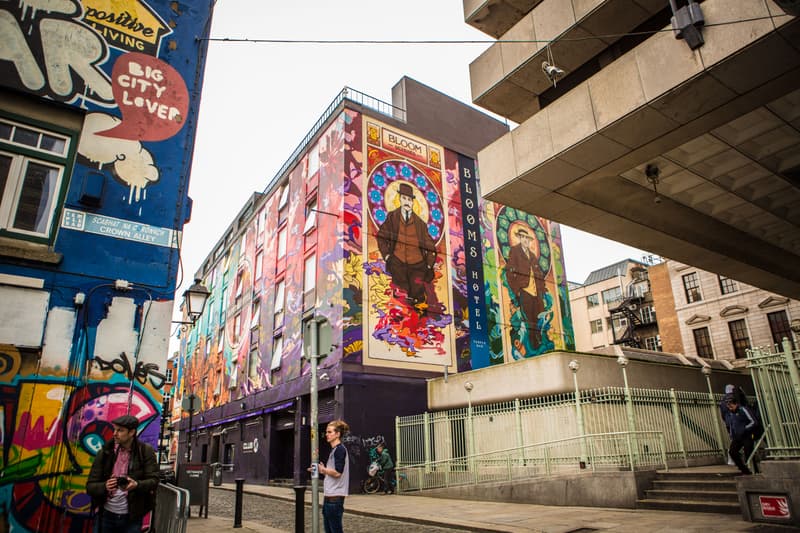 3 of 6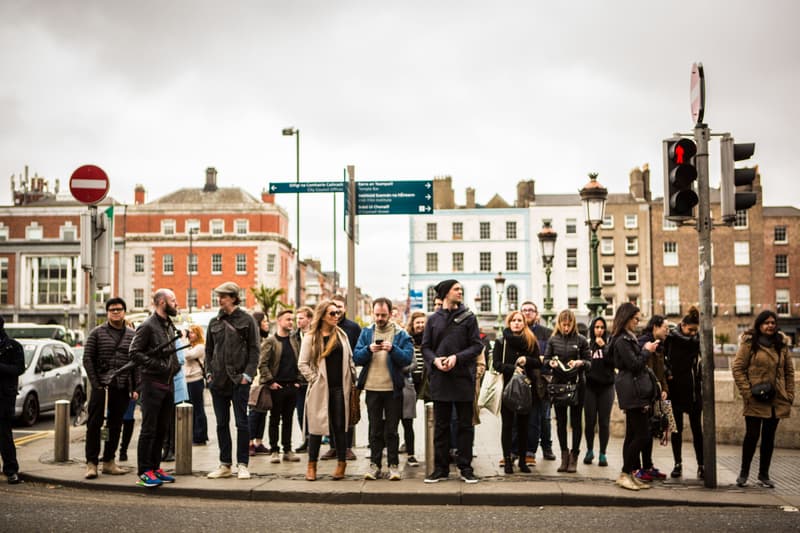 4 of 6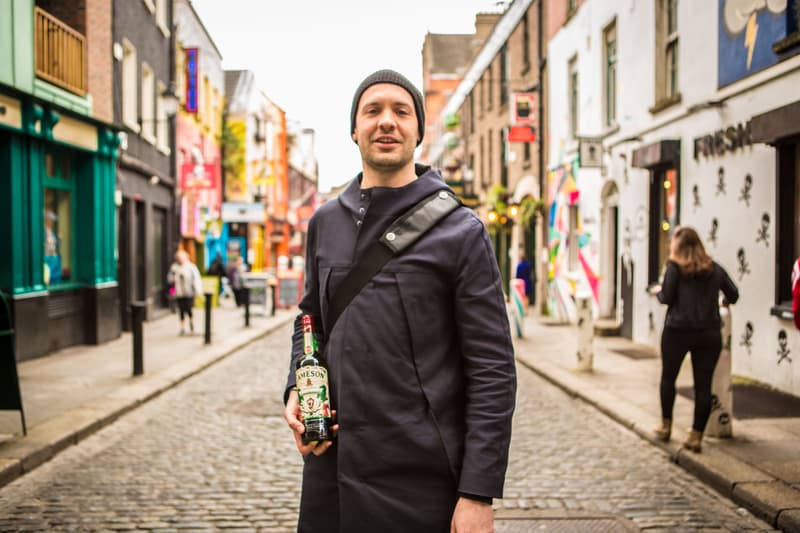 5 of 6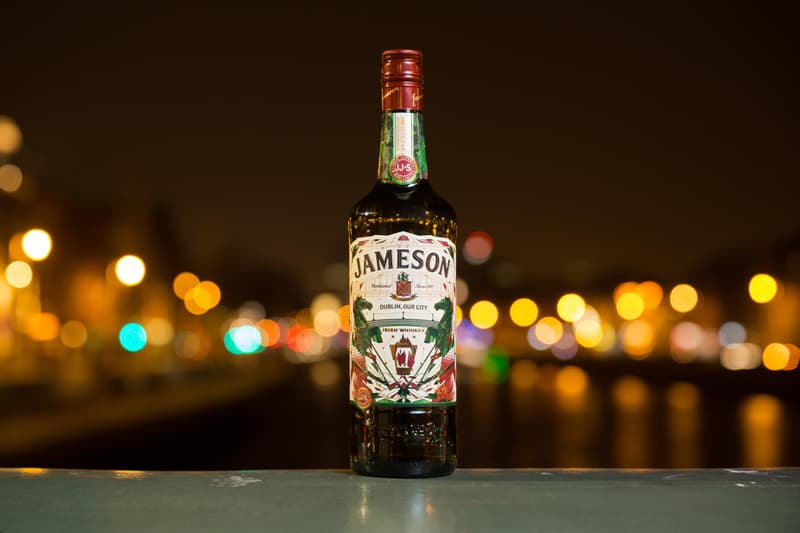 6 of 6
How did you celebrate St. Patrick's Day last month? A couple of drinks? A green hat? For Ireland's world-famous distillery Jameson, makers the country's premier whiskey for almost 250 years, marking the occasion has always meant being original.
Each year, the Dublin-born distillery enlists a hometown artist to create a limited edition bottle to commemorate the national holiday. This year, the whiskey label has been customised by renowned street artist James Earley, whose stained glass-inspired and ecclesiastical artworks can be seen all through the streets of Ireland's largest city.
We caught up with Earley on the eve of St. Patrick's Day in Dublin for a tour of the five works and city icons that helped him arrive at his limited edition Jameson artwork.
Ha'Penny Bridge
"This bridge is probably the most iconic and busiest of all the bridges that cross the River Liffey here in Dublin, so that's why it felt right to position it right at the centre of my label. On a more personal level, I must have crossed the bridge thousands of times growing up, running across it to fetch art supplies. It crops up a few times on the bottle actually: you'll notice that I chose to go in on the lanterns, too. I like how the eye focuses in on the exploding glass from the lantern near the bottom of the label."
Blooms Hotel, Anglesea Street
"This is definitely the largest work I've done. Actually, it's the largest piece in all of Ireland! It was a 12-month project, with three months of planning and 1000 cans of spray paint used in total. The owner of the hotel is a gruff old guy who met me after walking out of the pub and asked, "Do you fancy painting my hotel for me?". Originally he liked the idea of an Irish folklore theme, and also some Irish musical greats, but I felt it all sounded a bit twee. I told him to leave it with me. I looked into the hotel's name, Bloom, and we eventually decided on referencing Leopold Bloom, the lead character in Irish author James Joyce's famous novel Ulysses. The biggest issue? Getting everything loaded on the cherry picker I was using, only to drive it around the corner and find a van parked right in the way of where we needed to be. That happened too often."
The Hippocampus, Capel Street Bridge
"This is another Dublin bridge that I used time and time again growing up. On the north side, when I was around 16 years old, there used to be a car shop. It was the only place you could buy spray paint from at the time. I would head over to buy up paint to use on walls, and each time I did I'd take a look at these hippocampus fixtures on the bridge lights. They're basically large seahorses, and a real curiosity to me. I've painted a lot of animals so this seemed to fit perfectly with the brief that Jameson gave me, which was: 'What does Dublin mean to me?"
Great Irish Elk, Essex Street East
"Back in 2011 I was offered this spot, my first in the city centre. At the time, Ireland was going through a really severe recession so I chose to paint an Irish elk – a once majestic but now extinct animal, as a way to remind people of our country's grand past, and to evoke a sense of national pride. I built it around the beast's muscular form to highlight its power, and it took me a good five days to complete. Again, I was using a cherry picker for most of it, but it only reached about two-thirds of the way in. The rest was done hanging off a double ladder with my friend anchoring it from the bottom rung."
Black Herds of the Rain by Conor Harrington, Sycamore Street
"This one's not by me, but by another Irish-born artist named Conor Harrington. He painted it the same year that I painted my elk, so the theme of the recession runs through this piece too. The fallen cowboy makes reference to city bankers, but I really like the initials on the cowboy's hat. Conor had a painting stolen a few years back, and those letters on his cap are the initials of the thief."