Allen Iverson: The NBA's Unapologetic Streetwear Hero
He's more than a hall-of-famer; he's a fashion icon.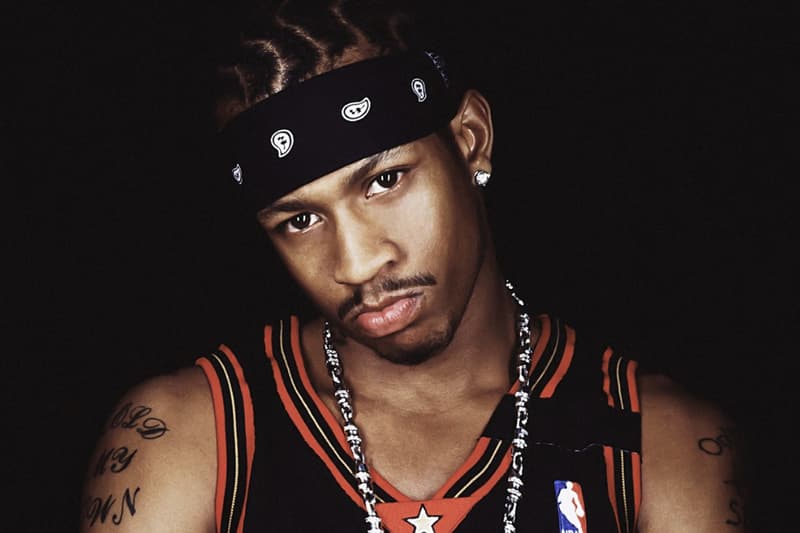 Hip-hop and streetwear have long kept a watchful eye on basketball culture, serving as an inspiration to both realms of artistic expression for decades. However it wasn't until the mid-to-late '90s that the NBA started feeling the reverse effect as music and fashion began impacting the sport; an urban influence the global conglomerate just was not ready to accept at the time.
The catalyst for this generational switch: Allen Iverson.
Hailing from Hampton, Virginia, the six-foot, 165-pound guard has, and continues to inspire NBA fans young and old, thanks to a list of accolades that includes the 2001 MVP award, 11 All-Star Game appearances, four scoring titles and one finals trip.
On paper, it reads like the perfect success story: a small mortal dominates in a land of giants. However Iverson's history as a blunt, unapologetic kid with tats, cornrows and diamonds scared white America. The threat became real: hip-hop was front-and-center for suburban, well-to-do children to devour and emulate.
As the NBA grappled with recognizing certain cultures in fear of tarnishing its image among advertisers, hip-hop and streetwear welcomed "The Answer" with open arms as their spokesperson for self-expression.
Iverson's refusal to change in order to appeal to the corporate world would eventually lead to a battle between culture and conformity. Without knowing, the soon-to-be hall-of-famer is streetwear's unsung hero.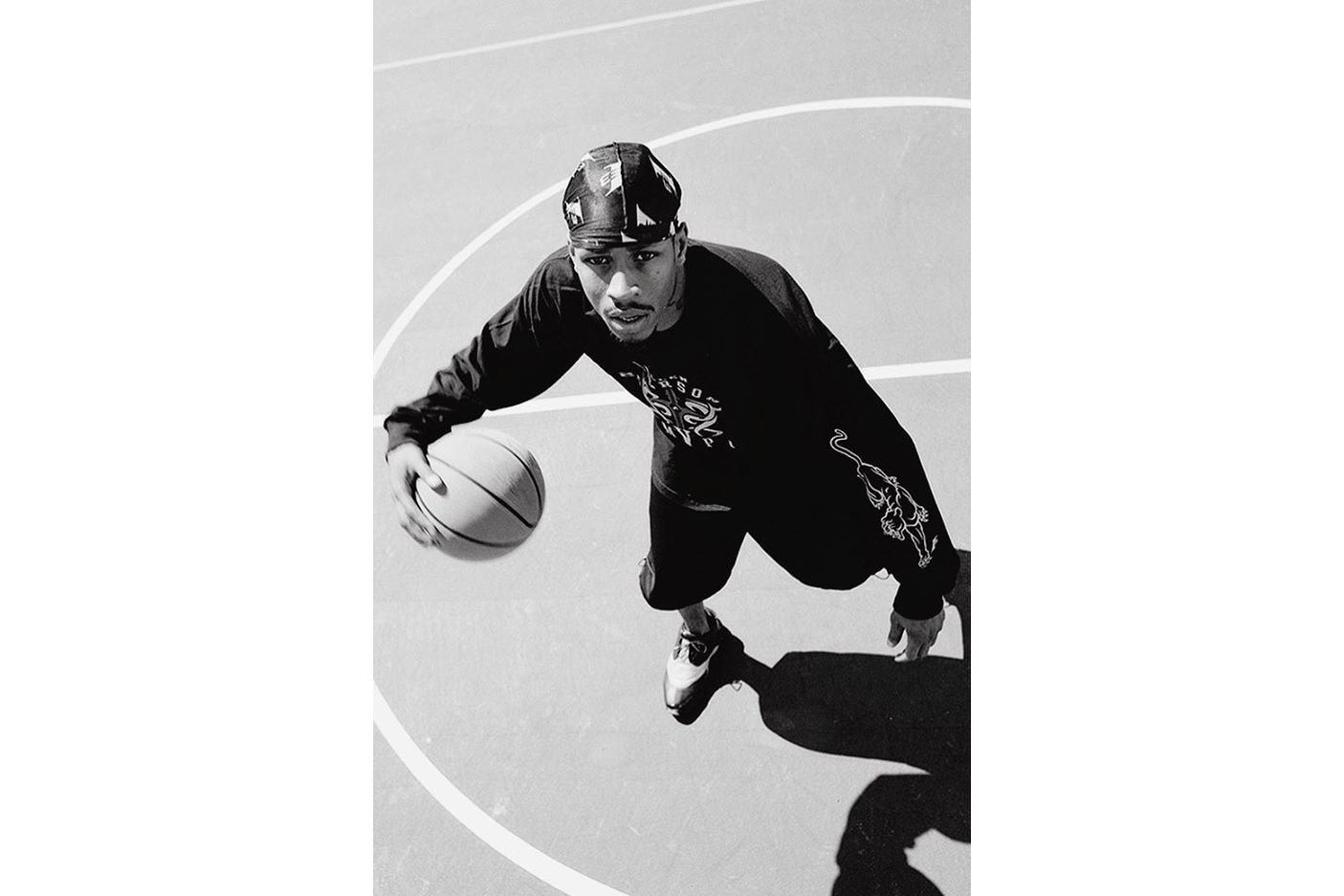 Rooted in the birth of hip-hop, streetwear became the complementary look for graffiti artists, breakdancers, DJs, MCs, and anyone else who assisted in fostering the cultural phenomenon. It was more than a visual rebellion against the status quo, but a stark representation of the world around its wearer, a world that hasn't offered much in terms of success for young men of color, other than music and basketball. So it was inevitable that the former would eventually infiltrate the NBA on a grand scale. But as the league was swiftly building its global presence, thanks largely to Michael Jordan, David Stern was not yet willing to make Iverson the poster-child of the league, which meant accepting hip-hop as its cultural companion.
1996 was the beginning of this love/hate relationship between Allen Iverson and the NBA. Already entering the league with baggage from previous legal affairs during his days at Bethel High School, Iverson was no stranger to having his inked back against the wall, but this battle would prove to wear out his psyche more than basketball ever did.
Organizational heads weren't accustomed to their franchise player embracing a culture they couldn't understand. A diamond chain with a du-rag to keep his braids in order became A.I.'s spin on the traditional suit and tie. Despite averaging 26.7 points, 3.7 rebounds and 6.2 assist per game throughout the span of his career, it seemed as if those numbers were an afterthought to Iverson's self-expressive, ostentatious street fashion, which featured throwback jerseys, baggy white tees, fitted caps and blinding jewelry.
But it wasn't all hate for Iverson, and that's what fueled the fire under the NBA's corporate demographic. The guard who refused to pull any punches became the mascot for the urban community he was raised in, providing those who grew up under the same unfortunate circumstances with hope and inspiration. His influence was unprecedented and groundbreaking.
Although Iverson didn't have a direct hand in creating streetwear or hip-hop, he was proud to embrace and embody their ethos of authenticity, making sure his fans worldwide knew it was ok to do the same. Slowly, the NBA began to ditch the short shorts, monochrome sneakers and plain suits, to usher in a new era, a new culture, a new wave. During Iverson's career, there was no shortage of cornrows, throwback jerseys, tattoos, headbands, Reebok sneakers, and ballers trying their hands at rapping, or vice versa. Case in point, the above Reebok ad where Iverson, a.k.a. Jewelz, spits a few lines alongside New York rap legend Jadakiss.
"I don't wanna be Michael Jordan. I don't wanna be Magic. I don't wanna be Bird or Isiah, I don't wanna be any of those guys. When my career is over, I wanna look in the mirror and say I did it my way."
In 2005, it seemed Iverson met his match in the constant battle regarding his image. Following the brawl at the Palace of Auburn Hills in Detroit, then commissioner David Stern implemented the NBA Dress Code as a method to clean up the league's image. Meet with plenty of controversy, this marked the first time a major professional sports league implemented such a rule. Players, celebrities, and fans publicly lashed out stating the dress code was openly racist, by targeting young black males and implying street fashion, most notably associated with hip-hop, was tasteless, offensive and promoted criminal actively.
Although many assumed the rule was created to "tame" Allen Iverson and his growing influence, it didn't stop him from remaining true to self. Alongside players like Stephen Jackson and Paul Pierce, Iverson spoke out against the NBA's new policy, stating in true A.I. fashion, "the dress code is not who I am and doesn't allow me to express myself." He later added "They're targeting my generation — the hip-hop generation…You can put a murderer in a suit and he's still a murderer." Sure you may have caught him during a press conference in a suit, but it was only with an Iverson twist: a few sizes larger than the corporate norm, no tie and jewelry, lots of jewelry.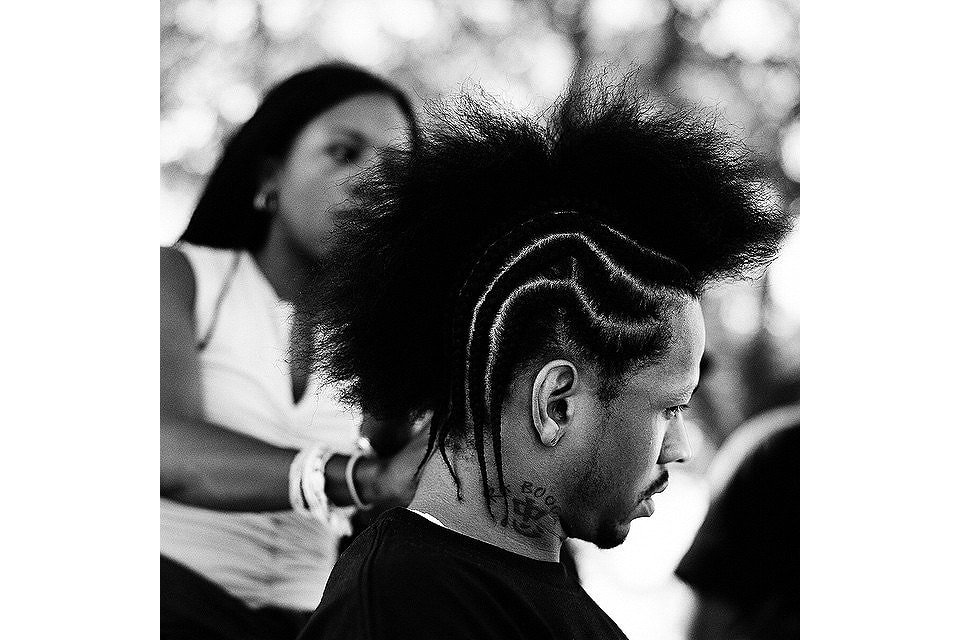 There's no doubt that during his career Iverson played as if he belonged among the Hall of Fame's elite, because he did, but The Answer's career was more than just statistics and accolades. It was filled with influence, inspiring people to be unapologetically themselves — a mantra that has been at the heart of street culture since its inception. He fought for individuality during a time the league was trying to stifle it. While some would say the dress code paved the way for today's "fashion icons," like Russell Westbrook and LeBron James, it's Iverson who set the example to dress for yourself in what makes you comfortable.
During this year's Hall of Fame induction ceremony you should expect no different from Iverson. Be prepared for the small man's attire to be the most confident in the room and know that his style was not a sense of rebellion, but a reflection of self and the culture he embodies.
Rest assured that when Allen Iverson is in the vicinity, you'll get 110% of him.