Zach LaVine and Aaron Gordon Talk About Their Historic Dunk Contest
"I knew I wanted to go under both my legs. And it kinda just came together."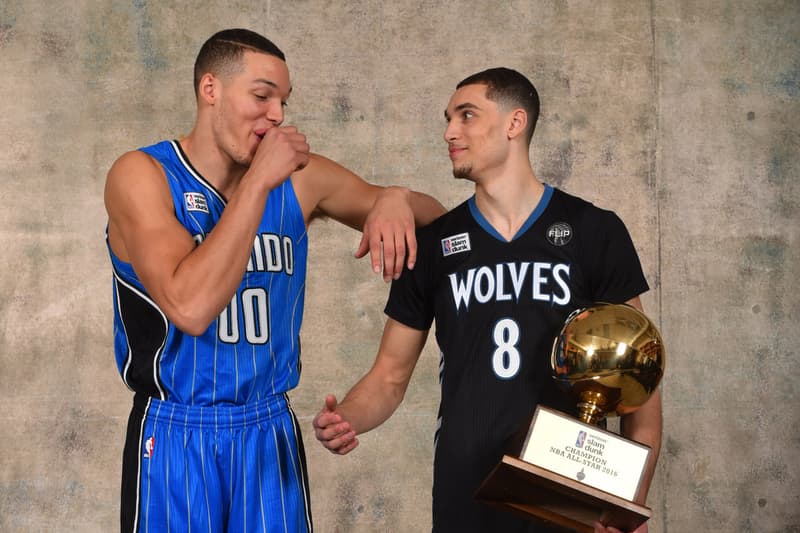 This weekend's dunk contest was by far one of the most memorable in recent history. The social media uproar and fans jumping out of their seats warrant the frequent comparisons to Vince Carter's legendary dunk contest win that made history in 2000. Well, LaVine and Gordon definitely gave Carter's dunk a run for its money, especially considering that these two players were only 5 years old when Carter's dunk happened. GQ interviewed the two, now even more ubiquitous players on what made their dunks so amazing.
Zach LaVine
You get any sleep last night?
If closing your eyes counts. I blinked a lot.

This one has to be sweeter than the first one.
Yeah I feel like it's better cause I went up against probably the best competition I ever been in. I definitely think it was one for the ages. I felt like it was the Rocky and Apollo Creed scene, where they both punch each other at the same time. Somebody's getting hit, but both of y'all are getting hit.

Have you watched it back yet?
Nah, I haven't even watched it yet. I've just seen some of the highlights. I was looking at both of his dunks anyway, like, "How do you do that?"

Which one blew you away the most?
The two that were tripping me out were when we went under both his legs over the mascot and then over the mascot between the legs. Professional dunkers do that. He did it one time, one try. And he's freakin' 6'10" man, so for him to get up over a mascot on a little hoverboard? [laughs] That's like 45 inches in the air plus vertical.

Did you think he had you when you saw that?
Hell yeah! I didn't know what I was gonna do, man. I just kept coming back with jabs. The longer it went, we just had to get creative. He had a 48, I think. [Ed's Note: It was a 47] I was like, "Okay, how am I going to beat that?" We don't got that many dunks. But if I lose, man, you can't be mad at yourself. We just had one of the best dunk contests ever. So I tried a through-the-legs from as far back as I could, got my heel on the back of the line, and called it a wrap.

I saw Drake on Instagram said that you just walked up to him and were like, "I'm just gonna put this through the legs" like it was no big deal. Was that true?
That was true, yeah. Will Barton, the other contestant, was like, "You ever gone between the legs from the free throw line?" I was like, "Nah, man, never tried that." So I was walking up to Drake and I was only thinking about him holding it or him throwing it up to me, get the crowd into it, try to get a high score. And I was like, "You know, man, I'm just gonna try to go between the legs." I thought maybe it was going to be nasty. Was it good?

It was fucking awesome.
It was crazy? [laughs]

Because we're in Toronto, the dunk contest everybody is talking about this weekend is Vince's 2000 one. You were born in 1995! No way you remember that, right?
I remember the replays. The first dunk, that 360 windmill. And then T-Mac hit him with the bounce. Puting his arm in the rim. That's the one that me and Aaron started thinking more. You can't do dunks that, like, no one can do them but it looks too easy for us. A couple of our dunks we have, it was just like, "Man, how'd he do that?" But it looked too easy. That [Vince's arm in the basket dunk] was one of them. They didn't give him a 50 on that dunk. And it was like: That dude just put his arm in the rim! No one did that before. A couple of Aaron's and a couple of my dunks, it was like, "How's that not a 50, man?! No one's done that before."

You think you guys beat the Vince dunk contest?
Man, I think so. There's 12 dunks in there that probably go down in the top 50 dunks ever. It's crazy.
Aaron Gordon

So what was your night like?
I went out last night, to the NBAPA party with Future. I just went with my family and we got food in the lobby. And ESPN was on the big screen in the back, and they were just re-running and re-running and re-running the dunk contest. It was really cool. Really cool.

Talk to me about your phone situation.
Oh yeah, its blowing up. I can't even—I texted my Day Ones, my boys. But other than that, I can't really respond to everybody. It's like 200 something.

On your introduction video, you were saying your brother used to dunk on you every day, and you wanted to bring this back to show him what's up. You didn't win, but still, did you at talk to him and be like, "Dude, you see what I did?"
[laughs] The thing about my brother is he's gonna be like, "Yeah. But you didn't win. Where's the trophy." Ah! Maybe next year.

Do you feel like you lost? Still kind of made a pretty big impact.
I did six dunks that have never been done in the NBA dunk contest before. Six. So I'm completely proud of myself. That was the ultimate goal. I just ended up not getting the trophy.

Have you talked to [Magic Mascot] Stuff the Magic Dragon? Is he doing okay?
Stuff is doing okay. [laughs] I'm gonna have to get Stuff a Rolex or something like that. He put me on.

Did you say anything to him?
I just gave him a hug. Me and Stuff are like good friends now. Weird as that sounds.

How did you come up with the under the legs dunk?
I was going to try to go under both my legs and reverse it on the other side. But it just didn't look very good. It didn't look all that clean. And then I was going to try and do a Scorpion: you jump up, you reverse and you finish on the other side and come back. It's another dunk that just wasn't very clean. I knew I wanted to go under both my legs. And it kinda just came together. It took me awhile to get it. But once I got it the first time, I was like, "Oh. That's a wrap."

Have you watched it back?
Not yet. The WiFi in my hotel is not good enough.

The other NBA guys watching right there on the sideline, were you talking to them?
Yeah, yeah. When I jumped over Stuff the first time, they kind of came up to me and were like, "Whoa. Respect, man. Respect." But really I was talking to Elfrid Payton, Victor Oladipo, Mario Hezonja, cause they're my teammates. I knew they were in my corner from the jump. They knew I could win.

And who's the one guy you've gotten props or dap from in the last 12 hours that blew your mind.
Mike. MJ.

What did he say?
He said I need to make my jumper.

If you could have one dream guy to dunk on, not in a disrespectful way, just as a prop, who is it?
It would have to be MJ.

And if you could have a 1-on-1 dunk off with anybody?
Zach. That was the best thing. Zach is an incredible dunker and we both pushed each other.

We'll see you next year then.
Quite possibly.