Vetements' Demna Gvasalia Lays out His Schemes in New Interview
The Balenciaga artistic director discusses his youth, his apprenticeship, and his frustration with fashion's staid cycle system.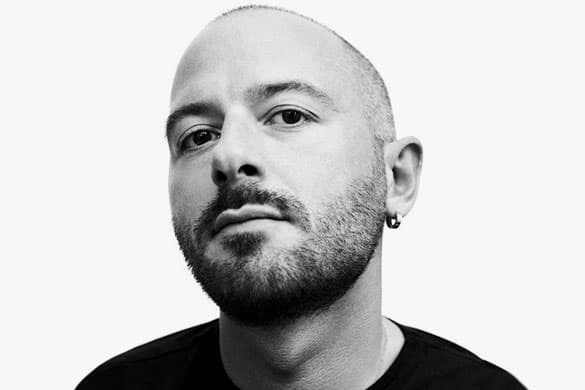 You might not even be able to pronounce Demna Gvasalia's name just yet, but you've definitely heard of the Georgian fashion designer by now. He made waves designing at Maison Martin Margiela and Louis Vuitton and lighting up Paris Fashion Week with controversial shows held in the basement of a sex club and a Chinese restaurant, before being appointed artistic director of Balenciaga. The designer's focus on raw aesthetics that flip familiar garments and symbols into subversive and challenging pieces has polarized critics and peers alike. Now the creative behind one of fashion's most talked-about brands has sat down with Business of Fashion founder Imran Amed for an interview where the head honcho speaks on the inspiration he found in his Soviet youth, his experience at Belgium's Royal Academy of the Arts under founding Antwerp Six member Walter van Beierendonck, and his brand's masculine customer base. Gvasalia speaks on the collective's refusal to act within fashion's stale and uncompromising cycle system and goes on to outline his vision of a revised cycle system wherein a collection's time in stores is maximized so as to increase the lifespan of each individual collection.
Read below for some quotables and you can read the full story here.
BoF: How did you first get interested in fashion?
Demna Gvasalia: Well, I grew up in Soviet times in Georgia, which meant that me and my friends, we all had the same clothes. It was such a unified society that was deprived of information and of many things, which probably pushed me from early on to discover certain excitement in things that I didn't know.

Then we had the civil war in Georgia, where we had to leave the place where I grew up. We had this gypsy lifestyle for around 7 years, finally moving to Germany. So, I really had to adapt to a lot of situations and people within a short period of time, to be adaptable, to know how to integrate.

BoF: But it sounds like you were interested in fashion from the beginning.
DG: I was interested in fashion, I just didn't know much. Some people came to Antwerp and knew everything. At the entrance exam, one of the panel asked me who I knew from the Belgian generation of fashion designers and I just said Dries van Noten because that was the only name I actually knew and could pronounce. The person who asked me that was Walter van Beirendonck, who was part of the Antwerp Six. To me, he was just a weird guy with a beard and rings. He ended up being one of my teachers and I actually worked with Walter after I finished at the Academy.

BoF: After three and half years at Margiela, you decided to leave. Why?
DG: It was so intense; this challenge and possibility of actually being there and learning there, but it was too much. At one point I realised, either I am going to stay there for the rest of my life like some people do, or I'm going to discover other parts of fashion that I didn't know.

Margiela is a very specific company with a very different way of working. It's not a classical model like the old houses. I wanted to see the other side, the more corporate side and the luxury product, because Margiela, for me, wasn't really a luxury product, it was more investigative fashion rather than about the product itself.

BoF: Let's talk about that moment, when Vetements was first seeded.
DG: It was conceived basically between me and a couple of my friends. We would meet and share our opinions about the industry and what was going on, and what we agreed on and didn't agree on. The pre-collection, the collection, all the things that we had to do. We thought the same way and shared [something] aesthetically as well, so we thought, why don't we put something together in our spare time?

BoF: What do you think of the fashion system today?
DG: What is not working is the fact that there is no relationship between the creative vision and the commercial vision. I think they are very separated, yet they are very dependent on each other, because the commercial vision needs to pay for the creative vision's existence, in a way.

This dependency creates an unbalanced relationship because the market dictates what creativity needs to do, in order to sell. It tells you we need so and so, five trousers, and 10 dresses — we need this and that. All of this information comes from commercial teams and merchandising. It's like you have a blank sheet or a collection plan you have to fill out every six months that was given to you by some commercial person, who based their research on previous seasons or on competitor brands that have nothing to do with you.

BoF: How is Vetements responding to these various challenges?
DG: We are still trying to figure out our way of doing things. From the beginning we agreed that we would only produce two collections a year and we would not engage ourselves into making pre-collections.

At the same time we had to confront fabric deliveries and the whole production chain from having a thread, weaving it into a fabric, making a pattern, making a garment out of it, putting a label on it and selling it to someone. This whole thing is the biggest challenge to us as a young brand.

So going forward, at Vetements we are shifting the seasons and not showing during the main season, but only showing our main collection during the pre-collection timing in June and January, which for us would solve a lot of issues in terms of production cycle.

BoF: When will you start working this way?
DG: This season we are doing it as usual and we're going to show in the beginning of March. We are introducing a men's collection as well. Due to our aesthetic that has a very masculine origin, we have a lot of male customers that buy our clothes, which are not really made for male customers. We are fitting on girls, we've never fitted clothes on guys before. At the end of the day, we decided to do it at the same time as women. So we are going to have a show that is half/half women and menswear. But we are going to show it in March and then the next season will be a big challenge for us, which is a traditional season, and the challenge will be to make the collection in three months to meet our target to do a show in June.