The Story and Conflict Behind Supreme's Upcoming Campaign with Morrissey
The two disagreed on things involving photography, Morrissey's nephew and surprisingly, fast food.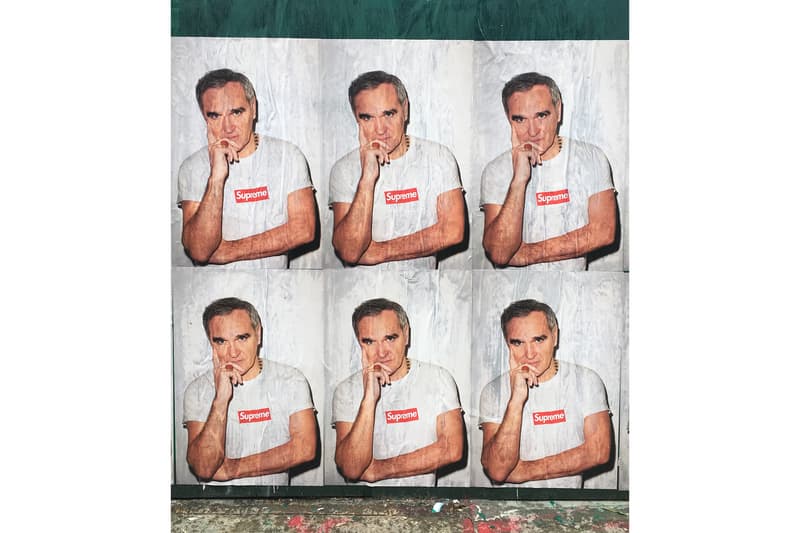 As many have discovered already, the face of the next Supreme celebrity campaign is none other than The Smiths frontman Morrissey. A pioneer of rock and pop, Morrissey's music has entertained and delighted fans for decades all over England from where he hails, to America and eventually all over the world with power ballads like "There Is a Light That Never Goes Out," "Panic," "Girlfriend in a Coma" and "This Charming Man."
While the partnership marries pop culture with streetwear perfectly, a representative of Supreme claims the agreement did not go as planned, as Morrissey and Supreme did not quite see eye-to-eye on the campaign. HYPEBEAST has received an official statement on the incident, and the following is a summary of the events that transpired.
According to Supreme, in July of 2015 the project to have Steven Patrick Morrissey appear on Supreme's posters and t-shirts was initiated, with full details explained to Morrissey including the look, setting and photographer (Terry Richardson). Reference photos were sent to Morrissey, of whom required a substantial fee that was paid in full by Supreme; and thus the project was underway. The photoshoot lasted two hours with posing determined by Morrissey, all while under an agreement that he could not 'unreasonably' withhold approval of the use of the shots during the session.
Supreme then offered Morrissey several options of images to use from the session, but Morrissey rejected them all with no clear reasoning. Instead, it seems Morrissey wanted a self-shot photograph that he had taken with a provided Supreme T-shirt for use in the campaign and was ultimately made public by his nephew on Instagram.
Unable to use this photo, Supreme offered alternative options towards resolution: 1) to re-do the entire photo shoot at Supreme's expense, 2) to select one of the many options from the Terry Richardson shoot, or 3) to return the money that was paid to Morrissey by Supreme. It seems these options were still unsatisfactory to Morrissey as he repeatedly ignored all options.
The conflict didn't end there; as time went on, Morrissey asserted 'a sudden and ridiculous claim' that because Supreme had previously worked with fast food chain White Castle, the agreement was terminated; Morrissey is a well known advocate towards vegetarianism. Supreme thus again requested the return of the payment to Morrissey in an attempt to part ways and walk away from the campaign, to which Morrissey refused. After further attempts to resolve this issue, Supreme was left with no other choice but to publish the images as per the agreement with Morrissey.
Morrissey added a statement to his website where he had this to say:
I apologize enormously for the enfeebled photograph of me issued this week by Supreme. The shot was taken in October 2015. I considered the photograph to be fit only for a medical encyclopedia and I pleaded with Supreme not to use it. This was before I learned that Supreme were sponsored in part by the beef sandwich pharaoh known as White Castle. Supreme were issued with a legal caution not to use the photograph and their fee would be returned. Evidently Supreme have ignored my lawyer. No safety within the corridors of law. Ugh.

I offer excessive apologies for this association. Shame is indeed the name.
Stay tuned for more information and an official preview on the upcoming Spring/Summer 2016 collection, including the reluctantly resulting campaign between Supreme and Morrissey.