POLLS: Which Supreme Celebrity Campaign Is Your Favorite?
So many have donned the red box, but who did it best?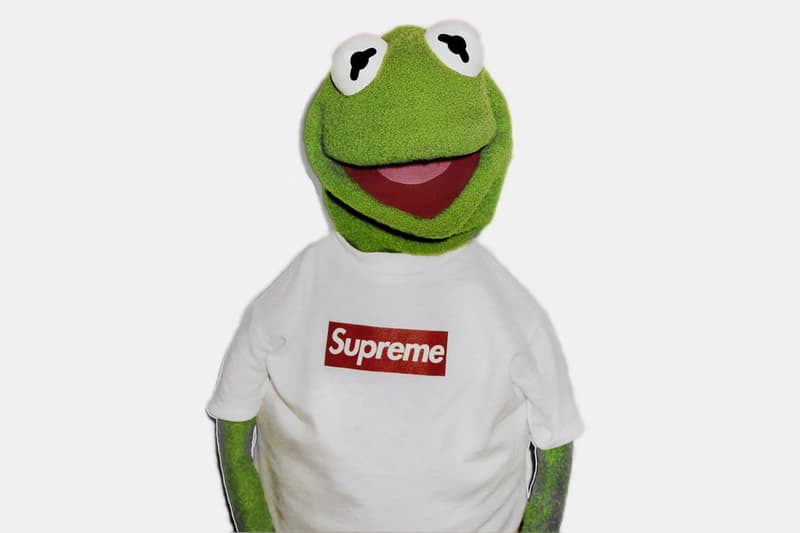 It goes without saying that Supreme has a storied history of collaborations: be it with sportswear giants like Nike; contemporary artists like Damien Hirst; industrial design brands like Braun; or filmmakers like David Lynch and Harmony Korine, the downtown Manhattan powerhouse has built and maintained strong creative ties across all areas of culture. But some of Supreme's most memorable and resonant collaborations to date have been those that stepped outside the bounds of streetwear, fashion, and design, tapping pop cultural icons to expand the brand's visibility and influence. For reference, campaigns usually consist of a poster and photo t-shirt featuring a celebrity rocking the brand's signature box logo design. The posters are then glued to walls, scaffolding, and mailboxes; the tees are always some of the most ravenously desired pieces in every collection. Occasionally, the brand will release behind-the-scenes videos and tidbits for fans to pore over online. These are the closest thing that Supreme comes to advertising in the traditional sense of the word.
So when news broke of The Smiths frontman Steven "Moz" Morrissey's conflicted involvement in Supreme's upcoming spring/summer drop, HYPEBEAST took a look back on some of the skate-shop's best endorsements, campaigns, t-shirts and photoshoots with A-listers of all walks of life, from rappers and supermodels to Muppets.
Without any further ado these are Supreme's Top 10 celebrity campaigns, as chosen by HYPEBEAST, in chronological order. Which is your favorite? Vote in our poll down below.
Raekwon & Elmo, 2005

Supreme's first photo tee featured Wu Tang Clan founding member Raekwon the Chef, his bodyguard, and none other than Elmo, all shot by photographer Kenneth Cappello. The juxtaposition of a rugged rapper and his strapped-up bodyguard alongside a cherished childhood toy is a perfect tableau representation of Supreme's brand identity— playfully subversive, risque and yet instantly recognizable, not to mention plenty of braggadocio.
Dipset's Jim Jones & Juelz Santana, 2006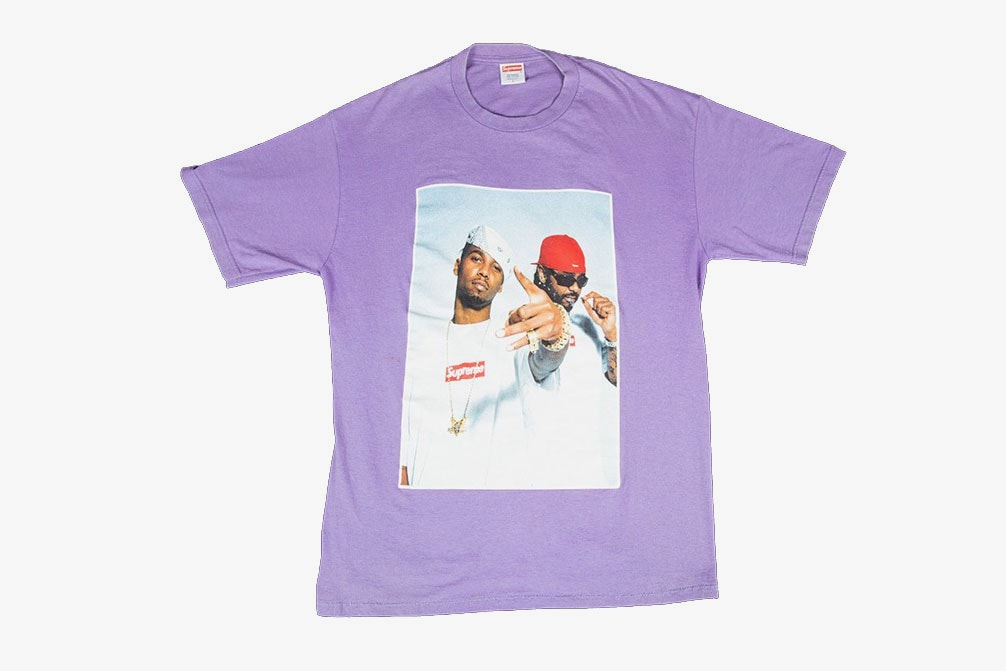 Supreme may be a decidedly downtown fixture, popular as it is amongst teens and skaters that frequent its SoHo location, but the brand is definitely popping way beyond Houston Street. Case in point: the 2006 Dipset campaign, featuring Jim Jones and Juelz Santana (and his signature bandana headband). Supreme had the vision not only to tap Harlem's Finest for its campaign, but deciding to eschew Cam'ron for local street favorites Capo and Juelz reflected a patrician street sense and an ear that remains pressed to the concrete to this day.
Mike Tyson, 2007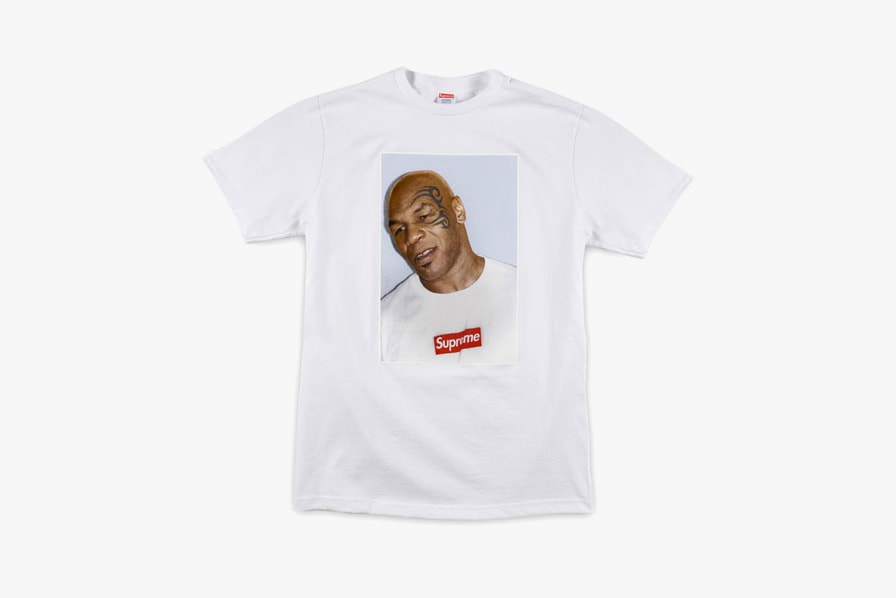 "Iron Mike" Tyson's photo tee is one of Supreme's most coveted, and for good reason: the simple, stark portrait of the boxer showing off his instantly-recognizable facial tattoo is timeless. Additionally, Tyson contributed a short video of himself sparring and a video where the boxer speaks on how he never understood graffiti growing up in New York to the brand's 2007 collection campaign.
Kermit the Frog, 2008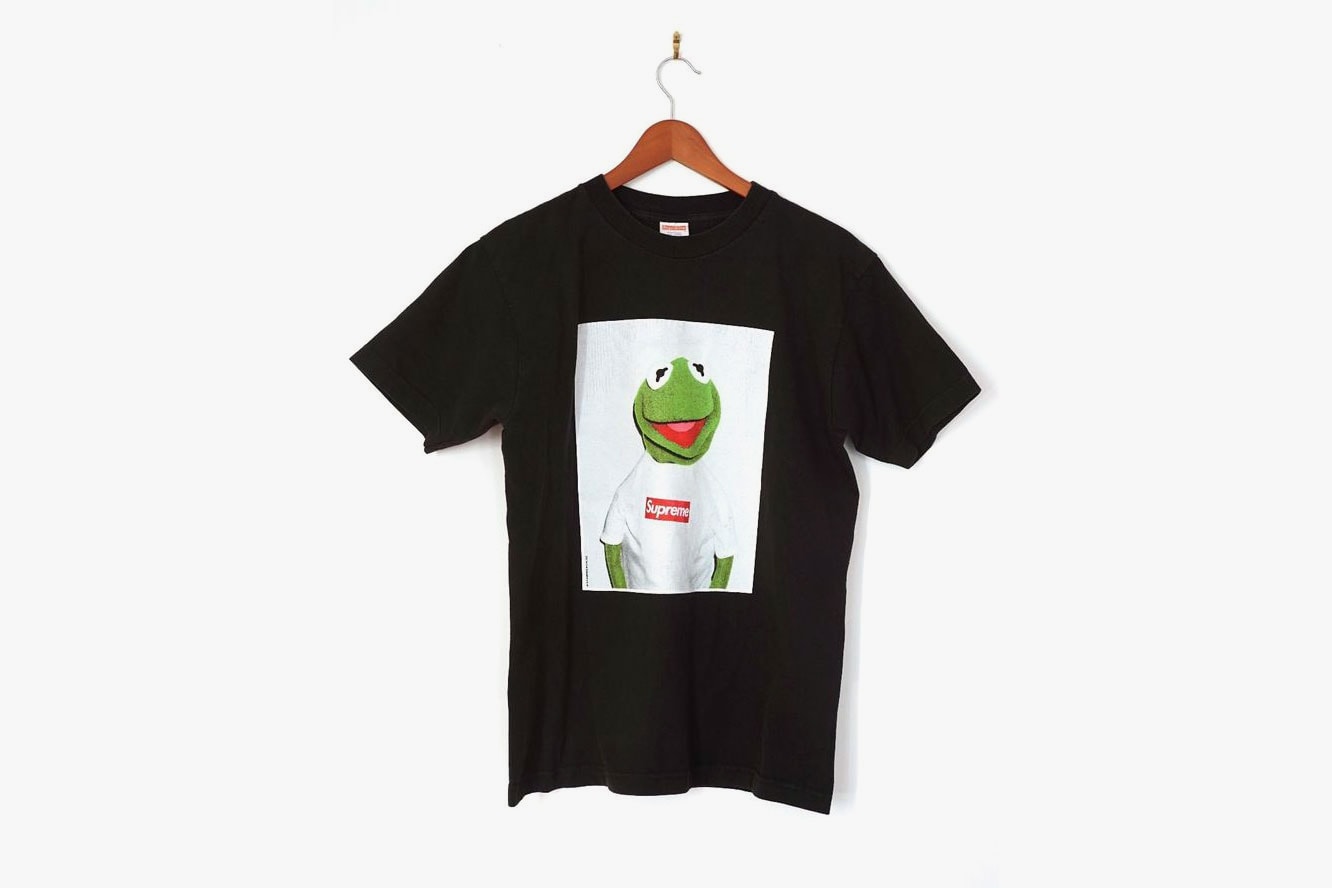 Arguably the most infamous of Supreme's celebrity co-signs, Kermit the Frog was definitely a huge land for Jebbia and co. Once again, Terry Richardson shot the Muppet's portrait, which ended up stuck to every flat surface below 14th street. The T-shirts are prized possessions, and for good reason: there are few other products in the skate-shop's storied archive that better reflect its sense of playfulness, youth, and humor.
Lou Reed, 2009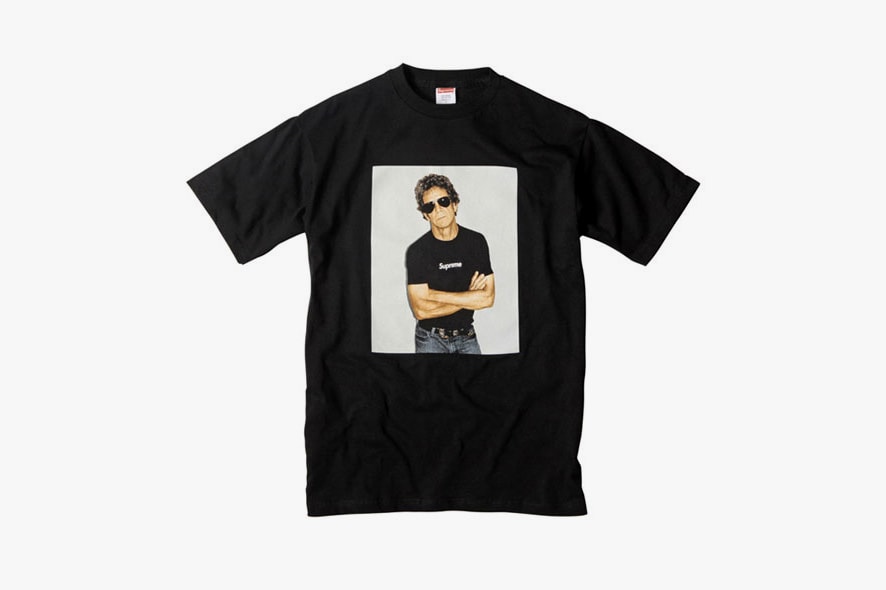 The late, great art-rocker and founding Velvet Underground member possessed the kind of downtown cool that defied explanation—you either get Lou Reed or you don't. The same could be said about Supreme. Reed's standoffish posture and what-do-you-want look, as captured by Terry Richardson, made for another instant sell-out photo tee and another successful poster campaign.
Lady Gaga, 2011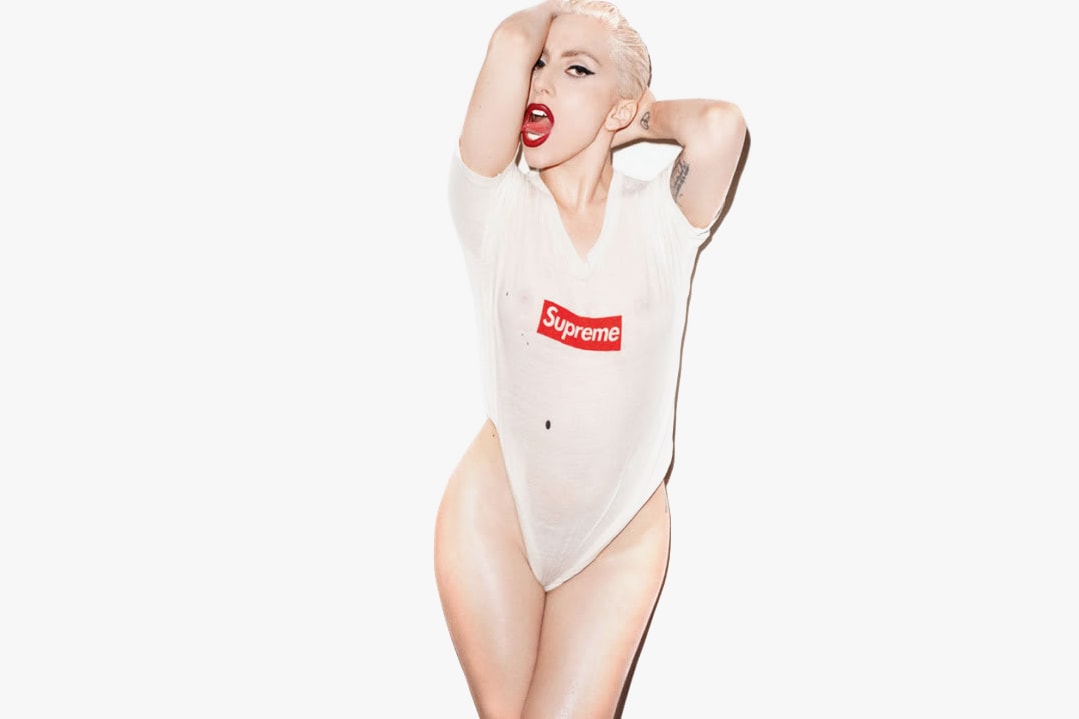 Mother Monster was at the peak of her powers in 2011 and Terry Richardson's steamy photoshoot and resultant campaign—which showcased Gaga clad in little else but a soaked box logo tee— was nothing if not instantly iconic. While no t-shirt was produced from this campaign, Richardson's lurid shots of Gaga ended up wheat-pasted all over downtown New York and proved to be an instant hit, in both branding and guerrilla marketing terms.
Prodigy of Mobb Deep, 2011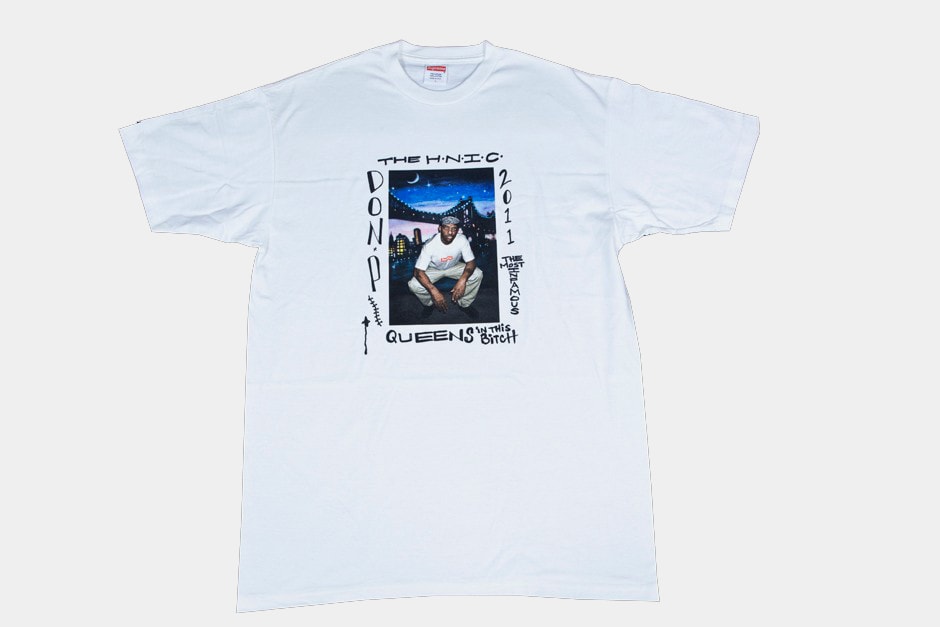 If nothing else, Prodigy's Spring/Summer 2011 photo campaign was proof of Supreme's NYC roots: the tee features the Mobb Deep rapper in rap-squat position in front of an airbrushed background, complete with graffiti hailing Don P and Queens above all else.
Three 6 Mafia, 2012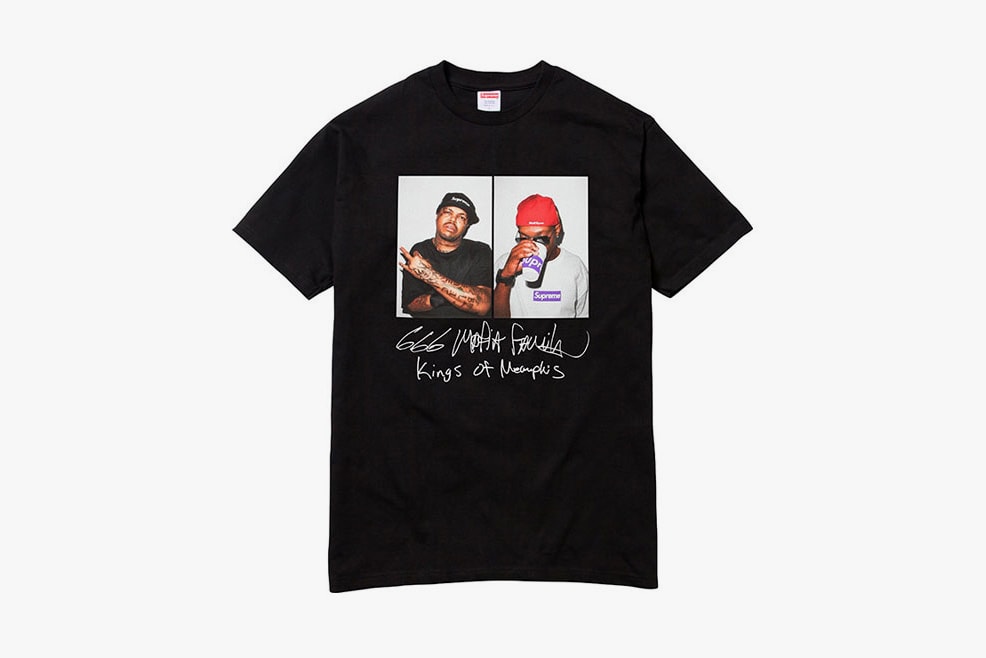 Supreme has always had hip-hop's swagger and street sensibility in its DNA, so a collaboration with Memphis rap's godfathers and Academy Award winners Three 6 Mafia came as a match made in heaven. In addition to a much sought-after graphic tee featuring DJ Paul and Juicy J in full Supreme regalia (including a box-logo double-cup), the group also contributed a smoked-out video teaching viewers a chicken wing recipe.
Kate Moss, 2012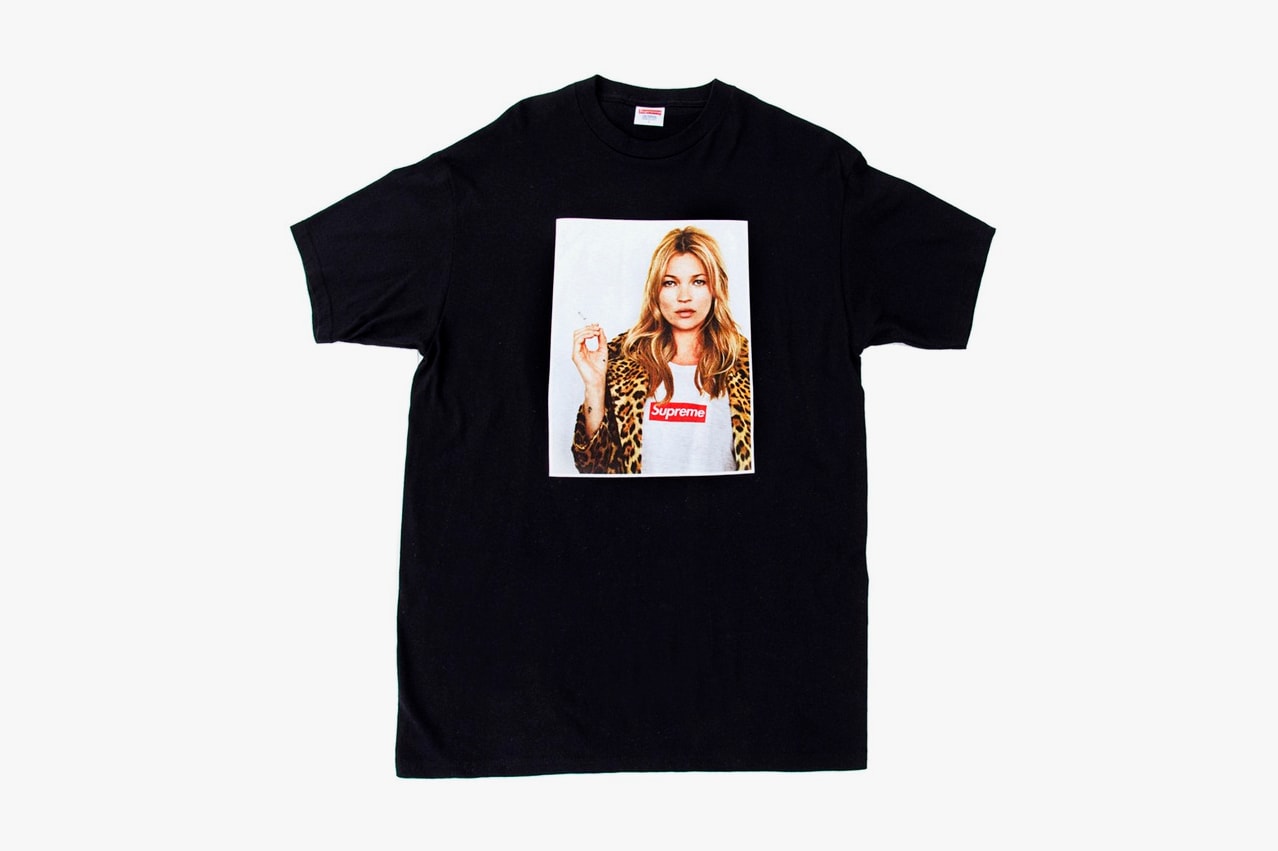 Supreme has a complex relationship with Kate Moss: the brand once flipped a Calvin Klein ad that featured the UK supermodel for a t-shirt, only to incur legal threats from the CK empire; then, in 2012, the brand managed to land Moss for a photo tee and poster campaign that was become part of the streetwear giant's canon. The supermodel thus has helped create one of the most attractive campaigns in the brand's extensive history.
Neil Young, 2015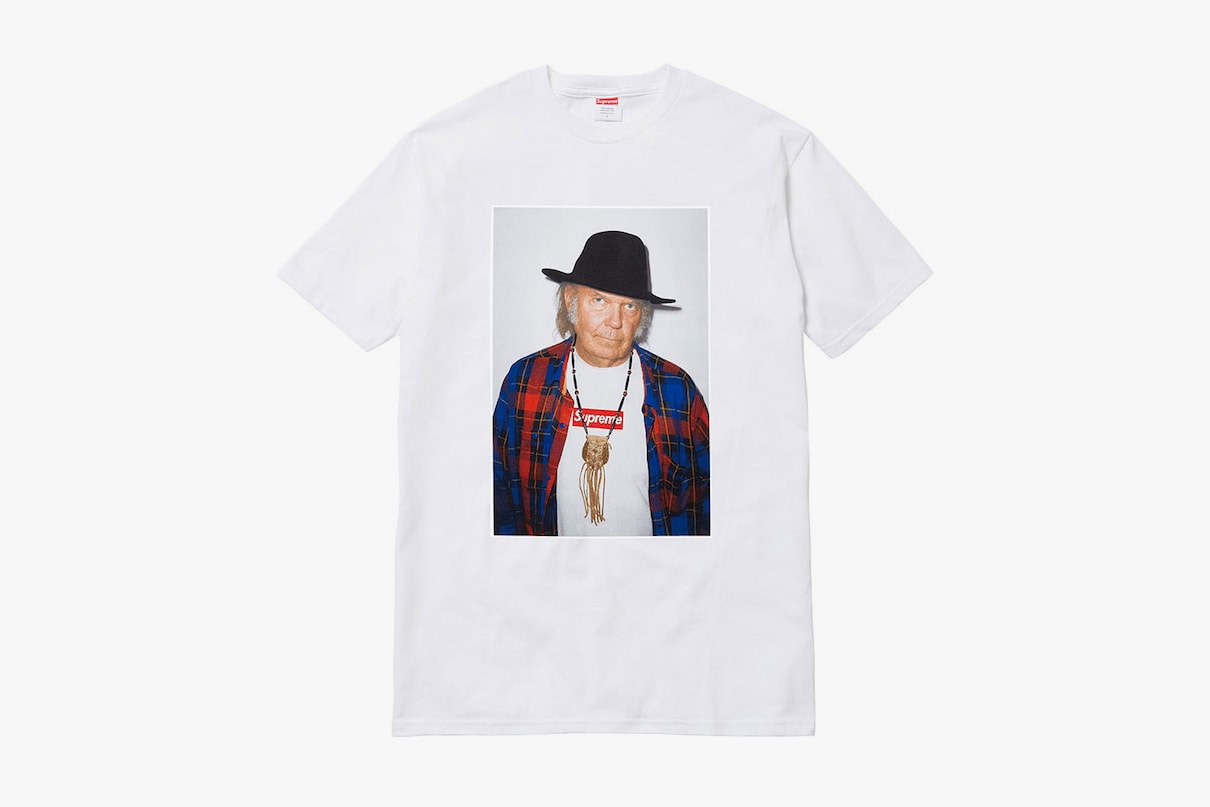 Neil "Not-So-Young-Anymore" Young's Supreme campaign seemed almost as a rebellious act; Jebbia's brand had been so hip and so hot for so long that a left turn seemed risky, yet oddly appropriate. And it worked. The grizzled rocker's 'get off of my yard' scowl had kids who had never heard of "Heart of Gold" queuing up around the block. The campaign's posters were torn down and resold on Grailed for almost $60 USD. The interview the brand conducted with the rock legend is also as insightful as it is goosebump-inducing.
Poll
Which Supreme Celebrity Campaign Is Your Favorite?
Raekwon & Elmo
Dipset's Jim Jones and Juelz Santana
Mike Tyson
Kermit the Frog
Lou Reed
Lady Gaga
Prodigy of Mobb Deep
Three 6 Mafia
Kate Moss
Neil Young