Heron Preston on Abandoning Nike for Yeezy Season 1
The king of the modern bootleg opens up.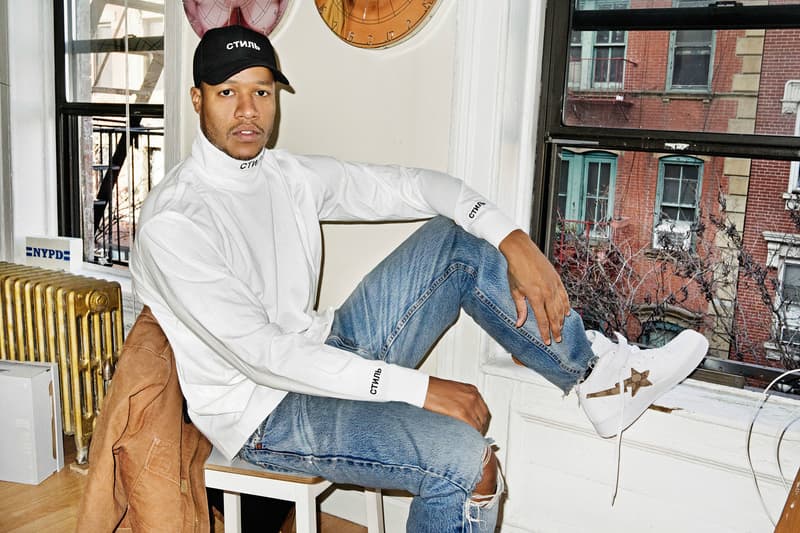 Bootlegger-turned-Creative Director Heron Preston sat down with Amuse earlier this week to talk about his sought-after copycat designs, his beginnings with the #BEENTRILL DJ collective and how Kanye helped him transfer from Nike to helping out on Yeezy Season 1. Check out the snippet of interview below and head here for the full thing.
You've come a long way since we put on #BEENTRILL's first DJ gig at Le Baron in 2012 – how long have you been working on the concept store?

I know! Man, that party was wild! I lost my phone mid-crowd-surf! I've been working on setting up this new concept store for the past year; I figured I'd stop jerking around with one-off product drops and have a destination for people to shop new ideas.

What kinds of products do you stock?

The Russian turtleneck and hat, the Narcotics t-shirt and the Street Sweepers were made by me. The dartboards are made by Bowery Bob. Moving forward this site will feature an on-going curation of objects and interesting ideas by my friends and people I discover. Next up will be a series of NYC Tourist inspired shirts I made in collaboration with NYC based artist & designer, Alex Lee.

Do you consider your bootlegs as a clothing line or an art project?

An art project – I never wanted to be a fashion designer. I just wanted to make ideas and release them whenever I wanted.

Making it an art project must help you avoid legal action on appropriation right?

Yes definitely. I am not trying to bank on some illegal shit. Everything I do in this realm is super limited and never ever done again. It's more for fun, to help people dream. It's just an expression. I like to raise questions and challenge ideas. I also learned people love things they are not supposed to have.

Do you think a logo can be subverted?

Yes I do. It's 2016. New Rules. New Meanings. "It's my logo now!" type of mentality. You can take something out of its context, give it a different meaning and it's new again, and this is the time to do it.

How did you start working with Kanye?

I met Virgil on the internet back in 2004 or 2005, because we both had really cool blogs and that's how we found each other, by blogging! [laughs] (What a silly word, 'blog'.) I used to work at this restaurant in New York, and Virgil came to eat there with his friends one day. He walked past me, and recognised me – that's when we finally met in person. Shortly after that I met Kanye. Fast forward a couple years to me working at Nike; I wasn't happy there and Kanye knew that. He also knew I was talented and he liked my work. So one day it kind of just happened while I was on the phone with him he asked me to come work on Yeezy Season 1 in LA, and that was my first project.