'F*ck Cozy Boys' - HYPEBEAST Mix by A$AP Mob's Cozy Boys
J.Scott and Lou share unreleased cuts and hits from YG Addie, Gucci Mane, Kodak Black & more.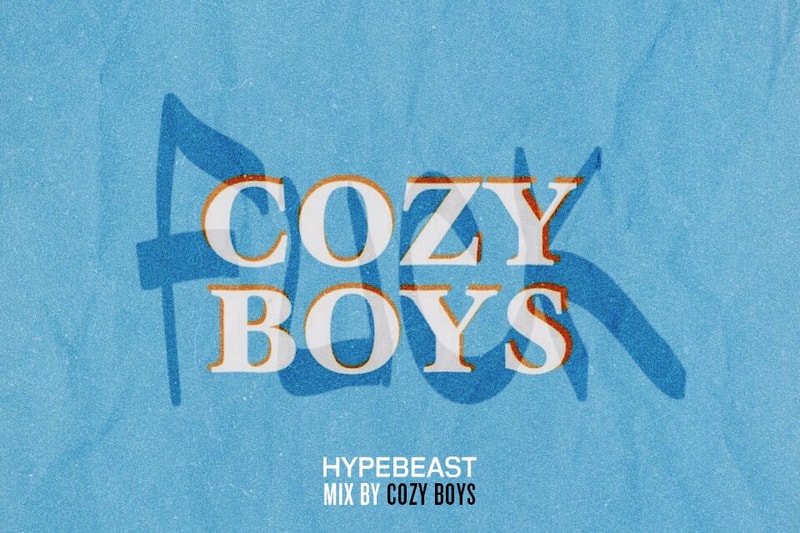 The Cozy Boys was started in homage to Mob member A$AP Yam's luxuriate lifestyle, where extra comfortable loungewear and a pastime getting merry go hand-in-hand. With J.Scott and A$AP Lou at its helm, the ASAP Mob DJs continue to spread the late Mob member's ethos, touring the world in relaxed sweats, fur and robes, and playing exclusive cuts and unreleased A$AP gems at festival arenas to greenrooms and underground haunts.
Following an impromptu jam-packed Christmas day house party in the Hills where Diplo and A$AP Rocky dropped by to celebrate, we caught up with the Los Angeles-based duo to learn more about how they've been spending the Christmas holidays, what went into creating the The Cozy Tapes Vol. 1., in addition to the track selections for their HYPEBEAST Mix — recorded during a very relaxed studio session in Atlanta — which features numbers from Vince Staples, Marty Baller and Gucci Mane. Follow @thecozyboys Instagram to stay updated with the DJs.
What was the creative process like putting together The Cozy Tapes Vol. 1?
Lou: The main blueprint for The Cozy Tapes was something that A$AP Yams left with us. The creative process was fun, all the artist feature are like family to the mob so it was always a good vibe.
J.Scott: All credit to the Mob for really holding it down and making it happen.
Can you tell us a bit about the track selection for this mix? What are some of the tracks you've featured and why?
J.Scott: It's a little random and it's just more so what was felt like at the moment while we were in the studio collectively in Atlanta working. It was pretty much freestyled. The mix features Mob songs, 24hrs, Westside Gunn to classic movie skits.
Who's the coziest person dead or alive?
Lou: Eastside Stevie A$AP Yams a.k.a the Puerto Rican R.Kelly.
How will the Cozy Boys continue to spend the holidays?
Lou: Very relaxed, I might just sit on the couch all day with a cup of hot coco with the little marshmallows in it and watch the TV channel where they just show a fireplace for 12 hours.
J.Scott: …while listening to Motown Christmas tunes.
What's been the most turnt A$AP x Cozy Boys party?
Lou: There have been a lot, our 2015 SXSW house party was crazy, we had a chef cooking oyster tacos and the next day the people we rented the house from sent me a email with screenshots from all the mob members' Twitters n Instagram. They were freaking out over how many people come to the party.
J.Scott: R.I.P the homie Gark, we came together with him to make that party happen.
Best album of 2016?
A$AP Mob Cozy Tapes Vol 1.
F*ck Cozy Boys – HYPEBEAST Mix by A$AP Mob's Cozy Boys (Tracklist)
A$AP Mob - Crazy Brazy ft. Key!
24hours – All the time
Picothaplusman – Dreaming
Danny Brown – Pneumonia
YG Addie – Fiances
HoodRich Pablo Juan & Drug Rxch Peso – Trap Nigga
Nebu Kiniza – Gassed up
Vince Staples – Prima Donna Ft. A$AP Rocky
Westside Gunn – SummerSlam 88
A$AP 12vy & DA$H – Motivation
Half-A-Mil – Workin
Marty Baller – Inferno
KEY! – New Money
Smoke Dza – 1 of 1
Ab-Soul – D.R.U.G.S
CosaNostraKidd – Slick
Gucci Mane – Stutter
2 Chainz – Big Amount Ft. Drake
Jay Critch – Did it again
Shy Glitzy x Fat Trel – Checklist
Kodak Black – There he go
If you like what you hear, head over to HYPEBEAST Mix by Toro Y Moi – Life's Better at 95 for more good music.