Life After Odd Future: Hodgy Discusses Fatherhood, Reincarnation, and the Inner Creative Struggle
An honest conversation with one of Odd Future's pioneers.
While slowly brewing amongst the internet's most loyal for years, Odd Future's sudden explosion into the eye's of the mainstream came with a swift left jab that paralyzed American living rooms during a haunting performance on Late Night with Jimmy Fallon in 2011. The group's narrative was an unapologetic, no-holds-barred approach to teen angst that propelled a collective of young, eclectic personalities into the limelight and kick started an unprecedented run that arguably shifted the paradigm of internet-driven hip-hop.
As one of the group's pioneers, Gerard Long (then known as Hodgy Beats) reaped a wealth of rewards, of both the mental and material variety, yet as he explained during our conversation, it came and went just as quickly as it arrived and left many more questions than answers following the group's uneventful and unofficial split.
During a period of soul searching that spanned three years, the New Jersey native battled personal demons, while on a quest to feed his own individuality and develop a distinctive sound that laid untapped under the shadow of Odd Future's heavy success. On the eve of launching his debut album, Fireplace: TheNotTheOtherSide, I sat down with Hodgy for a little insight into self-discovery, how fatherhood inspired his imagination as an artist, and the inner struggle of a creative battling the pressure of expectations.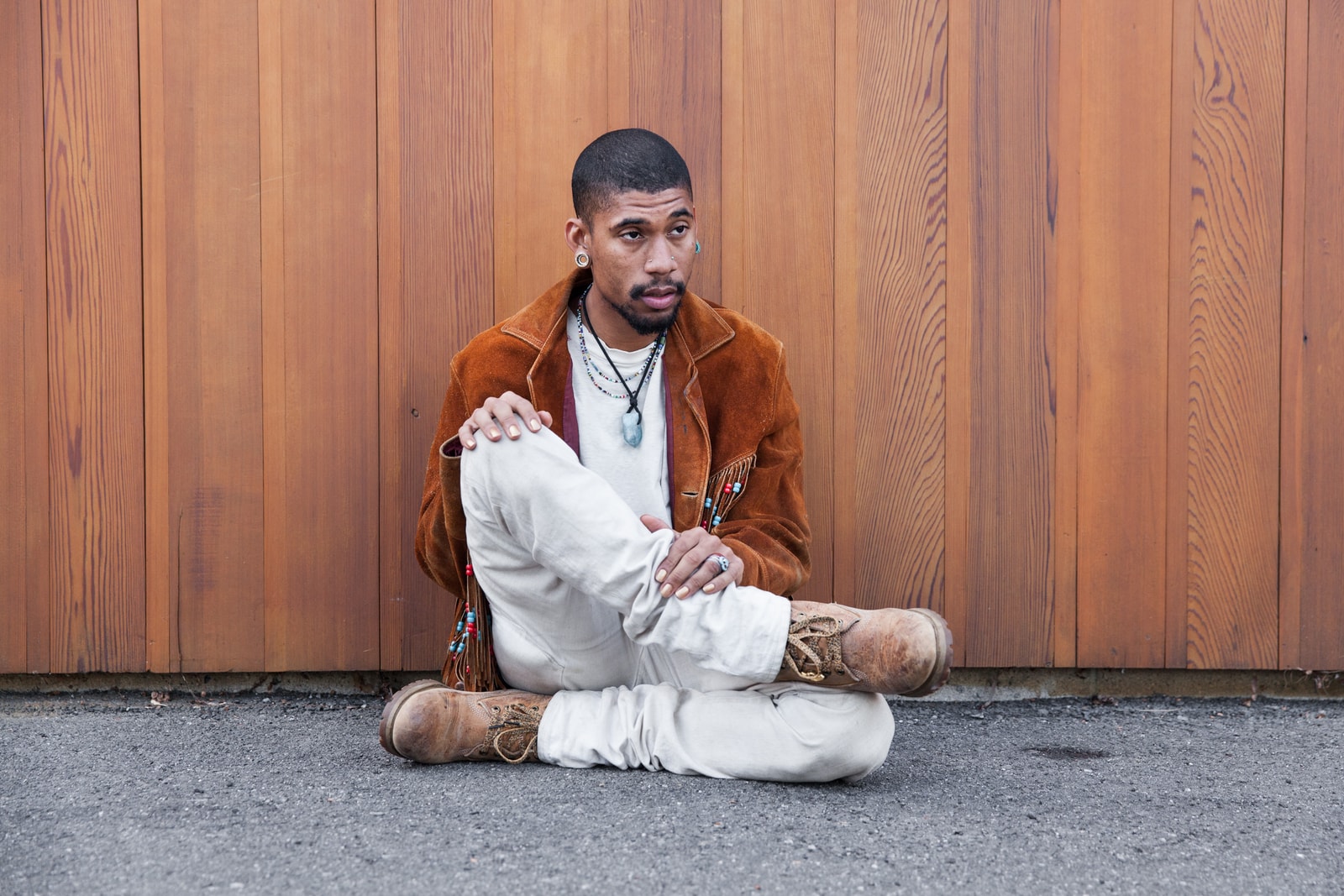 I read in an interview that you started rapping at 6. How were you as a kid?
I was a bit of everything. When we're adults, we begin to classify what we are. I had a lot of family around when I was younger, a lot of cousins. I have about 60 cousins, so I was definitely outgoing, but as an adult I can say I'm introverted, yet still outgoing. It all depends where my head is.
Kids tend to have this beautiful sense of imagination and creativity. How does your son inspire you as an artist?
How free he is definitely inspires me to break away from the shackles and find new ways of expression, because what they [kids] do is pretty much effortless. They do things without trying. I try… see, I just said the word "try." Oxymoron. I try to keep the word "try" out of my vocabulary because trying sounds like an excuse, instead of just doing it.
I watch my son make a lot of art, color and honestly I've become a part of that in his life. It's definitely broadened my view on things that are complex; how to simplify them.
I've only been listening to the album for a day and a half, did your son have some cameos in it? I thought I heard a little something.
(Laughs) couple of little sound bites. I was at the park, in the back of an Uber truck. Sometimes I just press record and I'll even forget that my phone is recording. I'll look at my phone and be like, "Shit, it's been recording for three hours, but there's something in here!" There's magic in those moments that you can never get back. So I just press record. Things are natural. Never forced, or staged. Everything is at hand with me lately.
I know Fireplace was a project three years in the making. As a writer I tend to put certain stories off for long periods of time and then a light bulb goes off one day and I get to them. Was this album something you worked on piece by piece, or did you have a major revelation?
It was a little bit of both. Piece by piece naturally, but I did so much fighting, internally. These past five years of my life have been intense. I was on a search, not so much for who, but what I am. Whatever you put out in the world definitely comes back. I'm a firm believer in karma, and evolution and change for the better. So, cool, let shit get really fucking bad before it gets good, as long as you can withstand the battle, cause if you can't, you'll be in the depths. Nobody wants to be there. It's always gonna be a fight, and you're gonna lose if you have no faith.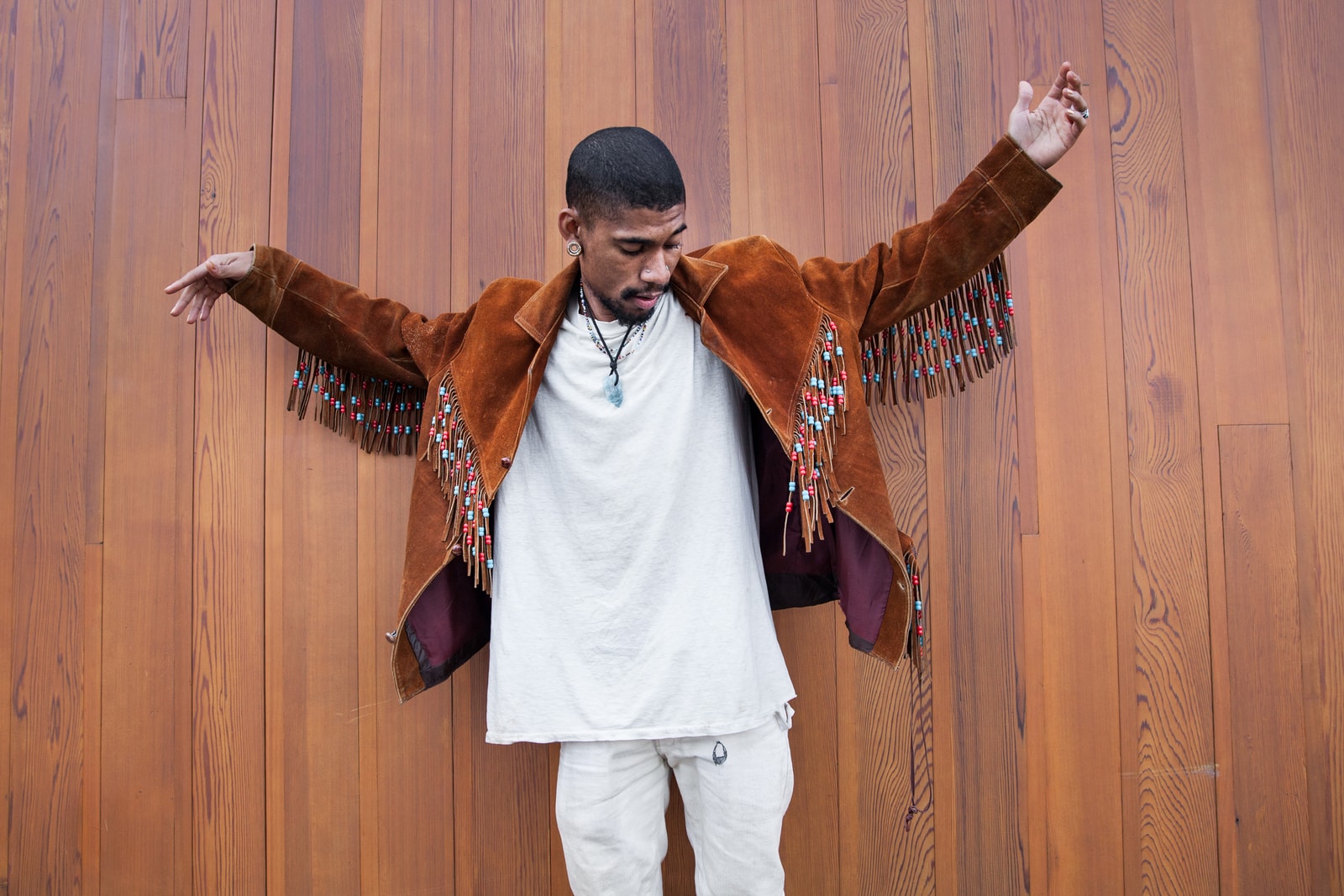 Was part of that battle pressure to succeed?
I felt a lot of pressure. I'm one of the pioneers of the collective [Odd Future]. I tripped out today, because my brother (we were texting) just got to Oregon and he was like, "Yo, it's crazy, but there's seven letters in OFWGKTA (Odd Future Wolf Gang Kill Them All) and G is the middle one." He's like, "You're the glue."
I just didn't know where the pressure was coming from and honestly it was all coming from self. I was definitely invested in the crew more than I was in myself, and it showed. Waking up and looking in the mirror, going outside, being around a group of people, and giving them the energy that I felt, that I really wasn't trying to project, but it was just there. I'm the type of person that wears everything on my sleeve, so everyone is gonna know how I feel, whether I say it or not. I can't hide it.
I'm a realistic dreamer I'd say. A lot of the things that I feel or dream about definitely come to life, or has been alive already, in my world at least.
"I was definitely invested in the crew more than I was in myself, and it showed."
It's always internally, huh?
Yea, it's a big, walking, fucking battle. Like, "Bro, what is that thing walking over here?" "I don't know, but maybe we should go the other way cause that's shits heavy." We don't know how to deal with it, because he doesn't know how to deal with it. It's like a domino effect, so I just began to hang out by myself, and with my family and my son. Me and Trenton [my son] are inseparable, so even when we separate we're still connected. Like before I go to sleep, if I'm thinking about him, there's no doubt in my mind that he's not not thinking of me at the same time.
I can't be with him all the time, so the fact that I was home for these 3 years and we built this bond, like pure happiness, without money or things to shadow what really matters. I feel like I can go out in this world and do some work now that I've worked on myself and a lot of relationships with people that I love. I'm not saying every relationship is on the up, but I believe in time being a big healer. Time gives us explanation. I'm just open to everything, as of now.
I felt this sort of rebirth vibe when watching the "Barbell" video. Was that the thought process behind it, or am I way off?
Naw, you're on. I'm living to live again, forever. In this world we only die once physically, but reincarnation, that shit happens while we're here, alive. Our souls definitely die and turn into something else.
So just the fact I'm going fishing and normally when you're hunting you kill something. Who knows if you're gonna eat it, or sell it. I let the fish go. It's just food for thought, without words. I'm definitely searching for something in that video.
Where'd you shoot it?
We were somewhere on the borderlines of Princeton, on the East Coast. I had just left my uncle Tony's house. I hit my cousin Chris up, like "um, I'm trying to shoot this video, but kind of don't know where I'm shooting, but I want to fish and shit. Can you take me out?" So he found a spot, we changed locations last minute, my man Hunter met up with us, and "boom, the magic happened." The not knowing is where all the magic is in life. I caught three fish that day, bro! I was stoked. I never have to fish again in my life (laughs), but I definitely am and will. I want to take my son fishing.
Doing shit guerrilla style is just the best way to live. I'd never caught a fish before in my life, until we shot that video.
I'm living to live again, forever. In this world we only die once physically, but reincarnation, that shit happens while we're here, alive. Our souls definitely die and turn into something else.
You named your son after your hometown. It seems like your environment and upbringing, both on the East and West, have influenced your life significantly.
East Coast lifestyle is totally different than on the West Coast. People might shoot on me for saying this, but back East, I feel no one sells you a dream. Out here, this is like the dreamer's land. You're born into a fucking dream. TV and billboards and different types of foods and cultures. Out there it's pretty much just black and white.
I've seen some of the realest shit as a kid. I've seen one of my aunts hooked on heroin getting beat up by her drug dealer boyfriend when I was 4, this is shit that I remember vividly, you know? You can't say there's something someone shouldn't see I guess, because in this world, we're going to see good and bad, but it's the way you go about it mentally growing up.
There's a lot of dreams being sold out here, with a price on them. Back in the East I feel like you learn what's real early on, so I had to kind of balance that shit out too. We're all dreamers, with our eyes open, and with them closed. The difference is that with our eyes closed, dreams are limitless. When we're awake, we're looking at everyone else's dream.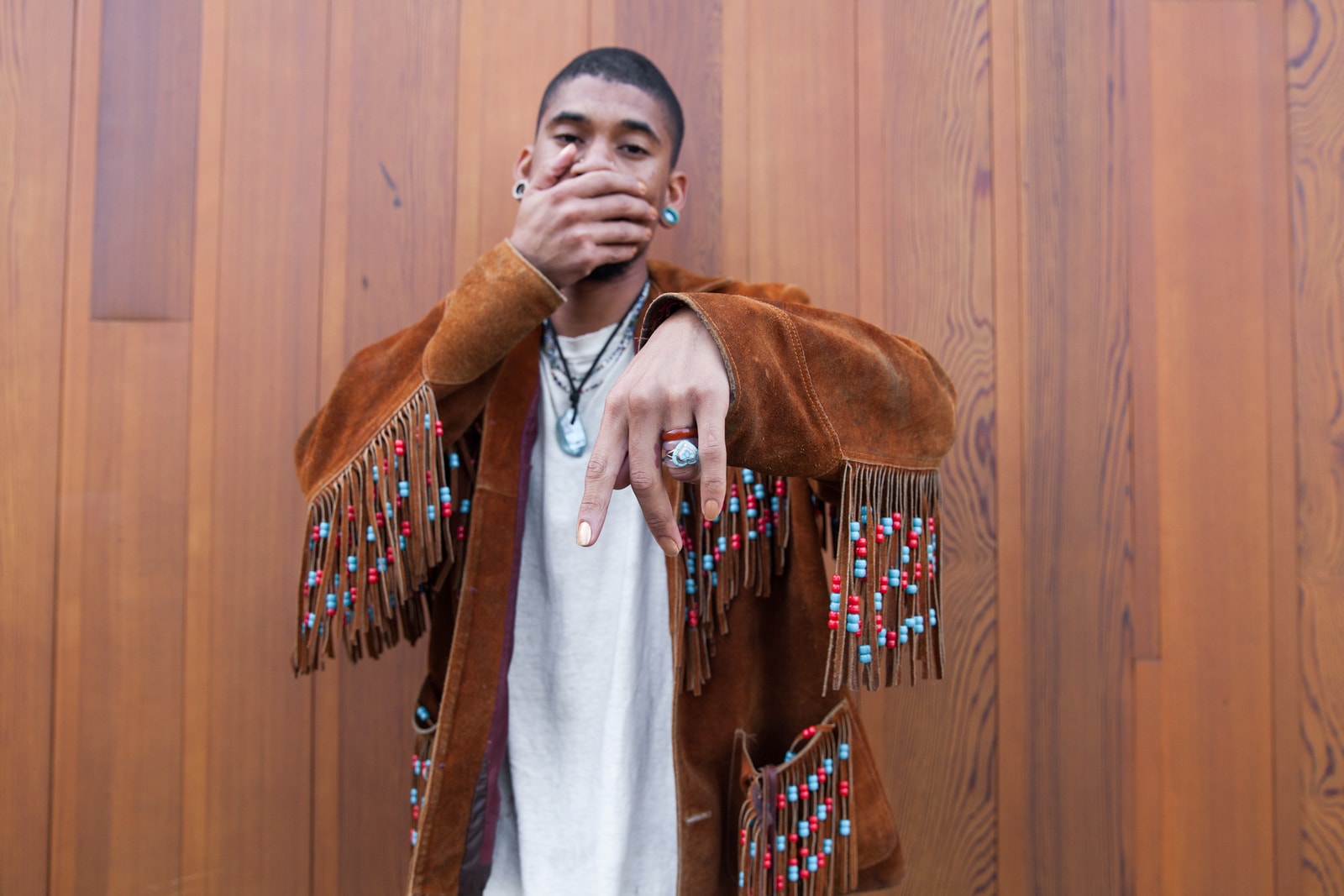 One of those dreams you realized at a young age, when most kids are graduating high school and trying to figure out their futures. What was the most significant life lesson you learned from your time with Odd Future?
Embrace the moment, because I totally didn't. I had key significant people tell me, "You can't get these moments back, embrace this moment." It stuck in my head, but I never allowed myself to embrace the moment and therefore I missed it. So now, I'm just holding on to every fucking thing that's happening. It's kind of crazy. I've been on the verge of tears lately. That shit's gonna happen soon, but it's just about embracing what's here and what's real. It's crazy how the universe has set me up to be alone when this album drops. My brother went back up to Oregon yesterday; one of my good friends, Noah, went to Qatar to see this girl he's pursuing and my son is back with his mom for the weekend, so I'm just like "fuck, I see what this is doing, I see what's happening right now."
I just have to rock with this. It's all about embracing and understanding. A lot of things go misunderstood and that's when they get neglected; slept on. So to be able to elaborate on the things I see and feel, it's a blessing, honestly. I've never been able to do this shit in my life.
It seems like you're finally ready to move forward. Can we safely say Odd Future is in the rear view?
All I know is we started something that was the entrance to the highway of everybody finding themselves. We were all kids; I feel like we're all still kids. When are we ever not children? Oh, cause we're "adults" now? Cause we put a fucking name on it? Cause that's somebody else's dream? I'm a kid, I'm going to forever be a kid. I could be a responsible one and I could also be irresponsible. As long as people are in a good place mentally, I feel like what we started will never end… and that's life.
Stream Hodgy's debut album, Fireplace: TheNotTheOtherSide below.