USA Basketball Chairman Jerry Colangelo Steps Down, Replaced by Former Army General
Retired US Army general and the 18th Chairman of the Joint Chiefs of Staff, Martin Dempsey, steps up.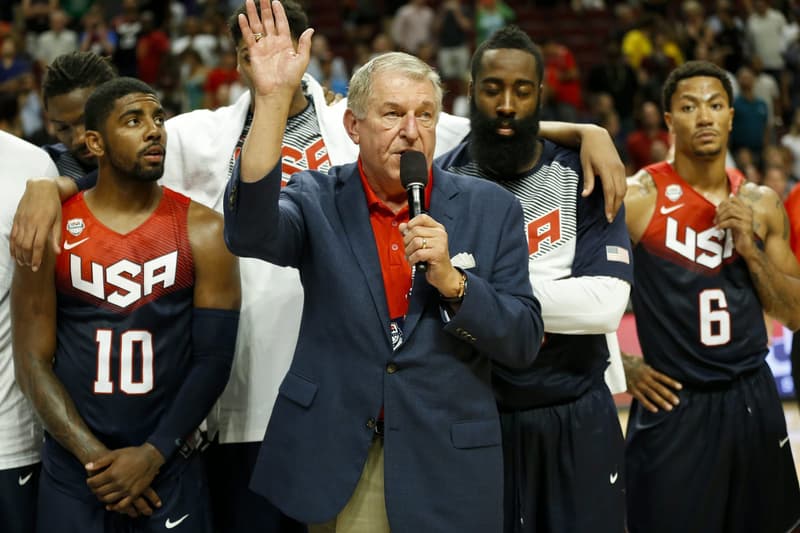 After 11 years, Jerry Colangelo will step down as the Chairman of USA basketball when his second term officially ends later this month. The former coach, general manager, president and owner of the Phoenix Suns, Colangelo joined the USA squad in 2005, a year after the team's poor Bronze showing at the 2004 Olympics in Greece. The two-time executive of the year will stay on to serve as the Managing Director of the USA Basketball Senior Men's National Team through the 2020 Olympics with new head coach Gregg Popovich. Colangelo said in a statement today:
"Given the coaching change and the challenge of assembling a group of players for FIBA's new competition schedule, this is a good time to devote my full attention to the Men's National Team," said Colangelo. "As Chairman of USA Basketball, I'm proud of what our teams at all levels have accomplished and how our players have embraced the responsibility of representing their country. I look forward to working with the next Chairman to ensure that we continue to honor and build on USA Basketball's rich tradition."
While the new chairman will be chosen at the Board of Directors' annual meeting on November 14, Adrian Wojnarowski of The Vertical is reporting that retired US Army general and the 18th Chairman of the Joint Chiefs of Staff, Martin Dempsey, will take over the forthcoming term. NBA commissioner Adam Silver hired Dempsey as a consultant in October 2015, and he has since served as the chairman of the Junior NBA Leadership Council.
As the new chairman, Dempsey's focus will be on the business and relationships of the national team's programs, including cultivating partnerships within the NBA and NCAA.
He'll have his work cut out for him however, as the men's national team has gone 88-1, winning Olympic gold medals in 2008, 2012 and 2016 under Colangelo.