10 Greatest Crossover Battles in Cinematic History
In anticipation of 2020's 'Godzilla vs. Kong.'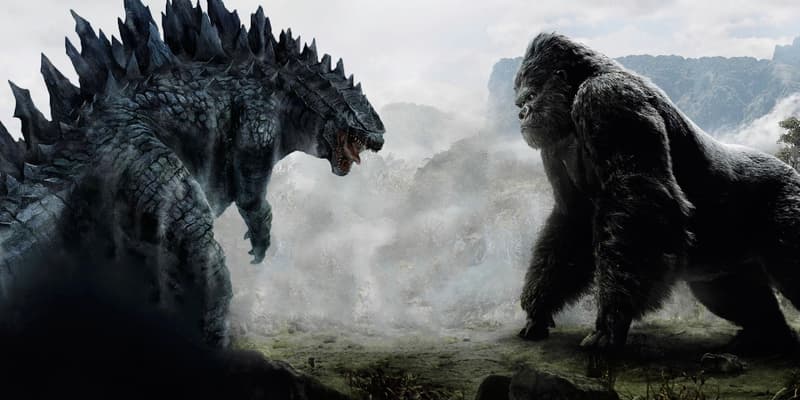 Last week, Kong: Skull Island released its new trailer, which showcased a group of researchers and soldiers colliding with Skull Island's plus-size carnal offerings. The King Kong series has been rehashed many times throughout the history of cinema but something is strikingly different this time around. Instead of the 25-foot-tall Megaprimatus Kong as portrayed in Peter Jackson's 2005 rendition or the 50-foot-tall gorilla in the original 1933 version, the King of 2017's Skull Island is much, much bigger. The exact measurement figures haven't surfaced yet, but the latest trailer depicts a Kong that puts up against the 350-foot-tall Godzilla in size. And this makes perfect sense: the two legendary fictional beasts are set to collide in Legendary/Warner's forthcoming crossover film in 2020, Godzilla vs. Kong. 2014's Godzilla and Kong: Skull Island are the first two films of the Godzilla–Kong crossover film series.
Fictional (and sometimes non-fictional) crossovers has always been popular. It's impulsive for fans to want to pit their favorite superheroes, protagonists or villains against characters from another series who embody comparable strength and physical feats. The demand for crossover battles are so great that there are even high-budget YouTube channels dedicated to these "what-if" showdowns, like ScrewAttack and batinthesun. Crossover films are not a new concept in cinema, but they've certainly been receiving bigger budgets and getting the spotlight in recent years. The supply of these movies is forecasted to increase even further with the continual development of the Marvel Cinematic and DC Extended Universes, as well as the Godzilla-Kong series. In celebration of the crossover genre, we have gathered 10 of the most epic fights (in no particular order), as well as several notable mentions, below.
Alien vs. Predator (2004)
Combatants: Xenomorph vs. Yautja
Alien vs. Predator (also known as AVP: Alien vs. Predator or simply, AVP) is a 2004 Paul W. S. Anderson-directed science fiction horror film which brings together the xenomorph and Yautja creatures of the Alien and Predator franchises. The plot follows a group of archaeologists who embark on an expedition near the Antarctic for an investigation. They come across a pyramid, which contains Hieroglyphs and sculptures that reveal the pyramid as an arena for Predators who slaughter Aliens as a rite of passage. The investigators also find out that the Predators have been visiting the Earth for thousands of years, were worshipped as gods, and taught human civilizations how to build pyramids. Eventually, a three-way battle between the Predators, Aliens and humans ensues.
Batman v Superman: Dawn of Justice (2016)
Combatants: Batman vs. Superman
Batman v Superman: Dawn of Justice is a 2016 superhero film directed by Zack Snyder featuring the DC Comics poster boys Batman and Superman. The film is the second installment in the DC Extended Universe and is the first live-action film to feature Batman and Superman together. It is also the first live-action portrayal of Wonder Woman, Aquaman, The Flash and Cyborg. The film finds Lex Luthor manipulating Batman into a battle with Superman, marking one of the greatest on-screen crossover fights of all time. The film's budget was $250 million USD and had a worldwide gross of $873.3 million USD.
Captain America: Civil War (2016)
Combatants: Captain America, Falcon, Scarlet Witch, Hawkeye, Winter Soldier and Ant-Man vs. Iron Man, Black Widow, Black Panther, War Machine, Vision and Spider-Man
Captain America: Civil War is a 2016 superhero film which features Marvel characters Captain America, Falcon, Scarlet Witch, Hawkeye, Winter Soldier, Ant-Man, Iron Man, Black Widow, Black Panther, War Machine, Vision and Spider-Man. Directed by Anthony and Joe Russo, the plot follows a disagreement over international oversight of the Avengers, which leads them to split up into opposing teams — led by Steve Rogers and Tony Stark respectively. The movie is based off of the eponymous comic series which features the crossover story line written by Mark Millar. The film had a $250 million USD budget for its initial release and grossed over $1.1 billion USD worldwide — the highest of 2016 and the 12th highest of all time.
Dream 9 Toriko & One Piece & Dragon Ball Z Super Collaboration Special (2013)
Combatants: Goku vs. Luffy vs. Toriko
Dream 9 Toriko & One Piece & Dragon Ball Z Super Collaboration Special is a crossover special which aired on Fuji TV on April 7, 2013. The segment was created in commemoration of the start of the third year of the Toriko anime series, which premiered in April 2011. Featuring characters from Dragon Ball Z, One Piece and Toriko, the special is separated into two parts: a World's Best Eating Tournament and a fight against the Deep Sea Glutton creature. Previously, characters from Dragon Ball and One Piece were already featured together in the 2006 special manga Cross Epoch, and characters from One Piece and Toriko were featured together a few times before.
Freddy vs. Jason (2013)
Combatants: Freddy Krueger vs. Jason Voorhees
Freddy vs. Jason is a 2003 Ronny Yu-directed slasher film that is a crossover between the Friday the 13th and A Nightmare on Elm Street series. It pits both franchise's antagonists, Jason Voorhees and Freddy Krueger against each other, and is the last in both series before they were rebooted. The plot finds Freddy attempting to regain his power by manipulating Jason into resurrecting himself. Jason then makes Freddy mad by depriving Krueger of potential victims, causing the two characters to get into a violent fight. The film had a budget of $30 million USD and grossed $114.9 million USD worldwide.
King Kong vs. Godzilla (1962)
Combatants: King Kong vs. Godzilla
King Kong vs. Godzilla is a 1962 science-fiction film directed by Ishirō Honda and produced and distributed by Toho. The film celebrates Toho's 30th anniversary and is the third film of the Godzilla franchise and features both King Kong and Godzilla (the first time both characters appeared on the film in color and widescreen). King Kong collided with Godzilla, eventually leading to a legendary battle at the summit of Mount Fuji, where Godzilla nearly kills King Kong. However, after he regained strength, only King Kong resurfaced following an underwater battle. Due to the film's success, Toho decided to do a sequel immediately and build a franchize around the character of Godzilla, producing sequels on a yearly basis. Godzilla was later pitted against other monsters such as Mothra, King Ghidora and more. The movie had a $250,000 USD budget and made $1.25 million worldwide.
Sadako vs. Kayako (2016)
Combatants: Sadako (The Ring) vs. Kayako (The Grudge)
Sadako vs. Kayako is a 2016 horror film directed by Kōji Shiraishi. The movie is a crossover of the Ju-on (The Grudge) and Ringu (The Ring) series, feature the antagonists Kayako and Sadako respectively. This is the 12th installment for both The Ring and The Grudge franchises, including the American remakes and other spin-offs and incarnations. Originally teased as an April Fool's joke, the film was later confirmed to be real and in production. To promote the film, an Instagram account was created for the movie's characters, which placed the two ghosts in everyday life situations. A baseball match was even organized in Japan where it featured Sadako and Kayako as players. The film grossed $8.3 million USD worldwide.
The Forbidden Kingdom (2008)
Combatants: Jackie Chan vs. Jet Li
The Forbidden Kingdom is a 2008 martial arts fantasy film directed by Rob Minkoff and starring Jackie Chan and Jet Li. The plot is loosely based on the classic Chinese novel Journey to the West, and is the first film to bring together two of the most known names in martial arts. The story follows a South Boston teenager named Jason Tripitikas, who is a fan of martial arts films. After being harrassed by thugs on his way back home from visiting a Chinatown pawn shop, he gets knocked unconscious and wakes up in a village in ancient China. Tripitikas and Lu Yan (Chan) eventually met a monk (Li) revealed to be the Silent Monk until realizing that Tripitikas is the Seeker. The Forbidden Kingdom had a budget of $55 million USD and grossed a total of $128 million USD worldwide.
The Way of the Dragon (1972)
Combatants: Bruce Lee vs. Chuck Norris
The Way of the Dragon is a 1972 martial arts action comedy film directed by and starring Bruce Lee. The plot takes place in Rome, where Chen Ching-hua and her uncle Wang experience issues with their restaurant from a mob boss who is trying to acquire their property. Chen gets help from Tang Lung (Bruce Lee), a martial artist from Hong Kong. The story eventually builds to an epic face-off between Tang and Colt (Chuck Norris), where Tang injures and then disables Colt in an intense fight, and ultimately kills him. Not only does The Way of the Dragon hold a high rating in most review websites, it is considered to be one of the greatest films of all time by renowned publications. The budget for this film is $130,000 Hong Kong dollars, but grossed a whopping $5.2 million USD.
Who Framed Roger Rabbit (1988)
Combatants: Donald Duck vs. Daffy Duck
Who Framed Roger Rabbit is a 1988 comedy film directed by Robert Zemeckis, based on Gary K. Wolf's 1981 novel Who Censored Roger Rabbit? The film combines live-action and animation and is set in late 1940s Hollywood in an alternative timeline where animated characters are really part of reality. People interact with residents of Toontown, an animated portion of Los Angeles. The plot follows Eddie Valiant, a detective on a mission to exonerate "Toon" Roger Rabbit, who is accused of murder. Disney's Donald Duck and Warner's Daffy Duck battle against each other as dueling pianists, and Mickey Mouse and Bugs Bunny also appear in a scene together. The film had a $58 million USD budget and earned $329.8 million USD in box offices worldwide. The film brought a renewed interest in the Golden Age of animation, and kickstarted modern American animation and the Disney Renaissance.
Notable Mentions
Destroy All Monsters (1968): King Ghidorah vs. Godzilla, Minilla, Mothra, Rodan, Gorosaurus, Anguirus & Kumonga
Cats & Dogs (2001): Cats vs. dogs
Van Helsing series (2005): Vampire vs. werewolf
The Avengers (2012): Iron Man, Captain America, Hulk, Thor, Black Widow & Hawkeye vs. Loki, the Other & Chitauri
Ant-Man (2015): Ant-Man vs. Falcon
Suicide Squad (2016): Deadshot, Harley Quinn, El Diablo, Captain Boomerang, Killer Croc, Slipknot & Joker vs. Enchantress