These Are the World's 50 Best Bars of 2016
The best libation destinations of 2016.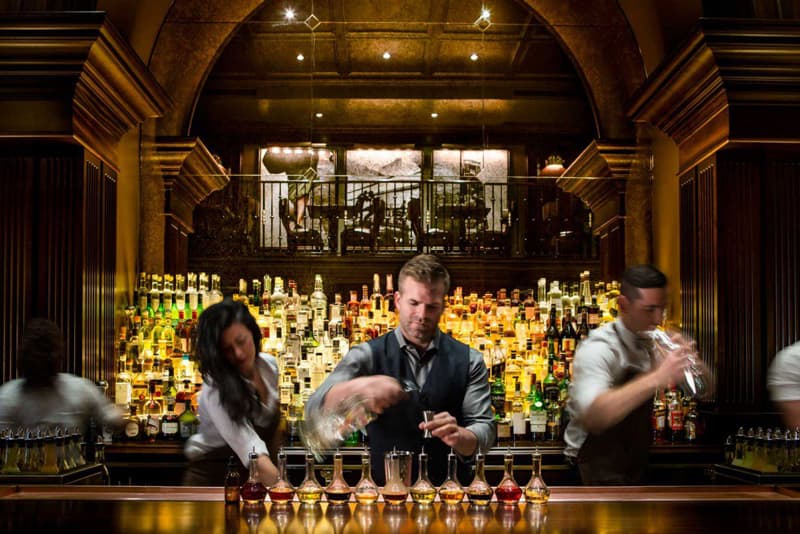 Everyone enjoys a good drink, which is why the folks over at man of many put together a list of the world's 50 best bars of 2016. Whether you're craving an artisanal craft beer or a designer cocktail it's safe to say dropping into any of the listed watering holes determined by an academy of global experts is a good choice. However, if you're not fortunate enough to have one of the listed 50 spots in your area and wish to taste their delicious offerings, it's suggested that you take a trip to either New York or London as both cities make up 90% of the top 10. Check out the breakdown of the top 3 and the list of the remaining spots below.
1. The Dead Rabbit Grocery and Grog, New York
Located in New York's financial district this two-story Irish-American bar draws its name from the tale of John Morrissey, the notorious leader of the Dead Rabbit Gang in the mid-1800s. In addition, the Dead Rabbit boasts a voluminous menu of 72 "historically accurate" cocktails and delectable food offerings to appease locals and tourists alike.
2. American Bar, London
American Bar is a British institution that has been serving classy drinks for 125 years now. But don't think this long standing destination is a relic that relies on its history to stay afloat, as the American Bar is always looking for ways to innovate as it routinely changes the menu to match the times and the pace of the city.
3. Dandelyan, London
The landmark bar at the Mondrian Hotel, the Dandelyan, is known for its mixology which treads between intensive obsession and deep respect for the potential of alcohol. Dedication is an integral part of the drinks at the establishment; to give an example head bartenders Ryan Chetiyawardana and Iain Griffiths researched extensively and broke the menu down to show the effect botany has had on historical civilizations through drinks.
4. Connaught Bar, London
5. Attaboy, New York
6. The Gibson, London
7. Employees Only, New York
8. Nomad Bar, New York
9. The Clumsies, Athens
10. Happiness Forgets, London
11. Manhattan, Singapore
12. The Baxter Inn, Sydney
13. Licoreria Limantour, Mexico City
14. 28 Hongkong Street, Singapore
15. Speak Low, Shanghai
16. The Broken Shaker, Miami Beach
17. Candelaria, Paris
18. Tales & Spirits, Amsterdam
19. Nightjar, London
20. Maison Premiere, New York
21. Operation Dagger, Singapore
22. Black Pearl, Melbourne
23. High Five, Tokyo
24. Little Red Door, Paris
25. Linje Tio, Stockholm
26. Central Station, Beirut
27. Lobster Bar & Grill, Hong Kong
28. Mace, New York
29. Smuggler's Cove, San Francisco
30. Bar Termini, London
31. La Factoria, Puerto Rico
32. Oriole, London
33. The Jerry Thomas Project, Rome
34. Dante, New York
35. Trick Dog, San Francisco
36. ABV, San Francisco
37. The Walker Inn, Los Angeles
38. Nottingham Forest, Milan
39. Aviary, Chicago
40. Baba Au Rum, Athens
41. Quinary, Hong Kong
42. Himkok, Oslo
43. Lost + Found, Cyprus
44. Ruby, Copenhagen
45. PDT, New York
46. Bulletin Place, Sydney
47. Bramble, Edinburgh
48. Callooh Callay, London
49. Floreria Atlantico, Buenos Aires
50. Buck & Breck, Berlin